Prop Bets are Fun and Exciting Wagers with a Beyond the Game Outcome
Are you tired of betting on the game outcome and looking for some more excitement? We think prop bets are exactly what you need.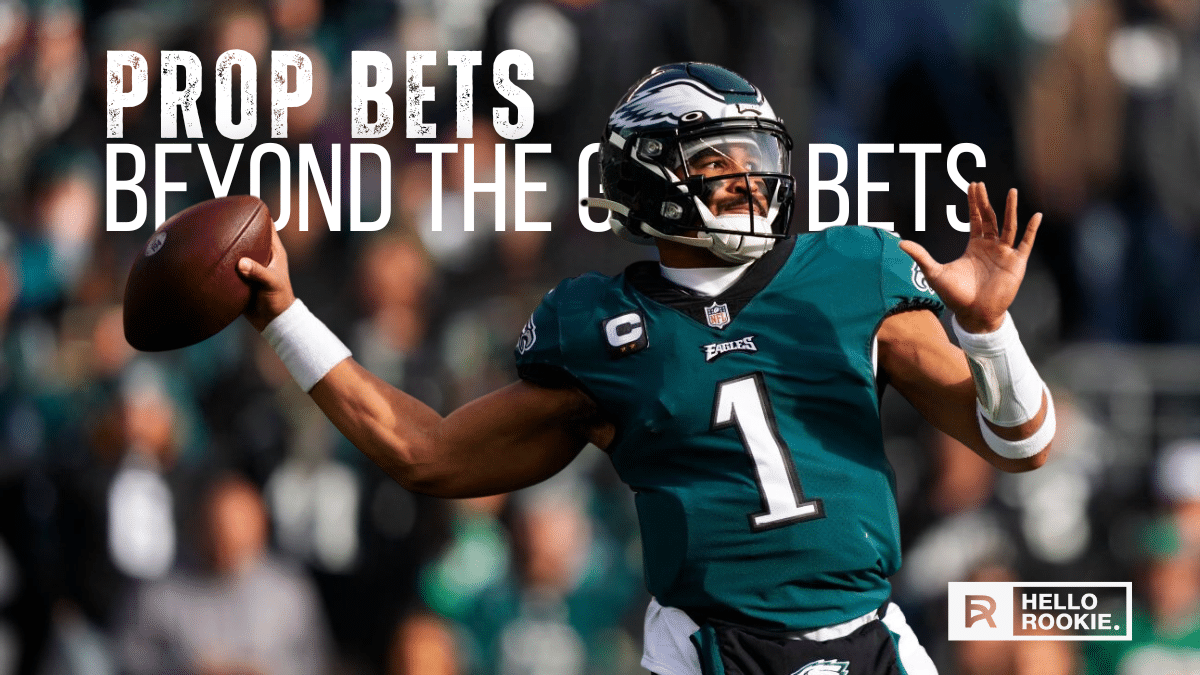 Prop bets, or proposition bets, are wagers made on specific events or outcomes within a game or sporting event. They can range from serious bets on individual player performances to more lighthearted bets on the color of the Gatorade dumped on the winning coach. 
Never heard of them before? Maybe you have but don't know where to start. Don't worry; we've got you covered.
What's a Prop Bet?
Let's talk about serious prop bets. These are bets based on specific player performances within the game, such as the number of touchdowns a quarterback will throw or the number of rebounds a basketball player will have. 
These types of prop bets require a little more research and analysis than a simple moneyline bet but can often pay off better in the end. 
It's important to pay attention to stats and trends when making these types of bets, but they're a great way to add some extra excitement to watching a game and rooting for your favorite player.
Novelty Prop Bets
One branch of prop bets is novelty prop bets. 
These are the more lighthearted and fun bets that everyone loves to get in on for big events like the Super Bowl. 
Some examples of novelty prop bets include the color of the Gatorade dumped on the winning coach, the length of the national anthem, or even the costume worn by the halftime performer.
These bets don't require as much analysis or research as serious prop bets but can be a fun way to get everyone involved in the action, even if they're not die-hard sports fans.
You may have seen some of these novelty prop bets on social media or in the news, as they tend to generate a lot of buzz and add an extra layer of excitement to big events.
Making the Bets In-Game
There are also in-game prop bets, which allow you to bet on outcomes within a specific period of time during the game, such as the first quarter or the second half. 
These types of bets can keep the excitement going throughout the entire game rather than just at the beginning or end. 
Keep an eye on how the game is going and analyze the patterns and trends before making your in-game prop bets.
What we love the most about prop bets is that they allow you to think beyond the game itself and add an extra level of excitement to each play. In-game prop bets take that excitement even further by allowing you to react and bet on the action as it unfolds.
Pro Tip: You've heard us talk over and over about budgets. Don't forget to set a budget for your prop bets, just like you would with any other type of betting. It's easy to get carried away in the excitement, so make sure to keep track of your bets and stick to your budget. Don't run through your budget on a single game or two.
Finding Prop Bets
Many online sportsbooks offer a wide variety of prop bets, from serious player performance bets to novelty bets. 
Do some research and compare different sportsbooks to find the best odds for the prop bets you want to make. 
These are some of the better sportsbooks that offer prop bets—
Sportsbook
Prop Bets
Pros of Prop Bets
Caesars
Yes

Wide variety of prop bet options available for different sports and events.
Competitive odds and payouts on prop bets.

Bet365
Yes

Extensive range of prop bets on major sporting events from around the world.
Live in-game prop betting options for enhanced excitement and engagement.

DraftKings
Yes

Innovative and creative prop bet offerings, including unique player and game-based props.
Special promotions and bonuses specifically tailored towards prop bettors.

FanDuel
Yes

User-friendly platform with a dedicated section for prop bets, making it easy to find and place wagers.
Exclusive prop bet contests and challenges with additional prize opportunities.
You can also look for prop bets on specific events or games through social media and online forums. You'll see that many of these sportsbooks drop some hot offers on the latest props throughout the season. We even post some of our prop picks on our promotion pages and reviews.
Bet with a Bonus!
Of course, you don't want to forget that you can place prop bets using bonuses. 
Many online sportsbooks offer welcome bonuses and promotions specific to prop bets, so be sure to take advantage of them. 
These are some of the best welcome bonuses for prop bets—

Choose your Offer! Bet $5 Get $150
or Get a First Bet Safety Net up to $1,000

21+ Gambling Problem? Call 1-800-Gambler

Bet $5 Get $150 in Bonus Bets Instantly
Plus all customers get a NO SWEAT SGP every day!

21+ Gambling Problem? Call 1-800-Gambler

Bet $5 on any MoneyLine, Get $150 in Bonus Bets if Your Team Wins
All Customers Get a Profit Boost Everyday

21+ Gambling Problem? Call 1-800-Gambler
Betting Beyond the Game
Prop bets are a fun and exciting way to mix up your sports betting routine. They can add an extra layer of excitement to any game or event and allow you to get creative with your wagers beyond the typical game outcome. 
Whether you're looking to make serious bets on player performances or lighthearted novelty bets, prop bets are a great choice for any sports bettor. 
Head of Sports Betting and DFS
Matt's love for sports betting and daily fantasy sports, coupled with a deep understanding of football, hockey, and baseball, shapes his innovative thoughts on Hello Rookie. He has a B.S. in Aeronautical Computer Science and a M.S. in Project Management.