SuperDraft Promo Code
SuperDraft Promo Code
Lock in a $100 Deposit Bonus and Free Entry | Updated for April 2022

Latest SuperDraft Promo Code Offers for April
Use the SuperDraft promo code EWB this April to receive a 100% Deposit Bonus, Up to $100! This is a limited-time promotion from SuperDraft, so register today and lock in the best available bonus at the fastest-growing name in fantasy sports.
[Click to reveal promo code.]
Click to reveal promo code.
| | |
| --- | --- |
| Promo Code | BETTORVIEW |
| Promotion | 100% Deposit Bonus, Up to $100 |
| Promo Date | Offer Start: April 1, 2022 | Offer End: April 30, 2022 |
| Terms | Offer valid for new players only, must make a $10 deposit. Review full terms. |

Best Available SuperDraft Deposit Bonus Offer
Our current SuperDraft promo code is attached to a 100% deposit bonus that caps at $100. This bonus is immediately available for you to enter contests with, and anything you win in those contests is yours to keep.
While this offer is significantly lower than the DraftKings promo code offer for 2022 (up to $1,000), it is actually higher than our current FanDuel promo code offer which is capped at $5.
This current SuperDraft offer is likely to change by the end of the 2022 NBA and College Basketball seasons. Looking back at the SuperDraft offers from last NBA season, this offer was reduced to a $20 entry at the mid-point of the year.
Step-By-Step Guide to Using a SuperDraft Promo Code
Utilizing our SuperDraft promo code is a simple process that does not change at all based on the device you are using. Whether you are on your desktop, laptop, iPhone, or Android, using our promo code is the same three-step process.
Visit the SuperDraft.io home page or open the app on your device. Once on the landing page, you can click on either the 'start winning' button at the top of the page, or the 'register' button in the menu.
The next screen will ask you to create an account by providing a username, password, email, and phone number. At the bottom of this form is a link that says 'Have a promo code?'. Click this link to use our promo code.
Paste our promo code into the box and continue to create your account and make your initial deposit. Your bonus funds are not made available in your account until you make an initial deposit of at least $10.
As you can see, SuperDraft makes it extremely easy to register using our promo code and secure the max deposit bonus available. That being said, feel free to contact us if you have any issues following the steps above and using our promo code.
SuperDraft Players are Now Eligible to Receive Caesars Rewards
To add to its iGaming portfolio, Caesars acquired SuperDraft in January of 2021. They also announced the World Series of Poker acquisition at around that same time. Combine these moves with the purchase and rebrand of the William Hill sportsbook, and Caesars has had arguably the biggest year of all US operators.
As part of all three acquisitions, Caesars made their industry-leading rewards program available to players on all three platforms. This means SuperDraft DFS users, WSOP players, and Caesars sportsbook members are all eligible for Caesars Rewards.
This gives SuperDraft a massive advantage over even major competitors like FanDuel and DraftKings. The Caesars Rewards program has been the gold standard of player rewards for decades, and fantasy sports players around the country are now eligible to cash in on the program.

SuperDraft Introduces Super 15 Contests
In one of the most exciting updates to a fantasy app in recent years, SuperDraft recently announced the start of a new contests format called Super 15. These contests work exactly like the common social media posts where you have $15 to build the perfect team from provided tiers.
Looking at the example above, you could spend your $15 any way you want, but in the end, your 5-player roster is going to have an average salary of $3. This is another great way to change up the traditional salary cap fantasy format which can grow stale quickly throughout the NFL season.
It is worth noting that your bonus funds and free entry can be used to enter any Super 15 contest. Simply click on the ticket button after filling out your lineup and enter for free!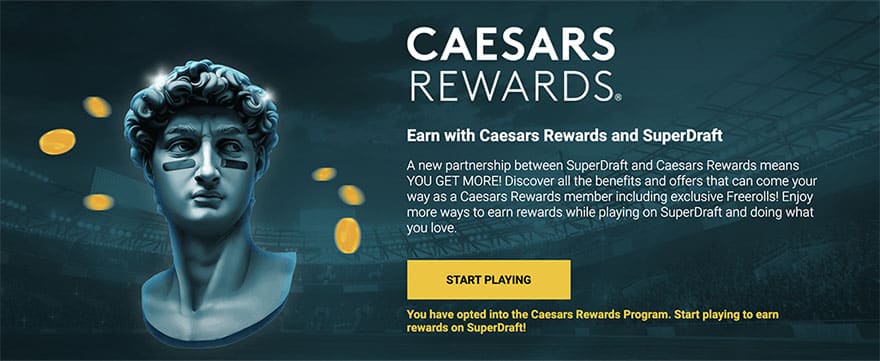 SuperDraft Promotions FAQ's
SuperDraft has a great name, sleek design, and flawless UX, but is arguably the smallest DFS company Hello Rookie has partnered with. As such, our readers have sent us tons of questions about their app, sports offered, terms, and more. Answers to the questions we receive most often can be found below.
How does a SuperDraft promo code work?
Using a SuperDraft promo code is an extremely user-friendly process. Once you register following the steps laid out above, your deposit bonus is added to your account under a separate section called bonus funds. Those funds can be used to enter contests and anything you win in those contests is yours to keep.
How does a free entry promotion work at SuperDraft?
For the majority of SuperDraft offers, including our current promotion that will run through the end of April, you will receive a free SuperDraft entry with any deposit. Your entry can be redeemed by either clicking on the ticket in your account or by simply building a roster for the contest of your choice and then selecting to use free entry. Anything you win using your free entry is yours to keep.
Is SuperDraft legit?
We have not had a single subscriber lodge a complaint about SuperDraft, and we have referred dozens to their app. Furthermore, the app is one of the higher rated DFS apps in both the App Store (4.8 stars) and Play Store (4.4 stars).
How is SuperDraft different than FanDuel and DraftKings?
There is no denying SuperDraft does things differently than FanDuel and DraftKings. The biggest difference is the total lack of 'sharks'. There simply are not enough big contests and volume on SuperDraft to interest sharks looking to take advantage of entry limits. Beyond just being easier to win, SuperDraft also offers a variety of different formats that you can not find anywhere else in DFS.
How do deposits and withdrawals work on SuperDraft?
We recommend using PayPal anytime you can in both the DFS and sports betting industry. Using PayPal on your initial deposit will make withdrawing your winnings that much easier. PayPal is the fastest way to move winnings from your SuperDraft account to your bank account. In addition to PayPal, you can make a deposit by credit card right on the SuperDraft website and app.
What sports are currently available on SuperDraft?
SuperDraft.io offers a full slate of sports for their players to choose from including the NFL, NBA, NHL, PGA, UFC, Nascar, and even WWE. While the NFL is their bread and butter, you can certainly find contests for whatever sport you love.
Are there any promotions for existing players?
While SuperDraft does not make deposit bonus offers available to existing players, you are not without options. First and foremost, SuperDraft players receive access to Caesars Rewards, arguably the best rewards program in the iGaming industry. Furthermore, the Refer-a-Friend program at SuperDraft is a great option for existing players. You know you have friends playing on other platforms that would enjoy SuperDraft's format. Simply send them your referral link and you both receive a $20 bonus when they register and make their initial deposit.

Our Rating for SuperDraft Promotions
The rating you find below is a direct comparison between the current SuperDraft promo code offer and what you will find at competitors' daily fantasy sports websites.
If SuperDraft were to get a perfect 5.0 rating for their top promotion this April, it would indicate that the current promotion is the best we have ever seen in the DFS industry. That obviously is not the case, but that does not mean this promotion is not worth a look.
While the $100 Deposit Bonus is way less than the current deposit bonus at FanDuel, keep in mind that it is undoubtedly easier to win on SuperDraft. Between the format and the overall lack of sharks, SuperDraft makes it easier to win and rollover your bonus funds.
| Review | Current SuperDraft Promo Offer |
| --- | --- |
| Summary | SuperDraft recently announced a new promo code offer for the start of April. The new $100 deposit bonus puts them on par with competitors like Monkey Knife Fight and Underdog. SuperDraft's salary-free fantasy product is unique to their platform and does a great job of weeding out sharks and players that abuse lineup optimizers. This translates into more winning for new players, which is something the DFS industry desperately needed. |
| Author | Chris Lollis |
| Rating | 4.9 (out of 5) |