Unless you've been in the DFS industry for a while, there's a good chance you might not have heard of OwnersBox. That's because they're only a few years old (founded in 2019), and they're not nearly as big as some of the other names like FanDuel and DraftKings. Just because they're not as well known as some of the others, does that mean they don't offer a quality product? That's what we're going to do with this OwnersBox review.
We've downloaded the app, and we're going through it from top to bottom to let you know what we think and help you decide if it's worth your time and money.
Breaking Down This DFS Site
We focus on a few key areas whenever we review a sportsbook or DFS site. These areas allow us to maintain consistent reviews and objective opinions on each platform. For this OwnersBox review, we will break down the site into five main categories.
Bonuses.
The first thing we look at when reviewing a sportsbook or DFS site is the bonuses they offer. Bonuses can come in all shapes and sizes, from welcome bonuses to reload bonuses and everything in between. We need to evaluate the value and terms of each bonus offered by OwnersBox.
Gameplay.
Another area we focus on is the gameplay experience. This includes the layout and functionality of the site, as well as the variety and quality of games offered. We will also note any unique features or game modes that set OwnersBox apart from other DFS sites.
User Experience.
User experience goes hand in hand with gameplay but focuses more on how easy and enjoyable it is to use the site. This includes factors such as site speed and navigation.
Customer Reviews.
Our reviews wouldn't be complete without considering the opinions and experiences of actual users. We will gather and analyze customer reviews to better understand how players feel about OwnersBox.
Customer Support.
Lastly, we will evaluate the level of customer support offered by OwnersBox. This includes availability, response time, and helpfulness in resolving any issues or concerns that may arise for users.
Bonuses? OwnersBox Has Bonuses
When you sign up for a DFS site, you want them to welcome you with open arms. You want to feel like your business is appreciated. That's where bonuses come into play. And OwnersBox offers some pretty enticing bonuses for new players.
| | |
| --- | --- |
| OwnersBox DFS Promo Code | No Code Required |
| Offer | 100% Deposit Bonus | Up to $500 |
| Valid Through | December 31, 2023 |
| Bonus Verified | December 4, 2023 by Matt Brown |
| Terms for the Offer | Must be 18 years old. Limit 1 bonus code per customer. Must be a new customer. |
You can get a 100% deposit match up to $500 for new players. If you deposit $500, OwnersBox will give you an additional $500 bonus funds to use on the site. That's not a bad promo at all. Terms and conditions are attached to this bonus, but even for those who don't like some bonus cash to get started?
On top of their enticing welcome bonuses, they also drop insane offers and prizes on their social media accounts. For example, on X, they usually offer a free entry into one of their big contests or highlight daily challenges to boost your XP. These bonuses give players more chances to win big without spending extra money.
Gameplay and Features
As we downloaded the OwnersBox app and started getting our hands dirty, we quickly realized that the gameplay experience was top-notch. The layout and functionality are clean and straightforward, making it easy to navigate and find exactly what you're looking for (more on that in just a moment).
Unlike many other DFS sites, OwnersBox doesn't offer many game variants. Surprisingly, that's a relief for us. They only offer two main game formats: Lightning Lineups and SuperFlex DFS. Despite only having two formats, we quickly fell in love with them. They do a few things really good instead of a bunch of mediocre things.
Lightning Lineups

Lightning Lineups is a daily fantasy contest that allows players to spin until they find a lineup they like, pick the lineup that will garner the most fantasy points, and follow their progress to win potentially. Do you want a quick DFS game? This is the way to play it.
SuperFlex DFS
SuperFlex DFS, on the other hand, adds an extra layer of excitement and puts a bit more control in the hands of the player. Unlike traditional DFS games, SuperFlex introduces an additional flexible position that can be filled by any player, adding a layer of strategy and complexity to team building. Of course, the stakes aren't as high with SuperFlex DFS, but it's a way to keep your winning streak up.
User Interface and Experience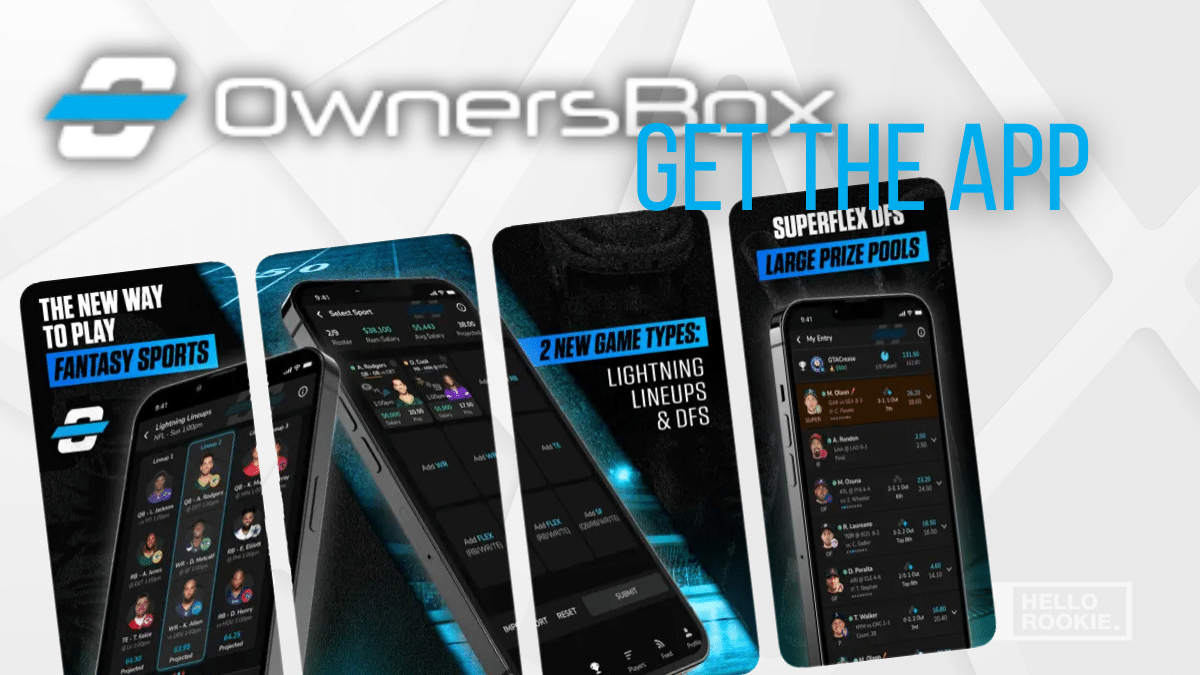 We've determined that OwnersBox has some excellent games, but does the app and website have the same level of quality? The answer is yes!
The app and website are well-designed, with clean layouts, easy-to-use navigation, and impressive speed. We never experienced any lag or glitches while using OwnersBox.
If you've been in the DFS industry as long as we have, then you know that the UX is important because some DFS sites really lag in this area.
The app also offers some cool features that enhance the user experience. One of our favorites is their "Live Scoring" feature, allowing you to see real-time updates on your contests and how your team performs. Another cool feature is their "Power Rankings" section, where you can see the best players in each sport based on their performance.
All in all, we've got to hand it to the OwnersBox development team because they've done an excellent job creating a user-friendly and enjoyable platform for DFS players.
Customer Reviews
Yes, we get our hands dirty with these apps but don't just take our word for it. We also like to see what other users are saying about the platform.
We dive into the reviews from real players across various platforms to see what they like and don't like about OwnersBox.
As we scrolled through the hundreds of reviews, we saw a few consistent comments.
Users love the bonuses. The bonuses and promotions are some of the best they've seen and keep them returning for more.
The games offered are unique and refreshing compared to other DFS sites. Users want excitement!
The user interface is clean and easy to use.
Users want more sports than the typical NFL, NBA, MLB, and NHL.
OwnersBox has an astounding 4.7 stars in the Google Play Store from over 250 user reviews. That's not too bad. Most DFS sites typically hover around the 3-4 star range, and even then, we consider that pretty good.
In addition to its Android app, OwnersBox also holds its own on the Apple App Store. They racked up 4.6 stars from over 375 real-user reviews. Again, that's not too shabby and is impressive when compared to other DFS apps on the market.
How Does OwnersBox Customer Support Stack Up?
When it comes down to it, customer support can make or break a company. If users have issues with their accounts or concerns, they want someone to help them resolve them quickly and efficiently. We contacted OwnersBox's customer support team with some self-induced issues just to see how they handled things.
We were pleasantly surprised. Their customer support team was responsive, friendly, and helpful throughout the process. They quickly resolved our issues, and we never had to wait long for a response. In fact, when we reached out on X, they responded directly in about 45 minutes. When reaching out to them via email, it was around 6 hours.
In addition to their quick response times, OwnersBox also offers a comprehensive FAQ section on their website, providing answers to common questions and concerns that users may have.
On top of that, we noticed in the app stores that OwnersBox responds to almost every single review left, whether positive or negative. This level of engagement and dedication to their users is impressive and shows that they genuinely care about their customer's experiences. You simply don't see that across the DFS industry.
The Final Verdict. Is OwnersBox Legit?
We've reviewed tons of online sportsbooks and DFS apps, and we have to say that OwnersBox is easily a top 10% app. They do so many things right. However, there are a couple of areas where they could improve.
What makes OwnersBox stand out from the crowd is their bonuses. While all DFS sites offer bonuses, OwnersBox has some of the best in the industry. They also offer unique game formats that add an extra layer of excitement and strategy to traditional DFS games.
However, they could improve by offering more sports on their platform. They only offer NFL, NBA, MLB, and NHL contests. Seeing them expand to include other sports and leagues would be great.
OwnersBox is a legitimate and reputable DFS platform offering a great user experience. With their unique game formats, impressive bonuses, and excellent customer support, it's worth trying them.
Even if you're a seasoned DFS player or just looking to dip your toes into daily fantasy, OwnersBox is worth checking out. They're not the biggest name in the industry, but we think they're running for the top spot with their innovative ideas and commitment to providing a quality experience for their users.
OwnersBox Review Overview

Details

OwnersBox has the potential to be one of the best and biggest names in the DFS industry if they keep on their current trajectory. They offer excellent bonuses, the app is totally seamless, and the gameplay is unique and fun. You can't ask for much more than that. However, they could add in a few additional sports instead of just the big four. That's not a deal-breaker, though. We're giving OwnersBox 4.8 stars out of 5 because we think they're one of the best in the industry. If they added just a few more sports such as MLS or NASCAR, we could easily see them grabbing a solid 4.9 or even 5.0 stars.
Rating
Author: Matt Brown
Reviewed By: Chris Lollis