ESPN BET is the anticipated new sportsbook set to revolutionize the online betting world. However, is it woth the hype? Is ESPN BET really all that it's cracked up to be? We've put together this ESPN BET review to get into all of the details and let you know what to expect. 
We aim to provide you with the most up-to-date information about ESPN BET, unraveling what it offers and how it stands to reshape the sports betting landscape.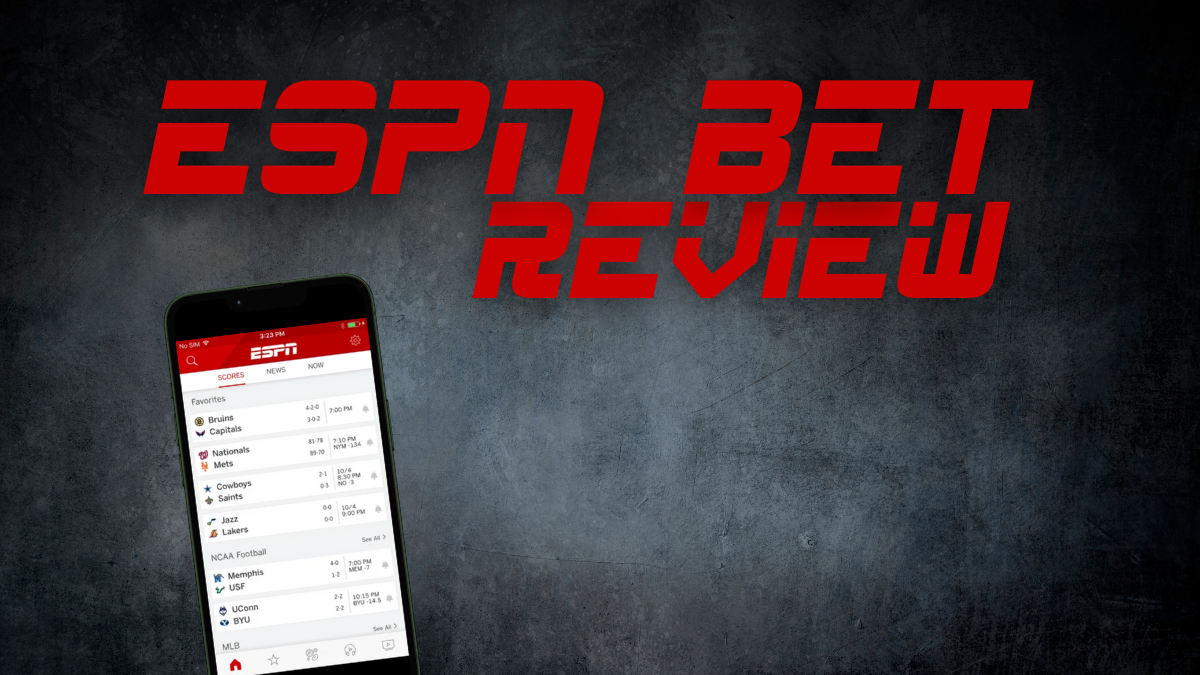 When is the ESPN BET Sportsbook Launch Date?
ESPN BET Launch Date: Expecting early 2024.
Unless you've deliberately avoided the news, there's a good chance you've heard of the upcoming ESPN BET Sportsbook. However, it's not quite ready for the big show.
ESPN BET Sportsbook is set to launch in Spring 2024. This is a monumental move, as it marks the rebranding of the existing Barstool Sportsbook into ESPN Bet, under the banner of Penn National Gaming. We'll get into Barstool in just a minute.
The anticipation surrounding this launch is intense. Unfortunately, the new sports betting venture won't be ready for the NFL 2023-24 season, but the wait will surely be worth it. We're hoping that ESPN BET will launch before the end of the season, perhaps by the playoffs, but we expect ESPN BET to launch sometime in the spring.
The rebranding will span across all online platforms in the United States, enhancing the sports betting experience for all fans. You'll be able to bet on a wide variety of sports, such as football, basketball, hockey, and baseball. In addition to traditional betting options like point spreads and moneylines, you'll also be able to use props and live betting features.
So, where does all of this stem from?
This significant partnership between PENN Entertainment and ESPN was announced on August 8, 2023. With a whopping investment of US$1.5 billion over an initial ten years, the relaunch of Barstool Sportsbook as ESPN Bet promises to reshape the landscape of online sports betting. We'll see how this fares throughout the sports betting markets, but with a name like ESPN, they stand a decent chance of being successful.
What Happened to Barstool Sportsbook?

We've been getting a lot of questions about what happened to Barstool Sportsbook. So, let's clear the air on this. We don't have all of the answers, but maybe we can give you some insight.
As you're most likely aware, Barstool Sportsbook was a major player in the online betting scene. They weren't the biggest player, but they could definitely hold their own against the powerhouses in the sports betting industry. Owned by PENN Entertainment, it made significant strides in the industry since its inception. However, in a surprising turn of events, PENN decided to divest from Barstool Sports. This move came with a price tag of $550 million! Quite a hefty sum considering the popularity and success of Barstool Sportsbook.
But what caused this drastic shift? It turns out that PENN had a bigger plan in mind. They decided to rebrand Barstool Sportsbook as ESPN BET. While we think it's a better bet than Barstool Sportsbook, we can only speculate as to why they dropped the brand.
Meanwhile, Dave Portnoy, the man behind Barstool Sports, bought back the company. Although Barstool Sports is no longer in the sportsbook industry, the brand continues to thrive in its original form.
So, what does this mean for us, the bettors? With the launch of ESPN BET, we can expect a whole new betting experience. While we bid farewell to Barstool Sportsbook, we are excited about the future of online betting with ESPN BET.
In the end, change is the only constant, especially in the fast-paced world of online betting. In the meantime, we'll give you everything we know about ESPN BET and what you can expect from this emerging titan.
Expect All Sports Betting Options on the Table

With the ESPN Sportsbook on the verge of its launch, we are certain that it will bring with it all types of betting options. We can expect to see the usual suspects such as point spreads, moneylines, and live betting. But there is speculation that ESPN BET will also introduce props betting.
Major League Sports
As with all major online sportsbooks, we expect ESPN BET to host countless betting options for all major US sports. Football, basketball, baseball, hockey and soccer will be the primary focus for most bettors. The live betting options should keep wonky gamblers on their toes as they try to win big off of in-play props.
One of the biggest draws for sports bettors will be the NFL. Every year it draws billions of dollars in betting action. As a result, ESPN BET will be upping the ante with an array of exclusive NFL prop bets.
College Sports
Another major betting option in the ESPN BET app will be college sports. College basketball and football will be the primary focus, as these two sports attract a large chunk of bettors each year.
Of course, there are some states that are unable to bet on college sports. Despite this, ESPN BET will still provide a wide range of betting options for the NCAA. There should be plenty of props bets available as well as live betting features.
Esports Betting
One of the latest additions to online sports betting is esports. These competitive tournaments we believe will be widely available on platforms such as ESPN BET. We can expect a wide range of esports betting options, from popular titles such as CS:GO and League of Legends to Overwatch and Rocket League. Those are the usual suspects, anyways.
Horse Racing
Horse racing has been around for centuries and remains one of the most popular sports worldwide. With that, we expect ESPN BET to offer all types of horse racing wagering options, including but not limited to exotics, trifectas, and straight bets.
Online Casino Games
One area we're not completely sure about is whether or not ESPN BET will get into the online casino industry. Many other sportsbooks such as FanDuel and DraftKings dip their toes into not only the online casino industry but also retail casinos and brick and mortar casinos. This would be an interesting move for ESPN BET if they decide to do so, but time will tell.
Get the ESPN BET Promo Code!
We've reviewed tons of online sportsbooks and casinos and one of the big themes whenever a new sportsbook launches is the availability of welcome bonuses. ESPN BET should be no different, with some hefty bonuses available to new and existing customers alike. We expect the ESPN BET promo code to be announced shortly before the official launch, so keep an eye out for that.
What ESPN BET bonus code options will there be? We're not completely sure, but we have some insight and believe they'll offer various bonuses to get new sports bettors.
Deposit Match Bonuses
One of the biggest draws for sports bettors is the deposit match bonus. This type of bonus offers new players an incentive to make their first deposit – usually with a percentage of cashback on top of the initial deposit.
Second Chance Bonus Bets
These promotions are all the rave across the online betting landscape. This type of bonus offers a second chance to bettors who have lost their first wager. Instead of eating the loss, ESPN BET could offer a bonus bet in place of the original stake – essentially giving you a do-over on your initial bet.
No-Deposit Bonuses
These types of bonuses are always a fan favorite, but they're extremely rare. If the ESPN BET bonus offer is a no-deposit bonus, we'll be surprised. A no-deposit bonus is a welcome bonus that doesn't require the bettor to deposit any money. It's essentially bonus bets that you can use to place bets with. There are often heavy strings attached to these.
Referral Bonuses
Although not necessarily a welcome bonus, referral bonuses are also common among sportsbooks, and we expect ESPN BET to have one of these as well. This bonus rewards existing players for referring their friends to the sportsbook. Usually, this type of bonus comes in a form of either bonus bets or bonus cash back on each successful referral made by an existing player. This would most likely be on top of any loyalty programs they institute.
ESPN BET FAQs
As with all sports betting platforms, we get a lot of questions. Whether it's an upcoming launch date such as ESPN BET or a well-established sportsbook such as DraftKings, you have questions, we have answers. Hopefully this clears up some of the common questions related to the upcoming ESPN BET launch and helps you enjoy your sports betting experience.
What is ESPN BET?
ESPN BET is a new online sportsbook set to launch in the Spring of 2024. It's a rebranding of the existing Barstool Sportsbook under the banner of Penn National Gaming. This venture seeks to provide an unmatched betting experience for fans across the United States.
When will ESPN BET start?
ESPN BET is on track to launch in the Spring of 2024. Unfortunately, it won't be ready for the start of the 2023-24 NFL season, but the wait promises to be worth it with a whole new betting experience on the horizon. We would love to see if ESPN BET launches any sooner than that.
Is ESPN BET legal in all states?
At the time of its launch, ESPN Bet will not be legal in all states. However, ESPN BET is working towards expanding its reach across the United States. Last we heard, the ESPN BET platform is set to go live in 16 states. That's massive chunk of the sports betting market.
How can I register for an ESPN BET account?
The registration process for ESPN BET will be detailed once the platform goes live. Many times sportsbooks will open with an early registration process so you can have your account ready before they actually launch. Generally, this process involves providing personal information for identity verification and choosing a username and password.
What customer service options will ESPN BET offer?
While the specifics are yet to be revealed, ESPN BET is expected to offer 24/7 live chat, a robust list of FAQs, email support, and social media engagement for customer service. There's a lot riding on the ESPN brand, so we wouldn't expect them to cut corners on customer service.
Will there be a promo code for ESPN BET?
Details about promo codes and bonuses are typically announced closer to the launch date. However, we definitely expct the ESPN BET Sportsbook app to include bonuses, promotions, and other rewards to new and existing customers alike. This should be a great way for players to get started or continue playing on the ESPN BET platform.
What types of payment methods are accepted by ESPN BET?
ESPN BET is expected to accept all major credit and debit cards, along with e-wallets such as PayPal and Neteller. If the ESPN BET app is to remain competitive, we also anticipate that they will offer support for popular cryptocurrency like Bitcoin, Ethereum, and Litecoin, making depositing and withdrawing funds easy and secure.
What types of wagers will ESPN BET offer?
ESPN BET is expected to offer both pre-game (straight bets) and in-play betting options across a wide range of sports. This includes a full suite of wagers such as moneylines, point spreads, futures, props, parlays, teasers, trifectas and more. We also anticipate the inclusion of live streaming for selected games – allowing you to watch the action unfold in real-time while placing bets. Watching a game and placing bets while the action is happening is one of the best aspects of sports betting.
The ESPN BET Sportsbook is Coming Soon!
The anticipation surrounding the launch of ESPN BET is undeniable. With a broad selection of wagering options, potential for lucrative bonuses, and the expected high level of customer service, this new platform is poised to make a significant impact in the online sports betting landscape.
Its launch will not only diversify opportunities for sports enthusiasts but is also predicted to heighten the overall betting experience by leveraging the strong ESPN brand. The wait for Spring of 2024 may seem long, but the innovative and exciting features that ESPN BET promises to bring to the table make it seem worthwhile.
As more details emerge, we'll continue to provide updates to the Hello Rookie readers.
Updated September 1, 2023
| Review | Current ESPN BET Sportsbook Review |
| --- | --- |
| Summary | While our anticipation is growing with each day around the ESPN BET launch date, we're going to refrain from tagging this new online sportsbook with a numerical rating like we do with other sportsbooks.  Once the app is available for download, we'll assess the app and give it an applicable rating. |
| Author | Matt Brown |
| Reviewed By | Mike Noblin |
| Rating | TBD |