Best Daily Fantasy Sports Apps for 2022

Rankings Last Updated: June 2, 2022
---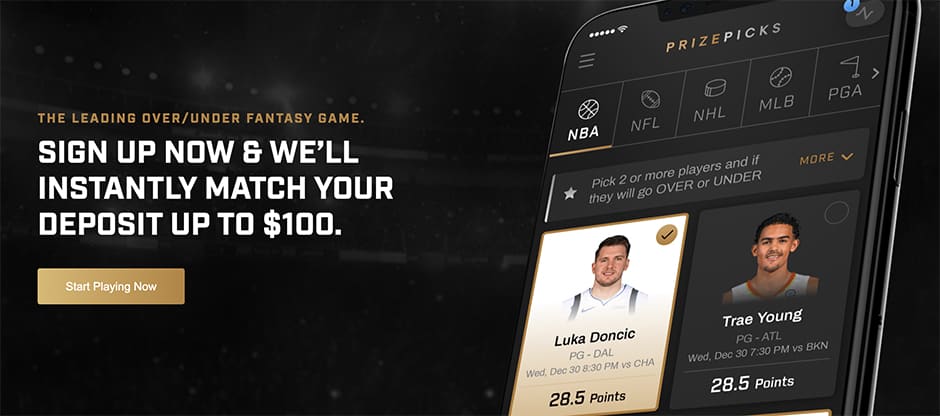 1. PrizePicks
PrizePicks becomes the first DFS app outside of FanDuel or DraftKings to hold our top-overall ranking heading into an NFL season. There are several reasons we ultimately decided to make PrizePicks the top-rated daily fantasy app for 2022. Here are some of our favorite features:
While Underdog Fantasy and SuperDraft both do a decent job at it, PrizePicks completely takes sharks out of the DFS equation. Ultimately, this solves the entry limit problem, which is the biggest issue this industry currently faces.
This is not the only problem the PrizePicks app solves. Their player prop format is the perfect combination of fantasy sports and sports betting. This makes PrizePicks a great alternative to offshore books for bettors that live in non-betting US markets.
While PrizePicks is not alone in the prop-bet DFS market, we feel their app is a notch ahead of competitors like Monkey Knife Fight and Betcha. PrizePicks offers more variety, more contest options, and a smoother overall in-app experience.
---

2. FanDuel
FanDuel is one of the granddaddies of DFS and they've been in the industry for over 12 years. Though there are a large number of DFS apps out there, FanDuel easily outranks them all. FanDuel currently has over 6 million clients and a huge staff of over 1,500 workers on their payroll.
These folks have built the most reputable brand in fantasy sports because of their sheer devotion to serving their customers well. FanDuel offers an attractive refer-a-friend bonus as well as a fantastic sign-up bonus of 2 Free Entries when you deposit $10. FanDuel's goal is to offer every type of DFS player the perfect game.
If you love college football and college basketball, you need to get the FanDuel app because they offer some of the best fantasy contests for college sports. Their DFS home page is also robust and easy to navigate, no matter how much fantasy sports experience you have.
Another cool thing about FanDuel is that they offer a million-dollar-per-week contest during the NFL season. This contest is similar to DraftKings and you'll love it if pro football is your favorite sport. Whether you're a veteran DFS player or a fantasy sports rookie, you simply cannot go wrong with FanDuel.
---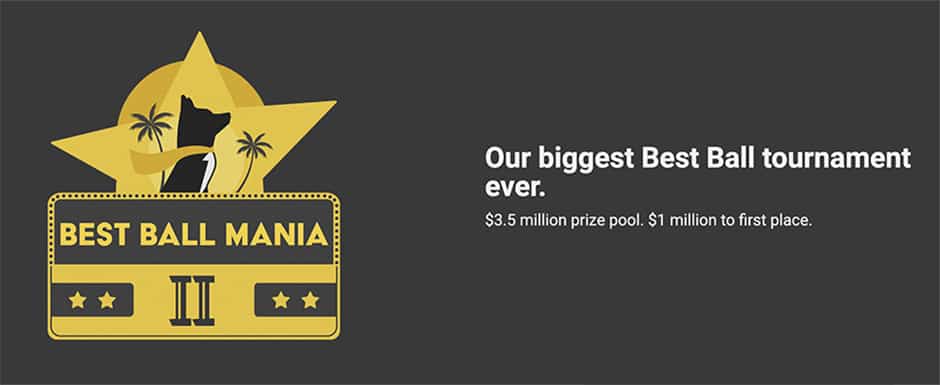 3. Underdog Fantasy App
Underdog Fantasy hasn't been on the DFS scene for very long, but this company has a solid business plan and should be one of the major players in the industry for many years to come. Sports celebrities with deep pockets are backing Underdog from a financial standpoint. Guys like Kevin Durant, Mark Cuban, and Adam Schefter are some of the big-name investors.
Many hardcore DFS players love competing in Best Ball tournaments. If you fit into that group, the Underdog Fantasy app could be a match made in heaven for you and your DFS needs. Underdog is currently running a Best Ball tournament that pays a cool 1 million dollars to the winner!
The only negative about Underdog is a relative lack of depositing options, but they do take all major credit cards. Keep in mind that Underdog should be adding more cashier methods in the future.
They offer customer support 24 hours a day, which is always a good thing. If you're a fan of the PrizePicks app, you have to do yourself a favor and check out Underdog because they offer the same type of stat-based fantasy contests. Underdog is one of the best new DFS apps to hit the market in several years!
Check out our current Underdog promo code to receive a $25 bonus that can be used to receive a free Best Ball Mania entry.
---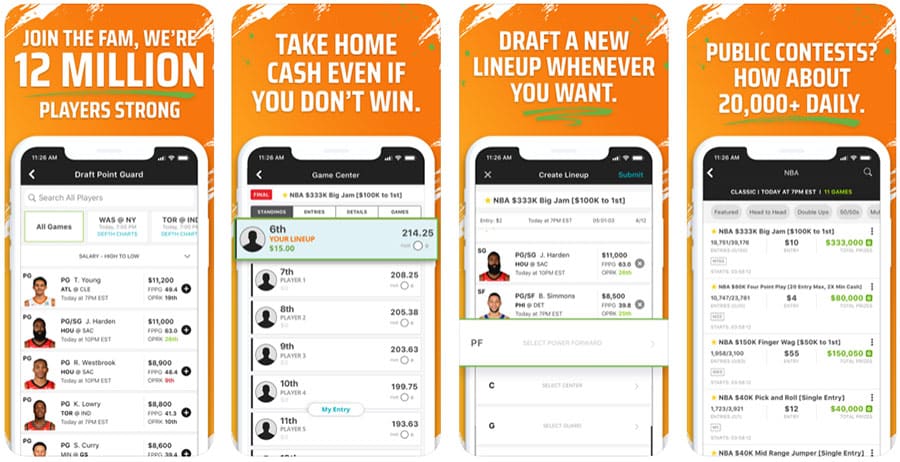 4. DraftKings
DraftKings has been around for nine years and offers one of the best DFS apps on the market. Major League Baseball partnered with DraftKings not long after they were founded. This was a huge key to the company's dynamic success.
If you're a veteran DFS player who needs a wide variety of fantasy games to keep things interesting, DraftKings is probably your best bet. The DraftKings bonus program is highly generous as well with a Free NBA Finals Contest Entry being offered to new users.
The only complaints about the DraftKings DFS app are that the layout is too basic and the customer service team can be slow to respond at times. Both of these issues are highly subjective though so take them with a grain of salt.
If you're serious about DFS, DraftKings is a must-have app because of the sheer enormity of its contests. These folks offer a contest during each week of the NFL season called the Millionaire Maker. DraftKings offers lucrative contests on every other major sporting event as well.
---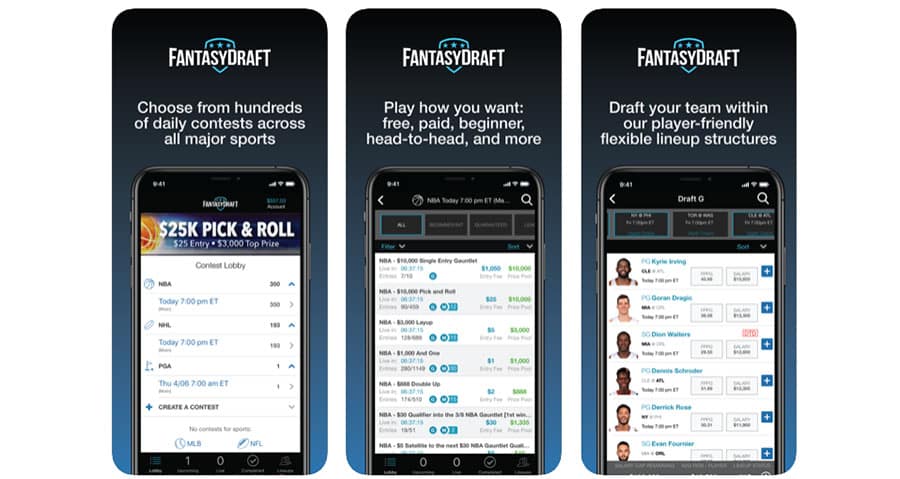 5. SuperDraft
One of the fastest-growing companies in the DFS industry, SuperDraft offers a completely unique take on salary-based fantasy football. Rather than give each player a salary, SuperDraft attaches a multiplier to every player available in a slate.
This multiplier could be anywhere from 1.2x to 2x. For instance, during week one of the NFL season, Lamar Jackson was the highest-priced QB and had a 1x (or no) multiplier. Contrastingly, Teddy Bridgewater had a 1.75x multiplier and as a result, outscored Jackson despite scoring significantly fewer fantasy points.
The upside to this format is that you can start any player available in a slate. The downside is that building a lineup becomes extremely projection-based. It is truly impossible to assign a value to each player without using some sort of weekly projection, which tends to be wildly inaccurate.
---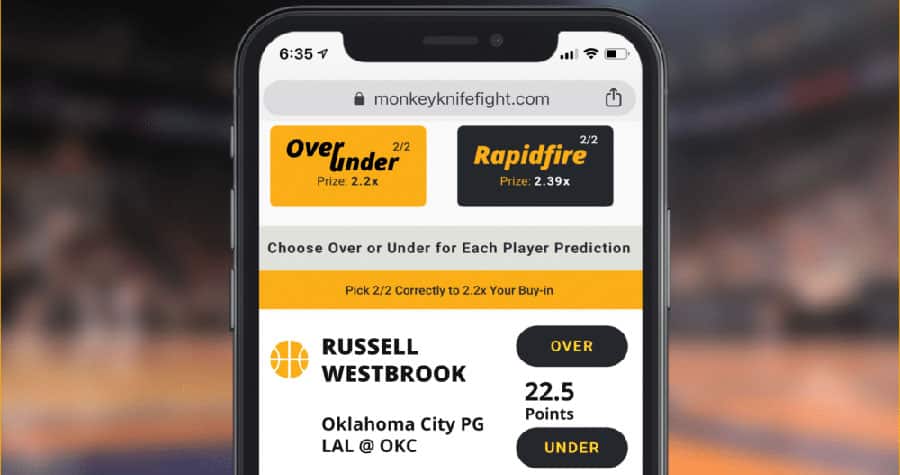 Two Additional Apps Worth a Look for the 2022 NFL Season
While the two apps below may not register as one of our top five apps, each has its own set of benefits that may actually be just what you are looking for. A true set of DFS rankings would be incomplete if it failed to mention Yahoo and Monkey Knife Fight as both apps are major players in the industry.
6. Yahoo Daily Fantasy Sports
The first runner-up on our list of great DFS apps is an oldie but a goodie. Yahoo was one of the pioneers of the season-long fantasy sports industry but they're relatively new to the DFS world. Though Yahoo's DFS growth was somewhat slow in the beginning, that has changed in recent years.
If you're newer to the DFS industry and want the most user-friendly experience possible, look into signing up with Yahoo. Yahoo's DFS app is clean, basic, and easy to navigate. This is why it's perfect for newer fantasy sports players.
Just how good is Yahoo's DFS app? It has a 4.8 rating on the App Store and a 4.3 on the Play Store as of June 2022.
The only drawback of Yahoo's DFS app is that there aren't many games to choose from when compared to the industry giants like FanDuel. This may be unattractive to seasoned DFS veterans that want lots of variety.
7. Monkey Knife Fight
If you're a prop-lover and prefer to enter as many different fantasy contests as possible, Money Knife Fight has just the app you are looking for! If sports betting is not yet legal in your state, MKF will be a great option for you to get your action fix.
The most impressive feature of MKF's app is its dashboard, which allows you to see how your contests are going without having to click multiple screens. This is highly convenient and saves you a ton of time. MKF also offers a good bonus amount of $100 for first-time customers.
The main concern about the MKF app is that it may be too intimidating for those new to the DFS game. The huge variety of fantasy games they offer can be overwhelming for folks that just want a basic DFS experience. However, MKF is still one of the best DFS apps in the industry and we proudly give them our #7 spot.
Chief Content Officer
Chris Lollis is the founder and senior editor at Hello Rookie. He has over a decade of experience in the sports betting industry and has covered everything from the PASPA repeal to every state launch since. Chris currently contributes guides, reviews, and betting tips at Hello Rookie.