With the Massachusetts sports betting law in effect, which is legalizing sports betting across the state, both fans and betting sites are excited to get into the action.
We're actively witnessing Massachusetts sports betting history unfold right in front of our eyes. But what does that mean for you? When can you start placing bets at Massachusetts sportsbooks and various online sportsbooks?
Don't worry, we have all of the answers to your questions and more.
We're going to cover everything you need to know about Massachusetts sports betting, from the types of bets you can make to the best online betting sites in the state. We'll even teach you how to find bonuses and promo codes so that you can get the most out of your sportsbook experience.
However, before we get into the weeds, we wanted to highlight the best sportsbooks in Massachusetts. These sportsbooks have been thoroughly vetted and reviewed by our expert sports analysts.

Bet Up to $1,000 on Caesars
Win or Get a Bet Credit Back


$1,500 First Bet Offer
Win or Get Your Bet Back


Bet $5 Get $150 in Bonus Bets Instantly
Plus all customers get a NO SWEAT SGP every day!

You really can't lose when choosing one of these sportsbooks. They all have great apps, excellent customer service (for the most part), and amazing bonuses. If these change we'll keep you updated.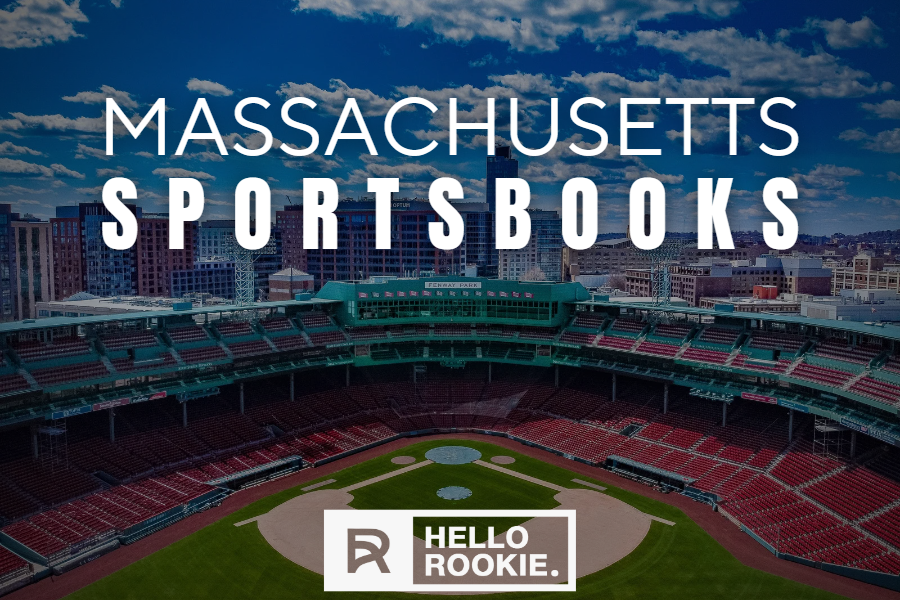 Massachusetts sports betting launch date.
In August 2022, Governor Charlie Baker signed legislation approving sports betting in Massachusetts. In the months since around 15 casinos have applied for both in-person and online betting licenses from the Massachusetts Gaming Commission. 
By December, the Massachusetts Gaming Commission had chosen January 31 of 2023 as the date for a "soft launch" of in-person retail betting.
This sports betting launch effectively allowed bets to be placed prior to the Super Bowl.
With that, there are a couple of significant players that have received their legal sports betting licenses and were able to get their sportsbooks launched in time. Both Encore Boston Harbor and MGM Springfield are just a couple examples of Massachusetts sportsbooks that have already secured an in-person sports betting license and are actively taking bets.
As for online sports betting, mobile betting at Massachusetts betting sites was slightly delayed, but inevitably launched March 10th, 2023.  This gave college basketball fans an opportunity to bet online or play daily fantasy sports for March Madness.
With Massachusetts online sportsbooks being completely legal and the sports betting conference committee having regulations in place, MA residents can now get in on all the action.
Massachusetts sports betting licenses.
Massachusetts' sports betting bill allows for seven licenses to be issued for fully online sportsbooks, allowing entities without a physical presence in the state to apply.
The MGC received six applications for this "Category 3 Sports Wagering Operator License". However, they do expect more applications to come through throughout 2023.
These licenses were issued in January, allowing sportsbooks to launch their operations as soon as the state's regulatory framework was fully established on March 10th, 2023.
How are legal betting licenses distributed?
Now that Massachusetts has legalized sports betting, they now have to decide which sports betting sites, and locations get their licenses.
The Massachusetts Gaming Commission is tasked with evaluating responsible gaming plans, experience in sports betting, and diversity and inclusion commitments from companies when making their decision. This is all outlined in the MA sports betting legislation.
With only a handful of licenses available, not all sports betting sites will have their applications approved.
Taxes and fees associated with Massachusetts sports betting.
The main reason the state decided to legalize sports betting is for the revenue, of course.
With that, the sports betting bill in Massachusetts imposes a 15% tax on bets placed in person, with mobile bets taxed at 20%. That's not too far of a stretch from sports betting bills in other states.
For example, Sportsbooks in Tennessee require you to provide your Social Security number in order to withhold 25% of your total winnings for taxes. If you decide not to provide your SSN, sportsbooks will typically withhold 28% of your winnings instead.
The Massachusetts sports betting legislation requires each sportsbook that looks to obtain a license for a retail or online sportsbook will have to cough up a hefty $200,000 application fee. If they're looking for a temporary sports betting license, as is the case with Caesars Sportsbook, that fee jumps to $1,000,000. That number might weed out some of the smaller retail sportsbooks and online sportsbooks that may have made a run for Massachusetts.
According to lawmakers, the sports betting revenue could bring in an estimated $60 million annually and up to $80 million in licensing fees every five years.
In comparison to the state's annual budget of more than $50 billion, this amount may seem small; however, until legally placed bets were allowed here, it is money that was being earned by the black market or other states that offer mobile sports betting such as Connecticut, with wagering operations already established.
It makes sense that Massachusetts is eager to get the sports betting industry up and running as soon as possible. They were missing out on potential revenue, and any money they can bring in helps.
Legal sports betting options.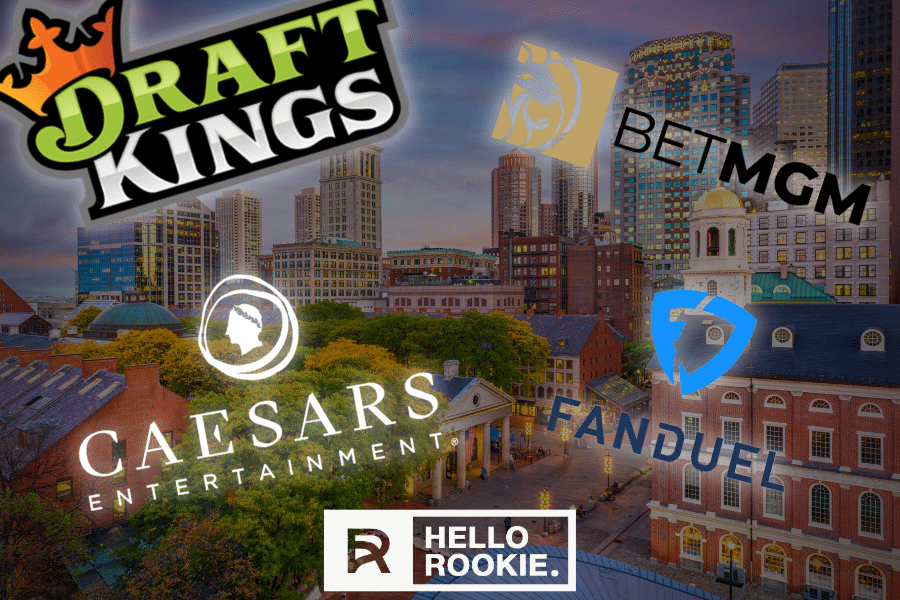 While there are countless sportsbooks looking to cash in with a MA sports betting license, there are a few operators which have already applied for an untethered license (online only). That doesn't mean that the license is approved, it just means they've applied.
Overall, 6 total companies were able to get their operations up and running in the Bay State in time for the official sports betting launch in 2023.  These companies will provide the customers of Massachusetts with a safe and legal way to place bets on sports games online. We also expect they will also offer odds-boosting promotions, welcome bonuses, promo codes, and special offers for existing customers as they get underway.
Here are the legal sports betting operators that have applied for and received an untethered Massachusetts sports betting license—
Ultimately, with the launch of retail betting in January 2023 and online sports wagering in March, Massachusetts effectively joined the ranks of other states which have already established legal and regulated sportsbooks, allowing residents to place bets safely and legally. In doing so, Massachusetts will benefit both by bringing much-needed revenue into the state and by providing a safe and secure betting environment. Additionally, with the plethora of options available to bettors, this could potentially bring in far more money than expected.
It is sure to be an exciting year for both the Bay State and the sports betting industry as a whole.
Retail Massachusetts Sportsbooks that Opened their Doors.
While many of the sports betting operators have applied for online licenses, some casinos have also expressed interest in offering in-person betting.
Encore Boston Harbor was the first to be awarded a license, followed by MGM Springfield and Plainridge Park Casino. All have already opened their retail sportsbooks in Massachusetts.
The opening of these brick-and-mortar locations gives customers the opportunity to place bets in person, as well as enjoy the atmosphere of a casino. They all serve food and drinks as well, with big screens to watch the games and odds boards placed throughout the establishment.
The most important thing for Massachusetts is that it will finally be able to capitalize on potential revenue from taxes and licensing fees, as well as provide a safe and legal platform for customers to place their bets. As the year progresses, we'll keep you updated with revenue numbers as we get them.
Encore Boston Harbor
This world-class casino and luxury resort in Everett, MA, is owned by Wynn Resorts. The Massachusetts Gaming Commission recently approved a license for the company to open its own retail sportsbook and they are taking full advantage of it!
Encore Boston Harbor features a 6,000-square-foot sportsbook where customers can place bets on sporting events from around the world. The venue features 70-plus televisions and multiple large projection screens for customers to watch games.
Seriously, they have a 10′ by 123′ video wall to catch your favorite local teams. Encore Boston Harbor is easily one of the finest Massachusetts sportsbooks for sure.
MGM Springfield
MGM Springfield is another world-class casino and luxury resort in Massachusetts owned by MGM Resorts International. The Massachusetts Gaming Commission has also approved a license for the company to open its own retail sportsbook as well and they were able to get their establishment up and running for the launch in January.
The facility is truly state of the art.  They have a massive multi-screen setup with stadium style seating, a bar, and even more screens around the bar to catch the games on.  There's nothing like getting in on Massachusetts sports betting while enjoying a beer and checking the lines on your phone.
Plainridge Park Casino
Plainridge Park almost didn't receive their license but were ultimately able to do so after some in-depth conversations with the MGC. The Massachusetts Gaming Commission was concerned about their dealings with the Barstool Sportsbook and it's founder, David Portnoy.
However, the casino was able to convince the Massachusetts Gaming Commission that Barstool Sports nor it's founder have any controlling interest in their MA sports betting operations. Despite all of that drama, Barstool was able to actually get a license and get running for the March launch date.
Online Sports Betting Makes a Debut.
In addition to the brick-and-mortar locations, many of the online sportsbooks offer mobile betting apps which customers can download and use to place bets directly from their phones or other devices.
This allows bettors to place wagers anywhere in Massachusetts with their device, giving them the convenience of being able to place bets quickly and easily.
While this is new for Massachusetts, all of these online sportsbooks have an established presence in other states. So they're well-versed in offering secure and reliable methods for depositing, withdrawing and betting.
That also means they've integrated a geolocation system to ensure bettors are in Massachusetts when they place a wager.
As sports betting in Massachusetts matures, we expect to see more sports betting apps being launched and more features added to existing ones as well, making it easier than ever before for Massachusetts residents to bet on their favorite teams and sports.
Expect Massachusetts Sports Betting Sites to offer Massive Bonuses.
While Massachusetts sports betting is still in it's infancy, many operators are already offering huge welcome bonuses to customers who register with their sportsbooks. These can include generous first deposit bonuses and free bets, with some even offering risk-free bets for certain games or events.
These types of offers serve as great incentives for bettors looking to get in on the action early and take advantage of the bonuses on offer.
We'll keep you posted as more information becomes available and Massachusetts sports betting sites roll out more bonuses. Until then, stay tuned for updates from us here at Hello Rookie.
Massachusetts Sports Bettors Love Betting on their Teams.
From daily fantasy sports to retail sports betting and everything in between, we're going to see plenty of sports betting in Massachusetts.
Whether it's the Boston Bruins, Red Sox, or Patriots that you love to bet on, you'll find plenty of action for them at Massachusetts sportsbooks.
Additionally, we are seeing some other niche sports available as well. Golf, tennis, and motor racing all have a strong presence in the Bay State, and these all make for great betting options.
What you won't see, however, is legal sports betting in Massachusetts on in-state college sports teams. MA sports betting allows for betting on college sports, just not teams such as the Boston University Terriers or the Boston College Eagles.
The future of sports betting in Massachusetts looks bright, with plenty of opportunities for bettors to place wagers on their favorite teams and events. With the launch of retail sports betting and online betting, we're going to see a massive surge in interest and action and an influx of revenue into the state.
New England Patriots
With the NFL drawing some of the highest betting volumes in the US, Massachusetts sports bettors will surely love wagering on the New England Patriots.
The Pats have been one of the most dominant teams over the past couple of decades and are always a contender for the Super Bowl. Sure, the Pats are working through a rebuild the last few years without Tom Brady, but New England Patriots still made it to the playoffs in 2023.
Boston Red Sox.
It's been a rough couple of years for the Boston Red Sox, but the team has managed to remain competitive despite a few key departures. Certainly, Red Sox Nation will have plenty of opportunities to back their beloved Sox throughout the season and make some money in the process too. This season, imagine sitting at Fenway Park and getting into Massachusetts online sports betting while you're actively watching the game.
Boston Celtics
The Boston Celtics have been one of the most consistent teams in the NBA for a number of years now, and they're always a threat to make a deep run in the playoffs. Sitting at the top of the Eastern Conference with stars like Jayson Tatum and Jaylen Brown leading the way, Massachusetts sports bettors have plenty of opportunities to bet on their Boston Celtics.
Boston Bruins
Hockey has deep roots running through Massachusetts with the Boston Bruins being one of the Original 6 teams in the NHL. The Bruins have been a consistent competitor in recent years, and they're always capable of making a deep run in the playoffs for the Stanley Cup. With stars like Patrice Bergeron and Brad Marchand suited up, hockey fans won't want to miss out on their chance to bet on their favorite team.
Massachusetts Sportsbooks FAQs
While sports betting in Massachusetts has only recently launched, chances are you have some questions.
Whenever there is a state that is just beginning to explore the ins and outs of sports betting, we always get a lot of questions. So to help make things easier, we've compiled a few FAQs to help answer some common questions that residents of Massachusetts might have.
Is sports betting legal in Massachusetts?
Absolutely!  Whether you want to go to a retail sportsbook or even place bets online, all forms of sports betting is legal in Massachusetts.
Is online sports betting legal in Massachusetts?
Yes, it sure is! The Massachusetts gaming commission legalized sports betting for legal online sports betting sites in March 2023. That slight delay from the time the law went into effect to the time online sportsbooks were allowed to operate allowed them to process applications from casino operators who wanted to operate an online sportsbook.
When can I start betting on sports in Massachusetts?
Right now!  As of January 31st, 2023, you could bet in-person at a handful of retail sportsbooks throughout the state.  As of March 10th, 2023, MA residents could finally play at online sportsbooks like FanDuel and DraftKings.
Are there any age restrictions for betting on sports in Massachusetts?
Yes, according to the regulations set forth by the gaming commission, all customers must be 21 years of age or older in order to place a bet on sports in Massachusetts.
What types of sports bets are available in Massachusetts?
There are no restrictions on bet types. These can include moneyline bets, point spreads, parleys and prop bets. Moneyline bets are the most basic form of wagering and involve betting on which team will win a matchup outright. Point spreads involve betting on the margin of victory in a game while parleys require you to combine multiple moneylines into one bet. Prop bets are more creative and involve making predictions on various stats or outcomes during a game.
Is there college sports betting in Massachusetts?
Yes, you can bet on college sports, but there is an exception. While betting on college sports is allowed in Massachusetts, no bets can be placed on any in-state college teams.
For example, you can place bets on March Madness games, but you can't bet on any games involving Boston College.
They're just one of several states that ban in-state college sports betting, so this is fairly common.
If you did want to bet on Massachusetts college sports, just jump across the border to Connecticut and place your bets.
What sports betting operators are available in Massachusetts?
At this time, the only operators that have applied for and received a license to operate sportsbooks within Massachusetts are DraftKings, FanDuel, BetMGM, Caesars, WynnBET, and Barstool. We'll keep you updated as the Massachusetts online sportsbooks start getting their approvals and moving forward with their betting sites.
Are Massachusetts daily fantasy sports legal?
Yes, daily fantasy sports have been legal for a few years now in the Bay State.
Gov. Charlie Baker legalized daily fantasy sports in Massachusetts in 2016 with legislation that set the minimum age to play at 21 and limited players to a $1,000 cap on monthly losses.
In addition to retail sports betting and Massachusetts online sports betting, the Massachusetts Gaming Commission also oversees daily fantasy sports.
Come back for more Massachusetts sports betting updates.
Whether it's news on MA sports betting apps, new in-person sports betting locations launching, or you're just looking for bonuses to use while betting in Massachusetts, we'll keep you updated with the latest information.
Be sure to bookmark this page and check back often for updates!