This innovative DFS platform provides a user-friendly app and guaranteed payouts, making the Jock MKT app perfect for those looking to play on the go. Offered in a variety of places, such as the Apple app store and the Google Play store, you'll be able to play fantasy sports across both apple and android devices.
With daily contests and fantasy points, you'll be sure to enjoy the exciting energy that the Jock MKT mobile app has. Play at Jock MKT to enjoy a wide variety of fast-paced bets so you can win real money today. Keep reading to learn more about their services in our Jock MKT review and see if they're the right daily fantasy outlet for you.
JockMKT DFS Promo Code

EWB1

— Click to Copy
Offer
100% Deposit Bonus | Up to $100
Valid Through
October 31, 2023
Bonus Verified
September 30, 2023 by Matt Brown
Terms for the Offer
Must use promo code. One coupon per customer. Minimum deposit of $5. Must be 21+

Jock MKT DFS Welcome Bonus
Like many other sites, there's a Jock MKT promo code for new players. When you sign up, you can get a 100% Deposit Match up to $100. To receive this bonus, you need to use the code EWB1 and make a minimum deposit of $20.
Considering the low rake Jock MKT takes and the fact that your odds of winning here are better than most DFS websites and sportsbooks, this is not a bad deal at all!
If you are looking for a DFS platform that is not only fun but also drops the insane welcome bonuses, then JockMKT is the place to try.  Not only do we love their stock-like platform, but we also love getting bonus cash for signing up and making an initial deposit. You really can't lose when you give Jock MKT a shot.
Jock MKT Features
Jock Market allows you to bet on a variety of major league games and players, whether enjoying the PGA Tour or watching the NFL playoffs. Jock MKT is unique in that you can participate in buying and trading players, like a stock market.
This works like the stock exchange as you can buy and sell players, and their value changes as their sports stats and public perception change. This is different than other online sportsbooks, so DFS fans can be excited about this change from traditional DFS apps.
Sell shares whether the game is going on through live trading or hold onto them until the end. Either way, sports fans will enjoy this change from typical online sports markets with the Jock MKT site.
You may be asking yourself does Jock MKT work? Jock MKT's app has been around since 2020 and continues to grow and become a more reputable platform. Its approach to daily fantasy sports through its innovative DFS platform, similar to stock markets or cash markets, makes Jock MKT a must-check out.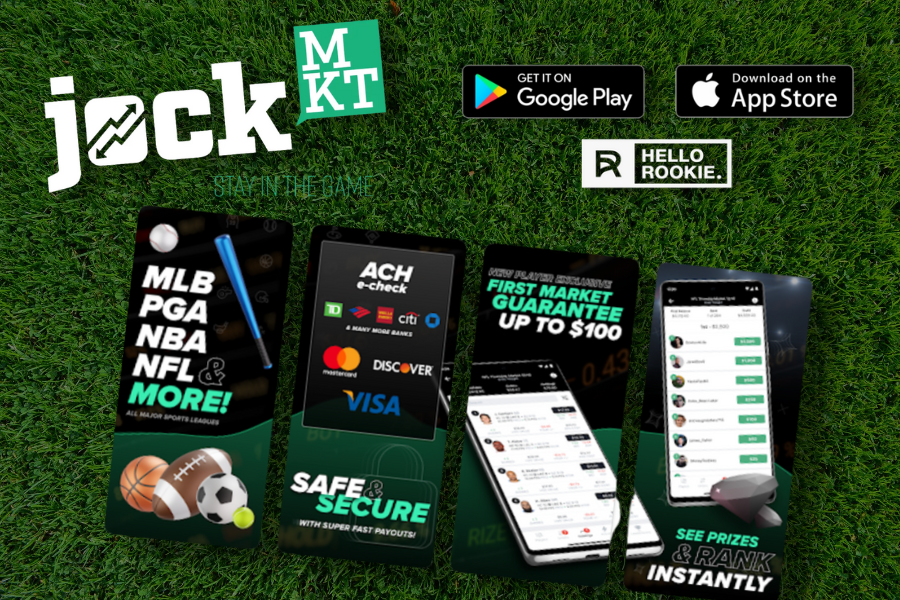 Is There Another Jock Market Promo Code I Can Use?
This month, if you're looking for another Jock MKT promo code to use besides a Jock MKT welcome bonus, try using EWB1. This promo code will give you an instant $100 deposit match bonus. Keep an eye out, as there are plenty of Jock MKT offers that appear throughout the year.

Jock MKT Promo Code and What It May Do
When using a Jock MKT promo code on the Jock MKT online app, you'll likely encounter a variety of different Jock MKT bonuses that will make you want to start trading.
You may receive a no-deposit bonus which means you would receive site credits just for signing up. You won't have to worry about depositing to begin to trade shares. Though this Jock MKT promo code isn't currently available, keep your eye out for this sign-up bonus.
If these promos aren't enough to make you sign up, you can participate in a free Jock MKT contest to help you determine and figure out your Jock MKT strategy when it comes to sports betting. This means you can try out and learn how to use jock MKT before betting real money.
Jock MKT App Games
There are a couple different ways you can play on JockMKT and both are exciting and fun.  To help you out, we've broken them down so you can choose which style is best for you.
Spoiler alert – we're big fans of the market game.  We couldn't put our phone down when we were playing that one, but don't just take our word for it.
Contest Game
Contests in the Jock MKT app are marked by the fact that you need to buy in to play. Everyone is provided with the same amount of chips that let you sell and buy players. Whoever has the most chips at the end wins, which makes it so you can't cash out in the middle of the game. It still involves live trading, just more aligned with tournament styles game.
Market Game
Functioning similarly to a stock market, this platform allows you to buy and sell the stocks of players before or during the game. For these, Jock MKT deposits can be made for as low as $10. You can buy and sell shares before the game is over to other players and see how much money you can make in the stock market style that is Jock MKT DFS.
Jock MKT Bonus Terms and Requirements
Unless it's a no-deposit promo code, you can expect to have to make a deposit to claim your Jock MKT promo code. For a welcome bonus, you can only use it once per account, so make sure to keep your eye out for a Jock MKT promo code that isn't only a welcome bonus.
Available Jock MKT Sports
Download the Jock MKT app to play DFS across a wide variety of leagues, including the MLB, NBA, NASCAR, NHL, NFL, and PGA Tour. You'll have access to many of the major league sports you can find on other online sports betting platforms.
You can play both contest and market games, where you can make money since Jock MKT pays. Also make sure to utilize a Jock MKT promo code on this DFS platform.

Jock MKT Deposit And Withdrawal Options
Jock Market allows the use of e-wallet methods to fund your account, including PayPal, Visa, and Mastercard. There's typically a minimum Jock MKT withdrawals amount of $20, and the average payout time is around 5 days.
Is Jock MKT Legal and Safe
Some people may be asking, is Jock MKT legit, or is Jock MKT legal and safe? Since Jock MKT has been around for several years, the site is completely legal and safe in a variety of states where sports gambling is legal. You can play Jock MKT, use a promo code, and begin your daily fantasy sports journey on Jock MKT wherever it is legal.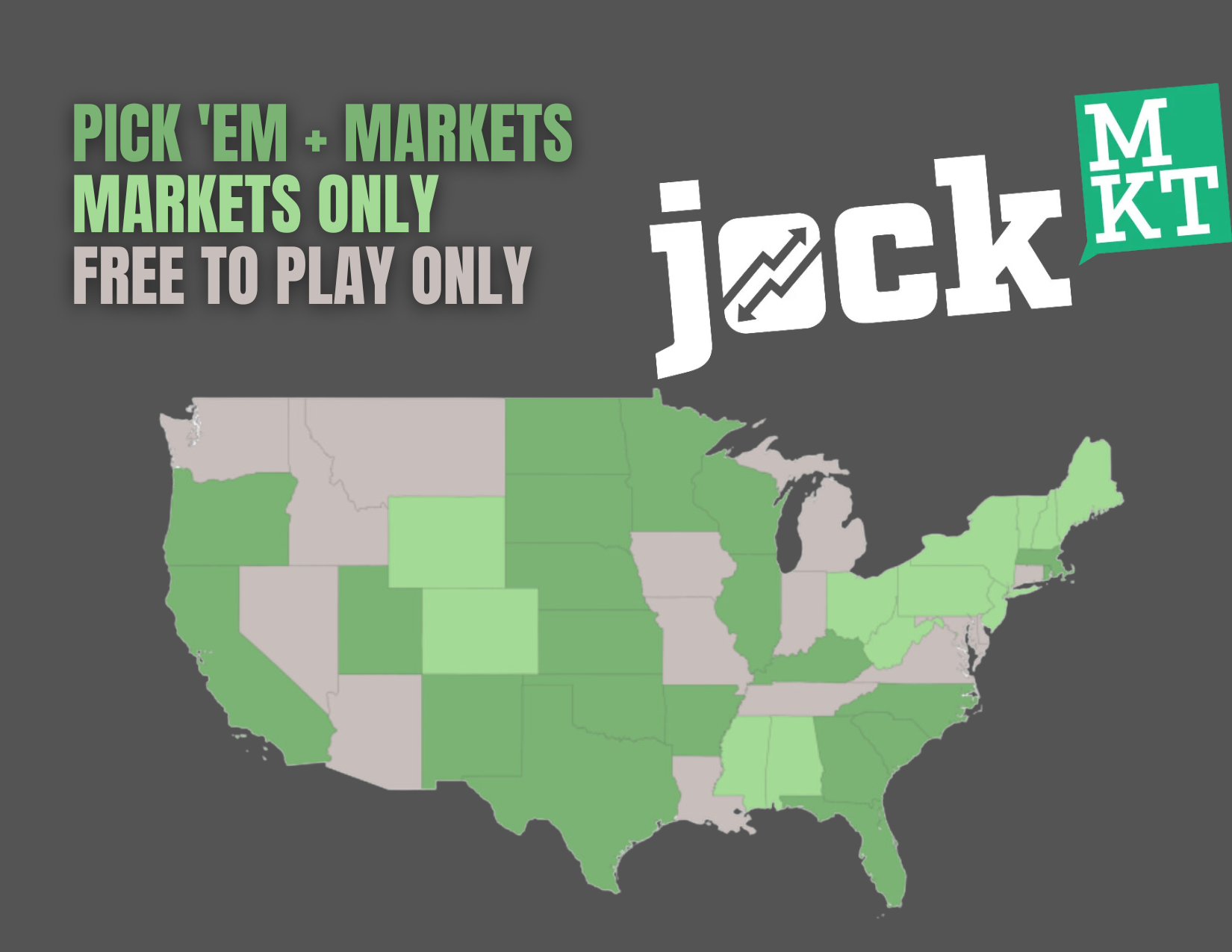 How do I Deposit Funds into my Jock MKT Account?
You can use a variety of payment methods to deposit and withdraw money from your account. E-wallets typically used on other sites, such as PayPal and Mastercard, can be used for Jock Mkt DFS.
You have to use the same payment method to deposit and withdraw funds, which will be verified by Jock Market, so you can get started with playing daily fantasy sports through the site.
Jock MKT Review Final Thoughts

We hope this Jock MKT DFS review has helped guide you. Jock MKT is definitely an outstanding online daily fantasy sports site to check out. With no salary cap and a platform that acts as a stock exchange to buy, sell, and trade players, it's definitely a must to look into if you're into daily fantasy sports.
Jock MKT takes a short time to sign up on the Jock MKT app, which can be found in the google play store and the apple app store. The ability to bet and participate in live trading for your favorite sports teams and players as if it was the stock market makes this a very innovative way to bet.
Check out Jock MKT today and use a Jock MKT bonus for new customers. But don't just go off of this Jock MKT review; check out the Jock MKT homepage to help you get a sense of the site so you can begin betting on Jock MKT today.
Review and Rating for Current Jock MKT Bonus Offer

Jock MKT is an online sportsbook offering a 4.5 (out of 5) rating, equal to BetMGM and SugarHouse.
The rating is determined by comparing the bonus and terms with other online sportsbooks, as well as the app's overall quality and reviews from current users. Users that can access Jock MKT are encouraged to take advantage of this offer.
JockMKT Review Overview

Details

Jock MKT offers a great user-friendly app and stellar customer support team, but the bonus offer is not too shabby. While its overall offer is decent, there are more attractive promos available in the sportsbook industry. Nevertheless, it is worth trying out if you reside in one of the over 30 states Jock MKT is live in.
Rating
Author: Matt Brown
Reviewed By: Chris Lollis