Indiana Sports Betting
Indiana Sports Betting
Find the latest news surrounding Indiana sports betting in 2022
Indiana passed the necessary legislation to make sports betting legal in May of 2019 and the first bet was placed in September of 2019. Operators in the state took just under $1 billion in bets in the first year, resulting in over $75,000,000 in revenue. In 2021, sports betting in Indiana grew to even greater heights, as the total betting handle for the year was nearly $3.8 billion. Below is a breakdown of the sportsbooks currently operating in Indiana.
Indiana Sports Betting Details
| | |
| --- | --- |
| Start Date | September, 2019 |
| Legal Age to Bet | 21 |
| Online/In App Betting | Yes |
| Maximum Bet | No Limit |
| Corresponding Bill | IC 438 |
| Eligible Sportsbooks | Those registered through Indiana Gaming Commission. |
Top Rated Indiana Sportsbooks
Indiana became the 13th state to legalize sports betting in September 2019 but has seen rapid growth across the industry. With 15 sportsbooks and 9 total sportsbook apps, Indiana's sports betting market is one of the largest in the US.
Sportsbook
Our Grade
Promo Offer
Get Started

9.8

Out of 10

Up to:

$1,000 Risk-Free Bet

Get Offer

9.5

Out of 10

Up to:Bet $1, Get $150

Get Offer

9.2

Out of 10

Up to:

$2,000 in Risk-Free Bets

Get Offer

9.1

Out of 10

Up to:

$1,000

Deposit Bonus

Get Offer

8.7

Out of 10

Bet $10, Get $200
Get Offer

7.8

Out of 10

Up to:

$1,500 Deposit Bonus

Get Offer

7.7

Out of 10

Up to:

$250

Free Bet

Get Offer
Complete List of Indiana Sportsbooks
The following is a complete list of sportsbooks operating in the state of Indiana. As we saw in both New Jersey and Pennsylvania, national and global sportsbooks have partnered with established casinos in the state to bring familiar products to Indiana residents and visitors.
| SportsBook | Casino | Launch Date |
| --- | --- | --- |
| BetAmerica | Rising Star | 12/30/2019 |
| BetMGM | Belterra | 2/25/2020 |
| BetMGM | Blue Chip | 2/25/2020 |
| BetRivers | French Lick Resort | 10/3/2019 |
| Caesars | Harrah's Hoosier Park | 5/19/2020 |
| Caesars | Horshoe Hammond | 5/19/2020 |
| Caesars | Horseshoe Southern Indiana | 5/19/2020 |
| Caesars | Indiana Grand Racing & Casino | 5/19/2020 |
| Caesars | Winner's Circle Clarksville | 5/19/2020 |
| Caesars | Winner's Circle Indianapolis | 5/19/2020 |
| Caesars | Winner's Circle New Haven | 5/19/2020 |
| DraftKings | Ameristar | 10/3/2019 |
| FanDuel | Belterra | 10/26/2019 |
| FanDuel | Blue Chip | 10/26/2019 |
| PointsBet | Hollywood Casino | 3/6/2020 |
| USA Sports Gaming | Majestic Star | 11/12/2019 |
| William Hill | Tropicana Evansville | 11/12/2019 |
As you can see in the table above, each of the 15 casinos that operate in the state of Indiana has a partnership with at least one sportsbook. This means there are sportsbooks from Horshoe Hammond (near Chicago) all the way down to Caesars Southern (near Louisville). Allowing Indiana to earn tax revenue from both Illinois and Kentucky's largest cities.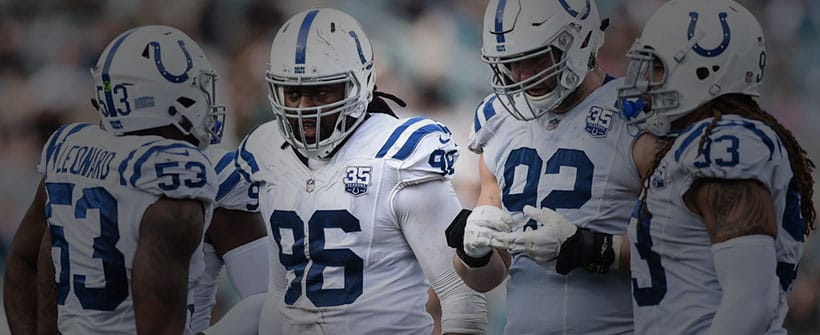 Indiana Sports Betting FAQ's
With the 15th largest population amongst US states and plenty of sports fans (Colts, Pacers, Hoosiers, Fighting Irish, Boilermakers), Indiana brought a ton of new eyes to the industry. As a result, we received an inbox full of questions surrounding the launch of legal sports betting in the Hoosier State. Below are answers to some of the most popular questions we received.
Is sports betting legal in Indiana?
Yes, sports betting is now legal in the state of Indiana. While some states, such as Arkansas, chose to keep online sports betting illegal, Indiana legalized both online and in-casino sports betting throughout the state.
What sports can I bet on in Indiana?
We have seen different states ban different sports or even ban certain types of bets within a sport. The state of Indiana made any sport played by athletes 18+ years old legal to bet on. This obviously includes college football and college basketball. Furthermore, there are no restrictions on bet types allowed in the state at this time.
How do deposits and withdrawals work with online sportsbooks?
You can fund your online sports betting account in a number of different ways. These include: checking account, debit card, Visa/Mastercard, and in some cases even PayPal. When you withdraw any winnings, the funds you deposited are typically refunded first, then any remaining balance is paid to you in the same manner you deposited. It is possible to cash out your account in person at any of the state's 15 sportsbooks
Is live betting legal in Indiana?
Not only is live betting legal, but it is the fastest-growing segment of the sports betting industry. Bet on lines as they move throughout a game, bet on the result of the next play, the next team to score, and much more with live betting. We highly recommend FanDuel, DraftKings, or PointsBet if live betting is something you think you will enjoy.
What is the largest sports betting app in Indiana?
While you might expect the leader in sports betting in Indiana to be either DraftKings or FanDuel (they clearly lead nationally), it is actually Caesars and their sportsbook in Horseshoe Hammond with the largest handle in the state. This is because the book is located just 30 minutes from downtown Chicago and sports betting is still illegal in Illinois.
---
Latest Sports Betting Legislation