Ohio Sports Betting
Ohio Sports Betting
Everything you need about legal sports betting in Ohio
Legal sports betting is coming to Ohio in the very near future. Governor Mike DeWine made sports betting legal within the state in December of 2021 by signing bill HB 29. Rules and regulations are currently being made by the Ohio Casino Control Commission. Fans of the Bengals, Browns, Cavs, and Reds should be able to bet on sports no later than January of 2023.
Ohio Betting Details
| | |
| --- | --- |
| Start Date | Estimated early 2023 |
| Legal Age to Bet | 21 |
| Online/In App Betting | Yes |
| Maximum Bet | No Limit |
| Corresponding Bills | HB-194 and HB 29 |
| Eligible Sportsbooks | To be determined. |
Closer Look at Ohio Sports Betting Bills
The Ohio House actually passed a bill legalizing sports betting in the state in May of 2020. However, the state Senate also had a bill with one key difference that was also making its way through the legislative process. Thankfully, the bill finally passed both chambers in December of 2021 and Governor Mike DeWine signed the bill shortly after. Now, it's only a matter of time before sports betting is finally offered in the Buckeye State.
The key difference between the two bills is who is in charge of regulating sports betting in the state. The House bill put the state lottery in charge while the Senate bill put the state's casino control commission in charge. Early indications are the Senate is likely to win out here, meaning the casino control commission will regulate sports betting in Ohio.
So, what does this mean for online and mobile sports betting? Again, nothing is finalized, but it seems as though online sportsbooks like FanDuel and DraftKings will be able to operate alongside one of the state's established casinos. This would be a win-win for the 11 million Ohio residents as they would have both online and brick-and-mortar options.
Top Ohio Sportsbooks
Assuming the path forward in Ohio is to offer both brick-and-mortar and online sports betting options, the industry would look very similar to what we have seen in neighboring Pennsylvania. Here we saw the largest mobile sportsbooks in the US partner with the state's licensed casinos. There are 11 casinos in the state of Ohio so we would likely see all of the major US sportsbooks operational by the start of 2023.
Sportsbook
Our Grade
Promo Offer
Get Started

9.8

Out of 10

Up to:

$1,000 Risk Free Bet

Get Offer

9.5

Out of 10

Bet $1, Get $150

Get Offer

9.2

Out of 10

Up to:

$2,000 Risk Free

Get Offer

9.1

Out of 10

Up to:

$1,000

Deposit Bonus

Get Offer

8.7

Out of 10

Up to:

$500

Free Bet

Get Offer

8.5

Out of 10

Bet $10, Get $200
Get Offer

7.8

Out of 10

Up to:

$1,500 Deposit Bonus

Get Offer
If you are an Ohio resident, you want to see as many sportsbooks operate in the state as possible. More books result in more betting options, better sportsbook promotions, more line options for each game, and, of course, reduced juice.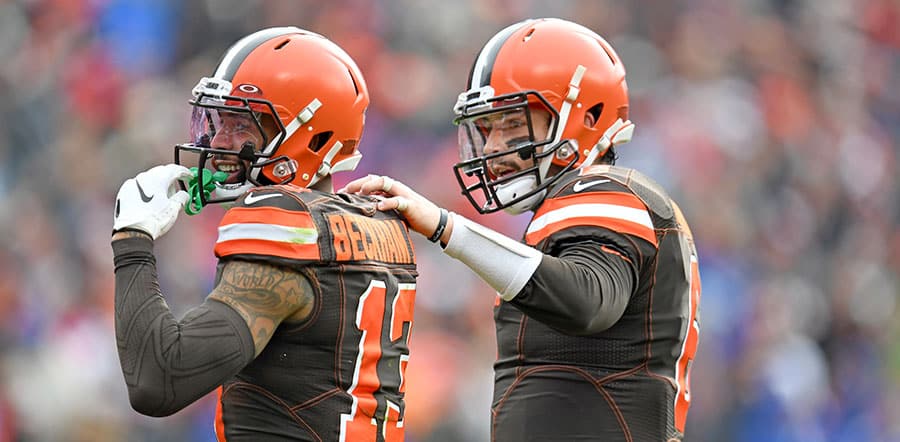 Ohio Sports Betting FAQs
It seems as though every time a state moves to legalize sports betting new complications arise. In Tennessee we saw out-of-this-world fees and taxes, in Michigan we see a resistance to mobile betting, and in Ohio it is competing bills. This leads to confusion and a ton of questions. These FAQs should address most of those questions.
Is sports betting legal in Ohio?
While a bill has been passed to legalize sports betting in the state, residents are not yet able to place bets. Ohio is, however, closer than most states and we expect legal sports betting to begin in early 2023.
Will mobile sports betting be legal in Ohio?
Yes, it is expected that the final version of the bill passed through the state's House and Senate will allow for mobile and online sports betting. While this will not be definitive until the bill is officially passed, it appears Ohio residents will be able to bet online sometime next year.
What is the proposed legal betting age?
Once passed, the legal sports betting age in Ohio will be set at 21. This is the same age we have seen in nearly every US state that has legalized sports betting over the past three years.
What sports can be bet on in Ohio?
Ohio residents will be allowed to bet on all major sports once the bill passes. This does include college sports, however, we are not certain state colleges and universities will be included.
What bet types will be legal in Ohio.
The current versions of the sports betting bill would allow for all sorts of bet types including straight bets, parlays, spreads, totals, and props. There would be no betting on elections.
Latest Sports Betting Legislation