Tennessee Sports Betting
Tennessee Sports Betting
Legal sports betting has arrived in Tennessee. Check out the best promos of 2022
After one of the longest fights we have seen in this industry, online sports betting has done quite well in Tennessee. Though the Volunteer State has no in-person sportsbooks, there are currently a few online options. 2022 promises to be another big year for TN sports betting.
Tennessee Sports Betting Details
| | |
| --- | --- |
| Start Date | November 1, 2020 |
| Legal Age to Bet | 21 |
| Online/In App Betting | Yes |
| Maximum Bet | No Limit |
| Corresponding Bill | HB0001 |
Details for the Tennessee Sports Betting Bill
The battle for legal sports betting in Tennessee has been uphill, to say the least. Originally projected to offer sports betting early in 2020, the start date has been pushed back repeatedly as operators fight with the state over the hold requirement.
The state originally placed a "hold rate" of 15% on all gross revenue brought in at sportsbooks. This was roughly double the 6-8% you find in the other states that offer legal sports betting. The state legislatures eventually discovered just how big of a mistake they made after passing the bill, setting the hold rate, and opening the state up to business only to find zero books enter the market.
Obviously the 10% hold rate is still significantly higher than the current national average, but will operators pay it? Early indications are yes, but not out of their own pockets. Rather, Tennessee players can expect to see increased juice, likely as high as -120 in simple spread bets.
So, why is this significant? People want to bet, they are likely to pay the increased juice to do so, right? Not necessarily. Keep in mind, the goal for the state of Tennessee should be to run offshore books out of business in the state. If a player can make the same bet in two places, but one has a 10-15% higher payout why wouldn't they bet there?
Anytime a Tennesse resident places a bet with an offshore book it not only is bad for the player, but it is missed revenue for the state. Had legislatures originally proposed a bill with realistic requirements sportsbooks would already be operating in the state and would have likely brought in nearly $20 million in tax revenue.
Tennessee Sportsbook Options
So, when legal sports betting finally arrives in Tennessee, what operators should we expect to see? We already know that sportsbooks like FanDuel and DraftKings can control the juice on a state-by-state level. Meaning they can operate with the higher fees, and likely could have operated with the originally proposed rates.
While the 20% tax rate and 10% hold rate are far from a win, we think the top books in the industry will find a way to make it work. As of late September 2020, zero sportsbooks have officially been vetted and approved to operate. Here are the four sportsbooks that will likely enter the market by the end of 2020.
Sportsbook
Our Grade
Promo Offer
Get Started

9.8

Out of 10

Up to:

$500

Free Bet

Get Offer

9.5

Out of 10

Up to:

$1,025

Deposit Bonus

Get Offer

8.7

Out of 10

Up to:

$500

Deposit Bonus

Get Offer

8.1

Out of 10

Up to:

$250

Free Bet

Get Offer
Additional Tennessee SportsBook Options
It is worth noting that ther are no casinos in the state of Tennessee. The state does not allow slot machine based gambling. Whether related or not, Tennessee legislatures decided to disallow in-person, brick-and-mortar sportsbooks in the state as well.
This means mobile and online wagering is the only options for Tennessee residents, which is the complete opposite of what we have seen in states like New York. This is clearly because the state is not beholden to casino operators.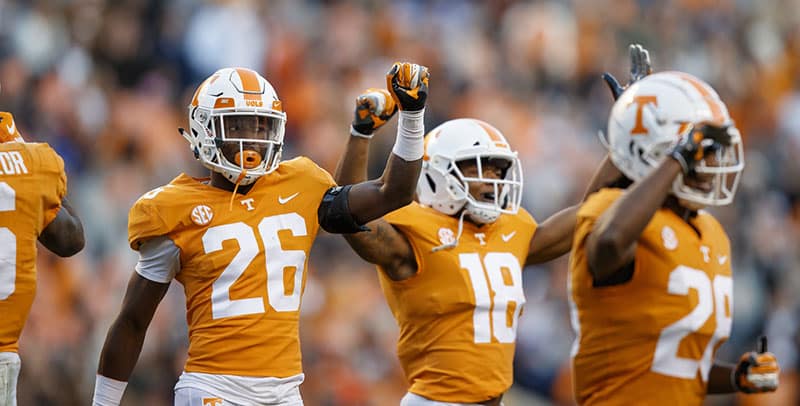 Tennessee Sports Betting FAQs
The path to legal sports betting in Tennessee has been arguably the roughest we have seen to date. The outcome could, in the end, work out for the 7 million Tennessee residents as the final deal opens a clear path for operators like FanDuel and DraftKings to enter the market. That being said, we know our readers still have questions regarding the bill and just how this all will work.
Is sports betting currently legal in Tennessee?
Yes, sports betting has been legal in Tennessee for nearly a year, but the original bill had significant issues that kept operators from entering the market. A revised bill should be put into effect by November 1st, meaning Tennessee residents will be able to legally bet on games this NFL season.
What sportsbooks will operate in Tennessee?
Given the fact that Tennessee chose to go online/mobile only, we expect to see most of the major US sportsbooks in the state by the end of 2020. This includes FanDuel, DraftKings, BetMGM, and William Hill. However, do not be surprised to see a handful of books pass simply because the 20% tax rate and 10% hold rate are significantly higher than other states.
Is mobile betting legal in Tennessee?
Yes, when Tennessee sports betting begins this November it will be online and mobile betting only.
What sports will be legal to bet on?
Tennesee residents can expect to be able to bet on every major professional and college sport. However, they may not be allowed to bet on the state's college sports teams or any sort of political prop bet.
What is the minimum age to bet on sports in Tennessee?
The minimum age to bet on sports in Tennessee is currently set to 21.
Latest Sports Betting Legislation