FanDuel Review
FanDuel Review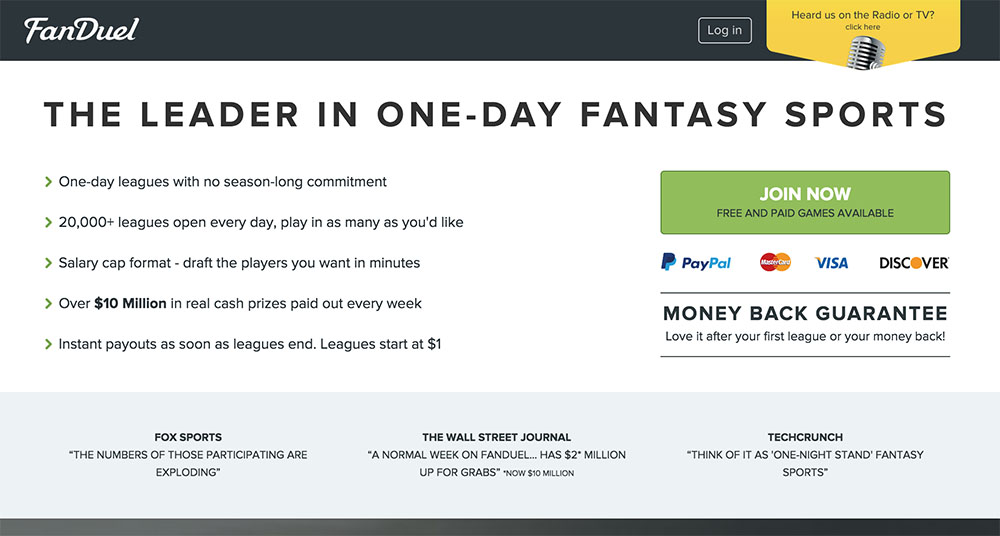 An Expert Daily Fantasy Sports Fanduel Review
FanDuel Review Details
Website and App Design

Website and App Usability

Game Quality and Variety

Scoring and Roster Structure

Winability

Customer Service
Summary
FanDuel scores off the charts in terms of website and app design, and in-game experience. All of their products are state of the art, and they are clearly the industry leader in product quality. They also outscore competitor and potential merger partner DraftKings in terms of winability and customer service. They cater more to new players than almost any other DFS website in the industry.
FanDuel is one of the most popular daily fantasy sports sites out there, leading the way in the rapidly-evolving DFS industry, but how good is the site really? Today, we'll take an in-depth look at one of the finest DFS brands in the business to analyze its advantages and see why so many people regard FanDuel as the best site for fantasy fans.
With an estimated 1 million new users last year alone and record-breaking prize pools, this is a great time to jump on board with FanDuel and participate in some of their exciting leagues and contests. The choices and opportunities provide for endless fun. So without further ado, let's talk about the site.
If you're joining up with a DFS site, the choice of games on offer will be a big factor in your decision. Fortunately, FanDuel can boast of a myriad of different options. The site recently announced a partnership with the NBA, and also offers games for the biggest professional leagues like the NFL, NHL, MLB and more. Players can enjoy a variety of different gametypes for each sport like head-to-head challenges or larger tournaments with thousands of unique players.
So stop waiting until the end of the season and start winning now and seeing cash deposited into you account with each victory. Start building you account today by signing up and starting that winning streak. FanDuel even encourages the beginners to enter free practice games to gain some experience once you confidence you can start participating in some real competitions putting your strategy to work.

FanDuel Review: Sports and Game Variety
Some sites tend to focus on the NFL a little too heavily in terms of their prize pools and while FanDuel does offer some incredible tournaments for football fans, they also cater to enthusiasts of other sports in a fair and balanced manner; NBA and MLB contests can easily feature $1 million prize pools, for example.
The site also does a good job of providing options for players with varying budgets. Your bankroll is an important part of your DFS dealings and everyone wants to get the best value for their money. FanDuel has such a wide array of contests on offer that there'll surely be something to suit you.
If you're a high-stakes player, you can enter some of the top tournaments with four-figure buy-ins. If not get into lower-stakes contests with the goal of working into the higher-staked contests. FanDuel makes it easy with the multitudes of options to customize and participate in contests that work into your personal budget limits.
Meanwhile, for people who don't want to risk too much money, the site offers countless contests with free entry or $1 buy-ins. FanDuel also offers a good range of satellites which allow players to qualify for the big money championships with small investments. Fans will no doubt appreciate the care that has been taken by the FanDuel staff to offer plenty of options to people of all different incomes and ability levels. With so many options and opportunities to play and win the odds of winning greatly increase.


FanDuel Review Website Design and Usability
Ease of use is another vital factor when trying to find a good DFS site as the signup processes can often by complex and time-consuming. Once again, FanDuel exceeds in this department by offering a rapid and reliable signup system. All you have to do is enter a few details and your account will be created in seconds.
You can then make your first deposit with ease via a good selection of different payment methods. It is made to be as simple as possible to spend less time working and more time playing. So plug in that winning line up today and get involved in those daily contests.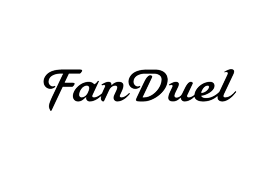 It's worth mentioning here that FanDuel offers a super bonus for new members that effectively doubles the value of your initial payment with the use of our Partner Level Fanduel Promo Code, giving you an extra-large bankroll to enjoy twice as much fun.
They also offer an incredible money back guarantee on your first contest, allowing you to play without any risk whatsoever. Little details like this help to make FanDuel a particularly enticing proposition for new users.
Once you've signed up and deposited some funds, you'll be looking for a contest. Luckily, the site is very well-organized. There are so many people playing every single day that you'll never be at a loss for games and leagues to enter and enjoy. The easy-to-use system allows you to use various filters to sort out the huge list of games and find one that really fulfills your own requirements.
You can choose from various sports and different types of game, and you can even sort the list in terms of entry fees and other aspects to make the process much simpler. Naturally, you can also create your own custom games and this is also very simple.
Remember that our team of freaks here on the Fantasyfootballfreak.com team are working hard to give you that competitive edge with respect to making picks and drafting up those line ups. We provide lots of material to work with when making your selections. Our goal is to help educate you in order to make the selections that put you in a winning situation.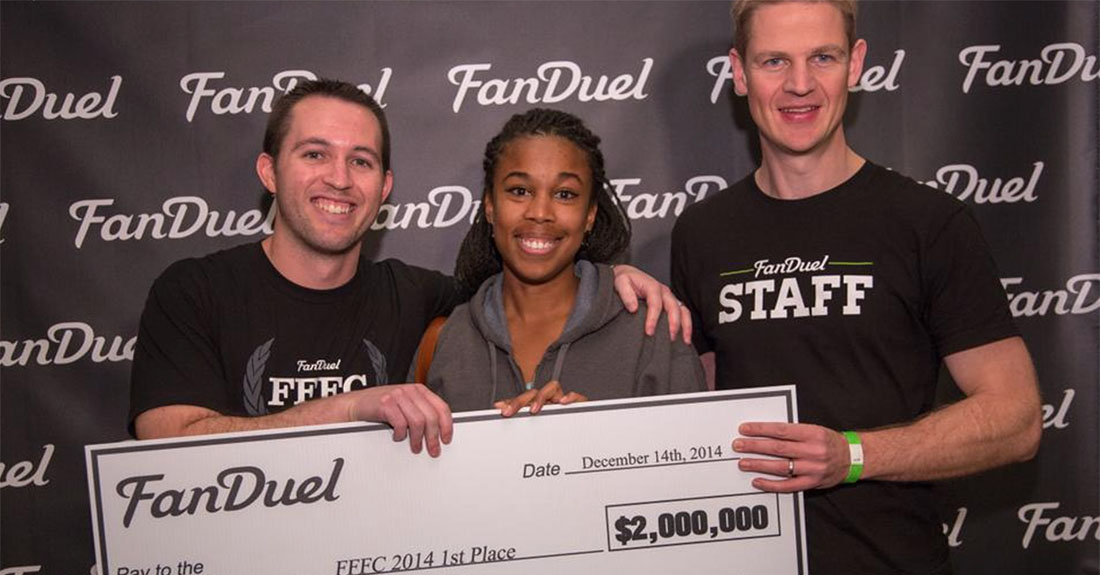 Winning on FanDuel
Like with other fantasy sites, you'll then go on to your draft your squad and watch your fantasy points roll in. It's worth looking at the points systems at FanDuel as they might be a bit different if you've switched from another site. If you win, you'll probably want to withdraw some cash and we are pleased to report that this is process is, yet again, very fast and easy. Some sites tend to take too long with withdrawals but FanDuel processes all requests very quickly and you'll soon see your funds arriving on your account.
How about the rest of the site? Well, it looks great and functions flawless. The style is attractive and will appeal to sports fans, while the interface is always easy to navigate. You shouldn't really struggle to find anything, but if you do have any problems then the site has a helpful FAQ section and a friendly support team waiting to deal with your queries. FanDuel has developed a site that is very easy to navigate, allowing you to access a lot of information at the click of a button. It's also a pretty powerful site that runs quickly at all times.
In addition, with so many people using smartphones and tablets these days, the site has created an app for iPhones that works well and is a nice bonus. Unfortunately, Android fans will have to make do with the mobile version of this site, but this has been properly optimized and works flawlessly.
Overall, there's not much we can say against FanDuel. The site offers one of the best DFS experiences you can find right now and should be recommended to new and experienced users alike. With a growing population, huge prize pools, new partnerships and a sleek system, FanDuel is growing from strength to strength and you should sign up today to become a part of this success story.