Overview of Current Caesars Deposit Promo Code
Caesars Sportsbook always has some of the best player promotions and sign-up bonuses in the industry. Check out the Caesars Sportsbook website and click the drop-down box to select your state. You'll then be able to view all of your state's current promotions.
Find the complete details for our Caesars promo code, BV1000, in the table below. We update these details daily throughout the NFL season to ensure you always receive the best available bonus.
Caesars Sportsbook Promo Code

BV1000

— Click to Copy
Offer
Bet Up to $1,000 on Caesars | Win or Get a Bet Credit Back
Valid Through
December 31, 2023
Bonus Verified
December 4, 2023 by Chris Lollis
Terms for the Offer
Offer valid for new customers only, of legal betting age for their state. Limited to one bonus per customer. Minimum $10 deposit.
Availability
AZ, CO, DC, IL, IN, IA, KS, KY, LA, MD, MI, NV, NJ, NY, OH, PA, TN, VA, WV, WY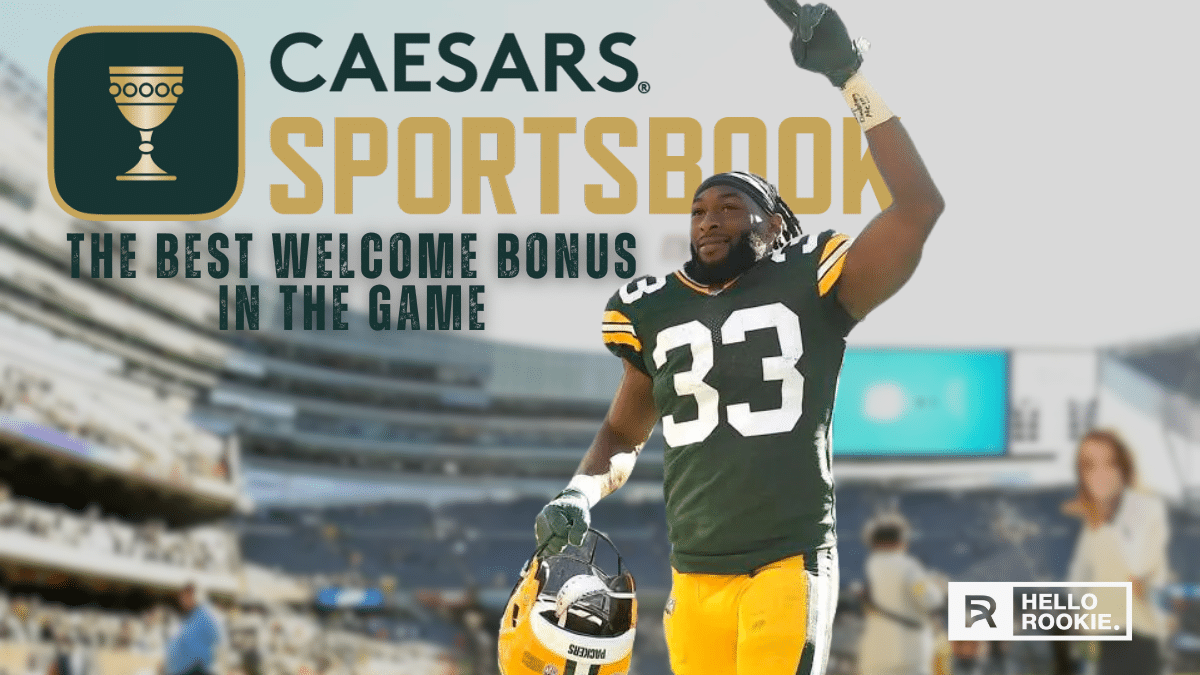 How to Use Our Caesars Sportsbook Promo Code
One of the nation's top sportsbooks is making history by offering one of the best promotions in the sports betting industry — Bet Up to $1,000 on Caesars. Any first-time users who deposit funds between December 1st and December 31st are immediately eligible for this incredibly generous promo. Here's how to cash in on this offer— 
Sign up for a Caesars Sportsbook account
Make sure to enter the Promo Code: BV1000
Make your first deposit
Receive your bonus bets
Enjoy the extra money in your betting bankroll
You can sign up through the Caesars sportsbook app.
In addition to signing up through the website, you can also download the Caesars Sportsbook app. Once you've downloaded and installed the app, you'll be able to follow the same steps as above to cash in on this offer.
It only takes a few minutes to register your account and start betting with Caesars Sportsbook. With our exclusive Caesars sportsbook promo code, BV1000.
Once you're in and make your Caesars sportsbook deposit, get in on the online sports betting action.

Hello Rookie's Daily Pick for December 7th
Begin your experience at Caesars on a high note with these odds boosts recommended by our pros.
🔥Maryland, Marquette, West Virginia & Arizona State All Win on 12/6: +675🔥
Good luck and we hope you win big at Caesars!
Terms for Our Caesars Bonus Offer
As is the case for every sportsbook bonus offer we cover, Caesars Sportsbook promotions have a list of terms attached to the BV1000 promotion. Find everything you need to know below. Be sure to not only follow these terms but to familiarize yourself with the legal sports betting house rules and terms on the Caesars Sports app before registering.
Only new customers are eligible, can not have an existing Caesars or William Hill account.
Must be 21 years of age or older and use the Promo Code of BVC10 when making your first deposit.
A new player must make their first wager within 7 days of opening their account to remain eligible for this bonus offer.
If you choose to use the cash-out option on your first wager, you will lose the promo.
You may not combine the welcome offer with any other Caesars promo.
New customers are not required to participate in the promotion.
To summarize the most important notes from these Caesars Sportsbook legal terms: new players may register using the promo code BV1000 and receive the latest bonus — Bet Up to $1,000 on Caesars!
Terms such as these are common throughout the various betting markets. Some online sportsbooks are more stringent than others, so be sure to always read the fine print before placing your first wager with any sportsbook. With that being said, we're confident that you'll enjoy all the great action at Caesars Sportsbook.
Regardless, it's bonus cash given to you directly from the Caesars online sportsbook, even if there are strings attached.

Details for the Caesars Palace Online Casino Bonus Code Offer
Caesars offers much more than just a great sportsbook, they offer a fantastic casino experience as well. Here is the link for their online casino. If you are new to Caesars, you can take advantage of the new player offer and get a huge welcome bonus of up to $2,000. 
Head over to their site and select your state. Sign up for your account. When making your first deposit, be sure to use the Promo Code BAR to receive a 100% deposit match up to $2,000. What a great way to double your bankroll right at the start!
Caesars Palace Online Casino will also let you try them out without even making a deposit. Anyone who signs up for a new account automatically gets a free $100 gas card.
This promotion holds up against the biggest names in the industry including the current promo code offers at BetMGM and Unibet.
If you've followed HelloRookie for any amount of time then you know we review and compare all online sportsbooks. Caesars online sportsbook is one of the top-tier sites we've reviewed.
We suggest you take advantage of the Caesars sportsbook promo codes while they last. And when doing so, be sure to read through all the terms and conditions associated with each offer to make sure you are getting the most out of your experience.
What States is Caesars Currently Available In?
The Caesars sports betting app is currently live in 20 states including AZ, CO, DC, IL, IN, IA, KS, KY, LA, MD, MI, NV, NJ, NY, OH, PA, TN, VA, WV, and WY. New players must be physically located in one of these states to be eligible to bet on the Caesars sportsbook.
The latest states Caesars launched in were Louisiana and New York back in January of 2022. With Arkansas, Kansas, and Maine all aiming to go live with mobile wagering soon, look for Caesars to set up shop in these new markets as soon as possible.
In addition to the 15 sportsbook states, Caesars Palace Online Casino is also available in New Jersey, Pennsylvania, West Virginia, and Michigan.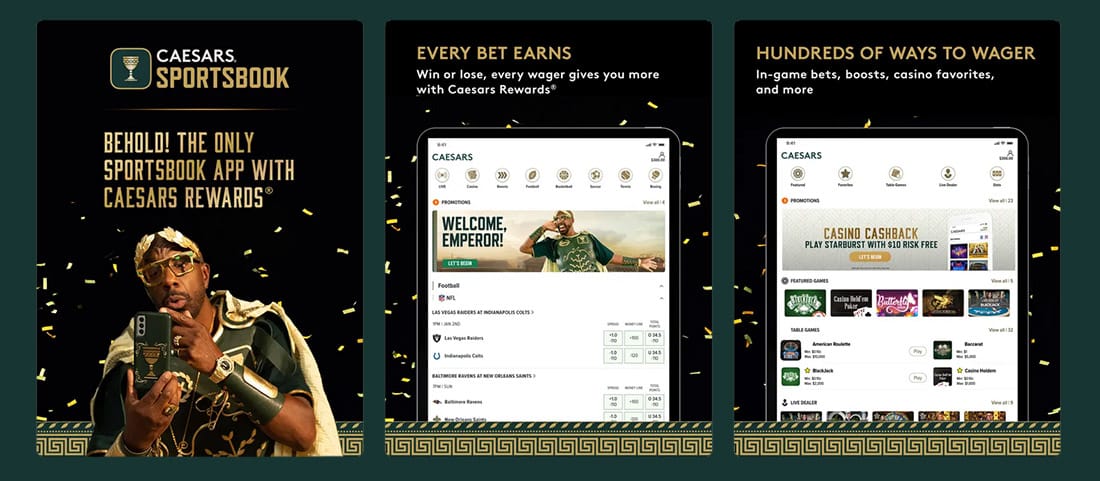 Best Features of the Caesars App
The new Caesars Sports app is loaded with features that we think users are going to love. While the William Hill and Caesars apps were a bit lacking prior to releasing the new app, this updated version is one of the top apps in the US industry. Below are some of our favorite features.
1. Bet Up to $1,000 on Caesars!
This high of a welcome bonus is almost unheard of in the industry. Caesars is being extremely generous to their new clients from the get-go.
2. Easy to Download
The Caesars Sportsbook App is easy to download on both iOS and Android devices. This is helpful for sports bettors who prefer to bet from their phone or tablet.
3. Client Support
Caesars has always provided excellent customer service to its patrons. With the merger of Caesars and William Hill now complete, customers should now enjoy faster response times than ever before. The live chat feature and toll-free phone number are available from 8 AM to Midnight each day to help out with any sportsbook or casino issues.
4. Variety of Bets
Caesars Sportsbook App offers a wide variety of daily and futures bets on all the major sports. 10 sports are currently listed on the app. Sports bettors are able to quickly check the odds for today's games and any futures odds they would like to view. Caesars also offers a Dime Line on the majority of their MLB games, which is refreshing to see in a US sportsbook.
Caesars Sportsbook Odds
There is lots to love when it comes to Caesars, but one area we couldn't pass up was their odds.  After all, the lines and odds are what make or break a sportsbook.  If they're too lenient, the sportsbook probably won't stick around very long. 
Just look at FoxBET.  Great odds, but fell from grace.
However, if the odds are not competitive enough then the sportsbook won't generate much business.  So on that, take a look at Caesar's odds.  They're not too bad.
We've put together this week's NFL games with the Caesar's odds so you can see for yourself how competitive they are.
Matchup
Game Time
New England Patriots
Tomorrow at 08:15 pm
+215
+6
Pittsburgh Steelers
-267
-6
Detroit Lions
12/10
01:00 pm
+150
+3
Chicago Bears
-178
-3
Indianapolis Colts
12/10
01:00 pm
-105
+1
Cincinnati Bengals
-115
-1
Houston Texans
12/10
01:00 pm
-190
-3.5
New York Jets
+158
+3.5
Tampa Bay Buccaneers
12/10
01:00 pm
-120
-1.5
Atlanta Falcons
+100
+1.5
Los Angeles Rams
12/10
01:00 pm
-350
-7
Baltimore Ravens
+275
+7
Carolina Panthers
12/10
01:00 pm
+192
+5
New Orleans Saints
-235
-5
Jacksonville Jaguars
12/10
01:00 pm
-175
-3
Cleveland Browns
+148
+3
Minnesota Vikings
12/10
04:05 pm
+135
+3
Las Vegas Raiders
-160
-3
Seattle Seahawks
12/10
04:05 pm
-550
-10.5
San Francisco 49ers
+400
+10.5
Buffalo Bills
12/10
04:25 pm
+105
+1.5
Kansas City Chiefs
-125
-1.5
Denver Broncos
12/10
04:25 pm
+118
+2.5
Los Angeles Chargers
-140
-2.5
Philadelphia Eagles
12/10
08:20 pm
-178
-3.5
Dallas Cowboys
+150
+3.5
Green Bay Packers
12/11
08:15 pm
-320
-6.5
New York Giants
+250
+6.5
Tennessee Titans
12/11
08:15 pm
-900
-13
Miami Dolphins
+600
+13

NFL Odds Updated: December 6th, 7:04pm
Areas the Caesars App Needs to Improve
While the rework of the Caesars Sports app is undeniably an upgrade, early users have noted a handful of features that could still use work. Below are some of the most frequently mentioned issues across user reviews.
1. The Overall Look Could Use a Facelift
We're being a little nitpicky here, but the app is a little too basic for our taste. Sure, creating a Caesars sportsbook account is easy and straightforward, just like any other online sportsbook, but the graphics are a bit dated.
The design is okay but doesn't have the nicest look to it. However, this is not a huge concern because the app processes bets at a lightning-fast speed. Sports bettors are also able to go from screen to screen quickly, which is a huge plus.
While we definitely like a mobile app that has a smooth and intuitive design, the speed at which bets are accepted is still the most important factor. And the Caesars sportsbook app passes this test with flying colors.
2. Few Promos to Choose From
Other than the gigantic welcome bonus, there are currently no other promotions listed for the Caesars sportsbook mobile app. Other established online betting platforms offer multiple small promos per week to their clients, like a bonus bet, 1,000 tier credits and 1,000 reward credits.
However, keep in mind that the Caesars sportsbook app is relatively new and they are likely to add a whole slew of promotions down the road, just like they did with their Caesars Sportsbook Ohio (or the William Hill sportsbook).
Despite these shortcomings, Caesars is undeniably one of the 5 best sports betting apps available in the U.S. today.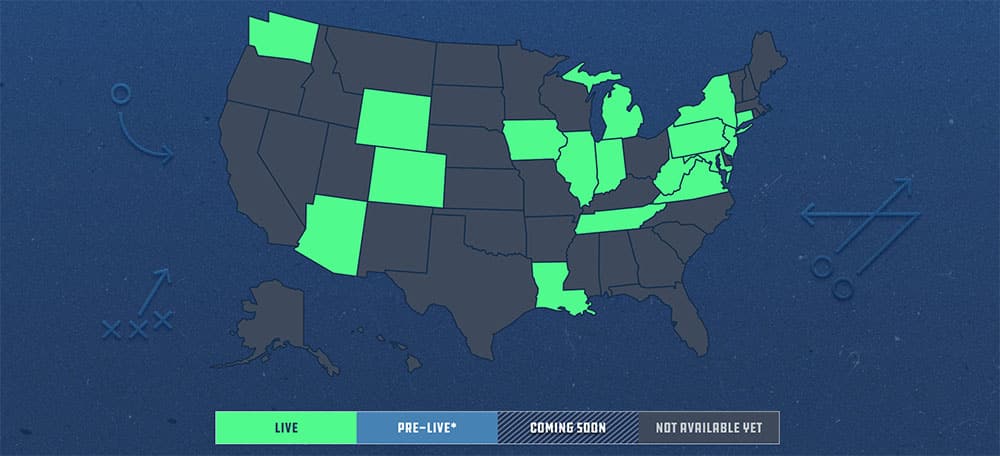 Caesars Sportsbook FAQ
Whenever we review a sportsbook or any other sports betting entity, we get a lot of questions from bettors. In this case, we're getting a lot of questions from Caesars sportsbook users. So with that, here are the most frequently asked questions about Caesars Sportsbook: 
Is Caesars sportsbook legit?
Absolutely! This is one of the top questions we get. Of course, most users want to know if their money is safe and secure. Caesars is a well-established and highly reputable sports betting operator, so you can rest assured that your funds are safe with them.
Can I participate in legal online sports betting in my state?
While Caesars only operates in a handful of states, they are actively working to expand their presence in the US. Depending on your current location, you may or may not be able to engage in legal online sports betting with Caesars Sportsbook.
Be sure to check your local laws before placing any bets. For example, Texas, Oklahoma, Alabama and Georgia do not currently have legislation in place allowing legal online sports betting. So you won't be able to take advantage of the best Caesars sportsbook promo while you're in those states.
Does Caesars offer a loyalty program?
Yes, they do. With their Caesars Rewards program, customers can earn points and rewards based on their sports betting activities which can be redeemed in various ways. Points earned through wagering can be used to purchase rewards like hotel stays, tickets to events, access to exclusive restaurants and more.
Honestly, out of everything Caesars sportsbook offers, this is one of the better perks. Definitely choose Caesars sportsbook for the rewards.
What are bonus bets? That sounds too good to be true!
A bonus bet is exactly what it sounds like: an opportunity to place a bet without having to spend any of your own money. If your bet loses, you don't lose any money. If your bet wins, you walk away with the cash. Caesars Sportsbook often offers bonus bets as part of promotional campaigns, so make sure to check back here as we'll keep you updated with any bonus bet offers they publish.
What is the minimum deposit for Caesars Sportsbook?
The minimum deposit for Caesars Sportsbook is currently $10. However, keep in mind that the amount you are allowed to deposit will vary depending on the payment method you choose. Make sure to check with your chosen payment provider for more information.
How long does it take for my withdrawal from Caesars Sportsbook?
Generally, withdrawals can take anywhere from 1-5 days to process depending on the payment method you use. It's important to note that there may be certain restrictions depending on your location and payment method.
What is the minimum bet amount for Caesars Sportsbook?
The minimum bet amount for Caesars Sportsbook App is $1. However, some sports like tennis and golf may have different minimums. The bet minimum will be listed next to your bet slip when you're in the individual game's room.
Does Caesars Sportsbook offer live streaming?
Yes, they offer live streaming for some events. However, they do provide up-to-date scores, stats and odds so you can stay informed about the games you've bet on.
Does Caesars offer live betting?
Like most betting markets, Caesars also offers live betting (also known as in-play betting). Live betting is where you can place bets on games that are already in progress. This is a great way to get more involved with the game, and it offers some exciting opportunities for winning big. New bettors need to make sure to pay attention to the odds and develop their own strategy before jumping in with their initial bet.
Review of the Current Caesars Promotions
As is the case with every online sportsbook we partner with here at Hello Rookie, our staff has thoroughly reviewed the Caesars app and assigned a rating to allow new players to compare it head-to-head with other sportsbooks.
While Caesars sportsbook operates a decent app, they're not the best online sportsbook we've reviewed.
As of December 2023, DraftKings Sportsbook is our top-rated app available in the U.S. with a 4.9 (out of 5) rating. Caesars comes in just slightly lower at 4.8. Find our thoughts and the current rating below. We'll continue to keep our eyes on this one and give you an update right here if it improves. Often times newer apps will roll out a buggy version then update the app later on.
Despite having a slightly lower rating than DraftKings and some other online sportsbooks, we still recommend you create a Caesars sportsbook account and take advantage of the welcome bonus. All you have to do is create an account using the Caesars promo code, deposit your funds, and dive into the sports betting market. You wouldn't want to leave bonus money on the table – especially house money.
Caesars Review Overview

Details

Caesars Sportsbook enters the online sportsbook industry with a massively improved app compared to what was previously available. The current promotion is one of the best bonuses in the online sports betting market, and all new players are eligible to earn Caesars Rewards. While still trailing leaders FanDuel and DraftKings, Caesars clearly offers one of the industry's best sportsbook apps.
Rating
Author: Chris Lollis
Reviewed By: Mike Noblin