FanDuel Promo Code
FanDuel Promo Code
Best SportsBook and DFS Bonus Offers for May 2022

FanDuel Sportsbook Promo Code
$1,000 Risk-Free Bet
The best FanDuel promo code offer for May gives first-time players a $1,000 Risk-Free Bet. This is the top-rated risk-free offer from a US sportsbook this May.
[Click to reveal promo code.]
Click to reveal promo code.

FanDuel Fantasy Promo Code
New DFS players that register at the link below will receive a deposit bonus of up to $500! This is currently the highest-rated promotion in DFS, so don't wait to sign up!
[Click to reveal promo code.]
Click to reveal promo code.
Top FanDuel SportsBook Promo Code Offer by State
FanDuel's sportsbook is live in Arizona, Wyoming, Connecticut, New Jersey, Pennsylvania, West Virginia, Colorado, Indiana, Illinois, Iowa, Tennessee, Louisiana, New York, Virginia, and Michigan. We will always keep you updated as new FanDuel promotions come available to specific states, so check back regularly.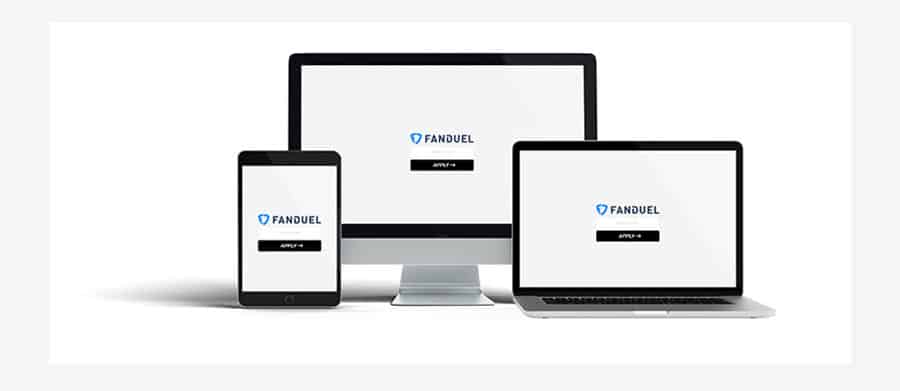 | | |
| --- | --- |
| Promo Code | ROOKIE |
| DFS Promotion | $500 Deposit Bonus |
| Sportsbook Promotion | $1,000 Risk-Free Bet |
| Promo Date | Valid: May 1, 2022 | Expires: May 31, 2022 |
| Promotional Terms | Must be a new FanDuel user, at least 21 years of age, and must make an initial deposit of at least $5. |
| Eligible States | FanDuel's online sportsbook is currently available in AZ, WY, CT, NJ, PA, WV, CO, IN, IL, IA, TN, VA, LA, NY, and MI. |
| More Details | In order to receive our FanDuel bonus offer, click on the 'Get Offer' button at the top of this page before creating your account. Click here for a complete review of the FanDuel brand & company. |
Details for Current FanDuel Promo Code Offers
Our daily fantasy promo code will give you a $500 Deposit Bonus! What a terrific way to grow your DFS bankroll!
The sportsbook bonus attached to our current FanDuel promo code will give you a $1,000 Risk-Free Bet. Keep in mind this offer is only available to players that live in one of the states that FanDuel sportsbook currently operates.
The FanDuel online sportsbook and app are currently available in 15 US states including New Jersey, Pennsylvania, West Virginia, Colorado, Illinois, Indiana, Iowa, Tennessee, Virginia, Michigan, Arizona, Wyoming, New York, Louisiana, and Connecticut.

New FanDuel Offers for the NBA Playoffs
FanDuel is running a wide variety of NBA promotions for both new and existing players this May. On top of the deposit bonus that is available to both DFS and sportsbook users, existing players can get in on the bonus action in a handful of ways.
For sportsbook users, the main offers to look for on the FanDuel app are reduced juice and odds boost promotions and same-game parlay promotions. With the reduced juice and odds boost offers, FanDuel will increase your payout when placing specific NBA bets. This is a great way to win more money placing bets you love.
For DFS users, check out the daily NBA free contests. These are contests that you can enter for free with top prizes of $1,000 or more. There are several of these free contests that run either daily or weekly, so be sure to log into the app and check the NBA lobby regularly this May.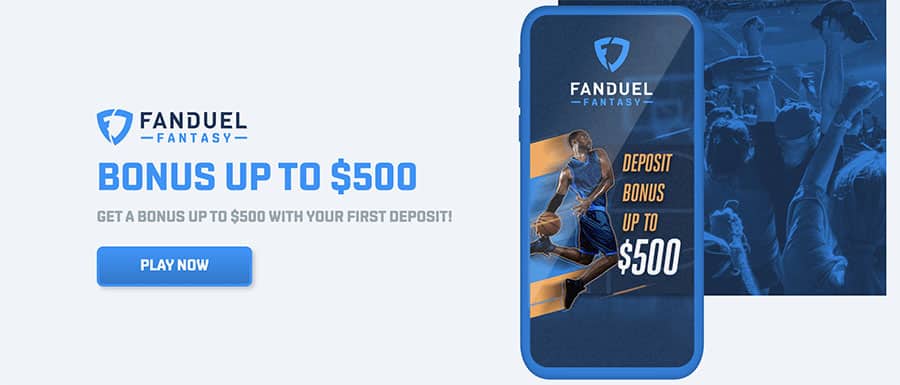 How FanDuel Promotions Work
New players have to use our exclusive FanDuel promo code to lock in their best available offer this May. All you need to do is scroll to the top of this page and click our 'Get Offer' button. You can also use the coupon code by simply clicking the 'Join' button on the menu.
You will then be redirected to a new page asking for the required information to open an account. The final step is to fund your account through PayPal, Visa, or MasterCard. Please note that the current FanDuel minimum deposit amount to receive a bonus is $5.
When logging into your account you will notice that the bonus has been added. You are ready to start using these funds right away and can keep anything you win with the bonus cash.
Occasionally FanDuel runs a promotion where you receive a free entry into one of their weekly contests with guaranteed prize pools. If you register using this promotion the voucher can be found in your player account.
Fantasy contests you can enter for free with a voucher will have a small ticket graphic next to the entry fee. Make sure you understand which promotion you are receiving when you use our promo code so you understand exactly how to find your free entry or free bet.
It is also worth noting here that you can sort the FanDuel lobby by descending price to find free contests every day. FanDuel will have free contests that pay real cash every week of the NBA season, and will often post them for major PGA, CBB, and NHL slates!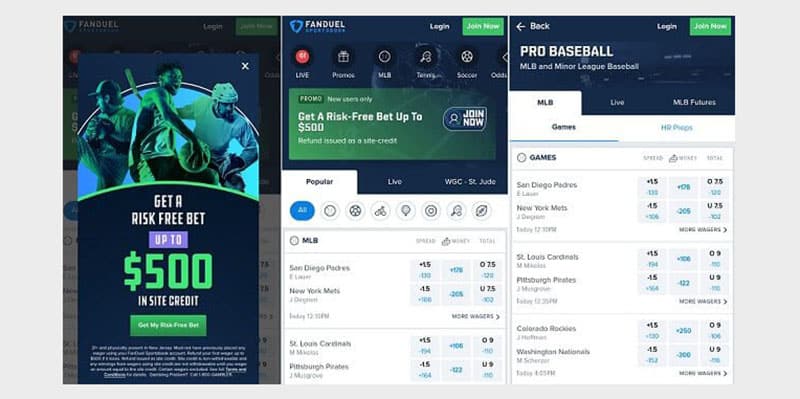 Popular FanDuel Promotion Formats
FanDuel offers a wide variety of offers including free entries, free bets, risk-free bets, and deposit bonuses. These will vary between the fantasy and sports betting apps and will change based on the upcoming betting events. Here is what you need to know about each type of offer.
Free Entry Offers
The most common FanDuel DFS promotion is a free entry or a weekly free entry. These will range from one Sunday Million entry to a weekly free entry throughout the NFL regular season. During the NBA season, these are typically one free GPP entry of up to $5.
Free Bet Offers
A free bet offer from FanDuel is exactly what it sounds like. New users receive one free wager equal to their initial deposit. These typically cap at $1,000 and must be used on a spread, total, or moneyline wager. You will find your free bet credit in your FanDuel account, or can simply apply it to any eligible wager in your bet slip.
Risk-Free Bets
Our current offer for FanDuel sportsbook users is a $1,000 risk-free bet. With this bonus offer, you will receive one risk-free bet that is equal to your initial deposit. This offer applies to your first bet on the FanDuel sportsbook. If your first wager does not cash, they will refund the entire bet with store credit. The credit can not be withdrawn, but anything you win using the funds is yours to keep.
Deposit Bonus Offers
A player favorite, deposit bonus offers are essentially free cash just for opening a new account. If the offer is a 100% deposit bonus up to $500, then you will receive a store credit equal to your initial deposit, up to $500. Again, these funds are not eligible to be withdrawn and must be played through.

Build Better Lineups
One of the toughest things for new players on FanDuel is learning the ropes without draining your bankroll. That goes for both the sportsbook and DFS apps. Check out our weekly FanDuel lineups and picks, to get an idea of what it takes to build a consistent strategy whether facing the house or other fantasy players.
Where We Find our FanDuel Promo Codes
It is important to our staff that Hello Rookie readers and subscribers always receive the largest possible bonus when they open their new FanDuel account. With this in mind, we shop each of our FanDuel promotions prior to adding them to the directory.
We also work directly with the FanDuel team to ensure any new offers make it to our directory. They send us new promotions on a daily basis throughout the year to share with our visitors.
We also shop for new offers on other websites across the daily fantasy and sports betting industries. If we find an offer better than the one we are promoting we add it to our directory. Following these steps on a weekly basis ensures our visitors always find the best promo code offer available here first.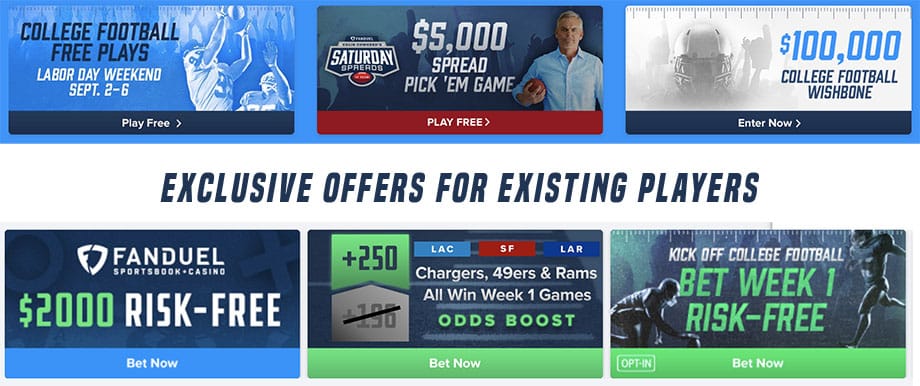 Details for Current FanDuel SportsBook Promo Code Offer
With a nationwide market share of nearly 40%, FanDuel is by far the largest online sportsbook operating in the United States as of early May. Our current offer for their sportsbook will apply both online and in the app and includes a Risk-Free Bet of up to $1,000.
Here is exactly how new players can lock in this offer:
Copy the promo code at the top of this page and head over to the FanDuel sportsbook. Once on the FanDuel homepage, click the 'Join Now' button in the top-right corner of the screen.
Register your new account ensuring all of the information is updated and accurate. You are required to confirm your identity prior to depositing or withdrawing on the app, so accuracy is important here. Once you are registered, make an initial deposit of at least $10. The larger the deposit you make, the larger the Risk-Free Bet you receive.
Now that you are a registered FanDuel user, add the wager of your choice to your bet slip. This will be your free bet, so we recommend targeting a line with a decent payout, but you are limited to a spread, total, or moneyline bet here.
If your first bet loses, FanDuel will issue you store credit for the total amount of the bet within 24-48 hours. You do not have to request the refund, their system will automatically apply the credit to your account.
If you are new to betting, we recommend focusing on smaller wagers, spread bets, total bets, and moneyline bets for the first few months using the sportsbook. This will allow you time to get used to the app, how spreads and odds work at FanDuel, and steadily build your bankroll.

Answers to Frequently Asked Questions About FanDuel
FanDuel releases new promotions on a week-by-week basis, which can be confusing for new players. This is a section we recommend all new players review before they elect to make a deposit on either the FanDuel DFS or sportsbook app.
FanDuel is the most downloaded betting app in the US on both the Apple and Android stores. The FAQs below address the majority of questions we get about the promo code offers listed at the top of this page.
Is FanDuel and daily fantasy sports legit and or legal?
The answer is a resounding yes. It is 100% legal for you to compete in fantasy sports for money in around 90% of the United States. While the supreme court did rule that sports betting was not illegal in the US, it is still up to individual states to choose whether or not they legalize sports betting within their jurisdiction.
While certain states do not allow playing daily fantasy sports for money, we anticipate that to change in the near future. It is important to note that if you live in a state where real money fantasy sports and sports better are both not yet legal, FanDuel won't even allow you to register. They have a very advanced tracking/location system in place to ensure they uphold state laws.
If concerned about your individual state's daily fantasy sports laws, feel free to stay updated via ESPN's DFS Legal Tracker.
If you are registering for the sportsbook then you are subject to your state's laws regarding online sports betting. The betting market is growing almost daily, and as of this May, FanDuel's online sportsbook is already live in 15 US states with plans to enter an additional 3-4 markets by the start of the 2022 NFL season.
Not only is FanDuel a legit sportsbook, but their parent company, Paddy Power, is a publicly-traded company. Sports betting is highly regulated in the United States and players have no reason to worry about betting on any licensed US sportsbook.

Is it easy to win on FanDuel?
How easy it is to win on FanDuel totally depends on the type of contest that you enter. For example, new players often make the mistake of entering contests with the largest prize pools.
By joining these large contests you are putting yourself at the mercy of far more experienced players. FanDuel does a great job of offering beginner contests, to ensure playing at FanDuel is fair for everyone. Please take advantage of these!
The longer you stretch your initial deposit, the better chance you give yourself at making real money playing daily fantasy. You also receive the same number of FanDuel points (FDP) regardless of the type of contest.
FanDuel points can essentially be used in place of cash when paying for a contest entry. Rather than enter using funds from your account, simply click the button 'enter using FDP'. This is just another way to improve your overall user experience on the site.
If you think you may have a problem with monitoring your own spending, we highly recommend you check out the FanDuel responsible play page. Additional help is available by calling 1-800-GAMBLER.

Who is better FanDuel or DraftKings?
When it comes to daily fantasy sports, the two titans are undoubtedly FanDuel and DraftKings. They are both phenomenal places to play daily fantasy sports. Currently, FanDuel is the highest downloaded betting app in the US, while DraftKings is the highest downloaded fantasy app for both iOS and Android.
Feel free to see what types of DraftKings Promo Code offers are available. Additionally, if you'd like to further compare FanDuel and DraftKings, we invite you to give our DraftKings Review a read as well.
With that being said, FanDuel's website, mobile website, as well as iPhone and Android apps work and look flawless. Most of the contest types and sports are exactly alike, it simply comes down to user experience and user interface.
Not only are these two of the best daily fantasy sites available, but they are the two highest-rated betting sites in the industry. They have taken over the NJ sports betting industry, ad both are expanding across the country.

Is FanDuel Free?
A common misconception is that you have to pay to play on FanDuel. There are hundreds of free contests available every day on FanDuel. You can even create your own free head-to-head contests at any time!
If you are simply looking for a free alternative to season-long fantasy football, fantasy basketball, fantasy baseball, or even fantasy golf then FanDuel is a great choice. Create your own contests, or own leagues, and start playing today.
What is the Minimum Deposit on FanDuel?
While you can play for free on FanDuel, there is still a minimum deposit. If you are using our FanDuel promo code the minimum deposit is $5. However, if you want to get the maximum Risk-Free Bet, then you'll need to deposit $1,000.
It is important that you always deposit responsibly and bet with your head. If you, or anyone you know, has a gambling problem call 1-800-gambler today.
How does a payout work with FanDuel?
FanDuel offers several options for deposits and withdrawals, including credit and debit cards, checking accounts, in-person deposits, and brick-and-mortar sportsbook locations.
That being said, most players elect to use PayPal to fund their accounts. There are several reasons for this, but the most important is that it is the fastest way to receive your payout from FanDuel.
You will typically have access to your funds within 24 hours of requesting them and can then either transfer the money to your checking account or spend the fund immediately with a PayPal debit card.
What sports are available on FanDuel?
While FanDuel does not offer quite as wide of a variety of sports as DraftKings, they certainly have something for most sports fans out there. The list of sports currently available for FanDuel players includes NFL, NBA, NHL, MLB, WNBA, CFB, Tennis, UFC, PGA, and even popular eSports like League of Legends.
As is the case with many of the large US-based sportsbooks, including both BetMGM and Caesars, FanDuel offers an intuitive live betting engine. Live betting is available for most major domestic and international sporting events.
When will FanDuel sportsbook be available in my state?
Given their current market share, FanDuel has clearly been the most aggressive US sportsbook in terms of entering new betting markets. They already operate online in 15 states: Arizona, Wyoming, Connecticut, New Jersey, Pennsylvania, West Virginia, Colorado, Indiana, Illinois, Iowa, Tennessee, Louisiana, New York, Virginia, and Michigan.
However, when they begin operating in your state is completely dependent on the current sports betting laws where you live. Legal sports betting is available in over a dozen states already, with expectations that another dozen states pass some sort of legislation in the next 12-18 months.
We recommend bookmarking our state-by-state sports betting legislation tracker and checking back often to see if there have been any updates.
Are there any promotions available to existing FanDuel sportsbook users?
While existing users rarely get access to deposit bonus offers, FanDuel does offer additional ways to build your bankroll. These range from their rewards program and refer-a-friend program, to odds boost opportunities. With an odds boost offer, bettors are offered reduced juice and improved odds on featured sporting events. When FanDuel offers an odds boost promotion it can always be found right on the homepage of the sportsbook. No promo code is needed for this type of offer.
What time of the year do the largest bonus offers come available at FanDuel?
The answer to this question varies by which app you are referring to. For their DFS product, new users will always find the best promotion at the start of the NFL and fantasy football season. Fantasy football is king when it comes to DFS, and the first few months of the season are a great time to sign up.
For sportsbook users, you really should be able to find a great bonus offer any time of the year. With that in mind, there are exceptions for major betting events such as March Madness and the Super Bowl. We typically get access to new offers leading up to these events.
What is the minimum age to bet on FanDuel?
The minimum age to bet on FanDuel varies between products and states. At the moment, every state the FanDuel sportsbook operates in has set the minimum betting age to 21 years or older. You will need to confirm that you are at least 21 years old prior to being able to place your first bet, and FanDuel may ask for your social security number to confirm your identity and age.
The minimum age for DFS players fluctuates between 18 and 21, so check the current laws in your state for an exact answer.
Review and Rating for Current FanDuel Promo Code Offers
We provide a review and rating for every sportsbook and fantasy promotion listed on our site. The rating we assign to the promotion should give you an apples-to-apples comparison between any two sportsbook or fantasy apps. As of early May, PointsBet currently has our highest-rated new player offer.
The current 4.7 rating we assigned to FanDuel is a reflection of just how good the sportsbook and DFS offers are. The sportsbook offer includes one of the industry's largest risk-free bet offers, while the DFS promo code offer is easily the best in the US market.
| Review | Current FanDuel DFS and Sportsbook Promotions |
| --- | --- |
| Details | The current promo code offers from FanDuel's sportsbook and DFS products are amongst the top in the industry. The fantasy offer is easily the top available bonus in DFS. While the sportsbook Risk-Free bonus offer trails brands like PointsBet, FanDuel's weekly 30-to-1 odds boost offers are tough to beat. Combine that with the best app and betting experience in the industry and FanDuel is worthy of being called the top sportsbook in the US. |
| Author | Chris Lollis |
| Rating | 4.7 (out of 5) |
Top US SportsBook and DFS Promotions for May
The current FanDuel sportsbook promo code offer, which includes a $1,000 Risk-Free Bet, is one of our top-rated new player bonus offers but is not necessarily the best offer for you. We always recommend players shop offers and sportsbooks prior to registering.
Below are two promotions we think are worthy of the attention of new players shopping for a new book this May.
Having accounts with multiple sportsbooks allows bettors to shop odds before placing any wager to ensure they always get the best odds on every bet they place.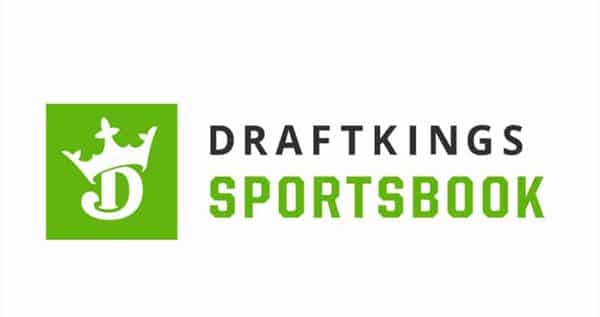 Bet $5, Get $150

at DraftKings

New players can receive $150  just by making their first $5 wager on the NBA Playoffs when they sign up for an account at DraftKings!
Learn More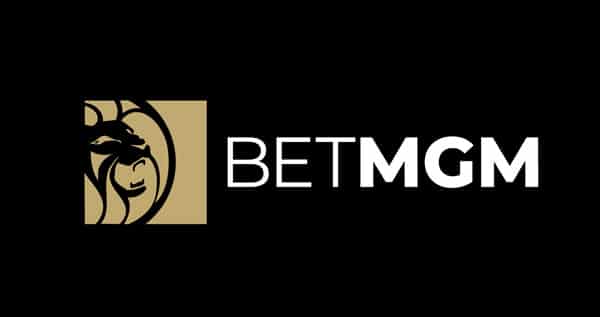 Bet $10, Get $200 if Either Team Makes a 3-Point Shot
Similar to the DraftKings offer, new BetMGM players can receive a nice odds boost on their first bet.
Learn More