The Top Sportsbooks in Oregon
We'll get into the details in just a moment, but there is only one sportsbook in Oregon. The good news, though, is that it's DraftKings and they have one of the best bonuses compared to all other online sportsbooks. That's why we've given the sportsbooks one of our highest ratings.

Bet $5 Get $150 in Bonus Bets Instantly
Plus all customers get a NO SWEAT SGP every day!

Of course, as this offer changes or in the off-chance that Oregon allows other sportsbooks, we'll keep you updated right here.
Oregon Sports Betting Status
Legal sports betting in Oregon became official in August of 2019, and the first sportsbook opened at Chinook Winds Casino in September of 2019. The state's sports betting app, Scoreboard, launched in October of 2019. DraftKings Sportsbook announced that they will take over the sports betting app in January of 2022.
Fortunately for Oregon residents, they are among the few Americans with legal mobile sports betting in their state. Unfortunately for Oregon residents, the state lottery's sportsbook is currently their only option. If the reviews on the App and Play store are any indication, Oregon residents were less-than-thrilled with the app. Luckily though, DraftKings has recently taken over and will provide a much better experience for Oregon sports bettors.
While the state will certainly have improved the app's UI/UX and performance issues, there is still a litany of issues that you would expect to see in a single-operator state. Many of our newsletter subscribers know that we are huge proponents of 'shopping a line', looking for better odds or lower juice at another book. That simply is not possible when your state only offers one sportsbook.
Oregon Sportsbook Locations
In addition to the state's online and app betting option, they offer several brick-and-mortar sportsbooks located in casinos around the state. The first of these opened shortly after the start of the 2019 NFL season. Below is the complete list of Oregon casinos, whether or not each has an established sportsbook, as well as the launch date (or expected launch date).
| Casino | Sportsbook | Address |
| --- | --- | --- |
| Chinook Woods Casino | Yes | 1777 NW 44th St, Lincoln City, OR 97367 |
| The Mill Casino | Yes | 3201 Tremont Ave, North Bend, OR 97459 |
| Indian Head Casino | Yes | 3236 US-26, Warm Springs, OR 97761 |
| Kla-Mo-Ya Casino | No | 34333 US-97, Chiloquin, OR 97624 |
| Seven Feathers Casino | No | 146 Chief Miwaleta Ln, Canyonville, OR 97417 |
| Spirit Mountain Casino | No | 27100 SW Salmon River Hwy, Grand Ronde, OR 97347 |
| Three Rivers – Florence | No | 5647 OR-126, Florence, OR 97439 |
| Three Rivers – Coos Bay | No | 1297 Ocean Blvd NW, Coos Bay, OR 97420 |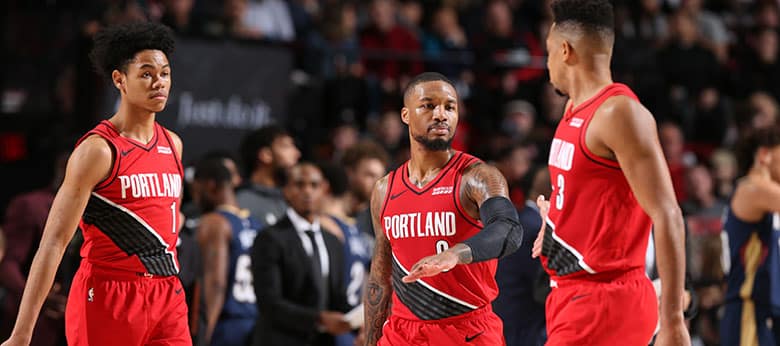 Oregon Sports Betting FAQ
Oregon is a rare state that has completely legal online sports betting, but with a massive caveat. The only online sportsbook currently operating in the state is run by the state lottery. There is, however, reason for hope, as the state has already stated that they will allow casinos to offer online sports betting in the near future.
While you have very limited options when it comes to Oregon online sports betting, we have to admit that DraftKings sportsbook is a pretty good choice by the Oregon lottery. They are, of course, the premier Oregon sports betting app, but they're one of the best online sportsbooks you'll find. And, if you've ever been to one of their retail sports betting locations, you'll find that they're equally as good as their online betting experience.
With all of that, we're sure you have plenty of questions regarding the Oregon sports betting market. We get questions from Oregonians all the time, so we like to cover all of the questions to help you bet online.
The following Oregon sports betting FAQs address not only the odd state of online sports betting in Oregon but several other questions that our readers have sent us since Oregon legalized sports betting.
Is sports betting legal in Oregon?
Yes, legal sports betting was put into law in Oregon in August of 2019 after the Supreme Court of the US overturned the Professional and Amateur Sports Protection Act of 1992.
The Professional and Amateur Sports Protection Act is sometimes referred to as PASPA. This banned sports wagering in all but a few locations throughout the US. In 2018 the Supreme Court overturned the law and since many states have legalized sports wagering. Oregon has been a little late to the game, but they're coming along. You can now bet on sports online, but only at the DraftKings sportsbook (not a bad choice, Oregon Lottery).
Sure, a casino resort or two would be nice, but you might have to travel out of state or go to tribal land for now if you want that experience. However, give it time, and the Oregon Lottery Commission might change the regulations.
The Oregon State Lottery manages all state lottery games and online gambling in the state, which includes their statewide mobile betting apps.
Is online and mobile sports betting legal in Oregon?
Yes, the state of Oregon elected to make online sports betting legal when they legalized sportsbooks in the state in August. Currently, the only online sportsbook allowed to operate in Oregon is DraftKings sportsbook.
While on the surface this seems like they have a poor selection of Oregon online sportsbooks, but the DraftKings sportsbook is one of the best and we've reviewed plenty of sportsbooks in countless betting markets.
What is the scoreboard app?
We're glad you asked! In 2019 when the Oregon Lottery began to offer legal sports betting they used the Scoreboard sports betting app exclusively for all of their sports action. Then in February 2022 the Oregon Lottery changed the platform where online sports bets could be placed. That's where DraftKings comes in.
The Scoreboard sportsbook wasn't a bad option for Oregon online sports betting, but the Scoreboard app isn't nearly as awesome as the Draftkings sports betting product.
What sports am I allowed to bet on in Oregon?
Oregon chose to only legalize betting on professional sports leagues. This means no college sports of any kind to include Oregon college teams. Sorry Ducks fans and congratulations Portland Trail Blazers fans!
We love college betting, especially college football, but just because you're limited to betting on professional sports teams (i.e., the Portland Trail Blazers and other pro teams) doesn't mean the sports betting product is inferior. You can still place countless sports bets to include NBA games and NFL games.
What types of bets can I make?
While the state did put limitations on the types of sports you can bet on, they elected to not limit the types of bets allowed. While this should include live betting, what you are actually able to bet on in Oregon is somewhat limited due to the fact that they currently only offer one sportsbook.
Nevertheless, Oregon bettors are able to place straight bets, moneyline bets, teasers, parlays, and even props. It is worth mentioning that if you are looking for more in terms of prop bet options, that Monkey Knife Fight offers prop bet based daily fantasy sports.
Are there tribal casinos in Oregon?
Yes, there are tribal casinos in Oregon. The Confederated Tribes of the Grande Ronde Community owns and operates the Canyonville Spirit Mountain Casino, which is the largest casino in Oregon.
In addition to this, there are several other tribal casinos located across the state, including Kla-Mo-Ya Casino, The Mill Casino, Chinook Winds Casino Resort and Seven Feathers Casino Resort. Each of these casinos offers a variety of gaming options as well as other amenities such as restaurants and entertainment venues.
Can I place sports bets in a tribal casino?
Yes, you can place sports bets in some tribal casinos. Many of the tribal casinos located in Oregon offer sports betting options. However, the types of bets available may vary depending on which casino you visit.
Some casinos offer traditional sportsbook-style betting, while others may employ more modern methods such as kiosks or mobile betting apps. It is important to check with your particular casino before placing any sports bets to ensure that they offer the type of bet you are looking for.
The only downside to using a tribal casino is that they don't offer online wagering to include online sports bets. If you want to bet on sports in Oregon you'll have to visit the retail sportsbook at the tribal casino.
Will Oregon ever allow college sports betting?
It would take some legislation to make college sports betting legal. While we think this will happen in the somewhat near future, it is unlikely to happen in 2023.
If placing a bet on the Oregon State Beavers is on your to-do list, you'll have to go to a state that offers sports betting on college sports (not all of them allow college betting).
Are you ready to get into the Oregon sports betting action?
Betting on sports in Oregon has never been easier or more exciting than it is today.
Thanks to the access of legal sportsbooks like DraftKings (currently the only place to bet online), Oregon sports bettors now have the opportunity to take advantage of competitive lines and fast payouts no matter where they're located in the state.
With daily odds boosts, special promotions, and advanced features like Bet Builder and Cash Out, DraftKings is the perfect choice for both novice and experienced sports bettors alike. It's really the best way in any state (not just Oregon) to get into the sports action.
Whether you're a dedicated fan looking to add a bit of online sports betting excitement to your favorite game, or an investor who recognizes the potential rewards that come with properly placed wagers – there's something for everyone when it comes to betting on sports in Oregon.
Follow HelloRookie for the best in online betting, retail sports betting, daily fantasy sports and more!
If you're looking for the most reliable and up-to-date sportsbook news, then subscribing to HelloRookie is an absolute must.
With HelloRookie, you'll have access to the latest news and advice from professionals in the industry who understand the ins and outs of sportsbooks.
Plus, subscribers are privy to exclusive offers, discounts, promos, sports action, and more. When it comes to sports betting, no one can match what HelloRookie has to offer – so don't delay any longer and become a part of the HelloRookie family today!