How We Breakdown Reviews
We don't simply jump into a review blindly. We go in with a structured approach to ensure that we cover all the important aspects of the sportsbook or DFS site.
As we look to give you a comprehensive review of the Thrive Fantasy DFS platform, we'll be honing in on a few key areas that will tell us a lot about their product. 
Bonuses. We want to know if they are generous and valuable and what the requirements are for earning them.
Contests. One of the most important parts of any DFS site is its contests, and we'll be examining how Thrive Fantasy stacks up.
User Experience. We always download the apps and play on the desktop version to see how it feels. 
Customer Reviews. While we always take reviews with a grain of salt, we also want to see what other customers are saying about their experience on Thrive Fantasy.
Customer Support. How easy is it to get in touch with support, and how helpful are they? We'll take a closer look at these aspects as well.
Usually, when we follow this methodology, we are able to get into every nook and cranny of a platform to give you the most accurate review possible. 
How the Thrive Fantasy Bonus Stacks Up
One of the first things we look at whenever we review a daily fantasy sports site is the sign-up bonus that they offer. Since the bonus is what draws in the customers, how much a company offers can make or break their success. Thrive Fantasy is no different, and they offer a pretty solid bonus, but it's fairly typical for the industry.
Their bonus — 100% Deposit Match Up to $250 — is about as good as it gets in the DFS industry. Sure, you'll find other DFS sites offer bonuses worth a little bit more, but there's usually a catch. 
However, as we looked into the Thrive Fantasy bonus code, we realized that their terms are pretty nice and relatively loose compared to some other DFS sites. That's why we're giving Thrive high remarks for their bonus. It's typical but has very few strings attached.
When we look at Thrive's bonus terms, they're pretty reasonable. Note that their rollover amount is 2x, which means you need to bet your bonus amount plus deposit two times for it to become withdrawable. 
Compared to other DFS sites, this is a relatively low rollover requirement and translates to better value for players. 
Thrive Fantasy DFS Promo Code
EWB
Offer
100% Deposit Match | Up to $250
Valid Through
December 31, 2023
Bonus Verified
December 4, 2023 by Matt Brown
Terms for the Offer
Offer valid for new customers only, of legal betting age for their state. Limited to one bonus per customer. 2x rollover requirement before withdrawal.
Availability
AK, AR, CA, CO, CT, DE, FL, GA, IL, KS, KY, MD, MA, MI, MN, NE, NM, NC, ND, OH, OK, OR, RI, SC, SD, TX, UT, WV, WI, WY
Other Bonuses and Deals
On top of the welcome bonus, we noticed if you follow the Thrive Fantasy social media profiles, you'll see that they're always offering up free contests, prop slashes, and payout boosts. The only catch is that you have to be following them on social media to find out when they're happening. These don't typically show up on the app or website.
For example, when we checked out what they were offering, they had a deal with Alvin Kamara. For a limited time, they dropped his over-yardage to 72.5 from 86.5. That might not sound too significant, but when you look at the yardage Kamara gets every week, that 72.5 is pretty easy to achieve.
It's limited-time deals like their "Slash the Prop" promotions that make it easy to win. With that slash, they essentially handed you a free pick. For those that are not following them on social media, they may have missed out on this golden opportunity.  
Breaking Down the Contests
Some DFS sites focus strictly on the gameplay and come up with the most unique contests for their players. Take a look at Vivid Picks and Underdog Fantasy, for example. They don't have the largest prize pools or player base, but they offer some really cool twists on daily fantasy sports.
Thrive Fantasy, however, seems to be more focused on the traditional DFS approach.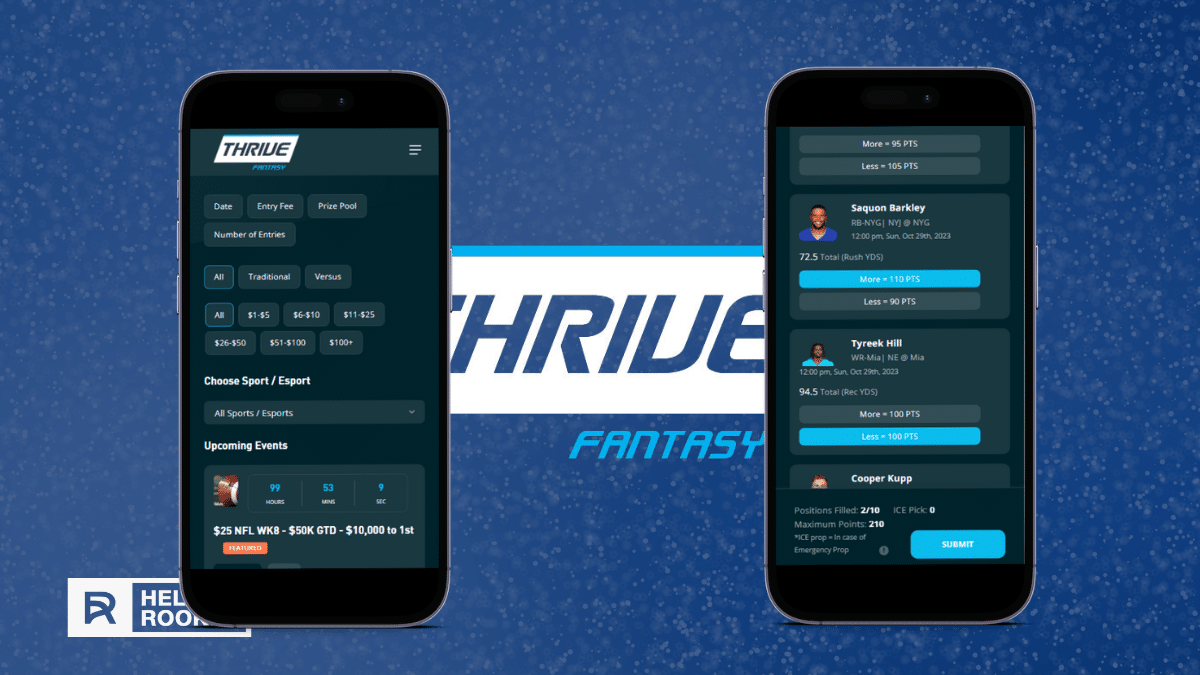 Traditional Contests
First, they have the traditional contests, which are where you pick a lineup and compete against other players. First, you start out by picking which contest you want, and for our testing, we picked the "$25 NFL WK8 – $50K GTD – $10,000 to 1st." We then picked 10 of the 20 over/under from the selection of players they offered. We earn points for each pick that is correct.
At the end of the contest, whoever has the most points gets the $10,000. Simple enough?
They also have a cool feature in which you can pick up to two ICE picks, which are "in case of emergency."  For example, DeAndre Hopkins gets listed as "out" at game time, you can have Tyler Lockett play in his place so you don't miss out on those points.
But there's also the versus style of contests, where players are matched up against each other, and the one with the highest point total wins. Thrive Fantasy offers a variety of these types of contests, including head-to-head, 50/50s, and multipliers.
Prop Bets
Another area in which Thrive is slightly different from traditional DFS sites is their emphasis on prop bets. They offer contests where, instead of picking a complete lineup, players choose over/under on player performances in specific categories such as total passing yards or rushing touchdowns.
In these contests, you pick 2+ players, their over/under selection, and the percentage of your bankroll you want to wager. If all your selections hit, you can potentially earn a big payout.
| Correct Picks | Winning Multiplier |
| --- | --- |
| 2/2 | 3.2x |
| 3/3 | 5.2x |
| 4/4 | 10.2x |
| 5/5 | 20.2x |
Is the Thrive Fantasy App Solid?
We tested out both the website and the Android app, and we've got to say the app was pretty smooth. Logging in was easy, and navigating through contests and placing bets was a breeze. We did experience a few minor bugs, but overall it functioned well.
One cool feature of the app is the ability to track your live scores during contests. This can add some extra excitement as you watch your picks rack up points in real time. We were able to sit back, watch the game, and keep tabs on our players all in one place.
The app also offers push notifications for contests and updates, so you won't miss out on any important information.
What Others Say About Thrive Fantasy
Something we always do in our reviews is take a look at what other players are saying about the site. We want to make sure we're giving you all the important information, including any potential red flags. Of course, we get our hands dirty, but we want to ensure we capture all the highs and lows.
Overall, we found that most users have a positive experience with Thrive Fantasy. They appreciate the ease of use and variety of contests offered. Most of the negative reviews were tied to the gameplay itself and not necessarily the app.
For example, we found some grumbling over the rollover requirements for the bonus. While we understand that frustration, the rollover requirement for Thrive is only 2x, which is far lower than most other DFS sites.
On the Google Play Store, the app has a reputable 4.1 rating out of 200+ reviews and over 10,000 downloads. On the Apple App Store, it has a 3.9 rating out of 600+ reviews. Not too bad for one of the smaller DFS sites in the industry.
| Platform | Rating | Total Reviews |
| --- | --- | --- |
| Google Play Store | 4.1 | 232 |
| Apple App Store | 3.9 | 597 |
For the most part, the customer base seems to be satisfied with the site, which is right in line with what we were seeing on our end.
Is Customer Support Helpful?
We think that customer service is often overlooked by daily fantasy sports players, but it shouldn't be. You never know when you might need a little help with your account or have a question about how a contest works. That's why we made sure to test out Thrive Fantasy's customer support during our review.
The first thing we noticed is how difficult it is to find the support options. There wasn't a clear link or button anywhere that directed us to their support team.  
There were, however, a few buttons at the bottom that direct users to their social media platforms. These links also include a Discord (in which the invite was broken, so we couldn't try that out) and an email option. It seems that you can either contact the support on X, Facebook, or via email.
That's really not a good look for Thrive Fantasy, as other major DFS platforms often have a dedicated customer support page with multiple options for users to reach out to.
We tested the email option and received a response within 24 hours. The timing isn't bad, but getting there was fairly atrocious.
Overall Thoughts on Thrive Fantasy
While Thrive Fantasy may not have the largest player base or prize pools, it offers a solid platform for daily fantasy sports players. We especially appreciate their emphasis on prop bets and the smooth functionality of their app. Plus, their customer support could use some improvement, but it's not a deal breaker.
Overall, we give Thrive Fantasy a solid 4.7 for their efforts. They may not be the top DFS site in the industry, but they definitely hold their own against competitors. 
Thrive Fantasy FAQs
Still have some questions? Great! Because we've got answers! Here are some of the more common questions asked about Thrive Fantasy.
Is Thrive Fantasy legit?
Of course! From what we've experienced and what we've read throughout the reviews, Thrive is a reputable daily fantasy sports site. They are licensed and regulated, so you can trust that your money is safe with them.
What states is Thrive Fantasy legal in?
Thrive Fantasy is legal and operates in 30 states. These states include — Alaska, Arkansas, California, Colorado, Connecticut, Delaware, Florida, Georgia, Illinois, Kansas, Kentucky, Maryland, Massachusetts, Michigan, Minnesota, Nebraska, New Mexico, North Carolina, North Dakota, Ohio, Oklahoma, Oregon, Rhode Island, South Carolina, South Dakota, Texas, Utah, West Virginia, Wisconsin, and Wyoming.
How does Thrive Fantasy work?
Like other daily fantasy sports sites, Thrive Fantasy operates on a salary cap model — with a twist. For their traditional contests, you are given a set amount of players to choose from for any given contest. Of those 20 players, you pick the over/under for 10 of them. For each of the picks you get right, you receive points which go towards your ranking. You can also play in a similar format but head-to-head. They also have prop bet contests where players choose over/under on player performances in specific categories. If all your selections hit, you can potentially earn a big payout.
Thrive Fantasy Review Overview

Details

After going through Thrive from top to bottom, we quickly become big fans of this DFS platform. The competition is not as steep as some of the other DFS sites and the gameplay is just as thrilling. The biggest drawback is the customer service options, but fortunately we have not needed to use it yet. We are going to give the Thrive team 4.7 stars as they are putting together a fairly decent platform that we think will grow over the coming years.
Rating
Author: Matt Brown
Reviewed By: Chris Lollis