Important Terms for the Current Underdog Fantasy Promo Code Offer
Our current Underdog Fantasy promo code offer is their absolute best new player offer for October. Register using our Underdog promo code 'EWB' to get the latest bonus — 100% Deposit Bonus! Use your bonus funds to try out each of Underdog's fantasy games. This includes pick'em contests, rivalry contests, and daily fantasy snake drafts!
Here are the terms and details attached to our current bonus code offer, updated for the current promotion:
UnderdogFantasy DFS Promo Code

EWB

— Click to Copy
Offer
100% Deposit Bonus | Up to $100 Free
Valid Through
October 31, 2023
Bonus Verified
September 30, 2023 by Chris Lollis
Terms for the Offer
Must use Underdog Fantasy promo code. New users only. Minimum $10 deposit.
Use this Promotion to Enter Best Ball Mania for Free
If you are new to Underdog this October, the best way to use your bonus funds is on a free Best Ball Mania Entry. What is Best Ball Mania? This is not only the largest season-long best-ball contest ever, but is the largest top prize from a daily fantasy contest ever!
The top prize for Underdog's 2023 Best Ball Mania contest is $1,000,000, which puts them way ahead of the largest prize ever offered by FanDuel or DraftKings for a best-ball contest. For a company that built a great product and built it slowly, this contest is a great way for the Underdog app to finally get the attention it deserves.
The best part about this contest is that every new player that makes a $10 deposit (or more) can enter for free. Simply use the Underdog Fantasy promo code ROOKIE100 when you register, then cash in your store credit on a 2023 Best Ball Mania entry!

What Makes Underdog Our Top-Rated DFS App for 2023?
There are plenty of reasons to download the Underdog Fantasy app beyond just the great new player promo offers. Underdog was built by the same team that developed the Draft App which was acquired by FanDuel prior to the 2020-2021 NFL season. They clearly brought their past experiences into this daily fantasy sports platform project, and we think developed a product that even exceeds what they built at Draft.
Starting with the app, users are blown away by how sleek the design is, how easy it is to use, and how well laid out every contest type is (including their Best Ball Contests). Finding and entering a best-ball draft is extremely straightforward, and the player pool is large enough that drafts constantly fill.
Beyond having arguably the top best ball product in the market, Underdog's pick'em contests offer one of the better stat-style DFS options available. Simply select the game you want to place an entry on, choose a player to place an entry on and whether you think they will go higher or lower a particular stat total, and choose your entry size. Win up to 10x your entry in these pick'em contests.
There is a wide variety of total options including fantasy points, yards, receptions, and more. This fantasy contest type very closely resembles other DFS stat contests you would find at a DFS site like FanDuel.
With huge names like Mark Cuban and Kevin Durant investing in the platform, you know Underdog is going places. We expect they'll continue to enter emerging fantasy sports markets over the next few years. 
There are underdog fantasy drafts going on every day, so there's never a bad time to play Underdog Fantasy.

Differences Between Underdog Fantasy and Other DFS Platforms
When you're on the fence about which fantasy sports contests to get into, you must understand the difference between them.  Underdog Fantasy stands out from other DFS platforms in several significant ways—
Unique game formats. Unlike traditional DFS sites primarily using a salary cap model, Underdog Fantasy focuses on snake draft formats and best ball contests. This means participants draft their teams live, similar to season-long fantasy sports but without the need for ongoing management.
Stat-style contests. Underdog also offers "pick 'em" contests like stat-based DFS sites. These games allow players to predict performance, adding another layer of strategy and excitement.
Large prize pools. Underdog Fantasy is known for having some of the largest best ball contests in the industry. This is easily our favorite part of Underdog Fantasy.
User Experience. The platform has been praised for its clean app interface and built-in draft tools, accessible all year round.
Other platforms like DraftKings and FanDuel use a salary cap model where users have a fixed budget to create their team. PrizePicks offers more options than any other DFS app with stat contests, and Thrive Fantasy is known for better odds. It's important to note that the choice between Underdog Fantasy and other DFS platforms largely depends on individual preferences and interests. Some players might prefer the traditional salary cap model, while others might enjoy the unique game formats offered by Underdog.
Underdog Promo Code FAQs
We're always getting questions about Underdog and its promotions. So we've put together this handy Underdog Fantasy FAQ for those that want to get in on the Underdog Fantasy action. Whether you're a first-timer creating your Underdog Fantasy account or you're simply curious about the Underdog app, we cover all of the questions you have. Keep checking back, as we'll keep this updated.
Is Underdog Fantasy legit?
Yes, Underdog Fantasy is a legitimate website for fantasy sports. The question we get most often is typically Is Underdog Fantasy legal? Of course. They take it even a step further as well. They use industry-leading SSL encryption to protect user information and secure payment options like PayPal, credit/debit cards, and ACH bank transfers. Underdog Fantasy is also licensed and regulated by various states' Gaming Commissions. So, you can trust Underdog Fantasy for a secure and legitimate fantasy sports experience.
What states does Underdog Fantasy operate in?
Underdog Fantasy operates in so many states, it's easier to tell you which ones they DON'T operate in.  However, to help you out, we've put together this graphic which highlights which states they operate in.

How do you get free money on Underdog?
You can get free money on Underdog Fantasy by entering a promo code during the sign-up process. Underdog Fantasy offers new users a welcome bonus of $100 deposit match after they sign up and make their first deposit of $10 or more. To obtain the $100 welcome bonus, you must enter the promo code "ROOKIE100" during registration, and then you must make an initial deposit of $10 or more. The matched bonus will be credited to your account within few days of making your initial deposit and you can use it as bonus entries.
Does Underdog have promos?
Yes, Underdog Fantasy offers a variety of promotions to its new and existing users. These promotions can range from free entry to a tournament to discounted entry to the company's biggest contests. You can find all the latest promotions and promo codes that Underdog Fantasy has to offer right here at HelloRookie.  Also, Underdog Fantasy often runs seasonal-specific promotions around holidays or events like the Super Bowl or March Madness, so it's worth checking our site regularly. So, if you're a fantasy sports enthusiast who loves getting bonuses and promos, you'll want to keep coming back for more.

What is the discount code for Underdog Fantasy?
The discount code for Underdog Fantasy is ROOKIE100, which is a new user bonus code. This promo code gives you a free bonus of up to $100, after you register and make your first deposit of $10 or more. To enter the discount code, simply copy the code and paste it into the "Promo Code" field during your registration process. Once you enter the code, Underdog Fantasy will add the bonus of up to $100 to your account after your first deposit. Remember, this discount code is only available to new users, so don't miss this great opportunity to grab an introductory offer from Underdog Fantasy.
Does Underdog Fantasy allow you to play DFS with college sports?
Of course!  You can play either the pick 'em or the snake draft style DFS for both college football and college basketball.  The drafts fill up quickly, so don't wait around too long.

What is Underdog Fantasy's app?
Underdog Fantasy's app is a mobile application that allows users to access and participate in the company's fantasy sports games. Available on both Android and iOS, Underdog Fantasy app allows you to participate in daily fantasy sports games like NFL, NBA, MLB, NHL, and college football, as well as season-long fantasy sports drafts for baseball and basketball. The interface of the app is sleek, user-friendly and is quite easy to navigate. 

Meanwhile, you can be part of exciting games, participate in special events, get rewards and bonus codes, and have fun in this fantastic app. 
Can I use the Underdog Fantasy promo code more than once?
No, the Underdog Fantasy promo code can only be used once per user. However, you can watch for other promotions they offer and special bonus codes, which are updated frequently.
Can I share the Underdog Fantasy promo code with friends and family?
Of course! That's the whole point of a promo code. You can share the Underdog Fantasy promo code with anyone you like. However, remember that everyone can only use the promo code once per account.
What is Underdog Fantasy Best Ball?
Of all of the Underdog Fantasy contests, Best Ball is one of the most popular and exciting. Underdog Fantasy Best Ball is a popular format for fantasy sports where entrants select players through a snake draft. Once the draft is complete, there's no lineup management required from the participants. Underdog Fantasy's platform automatically chooses the highest-scoring players on your roster every week to calculate your score for the week. The team with the most fantasy points wins. This unique approach means participants do not need to set their lineups. Underdog Fantasy specializes in this best ball format and has built loyal supporters. They host a variety of tournaments and best ball leagues, with some offering substantial prize pools.
How is Underdog Fantasy different than legal sports betting?
Legal sports betting sites like DraftKings Sportsbook or FanDuel Sportsbook require participants to wager real money on the outcome of a game. Underdog Fantasy, on the other hand, focuses more on things such as player statistics and overall performance than any matchup's actual outcome. It's more in line with fantasy sports than sports betting. Underdog Fantasy also offers smaller prizes and is legal in more states.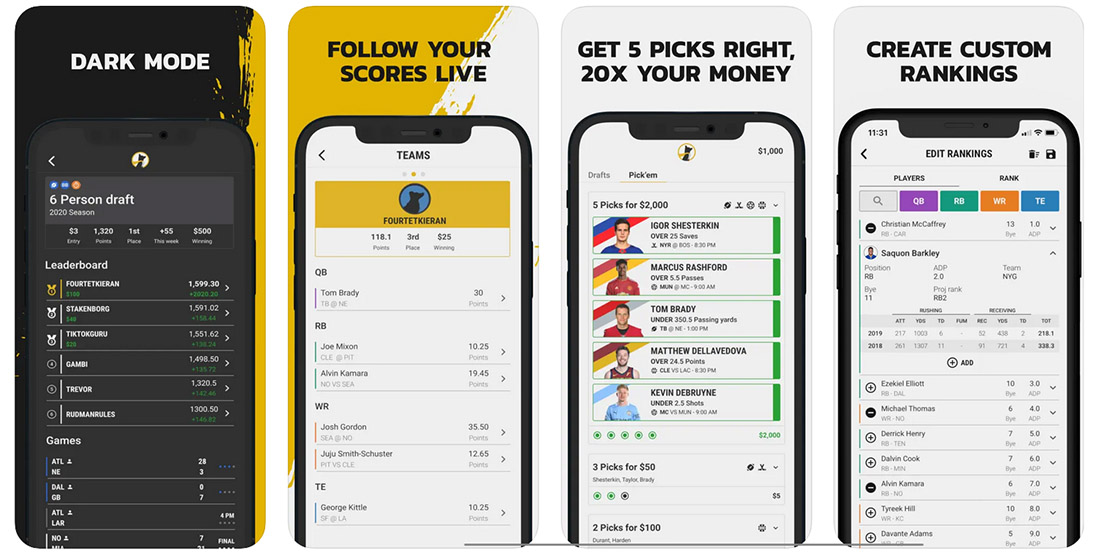 Underdog Promotions: Editor Review and Rating
With a product as new as Underdog, new players want to make sure they are getting the best deal when they register. So, how does this offer compare with the top DraftKings promo code offer for October? The review below compares Underdog's current promotions directly to the best promotions in the industry.
Underdog offers a niche fantasy product that focuses on two contest types that are relatively ignored on the current version of the FanDuel and DraftKings apps. The app is arguably the best in the industry, the variety of contests is unparalleled, and their current bonus offer is our top-rated DFS promotion for 2023. You simply can't lose playing on Underdog.

The current 4.9 (out of 5) rating is the highest we have ever given a DFS app and recommend anyone looking for a best ball or stat format fantasy app give Underdog a try first.
UnderdogFantasy Review Overview

Details

We absolutely love everything about the Underdog Fantasy app. Nobody does daily fantasy snake drafts better than Underdog, and this season they have added even more ways to play with pick'em and rivalry contests. Try out any of these DFS formats for free with the current Underdog Fantasy promo code offer. Simply make the depsoit and Underdog will match it dollar-for-dollar. Find out for yourself why the fantasy industry is buzzing about this new app.
Rating
Author: Chris Lollis
Reviewed By: Mike Noblin