Signing Up for ParlayPlay DFS
Signing up to create account on ParlayPlay is very easy and straightforward. First, you must be at least 18 years old, 19 in Alabama & Nebraska, and 21 in Massachusetts & Iowa. Then you must review and accept the platform's Terms of Service and Privacy Policy.
After accepting, you will create a username and password, which will be how you're identified on the site. From there, you will need to verify your age and identity to ensure you can play legally on their platform. You do this by supplying basic identifying information about yourself, including providing your name and address, and by verifying a mobile number. Once you're verified, you're ready to place bets and win cash prizes.
ParlayPlay Promo Code New Customer Sign-Up Offer
If you're signing up for a new account on ParlayPlay for the first time, you may be wondering if they offer some sort of welcome bonus. Well, thankfully, you're in luck, as ParlayPlay offers a variety of multiple ParlayPlay welcome bonus options for new members to take advantage of.
The first welcome bonus for new members is a no-deposit bonus by using the ParlayPlay promo code ODDS. This ParlayPlay bonus code gives you a $5 bonus game with this no-deposit bonus, which is added to your ParlayPlay account as bonus entries. Any bonus money earned from these bonus entries will be credited to your account as real cash earnings.
Another bonus that ParlayPlay offers new members is a $100 first deposit match bonus. With this deposit match, ParlayPlay will match your first deposit up to $100, which will be credited back to your account after the deposit match goes through. Deposit match and deposit bonus offers are great bonus entries for new players to place bets without feeling like they're risking money.
What DFS Games Does ParlayPlay Offer?
ParlayPlay is unique from other DFS sites in that they offer a unique spin on sports betting, using props and parlays, but through the lens of daily fantasy sports. If you're a fan of daily fantasy sports, ParlayPlay is an excellent place to play.
For instance, if you like basketball, you can easily bet on the NBA and college basketball. They also have the NHL, NFL, college football, and soccer leagues, including the EPL, Champions League, and MLS, along with MMA via the UFC. They are also looking to expand their offerings in the future, including adding other professional leagues and even esports organizations and expanding their focus on college football.
Contest Types and How To Play
ParlayPlay offers users plenty of fun contests, including exclusive contests, paid contests, and bonus contests, that users can bet on and enjoy. They have two main contest types, More/Less and Hit It.
More/Less is where users select "more" or "less" on pre-assigned player props on select athletes. For instance, in an NBA game, users could select more or less on a player's total points for that specific game. You can even mix and match sports, allowing you to maximize your odds of success.
Hit it contests, on the other hand, are where players select two athletes from a particular event and decide on a potential point range they will hit. Payouts can range from 0.5x, 2x, or 6x, depending on how close your guess was to their actual score.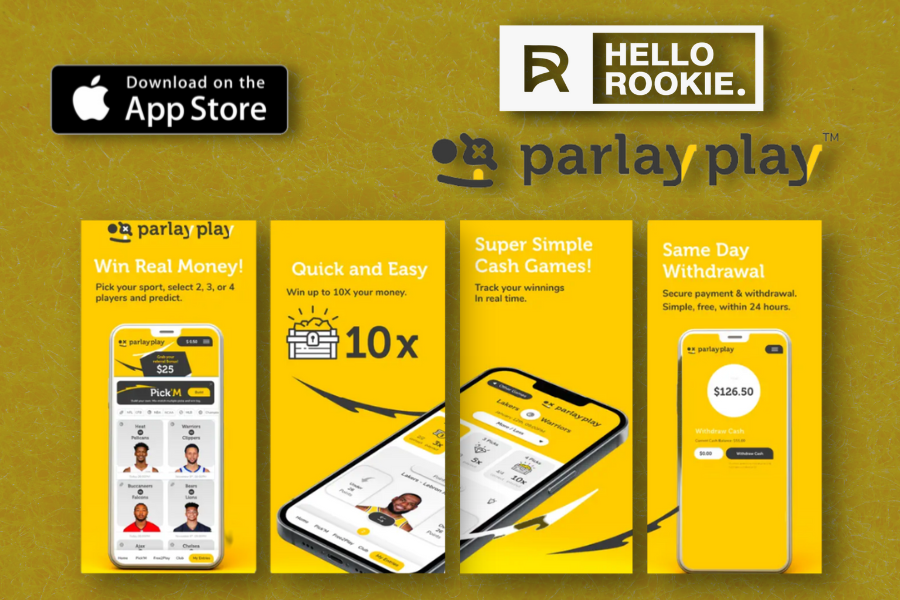 ParlayPlay Mobile App
ParlayPlay's app offers a great way for bettors to enjoy daily fantasy sports on the go, wherever they are. The ParlayPlay app offers all the same functionality as the ParlayPlay website, allowing users to create accounts, make deposits without deposit limits, place wagers on games, and transfer their earnings — all on the go from their mobile device without any hassle.
Hit It Contests
As mentioned before, ParlayPlay offers users hit-it contests. These contests are exclusive and unique to DFS platforms that focus on player props. For some, it can feel like a safer way to bet as you're betting on a score range, rather than relying on going over or under a specific threshold.
Deposit and Withdrawal Methods
Making deposits and setting up withdrawals on ParlayPlay is a relatively straightforward process. To place a deposit on ParlayPlay, you can use common credit card options, including Visa, Mastercard, and Discover.
You can withdraw your funds directly to a bank account using an ACH transfer. Once you submit your request, your money may take up to 3-5 days to transfer. There is also a minimum withdrawal request of $30.
It's important to note that you will need to allow access to your location when trying to make a deposit, make a withdrawal, or place a bet. This is to ensure you're in a state where it's legal for you to game first.
Parlay Club
An excellent ParlayPlay bonus offer they provide is their robust rewards program, known as Parlay Club. At Parlay Club, ParlayPlay members can complete challenges to win big. They also offer free premium player insights, bonus entries, access to exclusive contests, the option to choose a free shirt, and even more ParlayPlay bonuses over time.
Reaching ParlayPlay Support
Getting in contact with ParlayPlay customer service is a relatively straightforward process. Whether you're using the ParlayPlay website or ParlayPlay app, you can access their contact page. From there, you can use the contact form directly on the page, reach out to their support email at support@parlayplay.io, or call their support directly at 1-(888)-680-0405.
Which States Is It Legal to Play ParlayPlay Daily Fantasy Sports?
You may be wondering, is ParlayPlay legal? Currently, ParlayPlay is legal to play in
Alaska
California
District of Columbia
Florida
Georgia
Illinois
Kansas
Kentucky
Minnesota
Nebraska
New Mexico
North Carolina
North Dakota
Oklahoma
Oregon
Rhode Island
South Carolina
South Dakota
Texas
Utah
Wisconsin
West Virginia
Wyoming
Does ParlayPlay offer a Sign-Up Bonus? What about bonus entries?
As mentioned before, there are plenty of ParlayPlay bonuses available, including bonus entries like their sign-up bonus. By making an account, ParlayPlay provides you with a bonus $5 for you to bet with. Any money you win from this bet will be credited to your account as real cash prizes.
Is ParlayPlay legit?
Before you start placing bets on this daily fantasy sports DFS platform, you may be wondering whether or not Parlayplay is legit. Simply put, ParlayPlay is a reputable and respected platform. They operate in full legal compliance where they are allowed to game and are well respected by their users, who have earned incredible payouts over the years.