PrizePicks Promo Code
PrizePicks Promo Code
Use the PrizePicks bonus code ROOKIE for the best available bonus this April

Top PrizePicks Promo Code Offer for April
The offer attached to our exclusive PrizePicks promo code includes a 100% deposit bonus, up to $100! Simply use the promo code 'ROOKIE' and you are guaranteed to receive the best available offer at PrizePicks this April.
[Click to reveal promo code.]
Click to reveal promo code.
*Min $5 deposit. Users must be at least 18 years of age. The deposit bonus is not eligible to be withdrawn and must be used to enter PrizePicks contests. Review the current terms before registering.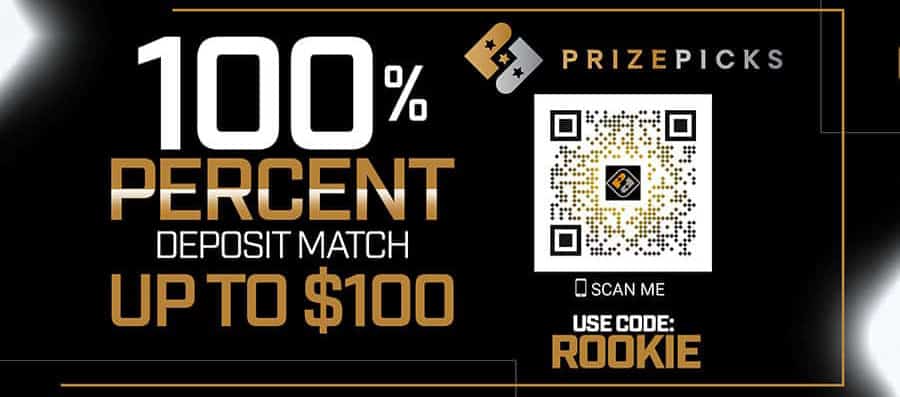 Terms for the Current PrizePicks Promo Code Offer
Like most daily fantasy sports sites or sports betting sites, there are bonuses available for new PrzePicks users. With PrizePicks, users who sign up with the promo code ROOKIE will unlock two rewards.
Users who sign up with our bonus code will receive a 100% Deposit Bonus, Up to $100! This offer is quite simple, deposit $100 and PrizePicks will give you another $100 in your account. Doubling your bankroll right at the start is hard to beat!
It is important to note that you cannot withdraw these additional funds. They are only available for entering contests, however, anything you win using your bonus funds is yours to keep.
100% Deposit Bonus, Up to $100
| | |
| --- | --- |
| Promo Code | ROOKIE |
| Offer | 100% deposit bonus, up to $100 |
| Promo Date | Offer valid 2/1/2022 through 4/10/2022 |
| Promotional Terms | Minimum deposit $5. Must be 18+ years of age. |
How to Use a PrizePicks Promo Code
Signing up using a PrizePicks promo code is a simple process that can be completed in just four steps. Be sure to follow each step to be certain you receive both the 100% deposit bonus and the free entry when you register.
Sign up at PrizePicks either in the app or on the website.
Enter the promo code ROOKIE on the registration screen.
Make an initial deposit of at least $5. Keep in mind that your deposit bonus caps at whatever your initial deposit is or $100, whichever is less.
Receive up to a $100 bonus in site credit! The bonus funds can be found immediately in your account.
This bonus offer is one of the highest-rated in the DFS industry this April and is the top offer amongst all Pick'em style fantasy apps. There are a handful of terms and conditions attached to this promotion that all new players should be aware of:
Only new PrizePicks players are eligible to receive the 100% deposit bonus. If you already have a PrizePicks account, you are not eligible for either the deposit bonus or free entry.
You must be located in a state that PrizePicks operates and will need to verify your location prior to being eligible to enter a contest.
PrizePicks pays out the deposit bonus as site credit and these funds are not eligible to be withdrawn until you use them to enter contests in the app.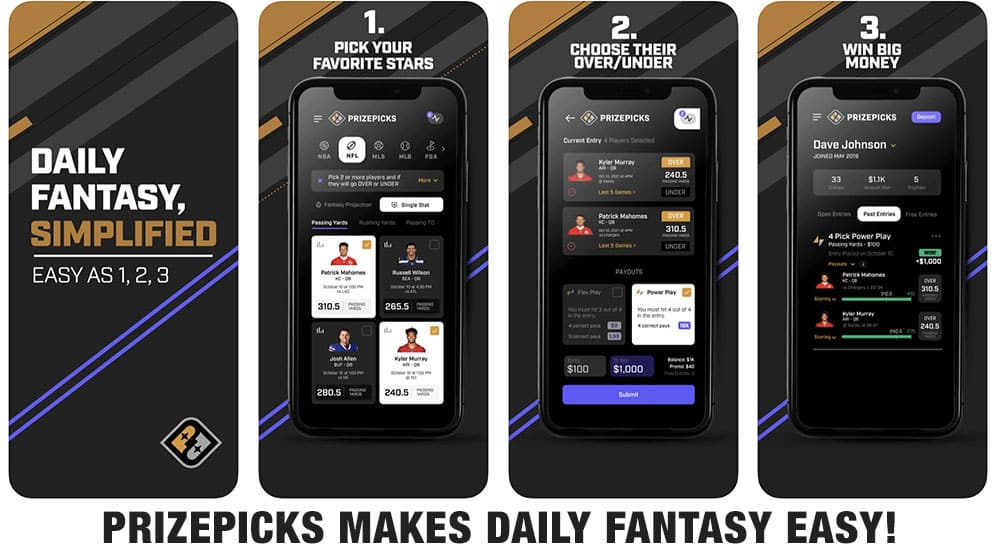 Additional Bonus Offers from PrizePicks
In addition to the $100 deposit bonus available to Hello Rookie readers this April, PrizePicks offers a number of promotions available to both new and existing players. These range from free-to-play contests to reload bonus offers. Many of these promotions are pushed to you through the app, so be sure to download the PrizePicks app and be only the lookout for push notifications.
PrizePicks offers a refer-a-friend program, which is an easy way to build up your bankroll. You can invite your friends to join PrizePicks and, for each friend that signs up and makes a deposit, you will get $25 in cash. On top of that, if your referral's first deposit is more than $100, you will receive 10% of their initial deposit as an added bonus.
Be sure to share the PrizePicks promo code ROOKIE with anyone you refer so they can lock in a $100 deposit bonus on top of the referral offer.
How Does PrizePicks Fantasy Work?
PrizePicks, launched in 2018, is a daily fantasy sports (DFS) platform that works a bit differently than the usual suspects like FanDuel or DraftKings. Rather than pit player against player in competitions that involve the building of fantasy lineups, PrizePicks has players play against the house.
PrizePicks was one of the first DFS sites to focus on prop-style contests. Given the popularity of both fantasy sports and prop sports betting in the US, this format makes a ton of sense and PrizePicks is currently one of the most popular apps on both the App Store and Google Play Store.
Available Prop Contests and Payouts
With PrizePicks, users will choose multiple athletes and place over/under bets based on their performance, either stats or fantasy totals. It is a simple concept based solely on individual performance.
Payouts will be based on whether or not those selections are correct and can be up to 10x the original entry fee. It is important to note that you reach that 10x payout at four correct picks. Adding a fifth pick will not improve beyond 10x. Here is how the payout structure works:
Players Picked
Flex Play
True Parlay
2 Players
1 Correct – 0.5x
2 Correct – 2x
2 Correct – 3x
3 Players
2 Correct – 1.25x
3 Correct – 2.25x
3 Correct – 5x
4 Players
3 Correct – 1.5x
4 Correct – 5x
4 Correct – 10x
5 Players
3 Correct – .4x
4 Correct – 2x
5 Correct – 10x
Not Available
As you can see, the payout structure for these contests is a lot like a parlay at a sportsbook. However, this is not considered sports betting and is a great option for those who want to wager on sports, but do not yet have access to full sports betting.
The free entry you receive when registering with our PrizePicks promo code, ROOKIE, is a $5 ticket. You can use this on any of the contests listed above. For instance, if you choose to do the 'pick three' contest and hit all three picks, your $5 entry will pay out $25 in prizes.
PrizePicks Advantages Over FanDuel and DraftKings
Gone are the days of painfully researching and building out lineups just to have a few players underperform. With PrizePicks, it really is as easy as picking a few athletes and predicting their performance. It is not a matter of building a high-scoring fantasy team. It is about making over/under predictions well.
PrizePicks set out to create a simple and effective daily fantasy sports app that would solve the problems casual players have with FanDuel and DraftKings, and that is exactly what they accomplished. It takes minutes to place your bet and it doesn't require competition against other users who spend dozens of hours more studying and analyzing.
Similar to sports betting, you only need to beat the house when playing on PrizePicks. Whether a casual fan just wants to make watching a game a little more exciting or an expert, PrizePicks is a place where both types can make their money.
PrizePicks App Features
PrizePicks is a pretty straightforward app with a straightforward system. You pick your sport from the main menu, pick the players you want to wager on—minimum of two and maximum of four—and then place your over/under on the point projection. It could not be simpler. All the rules for each sport are laid out simply and there is a clean dashboard that will display all of your current wagers, wins, and losses.
Users can use either the app or the website and all functions are the same. The app is available on both Apple and Android devices. The interface of the website and app are top-notch and the layout and menus will appear similar to one another making switching between the two fairly seamless.
As of this April, the PrizePicks app has a 4.8 rating on the App Store and 4.9 rating on the Play Store. Clearly, fantasy players love this alternative format with no salary cap or sharks to worry about.

Contest Types and Sports Available
PrizePicks only has one type of wager: over/under. However, users can place this wager on a plethora of sports and leagues and across multiple stat categories including total fantasy points scored.
When playing on PrizePicks, the first step is picking the sport and league you want to bet on. The leagues available to be wagered on are as follows:
Esports
English Premier League (EPL)
Major League Soccer (MLS)
Major League Baseball (MLB)
Mixed Martial Arts (MMA)
National Basketball Association (NBA)
NCAA Baseball
National Football League (NFL)
NCAA Football
National Hockey League (NHL)
Golf
Tennis
PrizePicks allows users to place their bets in "cross-sport entries," which is a fancy way of saying you can pick players from different sports. One single entry can have players from the NBA, NHL, MLB, and MLS if desired. Users would then pick their entry fee and the type of bet and the payout will adjust according to those selections.
There are two main types of bets with PrizePicks: the Power Play and the Flex Play.
The Power Play is their standard format, similar to a parlay, where all picks need to be correct in order for it to payout. Payouts scale with the number of players picked, so going four for four will pay out 10x the entry fee. Three for three will pay out 5x the entry fee. Two for two will pay out 2.5x the entry fee.
Flex Plays do not require all picks to hit. It allows for one pick to be wrong, but all payouts are lower than a Power Play's payout even if all picks hit. For instance, four out of four will pay out 4x the entry fee. Three out of four will pay out 1.5x. Three out of three will pay 2x.
Lastly, two out of three will pay 1.25x. Because of the over/under nature of these wagers, if any player hits the projection exactly, they get removed from the selection and the payout will reflect a wager with one less player. So, if a four-player wager has one player match their prediction exactly, the payout will reflect a three-player selection.

Deposits and Withdrawals on PrizePicks
When it comes to deposits and withdrawals, PrizePicks can be a little quirky. Users can deposit cash through multiple methods. PayPal and e-check are the most common, but PrizePicks accepts Visa, Mastercard, and American Express cards.
Withdrawals are where things get a little funky. PrizePicks has a maximum withdrawal value of $1,000 per week and a minimum withdrawal amount of $30. This means that users have to withdraw larger amounts in multiple withdrawals and may have to work across multiple weeks.
Also, withdrawals are only available through e-check and payments usually take between two to five business days to process.
PrizePicks FAQs
Given just how different the PrizePicks product is from DFS leaders like FanDuel, DraftKings, and Yahoo, players have plenty of questions. We address the most important and frequently asked questions we receive regarding PrizePicks below.
Is PrizePicks Legal?
Yes, PrizePicks is legal, licensed, and operates in regulated DFS markets. Although the contests on PrizePicks resemble player prop parlays, the app allows users to predict fantasy scores for players, and for this reason, is considered a DFS product.
How Does a PrizePicks Deposit Bonus Work?
Unlike many DFS apps, PrizePicks gives you your full bonus right upfront. The funds do need to rollover prior to being withdrawn, and the bonus can not be withdrawn. However, anything you win with your bonus cash is yours to keep. One additional item to keep in mind is that all bonus funds expire after 90 days.
Does PrizePicks have an app?
Yes, in addition to a beautifully designed website, PrizePicks has an app available for both iPhone and Android users. The PrizePicks apps are extremely well executed and are easily our favorite fantasy apps that fall into the pick'em contest niche.
Who can use PrizePicks?
PrizePicks requires that users are 18 or older and restricts deposits and withdrawals for customers who are not located in one of these states: Alaska, Alabama, Arkansas, California, Colorado, Connecticut, Washington DC, Florida, Georgia, Illinois, Kansas, Kentucky, Massachusetts, Michigan, Minnesota, North Carolina, North Dakota, Nebraska, New Mexico, Oklahoma, Oregon, Rhode Island, South Carolina, South Dakota, Texas, Utah, Vermont, Wisconsin, West Virginia, and Wyoming. PrizePicks will verify your identity and location prior to allowing you to enter your first paid contest.
Are College Sports Available on PrizePicks?
Yes, PrizePicks offers college football and college basketball contests. There is a wide variety of college football prop-style contests available in the lobby today that your bonus funds can be used to enter. As is the case with the NFL, both single-stat and fantasy score contests are available for college football players from every slate.
How does PrizePicks handle customer support?
Customer support is another area of the overall customer experience that PrizePicks absolutely nails. Live support is available 24/7/365 through the chatbox on the website and in the app. Many players will interact with support as part of the location verification process. In our experience, PrizePicks had over 30 agents available, no wait, and were able to resolve our issue immediately. Additionally, you can always email PrizePicks which will generate a ticket for your issue.
Review and Rating for Current PrizePicks Bonus Offer
The rating we assign to each DFS promotion is a reflection of several factors. First, we compare the offer and the terms of the offer to other daily fantasy apps. Next, we look at the overall quality of the app and reviews from current users.
Our current 4.9 (out of 5) rating for PrizePicks puts it on par with our two favorite DFS apps for 2022, DraftKings and Underdog. This app is a must-try for daily fantasy fans looking to find a new app ahead of the 2022 MLB season.
| Review | Current PrizePicks Promotions |
| --- | --- |
| Details | PrizePicks is the perfect example of what can happen when a great idea is perfectly executed. The product services a clear niche of fantasy players that want to try player prop betting, but live in a state without legal sports betting. The app is flawless, easy to use, looks great, and is available for both Apple and Android devices. The fact that the current promotion is also one of the best in the DFS industry makes PrizePicks one of the best options for fantasy players. |
| Author | Chris Lollis |
| Rating | 4.9 (out of 5) |