Terms for Current OwnersBox Promo Code Offer
There are more than a few daily fantasy sports options to choose from, so why not do something a little different. That is where OwnersBox, a fantasy sports site, can be different from the rest of the competition.
Most of the fantasy sites out there have a focus on daily fantasy, meaning the need to pick new lineups with every contest. But OwnersBox puts the focus on weekly contests, similar to the matchups that one would see over the course of a season-long contest.
Not just a DFS site, but also a WFS (weekly fantasy sports) site, OwnersBox has contests featuring the NBA, MLB, NHL, and NFL, providing some of the best aspects of both daily fantasy sports and the year-long leagues that so many take part of.
| | |
| --- | --- |
| OwnersBox DFS Promo Code | No Code Required |
| Offer | 100% Deposit Bonus | Up to $500 |
| Valid Through | October 31, 2023 |
| Bonus Verified | September 30, 2023 by Chris Lollis |
| Terms for the Offer | Must be 18+ to play. Minimum deposit is $10. Must be located in an approved state. |

OwnersBox Promo Codes and Bonuses
The good news for new players hoping to get in on the actin with OwnersBox is that there are tow bonuses to be received. The first is $20 worth of entry fees that come after the signup process has been completed. The second is a 100% signup bonus that matches up to $500 the first time.
All players need to do is use the referral code BUSA when they sign up for a new account with OwnersBox. Before long, players will be able to get their bankroll started on the right foot.
$20 Bonus. The first bonus to come from OwnersBox is the $20 bonus that comes with simply signing up. There is no necessary deposit in order to claim this bonus. All you have to do is sign up. Upon completion of registration, new players will get a $10 entry into a SuperFlex DFS game and a $10 entry into a Lightning Lineups contest.
Simply go to the OwnersBox website or mobile app, signing in or creating an account as necessary. You should receive an email featuring the promo codes needed to claim those free entries. And that is just the start.

Deposit Bonus. The second part of the bonus for new players is the deposit bonus. New players to OwnersBox who make a $10 deposit or more will receive a matching deposit of 100% up to $500 on that initial deposit. So, if a new player deposits $200, they would get $200 back in OwnersBucks that can be wagered and turned into real winnings.
To claim both these offers in tandem, the promo code BUSA will be necessary. When you visit OwnersBox and sign up for an account, simply put in the BUSA code in the referral box at the bottom of the registration page. When the signup has been completed, the match will be credited to your account, ready to use on your next WFS game.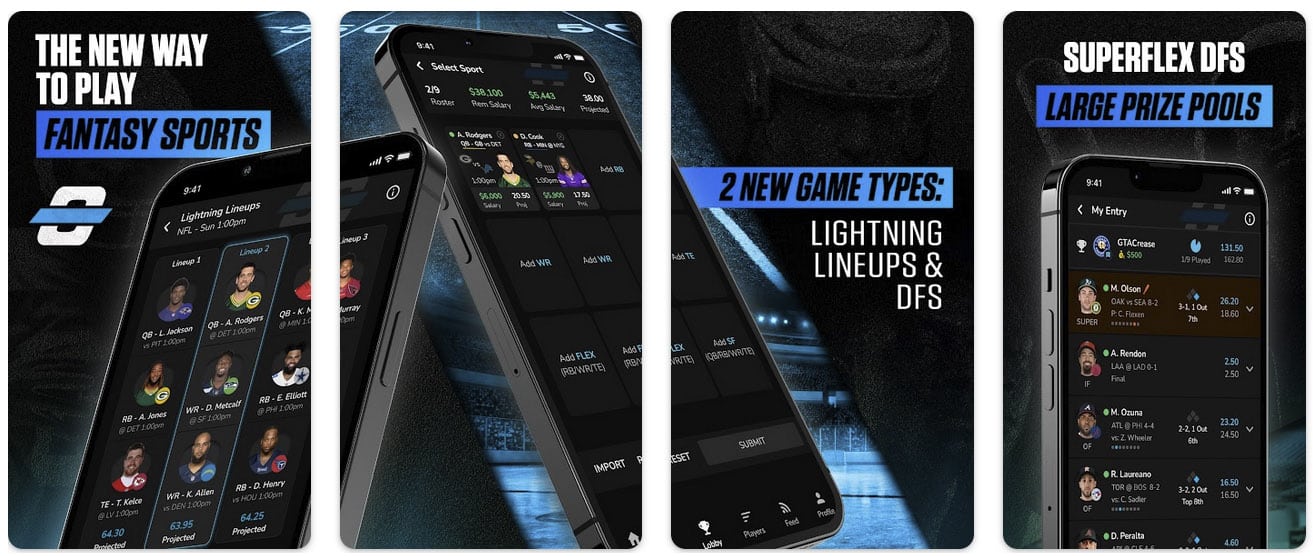 Another thing to love about OwnersBox is their loyalty program, which is primarily centered around the OwnersBucks rewards. Customers can earn their OwnersBucks through three different means. The first is claiming promotions and bonuses, the second is entering into paid contests, and the third is winning some of the weekly fantasy contests.
As customers play, they can earn 1% royalty on all of the entry fees that they pay. So, if a player enters into $200 worth of games, they would be credited back 2 OwnerBucks as a result. That money can then used as real money at any time, flexible for other wagers to make.
One of the cool things about OwnersBox is that it incorporates a number of different features to keep players coming back for more. Even better, it offers greater convenience than DFS contests without the patience needed to complete season-long fantasy contests. Here are some of the most important features to be aware of:
Auto draft. If you can't find the time to stay for the whole draft, no worries. With the autodraft feature, both newbies and those who can't finish the draft will be covered. The draft picks the best available player based on their need on the roster and daily fantasy projects. All of which will help to create the most potent lienup available whether you are there to do the drafting or not.
Live draft. One of the coolest features of OwnersBox is their life, snake-style drafts. These are available for each of their contests, perfect for those beginning at a certain time or when the contest fills. Each of the players available can be picked a max of one time, which means that each lineup will have to be reconstructed each step of the way.
Social Features. OwnersBox makes using their app simpler and more fun than ever. This is in due part to the interface, which includes group chats, private contests, friend lists, and more.
Sponsored Tournaments. Users can sponsor their own tournaments, inviting friends to play and paying the entrée fee for each of the attendants. 

Contest Types and Sports Available
OwnersBox has a whole slew of DFS contests for their users to participate in. Customers can choose to create their own contests or make a lineup while staying under a salary cap.
For DFS players who are pressed for time, the Lightning Lineups option is phenomenal. Simply choose the lineup that you feel will score the most overall points! It doesn't get any easier than that!
To get started on OwnersBox, simply pick the sport you want to play. Here are what they offer:
Major League Baseball (MLB)
National Basketball Association (NBA)
National Football League (NFL)
National Hockey League (NHL)

As of October 2023, OwnersBox doesn't have contests for college sports. However, that could change at some point down the line. Here's a closer look at the contests that OwnersBox runs.
Daily Salary Cap
This is for folks that want a more traditional DFS experience. Simply choose the sport and make your own lineup. Just make sure you stay underneath the allotted salary cap.
The players with the highest scores can win some of the largest payouts in the industry. Just how large are some of the prizes. Well, you can browse the Featured Contests on the OwnersBox app or website. For NFL Week 10, they have one contest that has a $50K prize pool.

Lightning Lineups
This type of DFS is perfect for the sports fan who's short on time or just has a very busy life in general. A lot of folks simply don't have several hours of free time to devote to setting a fantasy lineup.
That's where the Lightning Lineups contest comes in handy. All you have to do is pick the lineup that you like best. All of the heavy lifting is done for you! That's hard to beat!
Create Your Own Contest
Have a group of friends that you love playing fantasy sports with? This is the perfect option on OwnersBox. Invite them to a weekly bracket contest and see who wins the most money and bragging rights!

OwnersBox has made a major splash in the DFS industry. Heck, they even have former Saints QB Drew Brees as a pitchman. That being said, lots of folks may have questions about Ownersbox and how they operate. This FAQ section will help assist with that.
What states is OwnersBox legal in?
OwnersBox is legal and available in a ton of states. In fact, there are only a few states that don't allow OwnersBox. As long as you're not in AZ, NV, ID, MT, WA, IN, IA, MI, MS, LA, ME, CT, DE, or HI you're good to go.
How Does an Ownersbox Deposit Bonus Work?
One thing that we love about OwnersBox is their generous signup bonus. Whatever dollar amount you put in on your first deposit, OwnersBox will match it up to $500. While most DFS apps limit their bonuses to $100, OwnersBox looks to really reward new customers!
Does OwnersBox have an app?
Yes, OwnersBox has a fantastic looking app for both iOS and Android users. Simply head over to the App Store or the Google Play Store and download it. They also have a solid website!
How old do OwnersBox users have to be?
Check with the laws in your state to make sure. In most states, DFS players only have to be 18 years old. There are some exceptions, as the requirement is different in AL (19), NE (19), and MA (21).
Does OwnersBox have good customer support?
Yes! OwnersBox has a stellar customer service team that is friendly, fast, and helpful. They have offices in Massachusetts and Ontario to serve their customers. Simply click the Help & Support tab to fill out a help ticket.
Review and Rating for Current OwnersBox Bonus Offer

The rating we assign to each DFS promotion is a reflection of several factors. First, we compare the offer and the terms of the offer to other daily fantasy apps. Next, we look at the overall quality of the app and reviews from current users.
Our 4.8 rating for OwnersBox shows that we are big believers in their company and their product. For reference, Underdog Fantasy is currently our top-rated DFS app and has a rating of 4.9 stars. The app is impressive and their bonus offer is second to none in the DFS world. We highly recommend giving OwnersBox a shot!
OwnersBox Review Overview

Details

We love the fact that OwnersBox wasn't afraid to see a need and fulfill it. The Lightning Lineups option was a genius idea and its been a big hit so far among busy people who still want to engage in DFS. The $500 deposit match is also pretty amazing! We really can't say enough good things about OwnersBox! Don't forget to use the promo code we've provided as well since you don't want to miss out on their welcome bonus. This entire OwnersBox review is pointless if you don't use the code to get the bonus.
Rating
Author: Chris Lollis
Reviewed By: Mike Noblin