DraftKings Review
DraftKings Review
Complete Platform Analysis
Everything You Need to Know About DraftKings:
Contest Types
Entry Limits
Player Pricing / Team Budget
Platform / App UI & UX
Summarized DraftKings Review
DraftKings Review of Contest Types
DraftKings Review of Entry Limits
DraftKings Review of Player Pricing / Team Budget
DraftKings Review of Platform / App UI & UX
DraftKings Review Summary 2019

An Honest, Expert Review of DraftKings
Our Grades For DraftKings
Website Review

App Review

Quality of Gameplay

Contest Size and Variety

Customer Service

Caters to Non-Pro Players
Summary
The grades speak for themselves. As a website and app, DraftKings functions flawlessly and looks great. They offer the largest contests in the industry, nearly perfect roster structure and scoring structures, and just an overall well polished product. The one area that DraftKings, and FanDuel for that matter, needs to improve is in eliminating advantages and loopholes professional players are currently exploiting.

The world of daily fantasy sports continues to grow and there are plenty of sites for players to choose from. DraftKings is certainly one of the most well-known sites, renowned for its incredibly high prize pools, vast array of games and sleek design.
From their great new player promotions to user friendly website, DraftKings is unquestionably one of the best choices for new daily fantasy players. We want to make it simple for first time DFS players to turn their sports knowledge into cash. This review should give you a clear idea of whether DraftKings is the right choice for your home for daily fantasy.
With DraftKings launching record-breaking $10 million tournaments, there's no better time for players to join up with this excellent DFS site. Click here to view the current million dollar promotions in the DraftKings lobby.
Details of Our Review
One of the top things everyone looks for when trying to find a DFS site is a good array of games. Choice and variety of play is key to Fantasy players and DraftKings provides a myriad of different contests for various professional leagues including the NHL, MMA, NFL, MLB, and many, many more.
Players can use a simple filter system in the game lobby to find a contest that suits them. Head to head games are available, along with much larger tournaments with hundreds of thousands of participants. For people who can afford to spend big and test their luck for the huge prizes, there are plenty of huge contests with big buy-in fees and colossal prize pools. Become the next millionaire winner.
Other features of the DraftKings website that this review will look at includes DraftKings rules and policies, how those policies are enforced, if DraftKings is legit, and we also review the UX/UI of the website and apps.

DraftKings Deposit Policies
Meanwhile, DraftKings also caters well to people on more limited budgets. For instance, there are plenty of smaller competitions with minimal entry fees and you can even enter several contest for free. In addition, DraftKings does a great job with satellites/qualifiers, offering entry to its biggest tournaments via these well-organized qualifiers that often have entry fees in the $0.25 range.
Just another example of how DraftKings is willing to get you into the action. Its not only fun but provides you with a means of winning money in a manner that you have a hand in picking winers. Unlike pulling the slot handle you actually put your knowledge to work making money for you. Do your research learn your game and your numbers it will pay out much better when you spend a little up front time making the best decisions based off of knowledge. Knowledge is power and a little luck doesn't hurt as well.
This means that players who don't have the bankroll necessary to access the biggest games can still try the luck for a chance to win some of the incredible prize pools on offer in tournaments like the Millionaire Maker: a weekly event during the NFL season with a guaranteed $1 million going out to the winner.
In addition, our DraftKings promo code will double your initial deposit on their website and get you free entry into a tournament. Join now and start enjoying the real fantasy experience. Play competitively against friends, family and other players looking for the same experience as you.
With so much money on offer, visitors to the DraftKings site will hope that it looks good and is easy to navigate. Fortunately, that is very much the case. The development team at DraftKings has made great strides with the site's design over the years.
New visitors will be impressed with the attractive style on every page, while navigation of the site is a simple process thanks to an intuitive and user-friendly system. With a click of a button you can find all of the information you could ask for.
Adverts for the biggest tournaments will appear at the top of the page, while lots of options and filters allow you to find a game that suits your style in seconds. The competition is on and that drives DraftKings to impress the consumer with the latest and greatest in playing experiences that challenge you skill level.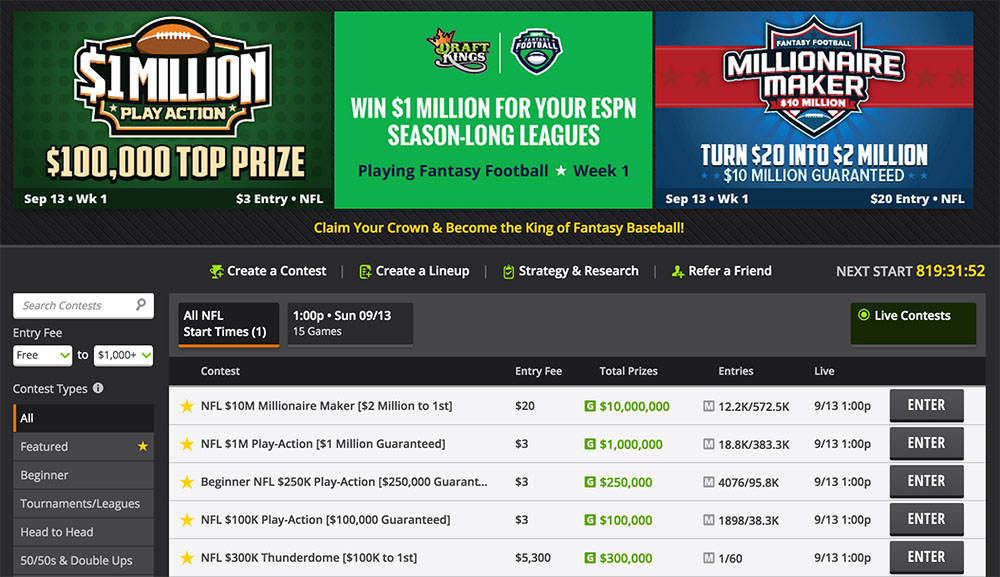 DraftKings Mobile Website and Apps
With everyone using smartphones and tablets to do all sorts of things these days, users will be pleased to know that DraftKings also has an efficient mobile app. This app, downloadable directly for the DraftKings site, allows you to join up with new contests with a few taps of your finger and follow your progress in other competitions.
It's especially easy to use and can be very useful for people who are out and about but want to keep track of their daily fantasy sports status. Just like on the main site, users will find a slick design and smooth navigation experience on the mobile app.
One thing DraftKings has clearly put more time into than any other daily fantasy sports website is in making their website a hub for you to follow games from. Not only can you track your fantasy players, but you can track every game, all the scores, stats, and highlights.
What Makes User Experience and Site Design So Important?
If you're joining up with a DFS site, you'll need players to play against. Certain sites out there simply aren't quite big enough to support the games they try to offer, leading to frustrating experiences for users. On DraftKings, you'll never have a problem with the site's population.
Countless users will be there every single week to fill up the various contests on offer and provide each other with exciting competition. Take advantage of the sites offerings with respect to events available to pick a game that meets what you are looking for.
You may want to compete in smaller events or you may be extremely confident and like the terms and rules of much larger contests. With so many choices and venues to choose from you will surely find an event or contest that you can compete and have fun with.
Regardless of the type of game you wish to play or the sport you're interested in, you'll be able to find a huge amount of games to fit your requirements and plenty of like-minded players to test your skills against. The site even rewards loyal users who keep coming back with "DK Dollars", a special currency used to enter big tournaments.
You can find this all on the site if you have questions you can come to our team of experts or search for answers to those questions on DraftKings. They can help you with everything but picking your winning picks.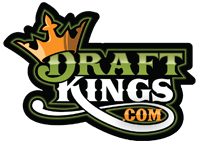 Inexperienced users will also want to know how the sign up process is at DraftKings. Once again, we're pleased to report that nothing could be simpler. Signing up to the site is done in a flash and you can deposit and withdraw money with ease across a variety of payment methods.
Everything about the DraftKings site is designed to appeal to both new and experienced players. This is clearly an ambitious idea, but DraftKings pulls it off with grace.
The site has one of the best designs out there and all of its features are easy to use and enjoy. After recently completing a number of huge business deals like a partnership with ESPN, this site is only going to grow and improve in the weeks and months to come. With some big sporting events coming up like the start of the NFL season, DraftKings is the best place to be for fantasy fans.
Get Busy on DraftKings