Top 6 Strategies for Betting on the NFL
There's something magical about the fall — the air starts to cool, the leaves change colors, and football season is in full swing. For many fans, this means one thing: it's time to start betting on NFL games.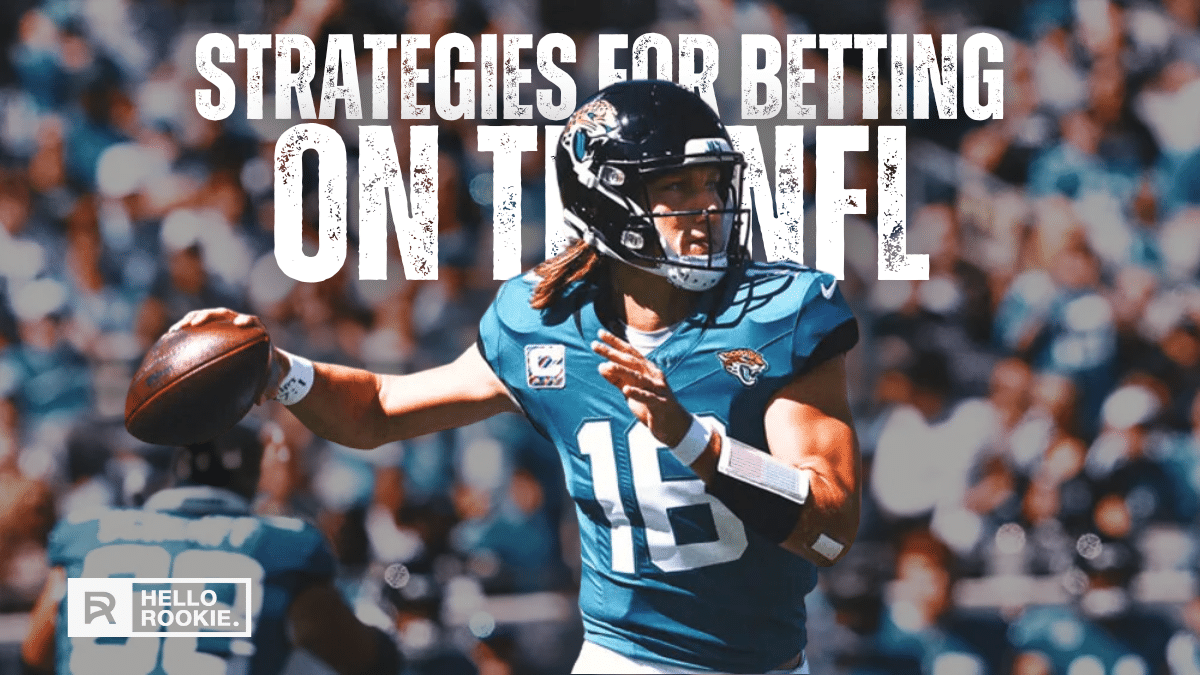 The NFL is hands-down the most popular sport to bet on in the US. We talk with lots of pro bettors and amateurs, and the NFL is the place to bet. It's not even close.
While we love betting on the NFL, it's not always easy to win. With so many games and factors to consider, it can be overwhelming for even experienced bettors. That's why we've put together our top 6 strategies for betting on the NFL to help you clean out the house on Sundays.
Research Key Statistics
Not all stats are created equal. In fact, some are merely fluff or shiny objects.
One of the most effective ways to increase your chances of winning big when betting on the NFL is to research key statistics.
We're not talking about the basics, like points scored and yards gained. We're talking about more in-depth stats that can give you insights into how a team performs in certain situations.
For example, looking at a team's third down conversion rate or red zone efficiency can give you an idea of how effective they are at converting opportunities into points. When you combine these metrics with others, like turnover differentials and time of possession, you can start to paint a clearer picture of how a team performs and its strengths and weaknesses. 
It's easy to get caught up in the big numbers, but there's a reason why underdogs beat out the favorites from time to time. By researching key statistics, you can find hidden gems and opportunities that others may have overlooked.
Keep an Eye on the Weather
The weather can play a significant role in NFL games, and it's crucial to keep an eye on the forecast when placing your bets. 
For example, if you know that a game will be played in heavy rain or snow, you might want to consider betting on the team with a stronger running offense since they'll have a better chance of success in inclement weather.
LeSean McCoy, running back for the Philidelphia Eagles, had an all-time game against the Detroit Lions in Week 14 of 2013. It was a blizzard, and he ran for a career-high 217 yards. The final score? Philidelphia Eagles – 34, Detroit Lions – 20.
In contrast, if a game is being played indoors or in ideal weather conditions, it might be wise to bet on the team with the stronger passing game. 
Weather can also affect scoring, with heavy winds or rain making it difficult for teams to throw the ball effectively or even kick simple field goals. By paying attention to the weather forecast, you can make more informed bets and potentially increase your chances of winning big.
Use a Trusted Betting Platform and Find the Best Odds
You have your favorite platform, we get it, but if you want to take your NFL betting game to the next level, you need to get out of that mindset. You need to be using multiple platforms and comparing their odds.
Sports betting is a game of inches where even some of the best bettors only rake in 50-60% of the time. So, taking advantage of bonuses, special bets, and the best odds can make a significant difference over time.
Some of our favorite sports betting platforms include DraftKings, FanDuel, and Caesars, all of which have some really nice sports betting bonuses right now.
Keep an Eye on Injuries and Suspensions
Injuries and suspensions can significantly impact a team's performance, and it's essential to keep an eye on any changes to a team's roster before placing your bets. You'd be amazed at how often teams with critical injuries or suspensions underperform, costing bettors their winnings.
If a key player is injured or suspended, the team's overall performance could suffer, making it a riskier bet. This isn't always reflected in the odds, as some injury reports are game-time decisions.
Stay on top of the latest injury and suspension news to make informed bets and potentially avoid costly mistakes.
Don't Ignore the Underdogs
Don't overlook the underdogs when it comes to betting on the NFL. While they may not always come out on top, betting on teams with lower odds is often valuable.
Underdogs can be a risky bet, but their potential for a higher payout and, if you're doing thorough analysis, could be a great value pick.
As we mentioned earlier, don't look simply at the team's record. Look beyond that and consider their performance in certain situations, injuries, suspensions, weather, and other key stats. Doing your research can help you identify potential upsets and make smarter bets. If you've got a few underdogs that could win out, you might think about a parlay.
Remember, the NFL is unpredictable, and anything can happen on any given Sunday. We've seen some crazy outcomes.
Watch Your Bankroll
Sports betting is a tough industry to break out in, but when you do, it's essential to know what you can and cannot afford. 
We highly recommend betting with disposable income.
Don't go into debt for a bet, don't take out ridiculous loans, and don't put your life savings on the line for a game.
In fact, we recommend starting small until you get comfortable with betting and have honed your strategies. Set a budget for yourself each week or month and stick to it. 
There are even social sportsbooks such as Fliff, which lets you place bets with virtual currency so you can practice without risking any real money.
Practicing sports betting? That's right. When it comes to betting on the NFL and other sports, practice makes perfect. 
Place Your Bets Like a Boss
Hopefully, these tips start tipping the scales in your favor, but there are no guarantees. Sports betting isn't for the faint of heart, and the NFL is no exception.
Go into each week with a solid strategy, and don't let emotions get the best of you when making bets. Stay disciplined and stick to your research and budget.
Head of Sports Betting and DFS
Matt's love for sports betting and daily fantasy sports, coupled with a deep understanding of football, hockey, and baseball, shapes his innovative thoughts on Hello Rookie. He has a B.S. in Aeronautical Computer Science and a M.S. in Project Management.