The Exciting Twist to Traditional Sports Betting with Live Betting
As sports betting continues to gain popularity nationwide, betting enthusiasts are seeking new ways to enjoy the thrill of the game, and nothing delivers that quite like in-play betting. We think you'll love this twist on an age-old game.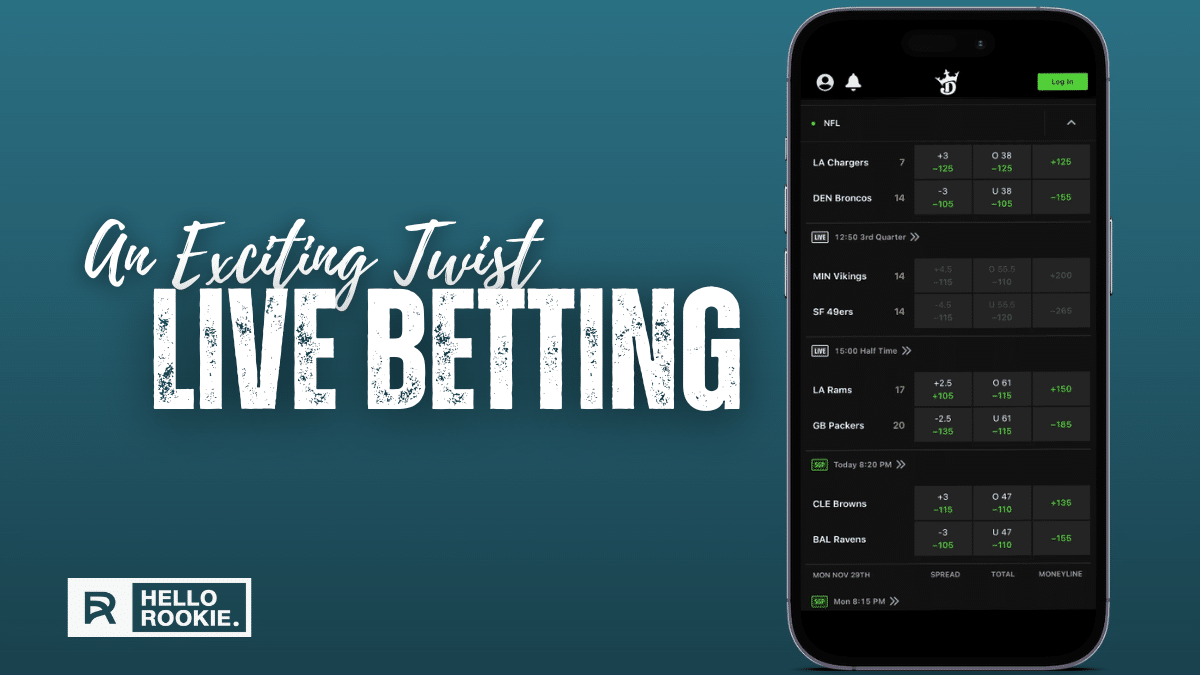 In-play betting, also known as live betting, is a unique and exciting form of sports betting that offers a more interactive and dynamic gaming experience. 
It's pretty straightforward and requires no special skills or knowledge (above and beyond what you already know for traditional betting), making it a great addition to any bettor's gambling repertoire. 
The best part of live betting is that it takes the already adrenaline-filled sports betting experience and amps it to a whole new level.
What is In-Play/Live Betting?
In-play betting is a form of sports betting where players can place their bets on a live game while it's still in progress. This isn't to be confused with live streaming, which some sportsbooks offer; this is entirely different. 
You read that right. Gone are the days of placing your bets at the desk of a sportsbook in Vegas — now, you can bet on games as they happen in the comfort of your home.
Unlike traditional betting, which requires bettors to place their bets before the start of the game either online or in person, with in-play betting, one can place bets during the game and adjust their positions based on the game's progress.
Think of it like this. With traditional betting, you're placing a bet and then sitting back to watch the game unfold. 
But with live betting, you can place multiple bets throughout the game, adding an element of excitement as you watch your predictions come to life.
Here are a few examples of some live bets you might see on various sportsbooks.
NFL — 

Live betting on the result of the next drive in an NFL game. As the game unfolds, bettors can wager on whether the offensive team will score a touchdown or field goal or fail to score on their current drive.

NBA — 

Live team bets are common in NBA games. For instance, bettors can wager on which team will reach a certain number of points first during a live game. This could be something like, "Which team will reach 10 points first?"

MLB — 

Wagering on the outcome of an individual inning. For instance, bettors could place a live bet on whether the batting team will score any runs in the current inning. The odds for this type of bet would adjust dynamically based on the game situation, including the number of outs and the position of runners on base.

NHL 

— Wagering on the Moneyline odds after either team scores goals. For example, if the Golden Knights open as -200 favorites over another team, those odds may change if the opposing team scores the first goal.
These bets are very similar to traditional bets, but instead, they're modified to go with the flow of the game. As the scores change or situations arise, the odds will change in real-time.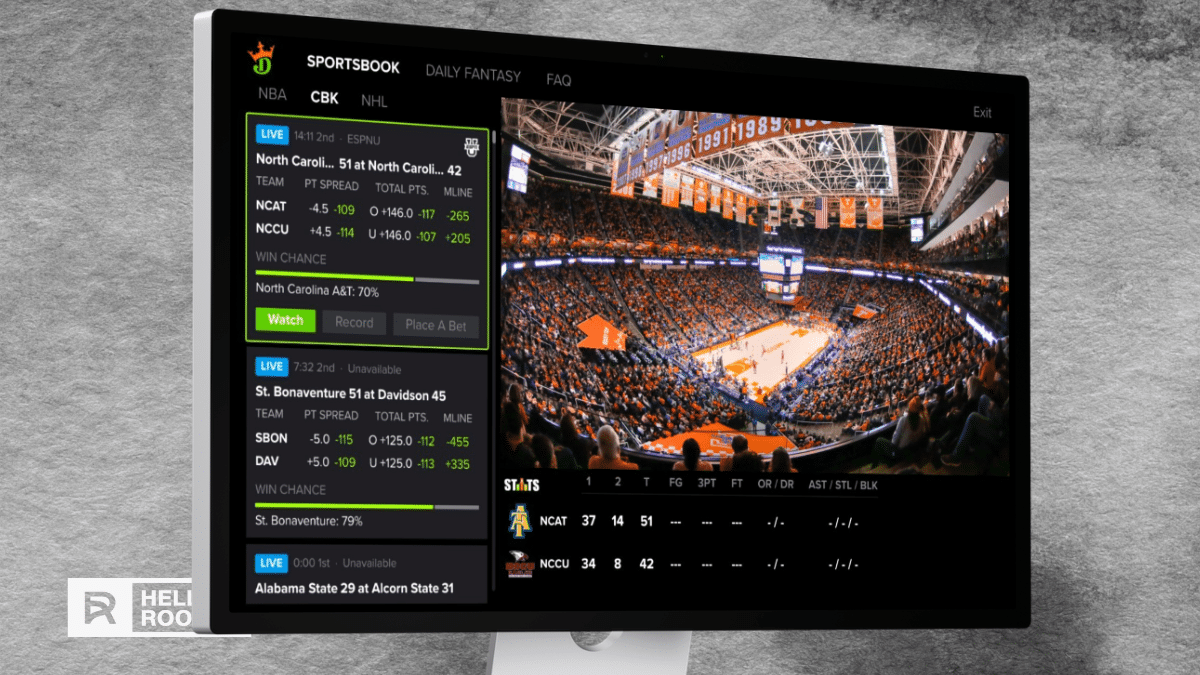 How to Play In-Play Betting?
Of course, it seems daunting and might be challenging, but in reality, in-play betting is incredibly easy to play. 
Register with a reputable sports betting website that offers in-play betting options. We've found tons of them, and they all have fantastic welcome bonuses, so be sure to take advantage of those as well.
Once you're signed up and have your account, find the live game you'd like to bet on and select the in-play betting option. All of the major sports betting sites like DraftKings and Bet365 have an "in-play" option in their menu, which shows which games are currently ongoing. They might not refer to it as in-play betting but instead live betting.
Place your bet by selecting the outcome you believe will most likely happen during the game. Most of the time, you'll see the odds change in real-time. However, keep in mind the odds are calculated at the time you place the bet. So, for example, if a team scores in the time it takes you to open a bet slip and place the bet, the odds will change. The sportsbook will then tell you that the odds changed and confirm if you want to proceed. 
In-play betting offers bettors the perfect opportunity to take advantage of fluctuations in-game odds, and if you're smart, you can use this to maximize your chances of winning.
Why is In-Play Betting Great?
Do you like watching games with a cold beer? Do you like betting on games?
Live betting combines the best of both worlds.
In-play betting is an excellent addition to traditional sports betting because it offers a more immersive and interactive gaming experience. Unlike traditional betting, where betting is on the game's outcome, in-play betting allows players to bet on smaller aspects of the game, such as the next goal or the outcome of the next point. 
This creates a more dynamic and engaging gaming experience that keeps bettors engaged throughout the game.
As we mentioned, live betting is also a great way to take advantage of fluctuations in-game odds. While traditional betting often dictates fixed odds, in-play betting ups the ante by introducing dynamic game odds that vary according to the game's progress.
The Best Live Betting Sports Betting Sites
If you're ready to get in on the action, here are some of the best sports betting sites offering in-play betting options. 
Sure, the live betting is excellent on all four of these sites. However, they take it one step further. They also offer some of the best bonuses we've ever seen.
Take advantage of those bonuses, catch the game, and make some bets.
Is Live Betting For You?
In-play betting is a dynamic and exciting form of sports betting that offers an immersive and interactive gaming experience. It really keeps the adrenaline going throughout the duration of the game.
As online sports betting gains traction, in-play betting is becoming increasingly popular for its engaging gameplay and thrilling dynamic odds. We think we see more states open their doors to legalized sports betting we'll see them also embrace live betting. It's essentially traditional betting, as far as the regulators are concerned, just with more immediate action.
Whether you're a seasoned sports bettor or a new player looking to try your hand at sports betting, in-play betting is worth giving a shot.
Head of Sports Betting and DFS
Matt's love for sports betting and daily fantasy sports, coupled with a deep understanding of football, hockey, and baseball, shapes his innovative thoughts on Hello Rookie. He has a B.S. in Aeronautical Computer Science and a M.S. in Project Management.