Current PointsBet Review – Updated for September
We're big fans of PointsBet, but does it really stand up to the competition? We find out in our comprehensive PointsBet review. We love their solid bonus, excellent app, and their customer support is off the charts. See why we think PointsBet is one of the best online sportsbooks we've tried in a long time.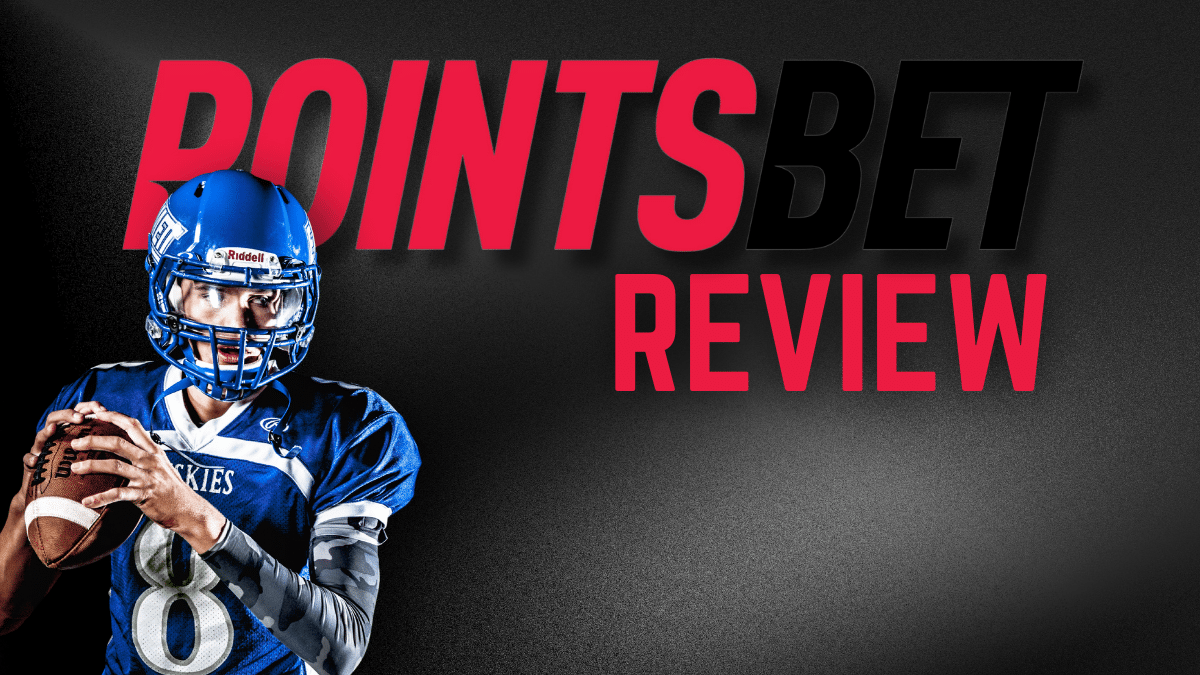 Hands-On the PointsBet Sportsbook
During our hands-on experience with the PointsBet Sportsbook, we were thoroughly impressed by its unique features and tons of betting options.
PointsBet set itself apart with its innovative approach to sports betting, introducing a high-risk, high-reward system known as "PointsBetting." We've reviewed plenty of sports betting sites in the past but haven't seen anything quite like this. This form of wagering, where your winnings or losses aren't fixed but vary depending on the margin of victory in your chosen game, added an exciting twist to traditional sports betting. It's a bit different, but it's a whole lot of fun.
The PointsBet app, available in both the Apple App Store and Google Play Store, was intuitive and user-friendly, making it easy to navigate through the plethora of sports and betting markets available. The live betting feature was particularly impressive, offering real-time betting on games across various sports. For the uninitiated, if you haven't placed live bets while watching the game with a cold one, you're missing out.
As for bonuses and promos, PointsBet certainly did not disappoint. They have a solid welcome bonus. We're not going to spoil the fun now, but we think you'll like it. On top of that, they ran regular promotions on popular sports, providing bettors with numerous opportunities to boost their winnings even more.
Our experience with the PointsBet Sportsbook was extremely positive, and we'll get into the details in just a moment. It combined innovative betting options, a user-friendly platform, and generous bonuses to create a comprehensive and engaging sports betting experience.
An Online Sportsbook with Massive Bonuses and Promotions
Current Welcome Bonus: Up to $250 in Bet Credits
Before we even downloaded the PointsBet mobile app, we saw that their current promotion included more bonus bets than their competitors, such as DraftKings, FanDuel, and BetMGM. Of course, if you follow the sports betting industry, you will know that these bonuses and promotions change on a regular basis.
So naturally, we used the PointsBet promo code when creating our account.
What we love about PointsBet promotions is they have a huge range of creative bonuses and offers available. Some of their daily promotions include bonus bets, parlay boosts, odds boosts, no-lose promos, and more. They also have special one-off promos that pop up from time to time for major sporting events like the Super Bowl or the World Cup.
They're obviously an online sportsbook that wants to keep their players happy, so it's no surprise that they have some of the most rewarding bonuses in the industry.
By taking advantage of these offers, sports bettors can extend their bankroll and maximize their profits.
Tons of Online Sports Betting Options
If the bonuses don't do it for you, then surely the plethora of betting options does.
Any Sport and Any League
PointsBet offers a massive selection of online sports betting options. You can wager on the NFL, NBA, MLB, NHL, MLS, and more with hundreds of betting markets for each game. You also have access to international leagues such as the Euroleague or even smaller domestic competitions like Australian Rules Football.
The NFL is easily the most popular league for sports bettors, and PointsBet has everything you need with prop bets, in-play betting, parlays, and more. For our testing of the app, we placed various wagers during weeks 1 and 2 of the 2023 NFL season. We wanted to see how the app performed during a high-stakes time and were not disappointed with the results.
Live Betting
One of the standout features of PointsBet Sportsbook is its live betting options.
Also known as in-play or in-game betting, this bet type allows bettors to place wagers on a game or match while it's still happening. It's pretty cool if you've never done it before. It defies the old-school way of betting.
The odds are constantly updated in real time based on the progress of the event, which adds an exciting layer of immediacy and unpredictability.
Whether it's adjusting your bets based on the first few plays in a football game or reacting to a surprise turn of events in a basketball game, live betting keeps you engaged from start to finish. That's why it's important to have the mobile app installed on your phone so you can keep up with the game while making your bets.
PointsBetting

It almost sounds gimmicky, but in actuality, it's one of the coolest things we tried in our PointsBet Sportsbook review.
PointsBet Sportsbook truly differentiates itself from other sportsbooks with its unique PointsBetting feature.
Unlike traditional fixed-odds betting (more on that in a minute), where you know exactly how much you stand to win or lose when you place your bet, PointsBetting allows your potential winnings or losses to vary.
The outcome depends on how right or wrong your wager is. For instance, if you bet on a team to score a certain number of points, and they exceed that, you can win more. On the other side of the coin, if they score less, you'll lose more. This high-risk, high-reward system can make for some very thrilling (and potentially lucrative) betting experiences.
Fixed-Odds Betting
Of course, PointsBet Sportsbook also offers conventional fixed-odds betting. This is what all of the other online sportsbooks offer.
You can choose various fixed-odds bets from moneyline bets, point spread betting, totals (over/under), parlays, futures, and prop bets among others. Whether you're betting on the winner of a game, the total number of points scored by both teams or the performance of individual players, there's a wide range of options to suit all types of bettors.
Although these are a bit more traditional, they can still be fun and exciting. The diversity and flexibility of these betting options make PointsBet Sportsbook a great choice to load up your bet slip.
A Smooth Mobile Sports Betting Experience

While you can always place your bets directly from the PointsBet website, there's just something magical about the mobile experience.
The PointsBet app is available on both iOS and Android devices, so you won't have to worry about compatibility issues. We tested the app on an iPhone 12 Pro Max and a Samsung S21, and it worked flawlessly. At least we didn't notice any hiccups, and we were actively looking for them.
The user interface was incredibly intuitive, making navigation a breeze even for those who are new to online sports betting. Everything was laid out perfectly, with sections for promotions, live betting, fixed-odds betting, and more. We were able to find exactly what we were looking for in no time at all.
The app also integrates smoothly with the PointsBet payment system, making deposits and withdrawals a cinch. Plus, you can access your PointsBet account settings without ever having to leave the app. That's pretty cool. There's nothing like having to bounce around from site to site to manage your account. PointsBet keeps it all in one convenient place.
The mobile app also has a wide range of customization options so you can tailor the experience to suit your needs. You can customize bet types, favorites lists, wager history, and more with just a few taps on the screen.
Compared to other major sports betting sites like BetRivers and Caesars, the PointsBet mobile app gives them a run for their money. They take the mobile betting experience to a whole new level.
How Sports Bettors Feel about the PointsBet Sportsbook
So far we love the PointsBet Sportsbook, but how do other sports bettors feel about the platform? Are we seeing the whole picture?
Whenever we review a sports betting app, we like to get the opinion of real players to see how they feel about it. We did just that with our PointsBet review and were pleased to hear overwhelmingly positive feedback.
That just means we're not crazy.
With a 4.1 rating with over 10,000 reviews on the Google Play Store, most bettors praised PointsBet for its wide selection of betting markets, quick payouts, and user-friendly mobile app. They also liked the fact that they could use their bank accounts (online banking) or credit cards to make deposits and withdrawals.
There were a few complaints, of course. The biggest one was that the mobile app isn't available in every state yet. That's an issue with all U.S.-based online sportsbooks, not just PointsBet Sportsbook. We expect this to change soon, however, as more states legalize online sports betting. Another thing players complained about was missing out on the PointsBet promo code. You're out of luck once you sign up for PointsBet and forget to use the code. Again, that's not unique to PointsBet.
The masses confirmed our thoughts on PointsBet. The PointsBet Sportsbook app is solid, and we would definitely recommend it to anyone looking for a great place to bet on sports.
Above Average Customer Service for an Online Sportsbook
Another area we like to check out during our reviews is customer support. Sure, it's often overlooked, but it's still important. After all, if something goes wrong, you don't want to be left without help.
We can confidently say that the customer service at PointsBet Sportsbook is above average for an online sportsbook. You have a few different options to get in touch with customer support.
First and foremost, you can use the Live Chat feature on the PointsBet website or the mobile app. We tested this out and were impressed with the response time. We had our questions answered in a matter of minutes.
You can also contact PointsBet Sportsbook via email or telephone if you prefer more traditional methods of communication. Although we haven't used these, we have heard they are just as efficient as the Live Chat. Keep in mind that they do have limited hours for these; their reps are available every day of the week from 8 a.m.-8 p.m. MST.
Despite having all the options available, we've got to hand it to the PointsBet team as they have one of the most comprehensive FAQ sections we've seen in an online sportsbook. All of the most common questions are answered here, plus more. It's really impressive and can be quite helpful if you're unsure about something or just want a quick explanation about how PointsBet works. For example, if you're unsatisfied with our explanation of points betting, you might want to check there.
PointsBet FAQ
There's a lot to take in when it comes to PointsBet, so we've put together a handy FAQ to help make things a bit easier for you.
Is PointsBet legit?
Of course! PointsBet is a licensed and regulated online sportsbook in the United States. It holds licenses in several states. They also use sophisticated data encryption to protect your financial information so you can bet with peace of mind.
Is there an age limit for PointsBet?
Yes, but it's dependent on the laws of the state. Most states require sports bettors to be at least 21 years old, but some allow 18-year-olds to bet.
What states is PointsBet currently available in?
Compared to some of the other sportsbooks, PointsBet is available in fewer states. PointsBet operates in Colorado, Illinois, Indiana, Iowa, Kansas, Louisiana, Maryland, Michigan, New Jersey, New York, Ohio, Pennsylvania, West Virginia, and Virginia.
Who owns PointsBet?
PointsBet announced in June 2023 that Fanatics, the sports apparel company that is behind the popular NFL Shop, had acquired a majority stake in PointsBet.
What sports can I bet on?
PointsBet offers betting options for just about any sport you can think of. Soccer, basketball, baseball, hockey, college sports, golf – you name it! Plus, they offer a wide range of prop bets and futures markets
Is there a PointsBet Casino?
Yes, PointsBet operates an online casino in Michigan, West Virginia, and New Jersey. The best part of the PointsBet Casino is that you don't need to create another account. If you have a PointsBet Sportsbook account, all you need to do is download your state's respective PointsBet Casino app and sign in to your account.
Does PointsBet offer free bets?
These days, most sportsbooks don't offer free bets; instead, they offer bonus bets. PointsBet is no different, as they usually offer bonus bets as part of their promotions. To get a bonus bet, sports bettors often have to complete an action like signing up, placing a wager, or making an initial deposit.
Summary of our PointsBet Review
Between the tons of betting options (we're really digging Points Betting), the smooth mobile app, and the above-average customer service, there's plenty to like about PointsBet Sportsbook. Whether you're a casual bettor or an experienced one, we think you're going to love placing your wagers on PointsBet.
Although there is a bit of turbulence with the acquisition by Fanatics, we wouldn't let that scare you away. We feel that this new partnership will only make PointsBet better in the long run. In fact, we would bet that PointsBet will expand its offerings to additional states as it looks to compete with the likes of FanDuel and DraftKings.
Overall, we're going to give PointsBet 4.7 out of 5 stars. It's one of the best sportsbooks out there and we think you'll be very happy with it. If they start expanding into more markets, we'll probably end up raising our rating.
Updated September 1, 2023

| Review | Current PointsBet Online Sportsbook Review |
| --- | --- |
| Summary | Sure, PointsBet isn't as big as some of the other Sportsbooks, but that doesn't mean they don't deliver a solid product. With their innovative PointsBetting system and their phenomenal app, we're liking what we see. On top of that, with Fanatics taking the majority ownership, we think PointsBet will shake up the industry.  For that, we're giving PointsBet a solid 4.7 out of 5.0 stars. |
| Author | Matt Brown |
| Reviewed By | Chris Lollis |
| Rating | 4.7 (out of 5) |