Key Details for the Current StatHero Promo Code Offer
As with any daily fantasy or sports betting website, the promotions from StatHero do not come without their own set of terms and conditions.
For starters, and stop us if you have heard this one, but the bonus funds you receive can not be withdrawn until they meet a rollover requirement. This term is attached to absolutely every deposit bonus in the industry. It is the only way to keep customers from abusing the offer.
At the moment, the rollover requirement is set at 10x. This is fairly standard. We have seen some platforms set the minimum at 8x, while others set it at 12x. If you move into casinos and sportsbooks, you can see rollover requirements climb as high as 50x.
Beyond that, anything you win with the bonus funds is yours to keep, and the funds you deposit are always yours to withdraw.
StatHero DFS Promo Code

HELLOROOKIE

— Click to Copy
Offer
100% Deposit Bonus | Up to $100
Valid Through
December 31, 2023
Bonus Verified
December 4, 2023 by Chris Lollis
Terms for the Offer
Minimum deposit of $5. Must be 18+ to play. Limit 1 coupon per person.
Availability
AK, AR, CA, CO, CT, DC, FL, GA, IL, KS, KY, MA, MD, MI, MN, NC, ND, NE, NM, NY, OK, OH, OR, RI, SC, SD, TN, TX, UT, WI, WV, WY
Step-By-Step Guide to Using Our StatHero Bonus Code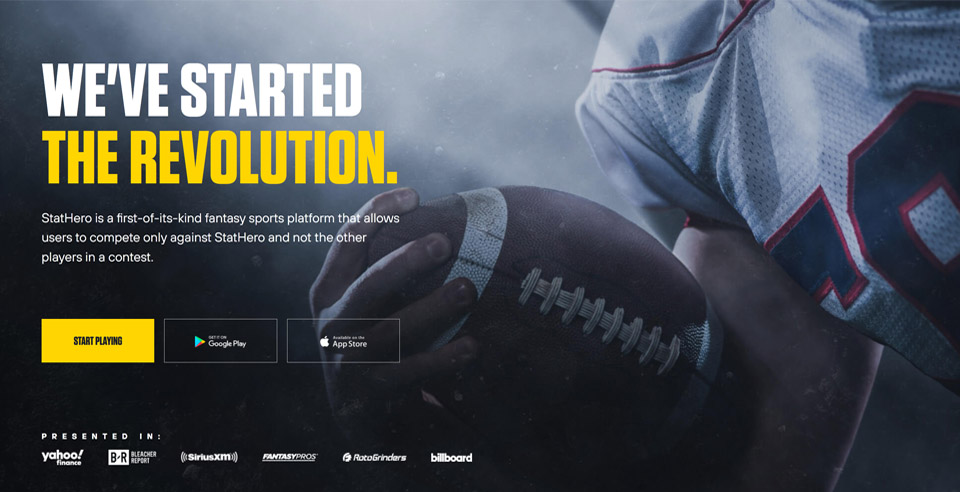 Using our StatHero promo code is extremely straight forward, but it is worth noting that you need to be a new player to StatHero.com to take advantage of this offer.
Start right from the home page of the StatHero website and click the 'Download Now' button. This button will take you to the StatHero app's Apple page. If you have not already done so, you will need to download the StatHero app.
Once you open the app for the first time, it will ask you to create an account and make an initial deposit. It is this screen that has a text box labeled 'promo code' which is where we need to enter the promo code HELLOROOKIE.
You can make your initial deposit with either a credit or debit card or through PayPal. It is worth noting that all withdrawal requests are handled through PayPal, so you may want to have an account ready.
Once you have registered and funded your account, your bonus funds will appear in your account, which can be found by clicking on your username or avatar.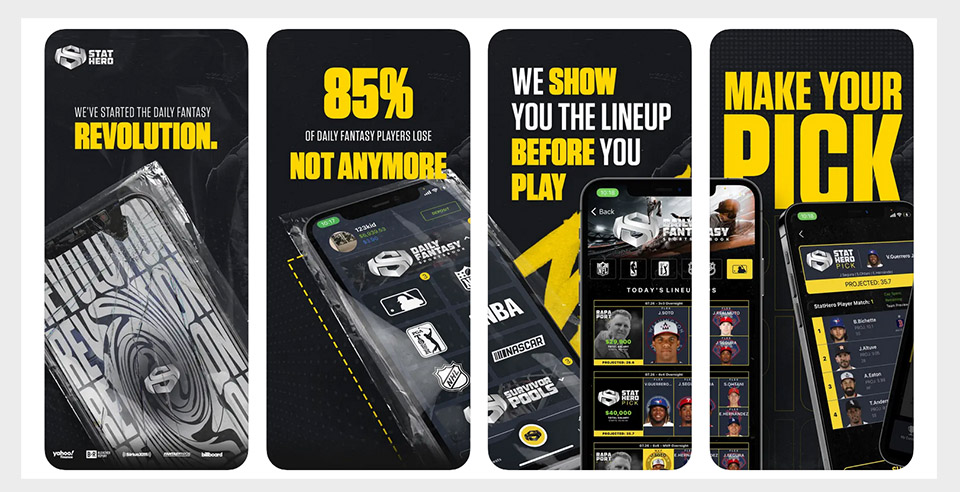 StatHero Promotions: Frequently Asked Questions
We get it, new platform, new format, loads of questions. Luckily we have been around the block and have answers ready. Can't find what you are looking for? Send us an email and we will give you an answer ASAP.
How does StatHero differ from traditional DFS?
StatHero is completely different from standard salary cap based daily fantasy sports. If you want just a brief understanding of how simply take a look at the image above the FAQ section. No other platform in fantasy sports has this tournament structure or tiered payout zones. It is an exciting/fresh twist on classic fantasy sports.
What fantasy sports are offered on StatHero?
As of December 2023 StatHero officially offers NFL, MLB, NBA, NHL, PGA, and Nascar contests on their app. They have also stated that CFB should be available soon. While they don't have the variety that a DFS leader like DraftKings has, they do offer the primary DFS sports, with more in the works. Of course, this only applies in-season, which means the 2022-2023 NFL and CFB seasons are the centers of attention right now.
How does the StatHero bonus compare to other DFS websites?
While the review at the bottom of this page will give you a better apples-to-apples comparison of StatHero's current promotions and those of other DFS platforms, we can break this down here as well. First off, only StatHero offers a deposit bonus at the moment. In fact FanDuel's only promotion at the moment is just a $3 entry. You will receive a minimum of a 25% deposit bonus with StatHero this October!
Who is Behind StatHero?
StatHero was founded just two years ago by Jason Jaramillo with the idea in mind that he would create a DFS platform that addressed the major issues surrounding the existing companies. The company's about page also lists Nick Bonomo as the Business Strategy partner.
Is StatHero Legit?
While we admit that we know little about the StatHero company, we can say with 100% confidence that they are totally legit. Between our team, we have made plenty of deposits and withdrawals, never with any issues. Beyond that, our readers have had nothing but positive things to say about their experiences with StatHero.
How do I Make a Deposit on StatHero?
StatHero offers a number of choices for deposits and withdrawal. The easiest and best way to handle your bankroll on any DFS or sports betting website is by using PayPal. Deposits are available immediately and withdraws are processed almost immediately.
StatHero Review Overview

Details

StatHero is a game-changer in the DFS landscape. It stands out for offering players a unique and more winnable way to engage with DFS, allowing users to compete solely against StatHero rather than other players. The platforms approach to DFS is innovative, focusing on identifying high-scoring games to maximize points and rewards. StatHero is a fresh, legitimate, and exciting DFS platform that offers a novel approach to fantasy sports. Its focus on providing more winnable games and its generous sign-up bonus make it one of the strongest contenders in the DFS industry heading into the next sports season.
Rating
Author: Chris Lollis
Reviewed By: Mike Noblin