While our staff has been actively testing the Tipico app for nearly a year now, many US sports bettors are not familiar with the app, sportsbook, or terms players are subject to. Given the majority of Tipico's current players are located in Germany, finding these details can be tough here in the US. 
The answers to the FAQs below should address any concerns you have prior to registering with Tipico. Feel free to contact us if for some reason we missed your question.
Is Tipico Legit?
This is always the first question we get when recommending NJ, IA, CO, and OH bettors give the Tipico sportsbook a try. Yes, Tipico is a legal, licensed, regulated sportsbook currently operating in the US and Europe. While they are relatively new to the US market, Tipico has over a decade of experience in Europe.
Is the Tipico Sportsbook promo code real?
Absolutely! We wouldn't lead you astray. The Tipico promo code offer is real and will provide first-time depositors with a 100% deposit match up to $100. That's not a bad deal compared to some of the other online sports betting platforms. We've even tried this promotion out with their app and on their website in the states we mentioned. It works flawlessly!
How do deposits and withdrawals work at Tipico?
Players can fund their new Tipico account in a wide variety of ways including credit card, debit card, or checking account. Tipico is able to process both deposit and withdrawal requests through Visa, MasterCard, Discover, or Express.
What terms are my bonus funds subject to when I sign up using a Tipico promo code?
As is the case for every US sportsbook, outside of SugarHouse, bonus funds are subject to a rollover requirement at Tipico. As of this July, any bonus funds received must be played through a minimum of four times before they are eligible to be withdrawn.
Why haven't I heard about Tipico?
Outside of the bonus offers they make available to new players, Tipico does very little promoting in the US. Unfortunately, this has capped their growth here. The app is certainly good enough to warrant a larger market share (4.6 rating on App Store). With a full year under their belts here in the US market, we expect Tipico to be much more aggressive heading into the 2023 NFL season.
Where is Tipico legal?
Tipico sportsbook is fully licensed and legal in just about any state that allows online sports betting; however, they only offer their services in Colorado, New Jersey, Iowa, and Ohio.
The good news is, though, that the Tipico sportsbook is preparing to open their services to Indiana in the coming year. Check back for updates on their legality in other states as online sports betting becomes more regulated throughout the US.
How do I know I am getting the best Tipico offer available?
We have a dedicated promo code that is guaranteed to always be attached to the best new player offers available from Tipico.
This means the offer is automatically updated anytime Tipico sportsbook announces a new promotion. For today, the best available offer is a $250 deposit match. That means, they'll match your deposit 100% up to $250.
That's not to say down the road as they expand into other betting markets that they don't offer additional deposit bonuses or additional Tipico bonus codes.

Does Tipico offer bonus bets?
Of course! That's one of the benefits of using our exclusive Tipico promo code. They might not have one available all of the time, but these types of bets are fairly frequent.
New players can oftentimes receive up to a $100 refund if their first bet loses. Just be sure to use the Tipico sportsbook promo code when signing up for your new sportsbook account.
How do you make a bonus bet at Tipico sportsbook?
When Tipico offers their lucrative bonus bets, using them is pretty easy. To make bonus bets at Tipico, simply sign up using our exclusive Tipico promo code and make a deposit of $100 or more. This will give you a deposit match bonus of up to $100. Your first bonus bet will then be refunded (up to $100) if it loses. Here's how to take advantage of the special offer—
Include a wager that meets the Tipico sportsbook minimum requirements on your bet slip.
Apply the Bonus Bet promotion to your wager by clicking "Bonus Bet" on the slip.
Ready to take a chance? Place a wager with a bonus bet!
If you don't win, you'll be given bet credits once settled.
It's that easy to get started with Tipico sportsbook and the worst thing that could possibly happen is you get bonus bet credits; that's not bad at all!
What are the betting limits at Tipico?
The minimum bet amount is just $1 while the maximum wager will differ based on the sport and bet type you are placing.
For example, the maximum bet for an NFL moneyline is $500 while the max for an NBA point spread is $250. It's also worth noting that there are limits on the deposit bonus, depending on the Tipico sportsbook promo you're using at the time.
How is the Tipico customer service?
From what we can tell, the customer service at Tipico is excellent. They offer 24/7 support through both live chat and email.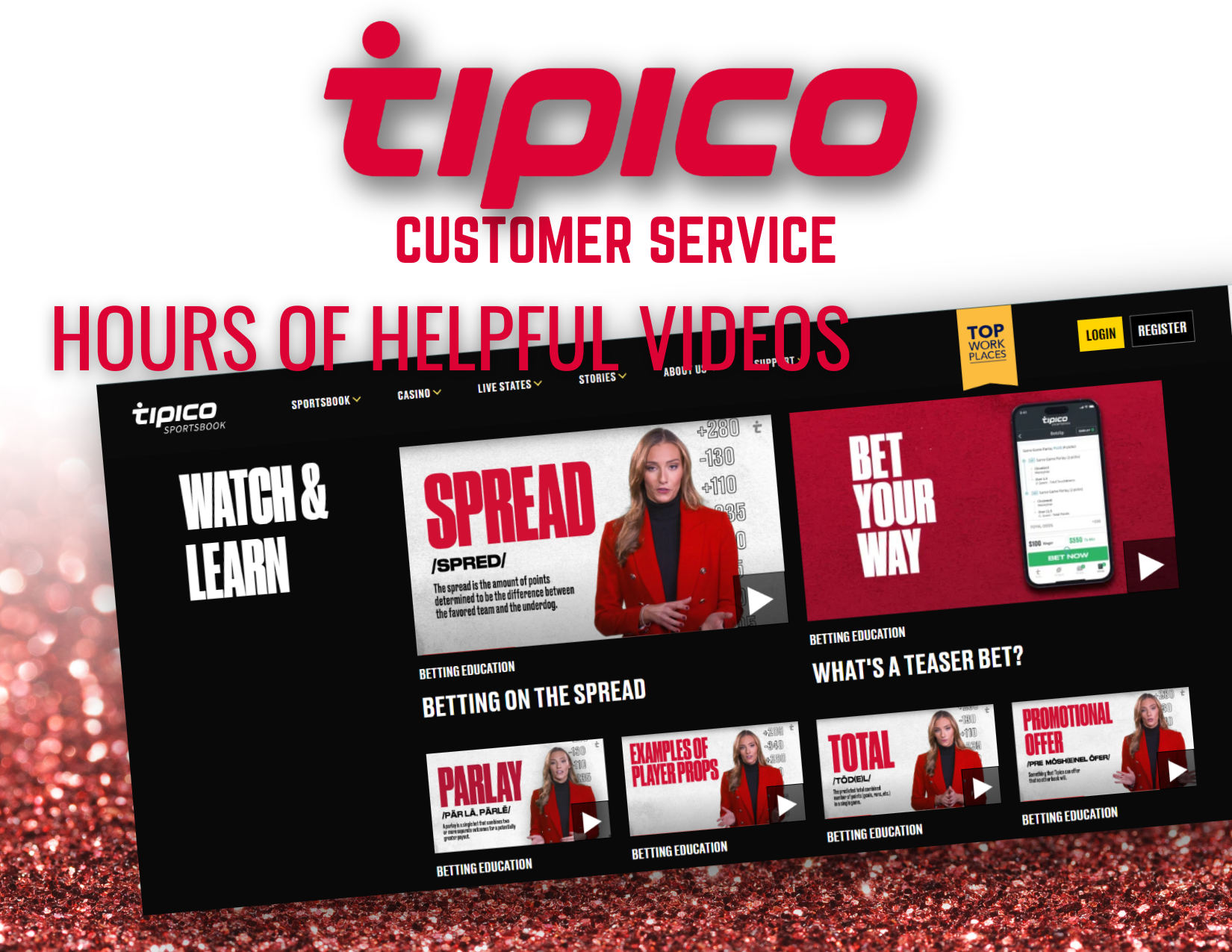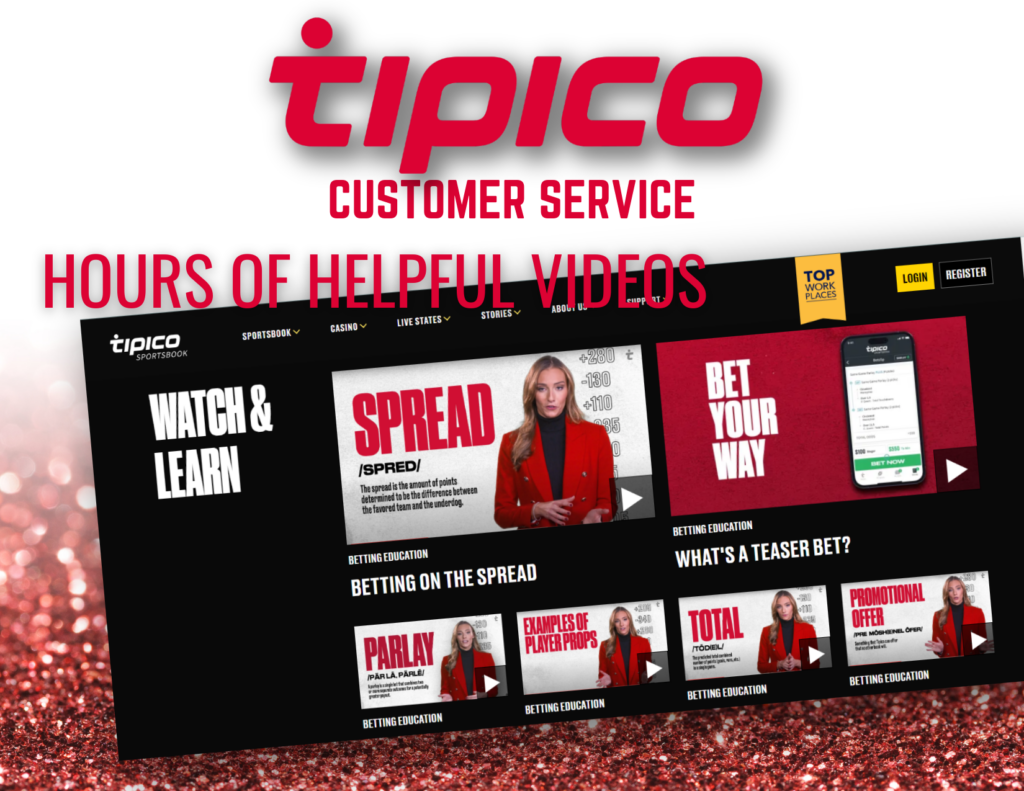 One thing we really love is that Tipico offers tons of videos explaining how everything works.  From parlays to player props and everything in between, they'll make you an expert in no time.
We've yet to hear of any major complaints about their service—just a few isolated incidents here and there through the Tipico sportsbook app reviews on the play stores. It seems that most of the bettors are fairly pleased with the support they've received.