The Best Live Betting Sites for 2023
Not all live-betting sites are created equal. That's why we've dug deep and found the ones that offer the best bonuses and best in-game betting action.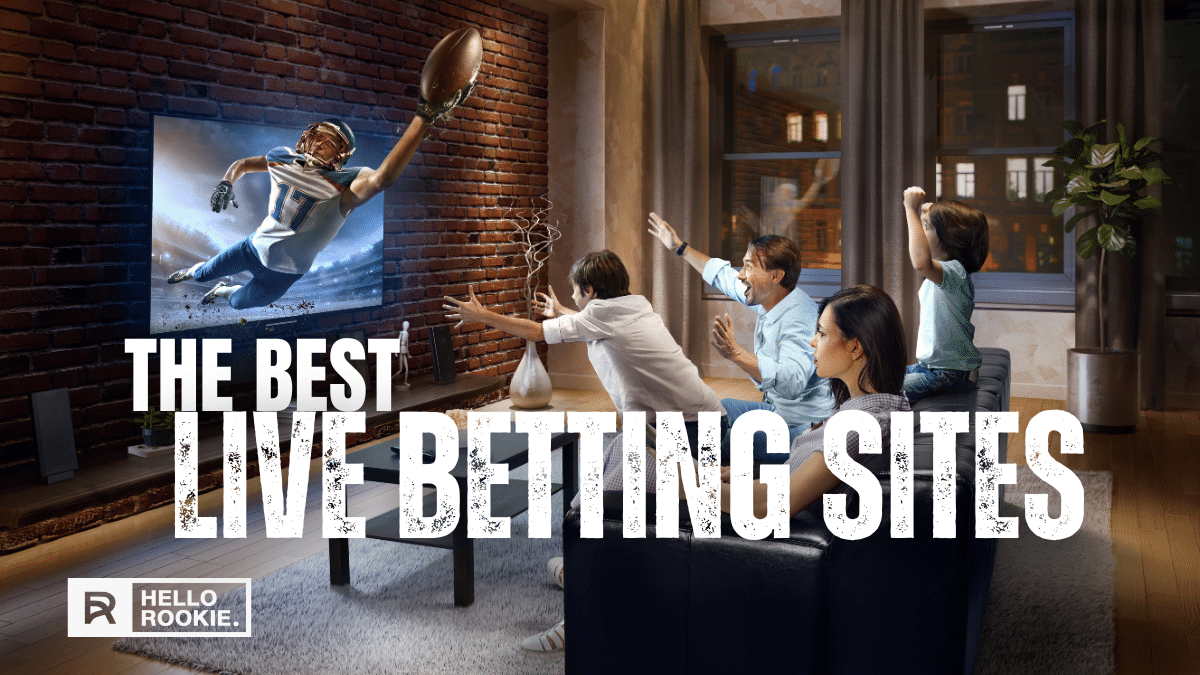 Live betting is one of the best ways to take your sports betting experience to the next level. This form of betting allows you to place wagers on ongoing events, making the action even more thrilling and interactive.
Gone are the days of going to the sportsbook and getting a bet slip. No, in 2023, live betting is the way to go. 
Think of it this way. You can sit back on your couch and watch the Rockets and the Magic duke it out at the Amway Center while you enjoy a cold drink. As you start to notice Dillon Brooks heating up, you place a live bet on him to score 10+ points in the first half. Suddenly, every basket Brooks makes has you jumping out of your seat and high-fiving your friends. That's the power of live betting.
But not all live betting sites are created equal. Some offer better odds and bonuses, user-friendly interfaces, and more sports coverage than others. 
But with so many available options, how do you know which sites are best for live betting?
Don't worry. We've got you covered. We've done the work of digging through the vast sea of live betting sites to bring you our top picks. These sportsbooks have the best bonuses and the best live-betting features of the rest.
DraftKings
Current Promotion: Bet $5 Get $150 in Bonus Bets Instantly

Why We Love Their Live Betting: 

This is an excellent app that allows you to easily find any game you're looking for.
One of the best online sportsbooks is DraftKings. Not only do they dominate the DFS industry, but they're also a force to be reckoned with when it comes to live betting. 
DraftKings offers a wide variety of sports for live betting, including popular options like football, basketball, baseball, and soccer. They also offer unique options like golf, tennis, and even table tennis.
You can watch the odds of a match or game change in real-time and place bets accordingly. This adds an extra level of excitement to the betting experience.
In addition, DraftKings often offers promotions specifically for live betting, such as bonus bets or boosted odds. They also have a user-friendly interface that makes it easy to navigate and find the live betting options you're looking for.
Caesars Sportsbook
Current Promotion: Bet Up to $1,000 on Caesars

Why We Love Their Live Betting: 

Cash out and minimize your losses.
Caesars Sportsbook may be best known for its luxurious casinos, but they also have an impressive online sportsbook. When it comes to live betting, Caesars offers a diverse selection of sports and markets to choose from. 
What makes Caesars stand out is their innovative feature called "Cash Out." Users can lock in profits or minimize losses by settling a bet before the game or match ends. It's perfect for those who want to play it safe or make strategic moves while live betting.
Just like DraftKings, Caesars offers some impressive promotions as well. However, they really shine with their loyalty program, which allows users to earn points for every bet placed. These points can then be redeemed for perks and rewards at their casinos.
BetMGM
Current Promotion: $1,500 First Bet Offer

Why We Love Their Live Betting: 

Live streaming and in-play stats for a fully immersive experience.
BetMGM may be relatively new to the sports betting scene, but they have already made a name for themselves with their impressive live betting options. They offer a wide range of sports, including popular options like football and basketball, as well as lesser-known ones like darts and cricket. 
One of the standout features of BetMGM is their live streaming and in-play stats. This allows users to watch the game or match as it unfolds and make more informed betting decisions based on real-time data.
On top of their generous welcome offer, BetMGM offers ongoing live betting promotions, such as parlay boosts and cashback offers. Their app is also user-friendly and makes accessing their live betting options easy on the go. Whether you're on the couch or in a sports bar, you can get in on the action with BetMGM's live betting.
Bet365
Current Promotion: Choose your Offer! Bet $5 Get $150

Why We Love Their Live Betting: 

Extensive coverage of international sports and events.
Bet365 is a well-established name in the sports betting industry, known for its wide range of sports and markets. When it comes to live betting, Bet365 stands out for its extensive coverage of international events and sports. From English Premier League soccer to Australian Open tennis, you can bet on almost any sport or event happening worldwide.
Of course, we'd expect that, given that Bet365 started out in the international sports betting market. But since they've pushed their operations to the US, we've seen them grow in five different states.
They're really making a name for themselves in those areas, and their live betting options are a big part of that. They offer competitive odds, as well as live streaming and in-play stats similar to BetMGM. Plus, they have a robust mobile app for easy access to their live betting markets. While we're not big fans of the interface, it doesn't mean that it's not easy to use.
Live Betting is the Way to Go!
First, there were underground bookmakers, then it was sportsbooks on the Las Vegas strip, and now we have online sports betting. The rise of technology has made it easier than ever to place bets on your favorite teams and players, but live betting takes the excitement to a whole new level.
Any of these sites are great options for getting in on the live betting action. Sign up with them, don't forget to get your bonus, and start playing live in-game betting. We think it'll change your outlook on sports betting altogether.
We'll update this list over time as sportsbooks are constantly changing the way they do business. If we see another contender jump in, we'll add them so keep checking back.
Head of Sports Betting and DFS
Matt's love for sports betting and daily fantasy sports, coupled with a deep understanding of football, hockey, and baseball, shapes his innovative thoughts on Hello Rookie. He has a B.S. in Aeronautical Computer Science and a M.S. in Project Management.