How to Effectively Use Bonuses and Offers in DFS
Whether you're a beginner or a seasoned-vet on the DFS stage, you know that bonuses are the way to go. But are you using them effectively? Are you making the most out of the generous deposit match bonus that DFS site is offering?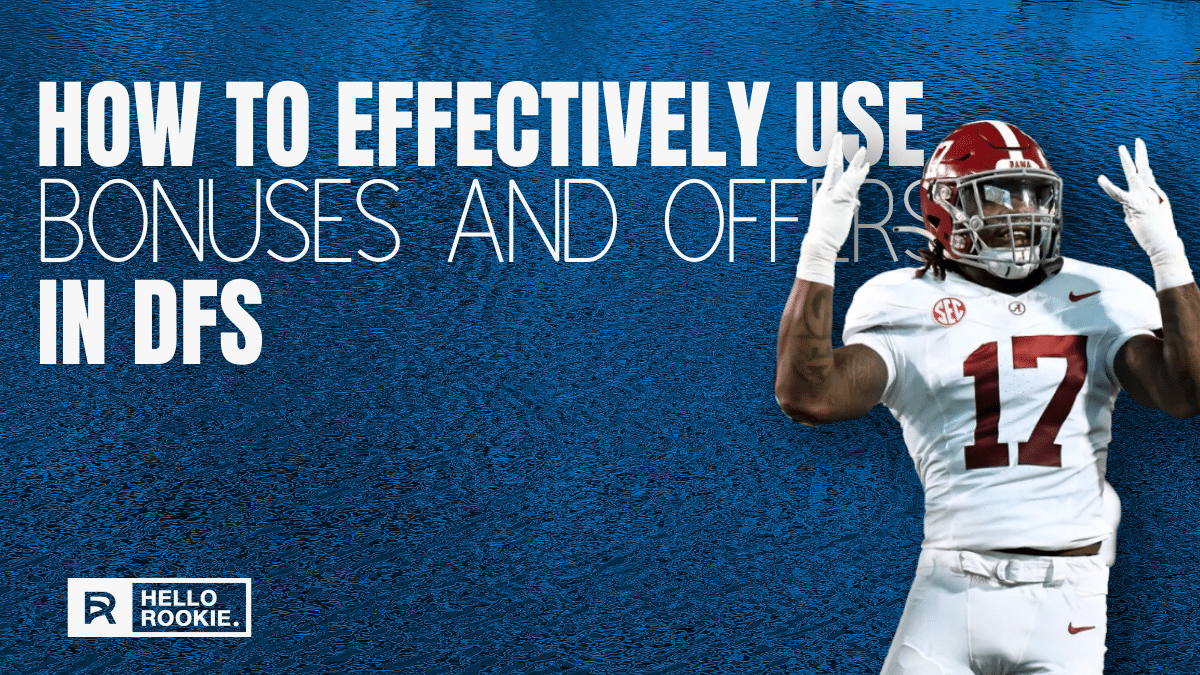 Daily fantasy sports have become incredibly popular over the past decade, with millions of sports enthusiasts now trying their luck in drafting winning lineups. With the unprecedented increase of sports betting and DFS, competition has become more intense than ever. To stay ahead and improve your winning chances, using bonuses and offers is a practical approach. 
Fortunately, that's what we do here at Hello Rookie. We find the best promotions in DFS and rank them for you. To make the most out of these bonuses and offers, there are a few things that you need to keep in mind.
5 Ways to Get the Most of Your Bonus
Over the years, we've seen plenty of bonus cash go to waste. We don't want that to happen to you, so here are five ways to effectively use bonuses and offers in DFS.
Look for Valid Bonuses and Offers
Before you start using any bonus or offer, make sure it is valid and legitimate. Always choose bonuses from reputable bookmakers or DFS providers who require you to meet reasonable standards to qualify for the bonus. 
This eliminates the risk of engaging with unscrupulous bookmakers who may hold on to your funds or refuse to pay you your winnings.
That's why we only recommend licensed and regulated operators with a proven track record of providing fair and transparent services to their customers. We also verify the bonuses we recommend every couple of days to ensure they are still valid and up-to-date.
Here are a few of our latest DFS bonuses that we've validated and verified.
Understand the Terms & Conditions
One of the most common mistakes that DFS players make is neglecting to read the terms and conditions that apply to the bonuses or offers they intend to use. 
It's crucial that you understand the terms and conditions, including the wagering requirements, as this will affect how you use the bonus and how to calculate your winnings. 
Some bonuses require you to bet a certain number of times or meet a certain condition, while others may have a time limit. By understanding the terms and conditions, you can make informed decisions on how to use the bonus effectively.
Use Bonuses and Offers Within Your Budget
Knowing how to use bonuses and offers in DFS involves choosing the right bonus that suits your betting style and your budget. 
Do not rush into claiming bonuses and offers if they do not fit your budget or betting strategy. 
For instance, if you're a conservative DFS player, bonus bets may be the ideal bonus for you; if, however, you're willing to take a more significant risk, deposit bonuses can be more rewarding. 
Sure, we always recommend taking advantage of deposit bonuses by maxing out the amount; after all, you don't want to leave money on the table. However, you should do so with only funds you can afford to lose. 
The key is to choose bonuses that are aligned with your budget and style of play.
Pro Tip:
 Check the rollover amount or the play-through requirements before going in big on a deposit match. If the rollover is low, then your risk is a bit lower. You could go all in, play through once or twice (or whatever the requirement is), and get your money back quickly while still getting the bonus.
Target Higher Value Bonuses
When choosing a bonus or offer in DFS, you should look for higher-value bonuses. This sounds like common sense, doesn't it? But you would be amazed at how many players choose bonuses based on emotion instead of logic. 
These bonuses are generally harder to come by, but the bigger the bonus, the greater the potential payout. The downside is that higher-value bonuses typically come with higher wagering requirements. 
Think about it — you don't think Underdog Fantasy is going to make you work a little harder to get their 100% match bonus than Vivid Picks will for their much smaller offer? Of course, they are, and we want to make sure you know exactly what you're getting into before you claim it. 
So, always aim for higher-value bonuses, but also be prepared to put in the extra effort.
Stay Informed and Take Advantage of Promotions
One of the benefits of playing DFS is the frequent promotions and bonuses that bookmakers and DFS providers give their users. 
Keeping up-to-date with promotions and bonuses can help you take advantage of offers that can enhance your winnings in the long run. Whether you're a new player or an existing player on a DFS site, they're always looking to incentivize your play. 
Some bookmakers run frequent promotions on specific sports, while others may give away free bets on particular events or games. One isn't necessarily better than the other, it's more about your own preference. Stay alert for such offers and promotions to increase your winning potential.
We follow all of the major DFS sites closely and have access to exclusive bonuses that you won't find anywhere else. So be sure to check back frequently at Hello Rookie for the latest promotions and offers in DFS.
Pro Tip:
 Sign up for the email newsletters of each DFS site and follow their social media accounts closely. The major DFS sites like DraftKings, FanDuel, and others are always posting promotions for existing players, and those are generally the avenues they'll announce.
Get Your Bonus Offer and Win Big!
Bonuses and offers are an excellent way of increasing your winning chances in DFS. That doesn't just go for newbie, but also the vets. It's important to understand that bonuses and offers are meant to be a bonus and should not be the sole reason you decide to play DFS. If you're ready to get in on the action, then they're simply a good way to start.
Make the most out of your DFS experience with Hello Rookie and start winning big today.
Head of Sports Betting and DFS
Matt's love for sports betting and daily fantasy sports, coupled with a deep understanding of football, hockey, and baseball, shapes his innovative thoughts on Hello Rookie. He has a B.S. in Aeronautical Computer Science and a M.S. in Project Management.