GameTime makes it easy and more affordable to buy tickets for your favorite sporting events. Their already discounted tickets can be made even cheaper without any promo codes or coupon codes when purchased through the provided link.
| | |
| --- | --- |
| Gametime Tickets Promo Code | No Code Required |
| Offer | Get Up To 15% Off | First Ticket Purchase |
| Valid Through | December 31, 2023 |
| Bonus Verified | December 4, 2023 by Matt Brown |
| Terms for the Offer | Offer valid for new customers only. Limited to one bonus per customer. Additional terms and conditions may apply. |
GameTime Tickets Promo Code
Are you looking for tickets to a concert, sporting event, or theater show? Look no further than GameTime Tickets! With their easy-to-use mobile ticketing system and comprehensive service policy, they are revolutionizing the resale market on tickets. Their pricing algorithm ensures that customers get the best possible rates – every time.
What we love the most is their their lightning refund option and ticket sharing feature. With their app it's never been easier (or safer) to find great deals on events or even sell tickets you don't need. Get ready to score great deals with GameTime Tickets!
Some of the Best Ticket Prices
What really makes GameTime one of the best providers for purchasing tickets is they have some of the best prices around. Not only that, but they've integrated a few great features when it comes to pricing for concerts and sporting events.
All-In Pricing
GameTime offers All-In Pricing, which includes the full cost of tickets in the search, so customers know exactly what they're paying. It was founded by sports fans who wanted to avoid getting hit with unexpected fees at checkout. The app includes a setting called All-In Pricing, which stays on once it's been turned on, so you don't have to worry about being charged extra fees.
Falling Ticket Prices
Gametime has an algorithm that adjusts ticket prices automatically to offer the best deals. Prices usually go down in the days leading up to an event and can even be discounted further in the final 90 minutes before the event. Their last-minute tickets are some of the best deals when you buy tickets.
Sellers are given the option of setting a minimum price, but otherwise, the system takes care of adjusting prices, so both buyers and sellers benefit.
We've noticed it's a bit of an art and a science when it comes to waiting for last-minute tickets. If you wait too long, the tickets might be sold out. If you don't wait long enough, you might miss out on some great deals.
Last Minute Ticket Purchase
Gametime specializes in helping fans get great deals on last-minute tickets.
With their LastCall feature, they continue selling tickets up to 90 minutes after an event starts, with mobile tickets that are sent out immediately after purchase. Prices drop even more once the game begins
For example, the median price of an MLB game is $135 48 hours before the first pitch but drops to just $42 90 minutes into the game — making it perfect for those looking for a great deal or who want to live spontaneously.
This might not be for everyone, but if you're bored on a Friday night, maybe getting some last-minute tickets is the way to go.
Tickets Sold in the Zone
Gametime has a new feature called Zone Deals which allows customers to buy tickets in a general venue area. This can save fans an average of 18% on their tickets, making it the latest example of Gametime providing creative solutions to offer lower prices and help customers save money.
Featuring GameTime Ticket Coverage
Gametime is working hard to help fans get back out there safely, giving them added confidence when buying tickets during the uncertainty of COVID-19 and beyond. They have introduced Gametime Ticket Coverage, the most comprehensive and flexible fan protection policy in the industry. It goes beyond standard ticket insurance and includes strong protections and flexible, fast refunds at no additional fee. Buyers on Gametime automatically receive these safeguards at no extra cost if they bought tickets through the app.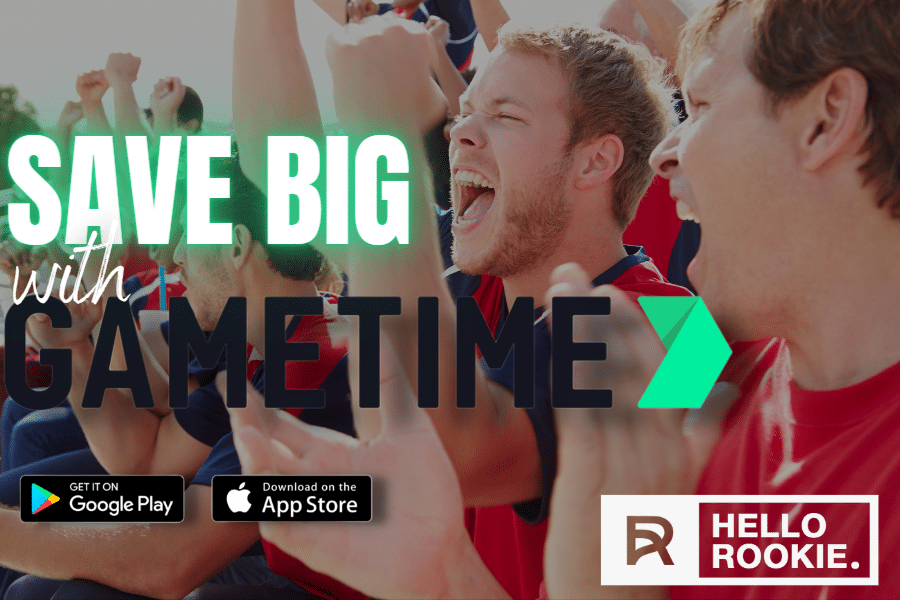 Sporting Events
No matter how you want to buy your tickets, GameTime has you covered. Whether it's for a concert, sporting event, or theater performance, you're sure to get one of the best ticket prices out there. With features like All-In Pricing and LastCall, they make it easy to save money while still getting great tickets. Plus they offer exclusive promo codes that can give you even more savings.
MLB
When you're looking for a game to catch on a sunny afternoon, nothing beats the thrill of watching a Major League Baseball game.
GameTime has special deals for MLB tickets all throughout the season, including discounts on select games and exclusive promo codes. With their All-In Pricing, you'll always know exactly what you're paying for when you buy tickets through GameTime.
NFL
Just as with MLB, you can find some great deals on NFL tickets through GameTime. You can use their Zone Deals feature to save an average of 18%, and they even have exclusive promo codes that can be used for additional savings. Whether you want to watch the Las Vegas Raiders while you're on a business trip or see the New England Patriots for the experience of a lifetime, GameTime can put you in the game.
NBA
The National Basketball Association has been around since 1946 and GameTime is here to help you catch all the action. Whether it's watching LeBron James and the Los Angeles Lakers or catching a game between the Utah Jazz and Denver Nuggets, GameTime has you covered. Get access to the best deals on tickets with features like All-In Pricing and LastCall.
NHL
Don't miss a second of on-ice action with GameTime's deals on NHL tickets. You can get discounted tickets for select teams and games or use their Zone Deals to save an average of 18%. From the Colorado Avalanche to the Detroit Redwings, they have the lowest price guaranteed for all major sporting events.
Top Concerts
On top of the excellent selection of sports tickets for all the top leagues, GameTime also offers some of the best prices on top concerts. Whether you're looking to rock out with AC/DC or sing along to Taylor Swift, they have the concert tickets you need for all the hit artists at the lowest prices.
With their app (which we'll cover shortly), you have to find your exact seat on the venue maps, select the tickets you want, and purchase them in just a few simple steps. Your tickets will immediately be ready to download through their mobile ticket delivery.
Theater Shows and Hit Comedy Tours
Of course, we love concert tickets, but let's not forget about the theater and comedy shows, too. GameTime has a great selection of tickets for all the hottest shows on Broadway or the funniest stand-up acts.
They've got the best seats in the house and the lowest prices around – all you have to do is find your show, select your seats, and check out. It's that simple. Or maybe you want to sell tickets for an upcoming comedy tour, you can do that as well.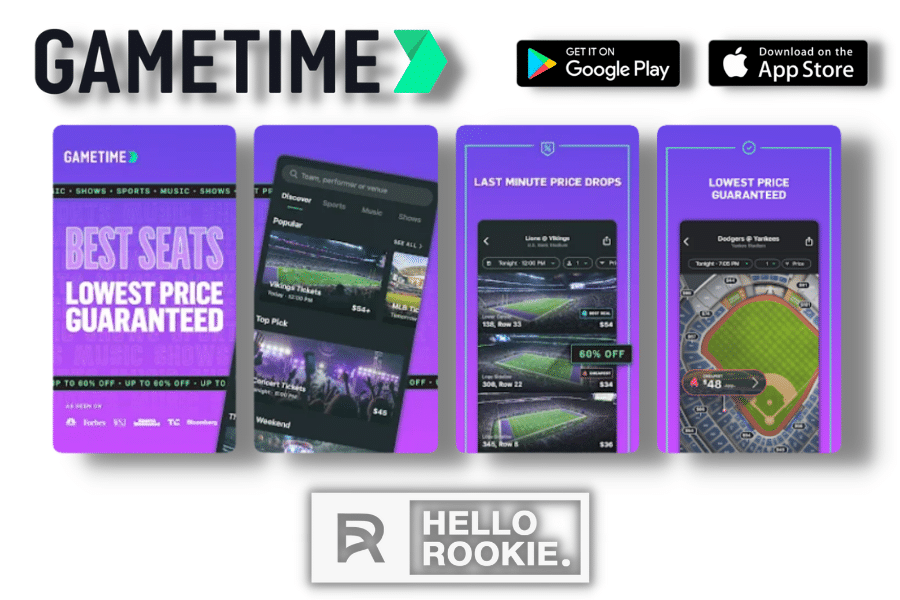 How is the GameTime Tickets App?
When we downloaded and installed the GameTime app, we were impressed with the ease of use. Everything was laid out clearly, and it was easy to navigate through the menus. We were able to find tickets for a variety of events quickly, pick our seats and purchase them in just a few taps.
They make buying and selling tickets a breeze on their app. You can even utilize venue maps to find the perfect seats. Once you've decided on your tickets, they offer a safe and secure checkout process that's fast and easy.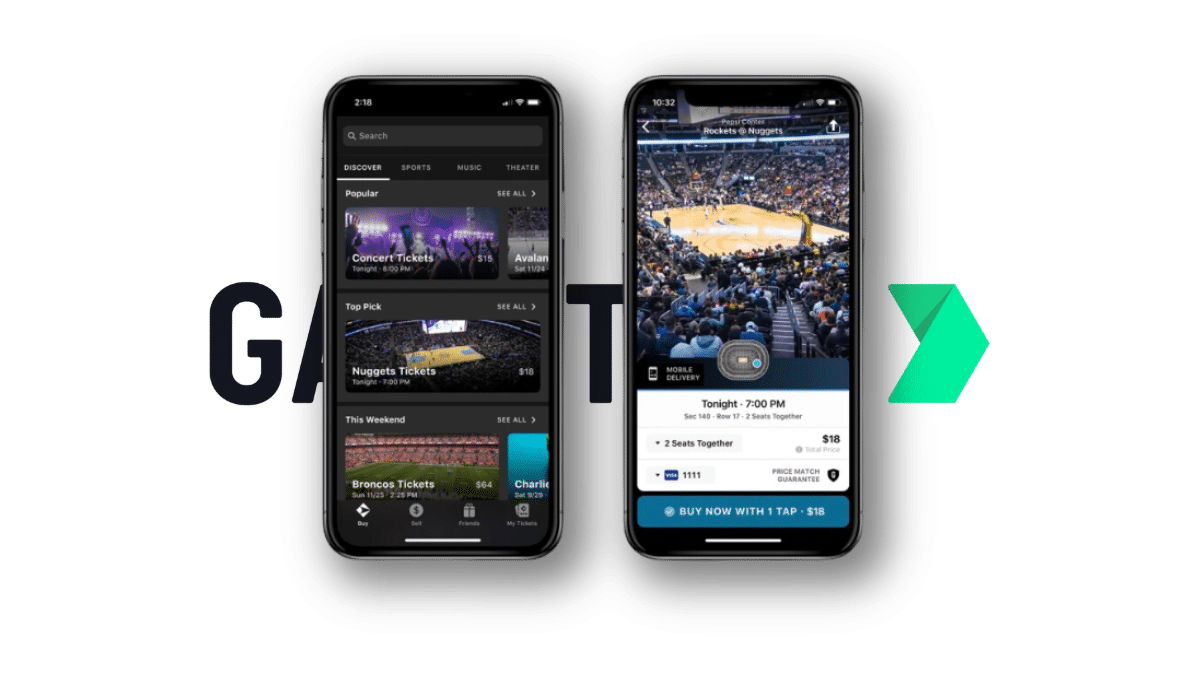 The app also allows you to track your favorite teams and get notifications for all your favorite events, so you don't miss out on the fun.
The GameTime app also sends out exclusive promo codes directly to your device, so you can get even more savings when you purchase your tickets. Plus, they also send out event reminders so that you never miss a beat!
Don't worry; if the show is postponed or canceled due to weather or another reason, you can get an immediate refund with their worry-free policy. Canceled events are no longer an issue if you buy tickets through their ticket app. If you do have an issue, the GameTime customer service is there to help you out with any issues you have with your purchased tickets.
No need for paper tickets.
For those that hate printing out tickets, GameTime's ticket app has you covered. With their mobile-friendly ticketing system, you don't have to worry about printing your tickets or waiting for them in the mail. Just show up at the event with your phone, and you'll be good to go!
You can also use their easy mobile ticket-sharing feature, which allows you to send tickets to your friends or family members with the click of a button.
GameTime Tickets FAQ
Since we get questions about GameTime Tickets all the time, we thought it would be helpful to put together a brief FAQ that covers some of the most common questions.
Can I sell my extra tickets on GameTime?
Of course! You can easily sell tickets to events on GameTime. All you have to do is list the tickets for sale and wait for a buyer. Once your list tickets, their algorithm will price tickets at the best possible rate, so you know that you're getting the best deal – every time.
When your tickets sell, you'll get a notification, and the funds will be deposited directly into your account.
Can I get discounts on tickets?
Yes! While there are no coupons available at this time, GameTime has a variety of promo codes and other offers that can save you money. You can also use their Zone Deals feature or LastCall feature to save an big on select events. Most tickets get cheaper as the event gets closer, so if you can wait it out you'll get even better deals. We've done extensive price comparisons and we'll definitely say GameTime has the best prices around when you're around an hour out from the event time.
Do I need to print out my tickets?
No! With GameTime's mobile ticketing system, you don't have to worry about printing out your tickets or waiting for them in the mail. Just show up at the box office with your phone, and you'll be good to go. Their mobile ticket delivery is definitely a convenient feature that makes going to events much easier.
Can I send tickets to friends?'
Absolutely! In their app, they have an easy-to-use ticket-sharing feature that allows you to send tickets directly to your family or friends with the click of a button. You can also easily transfer tickets if you need to switch seats or give them away. This not only saves you from printing headaches but also allows you to send tickets to your friends directly.
Does GameTime have a refund policy?
Yes! They offer worry-free lightning refunds so that if the event is canceled due to weather or any other reason, they will give you an immediate and full refund. No need to wait for weeks; just get your money back right away.
Does GameTime warranty any tickets sold?
They sure do! They offer their comprehensive GameTime Ticket Coverage with all event tickets. This GameTime Ticket Coverage is a comprehensive service policy that provides ticket buyers with replacement tickets if something goes wrong. They will also cover any other losses that may result from a canceled event or unanticipated change of plans.
How can I get live event ticket deals?
GameTime also has a feature that will help you find the best ticket deals in real-time. It's always updating so you can be sure to get great savings on tickets. Compared to other ticketing sites, the GameTime live event ticket deals are what makes them stand out from the rest when it comes to last minute tickets. With their Zone Deals and LastCall features, you can save as much as 30-40% off of otherwise high-priced tickets. Plus they have a convenient mobile ticketing system that makes being able to purchase tickets much easier and more streamlined.
How can I earn rewards with GameTime?
GameTime offers a loyalty program that lets you take advantage of exclusive discounts, presale access to events, and more. You can also earn points for each ticket purchase you make which you can redeem for great rewards like gift cards and more. Plus, their Zone Deals feature gives you even more savings on select events!
Ready to Score Great Deals?
Whether you're looking for tickets to a concert, sporting event, or theater show, you can find great deals and savings with GameTime Tickets. With their easy-to-use mobile ticketing system, you won't have to worry about printing out your tickets or waiting for them in the mail.
We've got to hand it to the GameTime team as they're actively revolutionizing the resale market on tickets. Sure, you could sell digitally with mobile delivery on mobile phones for a while, but their pricing algorithm is where they really stand out from the rest of the pack.
When you want the lowest price to your favorite events with the most comprehensive service policy, GameTime Tickets is where you want to be! Get ready to score great deals with GameTime Tickets.

Our Rating for Current GameTime Promo Code Offer
Thinking of using a GameTime promo code? Unsure if you could get a better deal somewhere else? This updated rating and score ensures that the current GameTime promo code is competitive with offers at other ticket stores.
Gametime Review Overview

Details

GameTime discounts are rated against competing ticket stores like Vivid Seats, SeatGeek and StubHub. GameTime has historically offered better deals than its competitors, and currently offers a flat-rate $5 discount in addition to discounted prices on GameTime that beat out any other offer in the industry.
Rating
Author: Matt Brown
Reviewed By: Chris Lollis