Latest SeatGeek Promo Code and Coupon Offers
Latest SeatGeek Promo Code and Coupon Offers
The latest coupons will save you $5 on any SeatGeek purchase over $300!

Top SeatGeek Promo Code Offer for 2022
SeatGeek makes buying tickets to your favorite sporting events easier and cheaper than ever before. Their already marked-down tickets are even cheaper when you apply the right coupon. Our updated SeatGeek for April is guaranteed to provide you with the max discount on any ticket purchase this April.
[Click to reveal promo code.]
Click to reveal promo code.
$5 Off $300 on NFL Game Purchases!
Sure, it's only April, but the 2022 NFL season will be here before we know it! It's never too early to start planning which games you want to attend. Our latest promo code will give you a $5 discount when you spend $300 or more on NFL tickets.
MLB All-Star Game Tickets
The 2022 MLB All-Star Game will be played on Tuesday, July 19 at Dodgers Stadium in Los Angeles, CA. All-Star games in any sport are never cheap and this one is no exception. But with that being said, SeatGeek is currently offering tickets to this event for as low as $553 each. With our promo code, you'll get a $5 discount.
2022 NBA Playoff Tickets
Right now on SeatGeek, you can find some pretty affordable NBA Playoff tickets. For example, a ticket to Game 1 of the Western Conference Quarterfinals between the Jazz and Mavericks will only cost you $56. That's a steal for a playoff game! If you're taking the whole family and spend more than $300 on tickets, our promo code will save you $5.
Featured Promo Code Details
Learn more about our featured promo code offer from SeatGeek. Our most popular coupon will save you a flat $5 off your first purchase of over $300!
| | |
| --- | --- |
| Promo Code | TAKE5 |
| Promotion | Save $5 on any $300 purchase |
| Promo Date | Begin: April 1, 2022 | Expires: May 31, 2022 |
| Terms | Get $5 off on any ticket order over $300. Cannot be combined with other SeatGeek coupon offers. |

SeatGeek Incorporated
Founded in 2009, SeatGeek is an innovative ticket hub for all types of entertainment and events. It's best known for its vast array of tickets and interactive 3D seating chart functionality that allows users to see the exact vantage point of any given available seat in an arena.
Whether you're a buyer or seller of tickets, SeatGeek is one of the most complete ticket platforms in the industry. In fact, it is estimated that SeatGeek currently holds a 10% market share.
SeatGeek Inc. is a privately held business operating out of New York, New York as a subsidiary of Scribnia, LLC. Check out some of the premier college football tickets that are already on sale at SeatGeek for the 2022 season.


SeatGeek History
What started as a standard tech startup, SeatGeek has blossomed to become a global ticket exchange empire. If it's a notable event or person(s), SeatGeek is likely to have tickets for it.
Recent Notable SeatGeek Happenings:
What was once known as the Toyota Park in Chicago, Illinois is now called SeatGeek Stadium.
SnapChat partnered with SeatGeek to help get more fans to live events.
The Dallas Cowboys eliminated their deal with Ticketmaster to enter a partnership with SeatGeek.
SeatGeek is a ticket distribution partner of the NFL.
Facebook became a primary distributing partner of SeatGeek.
Notable Executives & Investors
The creators of SeatGeek are Russell D'Souza, Jack Groetzinger and Eric Waller. The executive team recently announced the first-ever President of SeatGeek Enterprise, Danielle du Toit. Rounding out the powerhouse squad is Chief Technical Officer, Brian Murphy and International General Manager, James McClure.
Key SeatGeek Investors:
Technology Crossover Ventures
Accel Partners
Causeway Media Partners
Founder Collective
NYC Seed
DreamIt Ventures
Stage One Capital
Trisiras Group
Eli and Peyton Manning
Nas and Melo7 Tech

SeatGeek Deal Score
Deal Score is a number between 1 and 10 used to identify how good of a deal you are getting on tickets. Deal Score is determined by a proprietary math matrix (also known as an algorithm) designed by SeatGeek.
A 1 means it's a terrible deal and a 10 means it's a phenomenal deal. In laymen's terms, Deal Scores are based on seat location, other available seats, the going rate, and historical data.
Noteworthy SeatGeek Discounts
SeatGeek Discounts come available throughout the year for a wide range of event categories. For example, for a limited time earlier in the MLB season, you could enter SeatGeek Promo Code: TBA10MLB at checkout. This SeatGeek Promo would have saved you $10 off any ticket purchase of $50 or more.
Bear in mind that venues are in the business of making money. Therefore, they're first going to try and sell tickets at a rate that makes a reasonable return or profit. However, oftentimes venues need to offer promotions and discounts in order to spur ticket sales. The best SeatGeek Coupons will always be found at the top of this page.
Additionally, for select leagues and events, we've seen both a discount for $20 Off and an offer for $40 Off. We also often see promotions appear on Youtube, such as Youtube star David Dobrik's channel. We've seen offers on the Bar Stool Sport's, Pardon My Take Podcast as well.
In a process that could rightfully be called SeatGeek shopping, you can always browse their website for the best discounts and coupons for events in your area. As a general rule of thumb, it's nearly always better to buy tickets very early as compared to late for any event that's likely to be popular.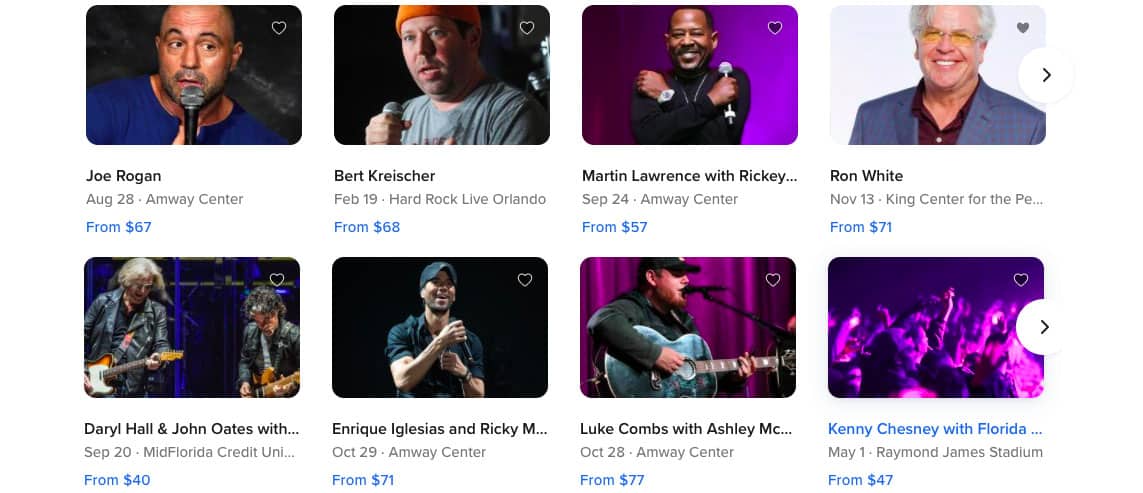 SeatGeek Coupons & Ticket Sales
SeatGeek Coupons are routinely available for sporting events throughout the year. As you well know, ticket pricing can change dramatically from when sales first begin until the day and or hour when the event begins.
On average, the way to get the best pricing on tickets for an event that is sure to sell out or reach capacity is to buy early. When it comes to an event that is likely to have tons of empty seats, it's best to wait until the last minute leading up to the event.
How to Use SeatGeek Promotions
Using our SeatGeek Coupon Code couldn't be more simple. Scroll to the top of this page and click on the 'Get Offer' button to reveal the code.
Browse SeatGeek, find the event you'd like to attend, and proceed to make your seat, row, and or section selection. Next, proceed to checkout and enter the SeatGeek Promo Code on the right-hand side under the order summary section.
Scroll to the top of this page.
Click on the 'Get Offer' button.
Utilize the revealed SeatGeek Coupon Code at checkout.
Furthermore, there's an option to save SeatGeek promotional offers in your account. In order to save any working promo codes, you find online, simply login to your account and navigate to Account Settings and then Payment and Shipping. You'll notice an option to save any SeatGeek promo codes above the payment method.

SeatGeek Ticket Prices
SeatGeek's ticket pricing is dynamic. In other words, prices can vary dramatically leading up to an event due to supply and demand. Any tickets that you purchase on SeatGeek will also have a fee attached to cover seller and delivery fees. These fees also vary and are determined largely by the event, venue, and seller.
Additionally, ticket prices revolve entirely around supply and demand. For example, tickets for a Kansas City Chiefs home game are 49% more expensive on average in 2019 than they were in 2018. This is 100% due to the fact that Patrick Mahomes is one of the most prolific players in the NFL.
Sell Tickets on SeatGeek & Get Paid
Interested in selling your tickets? Being that SeatGeek is dominating and reshaping the entire ticketing marketplace, it's probably a good idea to have your tickets on their platform.
They've made selling tickets incredibly easy to do. The process is as simple as creating an account, uploading your tickets, adding a price, and getting paid when they sell. You're free to change the price or remove the tickets altogether at any time before your tickets sell.
Not sure what price to sell your tickets at? SeatGeek has integrated its 'Deal Score' into the process of determining your price. While you can indeed set any price you wish, by using SeatGeek's Deal Score, you have a better idea of fair pricing and or 'going rates'.
It's completely free to list your tickets on SeatGeek, however, they do charge a 10% fee if they do sell. You'll also be required to have a valid credit card on file to ensure the authenticity of your tickets for SeatGeek customers. Upon selling your tickets, SeatGeek will credit your bank account within 5 business days.
Create a SeatGeek account.
Attach your bank account and verify your credit card.
Upload your tickets.
Set the price you'd like to sell your tickets for.
You can edit or delist your tickets at any time unless someone buys them.

SeatGeek Parking Passes & Pricing
Parking will almost never be included in your seat purchase. However, most large venues do offer parking passes available for purchase separately.
SeatGeek Get In & Price Match Guarantee
Firstly, the 'Get In Guarantee' states that SeatGeek guarantees that any tickets bought from them are 100% authentic and will arrive in-time of the event or you'll get your money back.
Secondly, the 'Price Match Guarantee' pretty much speaks for itself. In fact, SeatGeek's system is built around locating the best-priced tickets available. SeatGeek is to tickets what Travelocity, Expedia and Priceline are to airfare.
If you somehow manage to find cheaper tickets that are authentic anywhere else, SeatGeek will match that price.
NFL Tickets
SeatGeek sells 100% Authentic NFL tickets throughout the entire pre-season, regular season, and post-season. Additionally, as soon as NFL Playoff and Super Bowl tickets hit the market, they're available on SeatGeek. In 2021, the average NFL ticket price on SeatGeek was $151.
With that being said, NFL ticket pricing varies widely and is based on the team, location/stadium, and typically their standings in the league. For example, Miami Dolphins tickets can be purchased for as little as $17. While the cheapest ticket price for teams such as the Kansas City Chiefs is $60. Lastly, parking passes are also available for purchase for every single NFL stadium.
College Football Tickets
Like everything else, SeatGeek has college football tickets for all the best conferences in the nation. As you can imagine, prices for college football tickets range widely and are based on the popularity of the team. It's also noteworthy for all those tightly packed college towns with no parking, that SeatGeek has parking passes available for purchase.
It is also important to know that prices for big-time college football games will only increase as the date draws near. The average cost last year for the College Football Playoff National Championship game was $1,000.
MLB Tickets
The MLB regular season is just getting underway and cheap $5 baseball tickets are going to soon be a thing of the past. While the Miami Marlins still struggle to draw a crowd, New York Yankees tickets continue to rise.
MLB Playoff tickets average around $170 and as you can imagine, they increase dramatically as each division finishes its series.
The average MLB ticket price for 2022 is $63.
An incredibly cool part about SeatGeek is that you can purchase tickets to an event and if that event doesn't take place, they'll refund your money. In other words, if you're a New York Yankees fan and think they'll likely play in the World Series, you can purchase those tickets in advance with a money-back guarantee.
Similarly, teams like the Milwaukee Brewers, St. Louis Cardinals, Atlanta Braves, Washington Nationals, Los Angeles Dodgers, and Arizona Diamondbacks are white-hot in the National League this year.

NBA Tickets
The cheapest NBA tickets can always be had for games early in the season and of course, weekday games typically have better prices than weekend games. SeatGeek will make sure you get the best deal for you and your budget.
SeatGeek is also committed to offering its patrons fantastic offers on 2022 NBA Playoffs tickets. Postseason tickets in any sport are always more expensive than the regular season, but with SeatGeek, you can assure that you are getting a competitive price.
Golf Tickets
If you're anything like us, you watch entire golf tournaments as opposed to just Sunday competitions. Unknown to some, SeatGeek has golf tournament tickets available for entire events. For example, you can get a practice round and Thursday to Friday competition tickets oftentimes for much cheaper than weekend dates.
For true golf fans, it's never too early to start planning for the US Open. For those that don't know, tickets for the 2022 US Open are already on sale. The iconic tournament will take place from June 13 to June 19. Weekly passes are going for $3,448 per person right now on SeatGeek. For those on a tighter budget, the Monday Practice Round tickets are currently going for $164 each.
Concert & Show Tickets
While a lot of us know SeatGeek solely as a source of tickets for sports events, they host more concerts than any other type of event. Whether it's a pop star like Taylor Swift, a legend like Billy Joel, or a completely unknown rock band, SeatGeek most likely has tickets for the concert.
Even more importantly, oftentimes you have no idea that a certain concert or performance is taking place near you. With SeatGeek, your location is used to show you every major venue and concert near where you live.
Furthermore, if your favorite performer isn't playing at a location near you this week, you can always browse the full tour schedule directly on SeatGeek and get tickets when that person or persons come to town. Parking passes for most concert venues are available.
Free SeatGeek Tickets
SeatGeek oftentimes features phenomenal promotions. In fact, right now, you can take advantage of their Free Ticket giveaway by simply downloading the app, creating an account, and navigating to 'The Daily Tap' on the home screen.
Each and every Wednesday throughout the entire year, SeatGeek launches a new free ticket giveaway for your favorite Teams & Artists. You can enter each ticket giveaway drawing once every 24 hours. (Being that Daily Tap drawing last 1 week, you can increase your odds of winning by entering every 24 hours.)
For example, right now SeatGeek is featuring an NFL ticket giveaway. By entering SeatGeek's promotion on 'The Daily Tap', you'll have a chance to win NFL tickets to the game of your choice in the 2019 regular season. If you win this week's particular drawing via 'The Daily Tap', you'll be presented with a SeatGeek Promo Code which will discount any NFL ticket purchase by $500.

The SeatGeek App
While their website garners plenty of traffic, their app for Apple and Android is known as the best way to buy tickets on mobile. The SeatGeek app is rated over 4.8 stars on both the App Store and Play Store as of April 14th!
As you know, the world is largely moving towards digital ticketing. In most cases, you'll receive tickets you buy on SeatGeek digitally via a QR code. (On rare occasions, you may be required to print your tickets prior to attending an event. It will always make crystal clear exactly what form your tickets will come in.)
Additionally, if all else fails, most ticket scanners can indeed read the barcode from the ticket on your phone.
Get SeatGeek via App Store or Google Play for the best prices on tickets for all of your favorite events, people and or teams.

Exclusive Free Feature: SeatGeek Seat Views
Nearly any website or app can offer event tickets, whether it's for sporting events, concerts or comedy clubs, and the like. However, not all ticket platforms, hubs, or apps are created equally.
In fact, many ticket resellers don't have systems in place to protect users against purely fraudulent tickets, or dynamic features to present users with the most current ticket prices.
In addition to SeatGeek's safeguards, they have dynamic features built-in to their system such as real and up-to-date seat views. In years past, when consumers purchased tickets online, they had virtually no idea what the actual view of the event would be from their seats until they indeed saw it for themselves.
That's all changed with SeatGeek's Seat View feature. Now, for nearly every event offered on their platform, users can simply click on the seats being offered and see the exact view and sightline those seats have of the stage or field.
SeatGeek Event Tracker
SeatGeek is the top ticket app in the world because they do everything relating to sporting and talent-related events perfectly. With the SeatGeek Event Tracker, you can stay current up-to-the-minute on any and all happenings related to any particular event, venue, or performer you wish to know about.
For example, by clicking on the heart icon on the upper right-hand side, you can track events, performers, teams, and event venues. Additionally, there's no limit on the number of events you can track. Thus, but tracking your favorite sports teams, performers, and your nearest venue, you'll be fully informed on all things ticket pricing and event schedule.

SeatGeek Frequently Asked Questions
Below you'll find answers to some of the SeatGeek's frequently asked questions. Our team is happy to personally answer any additional questions you may have beyond the scope of these FAQs. Fee free to send us an email anytime. We will also respond to any comments you post below this promo code directory.
What purchase can I use a SeatGeek promo code on?
While our SeatGeek promo codes will work on most ticket purchases, they do not work on all. The first factor that determines whether or not you can use promo code is who is selling the ticket. Certain tickets don't qualify for discounted rates.
Another factor to consider is whether or not there are any active SeatGeek promo codes. This is determined by the time of the year and the overall event and ticket economy.
Where do you find your SeatGeek promo codes?
Each of our SeatGeek promo code offers come from one of three places: the SeatGeek marketing team, SeatGeek social media profiles, or their website, or other SeatGeek coupon pages.
Is SeatGeek Legitimate?
SeatGeek is 100% legitimate and is taking the ticket market by storm. They have several fail-safes built into their platform to ensure you don't get defrauded by scam tickets. Two of those fail-safes are their Get In Guarantee and they Price Match Guarantee.
Are SeatGeek Tickets Guaranteed?
Unique to the ticket market, SeatGeek 100% guarantees their tickets. When you shop SeatGeek tickets, know that they are 100% authentic and you'll receive them on-time or you'll get your money back.
Is SeatGeek Profitable?
Interestingly, SeatGeek is one of the fastest-growing ticket exchange platforms in the world. While we're not privy to their business numbers or analytics because they're indeed a privately held company, we assume that they're highly profitable.
Is SeatGeek Better than StubHub?
SeatGeek is better than StubHub in terms of overall business models. This is due to SeatGeek's seamless technology (API), which allows anyone and everyone to sell tickets on their own platform. Ticket pricing and events offered are roughly the same across the platforms. SeatGeek does everything flawlessly for both the business and the consumer.
Our Rating for Current SeatGeek Promo Code Offer
Thinking about using our promo code and making your first SeatGeek ticket purchase? Concerned you could find a better discount/deal somewhere else? This updated rating and score should give you an idea of how this current SeatGeek promo code compares to their past offers and offers at competing ticket stores.
| Review | Latest SeatGeek Promotions |
| --- | --- |
| Summary | This SeatGeek discount rating compares it directly to its competitors like Vivid Seats and StubHub. SeatGeek has always offered better promotions than most of its competitors. Their current flat-rate $5 discount, on top of the saving you naturally find on SeatGeek, is considerably better than any other offer in the ticket industry! |
| Author | Chris Lollis |
| Rating | 4.8 (out of 5) |