WynnBet currently does not have a desktop sportsbook operational outside of Michigan, but it is on the way for New Jersey and Colorado. The WynnBET mobile app is currently the only way users are guaranteed to be able to bet on sports. 
The mobile app is available for those with Apple or Android devices through their respective app stores or the mobile version of the website. Still, without a smartphone with the WynnBET app downloaded, users will not be able to wager with WynnBet. It is still being determined whether this will change or whether WynnBet plans to only be a mobile sportsbook.
As for the app itself, it is as good as any of the other sportsbooks. It has a simple user interface that is fast and responsive to touch. Navigation is intuitive. The app does exactly what it needs to do.
WynnBet App Features

The mobile app is packed with player-friendly features. Below are just a handful of our favorite features from the WynnBet app. As we saw with DraftKings on opening night, these betting apps can experience downtime during busy hours, so the app's quality is paramount.
One of our favorite features is the industry-leading customer support, including 24/7 live chat support and a phone line open from 10 am to 8 pm EST. The live chat feature is very rare for online sportsbooks and indicates how much care WynnBet wants to give its customers.
WynnBet partnered with NASCAR in October of 2020 in a multi-year deal, so fans of NASCAR might want to give WynnBet extra consideration when considering their go-to online sportsbook. When it comes to other markets, WynnBet still has some work to do.
The current betting markets on the WynnBet sportsbook are as follows: NFL, NCAA Football, NBA, NCAA Basketball, Baseball, MMA, Hockey, Soccer, Tennis, and Golf. WynnBet is definitely focusing on expanding into other state markets, so more leagues and sports will become available when they settle their state operations.
WynnBet Deposits and Withdrawals
WynnBet offers cashiering options typical of most online sportsbooks. Users can deposit and withdraw from their Wynnbet account with PayPal, eCheck, online banking, Play+ Card, or at a casino cage if available. Winnings are available for withdrawal by check as well.
We recommend all new players review the house rules before funding their new WynnBet account. These rules cover everything from how betting on the app works to the terms and conditions of your deposit bonus.
Promotions for Existing WynnBet Players
When it comes to promotions, WynnBet is less competitive than other premier US online sportsbooks and can use a lot of work on that front. They are not without promotions, offering parlay boosters and insurance often and other unique offers like bonus bets or boosted odds for popular gaming events. Who doesn't love a bonus bet? However, this is a place where many WynnBet users see room for improvement.
Available Bet Types
WynnBet offers all the traditional bet types that sports fans are familiar with. Over/under totals, money lines, point spreads, parlays, futures, round-robin bets, etc., are all available within the app. WynnBet does offer live betting as well.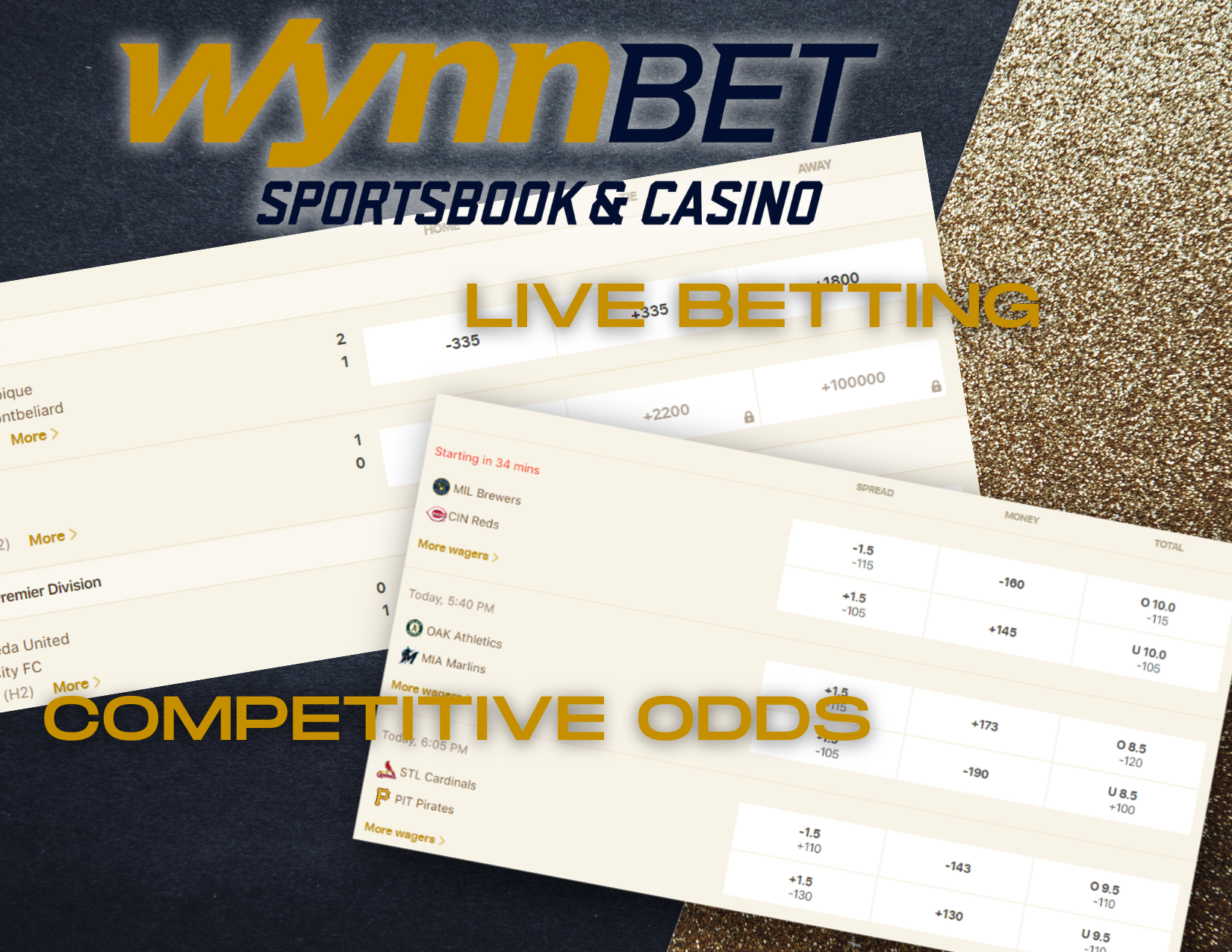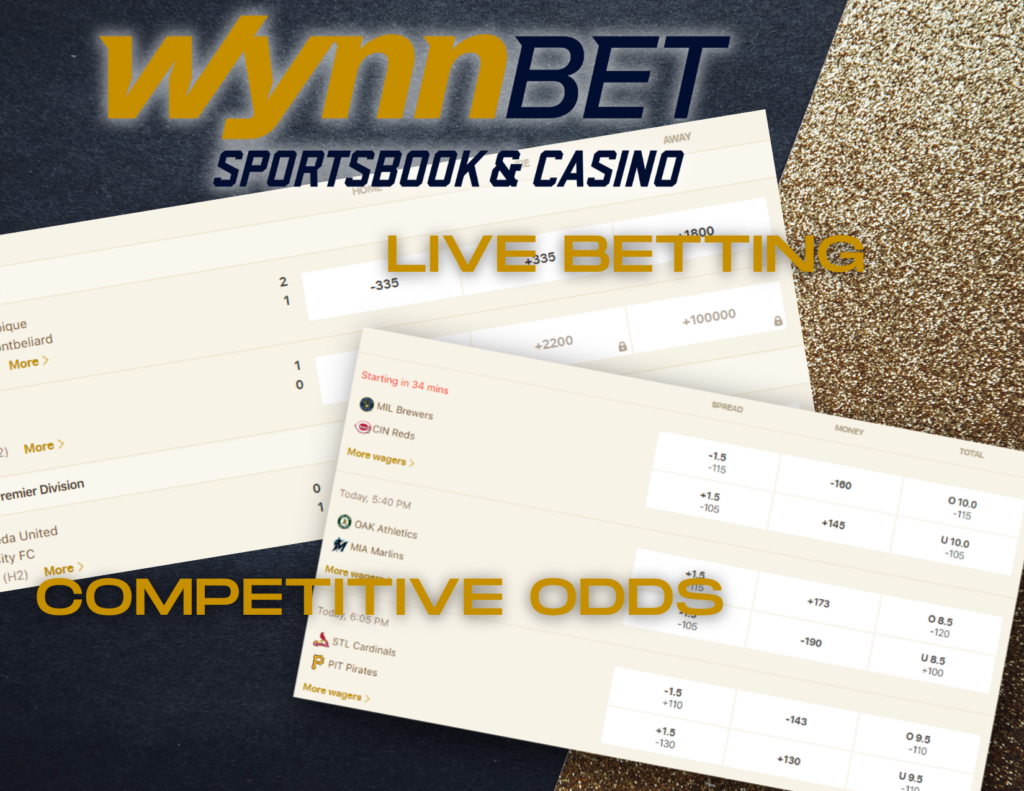 If you are interested in keeping it simple and betting traditional-style wagers rather than diving deep into prop bets, WynnBet will be all that you need. If you are looking to have a deep offering of wagers on every game, WynnBet is not the online sportsbook you are after. It is also worth noting that the WynnBet app offers users access to online casino games in states where it is legal and offers a player-friendly casino bonus. While it isn't as popular as their competitors, WynnBet compares well against other online casinos. So far, we've had a great experience compared to other mobile apps in the casino industry.
Who Can Use WynnBet Sportsbook?
WynnBet is required by state law to ensure that every user is 21 years old or older and within the boundaries of the operative state. Users do not have to be residents of that state; they must be within the state lines. Online sportsbooks use geofencing technology to ensure each user's location.
WynnBet is currently operational in Michigan, Tennessee, Virginia, New Jersey, Indiana, and Colorado. As long as you are of legal age, located within one of these six states, and using a device with the WynnBET app installed (or located in Michigan), you can use the WynnBet online sportsbook and online casino.
WynnBet FAQs
Since we've put together this post about WynnBet, we've received hundreds of questions. However, many are the same ones over and over so we put together this brief FAQ to address some of the more common questions we receive.
Is WynnBet legal?
WynnBet is a legal online sportsbook and casino that is licensed and regulated by the states they operate in. This means that WynnBet operates under strict standards and regulations to ensure a fair and safe experience for all players. As long as you are physically located in any of the states they operate in, you are legally allowed to place bets on WynnBet.
It's important to note that online gambling laws vary from state to state, so if you're outside of these states, you may not be able to use WynnBet or other online sportsbooks and casinos. Be sure to check your local laws and regulations before placing any bets.
What states is WynnBet legal in?
WynnBet is currently legal and fully operational in Michigan, Virginia, New Jersey, Indiana, Tennessee, and Colorado.
What is the WynnBet promo code for bet credits?
The WynnBet promo code is a special code that can be used to get $100 in bet credits. These bet credits can be used to place bets on various sports games and events. WynnBet is a top-notch online sportsbook that offers players the chance to get in on the action and win big. With the WynnBet promo code, you can get a lot of value for your money and increase your chances of winning.
To use the WynnBet promo code, simply sign up for an account on the WynnBet website or app and enter the code during the registration process. Once you've entered the code, you'll receive $100 in bet credits that you can use to place bets on your favorite sports. Keep in mind that the bet credits are subject to certain terms and conditions. Bonus bet credits always come with some strings attached.
What is the WynnBet casino bonus?
In addition to the WynnBet promo code for bet credits, WynnBET also offers a casino bonus to new players. With the casino bonus, you can get up to $1,000 in bonus cash to use at the WynnBet online casino. This bonus is a great way to try out the casino games and potentially win big.
To claim the casino bonus, simply sign up for an account on the WynnBet casino website and make your first deposit. WynnBet will then match your deposit up to $1,000, giving you a lot of extra cash to use at the casino. Keep in mind that the casino bonus is also subject to certain terms and conditions, just like the sportsbook.

What is the WynnBet multi-sport parlay bonus?
The WynnBet multi-sport parlay bonus is another great promotion that WynnBet offers its players. With this bonus, you can win up to a 50% bonus on your parlay bets. Parlay bets are when you place bets on multiple games or events, and all of your bets have to win in order for you to win the parlay bet.
To take advantage of the multi-sport parlay bonus, simply place a parlay bet on at least three events or games. If your parlay bet wins, you'll receive a bonus of up to 50% of your winnings. The more events or games you add to your parlay, the higher your bonus will be. Keep in mind that the multi-sport parlay bonus is subject to certain terms and conditions, so be sure to read them before placing your bets.
Does WynnBet really give out free cash?
Not exactly.  They provide their bonuses in the form of a bet credit.  A bet credit is like cash, but it can only be used in either the sportsbook or the casino.  So, for example, you use the WynnBet casino bonus code and get a $10 bet credit.  That means you can use that $10 on any of the tables or machines in their online casino, but can't cash it out.  There's nothing wrong with a $10 or even a $100 bet credit, but as opposed to just handing you cash, the bet credit keeps you coming back for more. These bet credits work the same way in almost every sports betting app in the industry.