With the Chiefs facing the Texans on Thursday night, the NFL season is finally here. DraftKings is kicking things off with a $3 million single-game contest that pays out a top prize of $1 million. We have our lineups set and are ready to share our strategy heading into the NFL opener.
Our DraftKings Lineup for the Single-Game Millionaire Contest
Before we jump right in to our picks for this single game DFS slate, we wanted to share some general thoughts regarding roster structure. A great place to start is with the last Millionaire Maker Showdown contest DraftKings ran, which was of course the 2019 Super Bowl.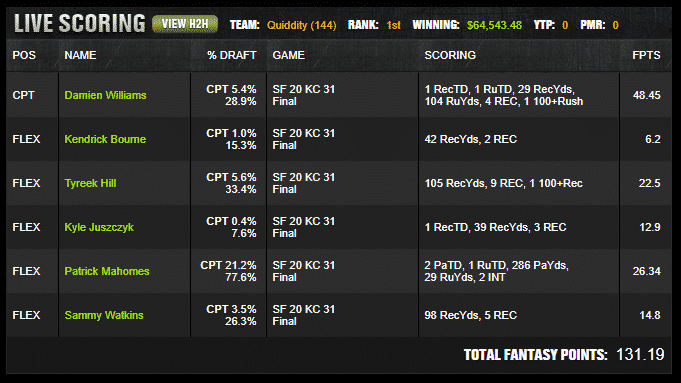 If you were to analyze GPP winning DraftKings Showdown lineups you would see a clear pattern of 1-2 players with 15% or lower ownership. In the case of the Super Bowl lineup above, Kendrick Bourne and Kyle Juszczyk were both low-owned players that paid off. Additionally, Damien Williams had a captain ownership of just 5.4%.
An alternative to this strategy is to simply start one extremely cheap player in the captain spot, allowing you to load up at every other spot in your lineup. This is without a doubt the highest risk strategy you can choose, but also happens to be our preferred strategy for this opening night slate.
Captain – Darrel Williams
DraftKings Showdown Salary: $1,800 | Captain Salary: $2,700
In a slate that could see CEH with near 80% ownership, we are going to choose to not only fade him but put his backup in the captain spot? This is not a shot at Edwards-Helaire, he is a great player that will eventually be the guy here, but we just do not see it happening in week one.
Let's start with the facts, a Chiefs RB saw over a 60% snap count only 4 times all of last season. Expecting a rookie making his NFL debut to get a 60% snap count may be a bit of a stretch given that fact alone.
Then there are the reports coming out of Kansas City that the Chiefs expect CEH and Darrel Williams to split the workload for week one. Followed by reports that Darrel Williams will be used in pass pro situations.
Even if Darrel Williams only sees a 25% snap count, he has a legit shot at reaching 3x+ value for his $1,800-$2,700 DraftKings salary in this potent Kansas City offense. If he gets 10+ touches he is flat out a contest winner for you. Williams average 16 DraftKings PPG in the three games he got 10+ touches last season.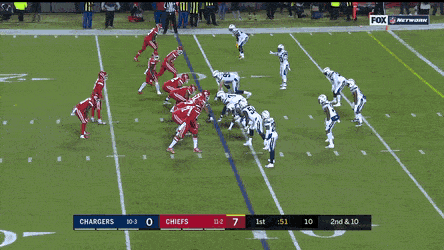 Patrick Mahomes
DraftKings Showdown Salary: $1,800 | Captain Salary: $2,700
Mahomes is clearly a must-play in this Showdown contest. Houston has one of the weakest secondaries in the NFL and Mahomes shredded them in the 2019 playoffs, putting up 379 yards and 5 touchdowns.
You have to have Mahomes in your lineups, so the question simply shifts to whether or not you pay up to put him in the captain spot and what players you start around him.
Deshaun Watson
DraftKings Showdown Salary: $1,800 | Captain Salary: $2,700
Selecting which Texans receiver you target is going to prove to be a nightmare in this week one slate. With no preseason film to go off from and essentially no real reporting coming out of camp, any one of Fuller, Cooks, Stills, or Cobb could step up as the go-to WR here.
The best play is to start Watson without worrying about stacking him with one of his receivers. If Cooks is not able to play, Stills becomes a must start at his $4,600 salary and you will clearly want to have shares of Fuller given his big-play upside.
Travis Kelce
DraftKings Showdown Salary: $1,800 | Captain Salary: $2,700
I lean Kelce over Tyreek Hill for several reasons. The first is his floor. With more targets and a higher catch rate, Kelce hit double digits in 16 out of his 19 games last season.
The second is the matchup. Houston was decimated by quality tight ends last season. They gave up 44+ fantasy points to Kelce in the playoffs, 18 points on just four targets to Mark Andrews, and 24+ points to Noah Fant on just four targets. The offseason addition of Eric Murray could just make things worse as he was one of PFF's lowest graded safeties in coverage.
David Johnson
DraftKings Showdown Salary: $1,800 | Captain Salary: $2,700
We are higher than most on David Johnson this season, which means we will clearly target him at what could prove to be his lowest Showdown price of the season.
The Texans offensive line took a massive step forward last season, not only in protecting Deshaun Watson but in the run game as well. The Texans running backs went from averaging 4.0 YPC in 2018 to 4.5 YPC in 2019. We think another offseason together will allow this group to take yet another step forward in 2020.
Clearly Bill O'Brien, who is also the GM in Houston, is going to want to prove that he made the right call when he traded Hopkins for David Johnson this past offseason. Expect to see Johnson get 15+ carries and be featured in the passing game on Thursday night. If that is the case, he should find success facing a Chiefs defense that allowed 4.9 YPC last season.
Not only did the Chiefs give up nearly 5 YPC in 2019, but they were 30th in the NFL in Yards Before Contact giving up 1.51 according to Pro Football Focus. I don't see Johnson topping 100 yards in his Houston debut but do have him projected to top 100 total yards from scrimmage and at least one touchdown.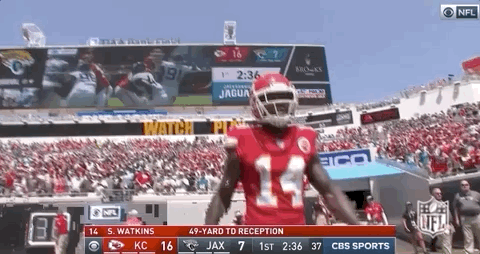 Sammy Watkins
DraftKings Showdown Salary: $1,800 | Captain Salary: $2,700
Sorry to break the hearts of all the Mecole Hardman truthers out there, but Sammy Watkins is better, he is ahead of him on the depth chart, he is going to get more snaps, more targets, and is the better play.
In fact, we think people are drastically overlooking Watkins heading into 2020. Still one of the most talented receivers in the NFL, Watkins made it clear this offseason that he wanted to resign with the Chiefs, was willing to take a discount, but he wanted the ball.
Given he scored nearly 50 DraftKings points in the season opener last year, Watkins clearly has a higher ceiling than anyone priced under $6,000 in this slate.