With one week in the books, we turn our attention to a week two DFS main slate that features $3+ million dollar contests on both FanDuel and DraftKings. This article includes our picks for week two, optimal lineups, and a list of contests with the most overlay.
It should come as no surprise that the DraftKings week one Millionaire Maker and FanDuel Sunday Million winners built their lineups around an Aaron Rodgers/Davante Adams stack. Who will lead your team to a million-dollar victory in week two? Below are some of the names our experts are targeting, but first a look back at last week's winning lineups.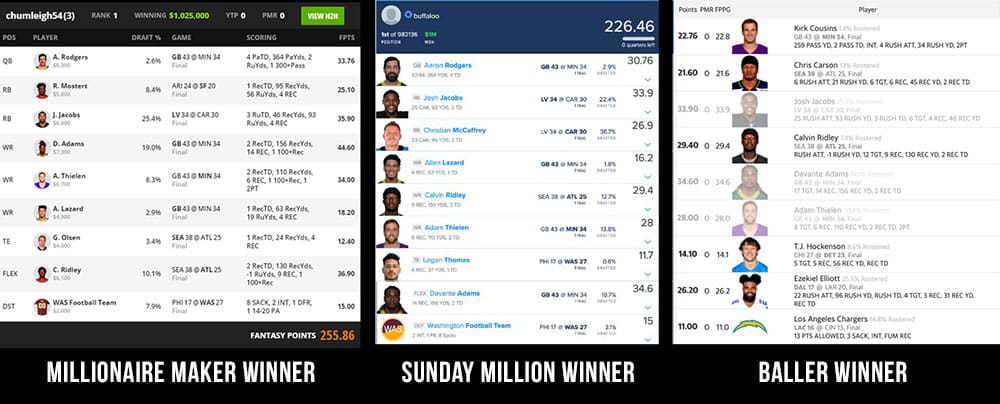 Click image to expand…

QB Picks for NFL Week 2 DFS Main Slate
Dak Prescott
DraftKings Salary: $6,800 | FanDuel Salary: $7,900 | Yahoo Salary: $31
Playing at home, in front of a crowd, and facing a Falcons defense that was absolutely shredded by Russell Wilson in week one, I think Dak officially unleashes the wrath of this Cowboys juggernaut here in week 2.
The only concern would be Zeke stealing the show, but I think you have to be encouraged by the Falcons holding Carson and Hyde to under 3.5 YPC in week one. I'm not sure which of the three WR's you stack Dak with, but he should be a can't-miss play here in week two.
Kyler Murray
DraftKings Salary: $6,100 | FanDuel Salary: $6,800 | Yahoo Salary: $24
The Eagles missing essentially their entire offensive line, as well as RB Miles Sanders, allowed Washington to hide their defensive shortcomings in week one. Kyler Murray and the Cardinals offense will expose those here in week two.
The fact that Murray was able/willing/allowed to run 13 times for 91 yards against the 49ers is a great sign for his fantasy value moving forward in 2020. Keep in mind he is moving from facing the NFL's best pass defense in week one to the leagues 30th rated pass defense here in week 2. This should be a huge week for Murray, Hopkins, Kirk, and Fitzgerald.
DraftKings Week 2 Deposit Bonus Offer
DraftKings has extended its preseason deposit bonus offer through the end of week 2. Find all the details, including what bonus free entries you could receive for registering before the start of this week's games.

RB Picks for NFL Week 2 DFS Main Slate
Derrick Henry
DraftKings Salary: $7,900 | FanDuel Salary: $8,200 | Yahoo Salary: $26
I have zero faith in this Jaguars front 7's ability to slow down Derrick Henry. This defense looked atrocious on paper heading into week one, and despite the win, they did little to change my opinion. Of the 10 players to register a snap for the defensive line in week one, only one had a positive run defense grade and he played less than 40% of the team's snaps.
We knew week one would be a struggle. The Broncos only gave up 4.2 YPC, 9 total rushing touchdowns, and only 7 runs of over 20 yards for the entire season in 2019. The sledding should get much, much easier for Henry here in week two. We have him as our top-rated DFS option for the week and think he offers great value even at his $7,900 salary.
Austin Ekeler
DraftKings Salary: $6,500 | FanDuel Salary: $7,700 | Yahoo Salary: $27
We are rolling out Austin Ekeler again here in week two. Unfortunately this is a shallow pool of RB options and we just don't love any of the options priced cheaper than Ekeler.
The matchup with the Chiefs should provide two things for Ekeler. The first is a favorable RB matchup. The Chiefs gave up 4.9 YPC last season and allowed the Texans to rack up 118 rushing yards and 5.4 YPC in week one. The second is a game script that could force the Chargers to play from behind and use Ekeler much more in the passing game than we saw in week one.
Obviously (at least after one week) the move from Rivers to Taylor is going to negatively impact Ekeler's value, but OC Shane Steichen should be able to simply call Ekeler's number more often to get him involved in the passing game. We think he finishes week 2 as a top-five RB option across DFS platforms.
Antonion Gibson
DraftKings Salary: $4,300 | FanDuel Salary: $6,100 | Yahoo Salary: $16
Gibson was one of our pre-draft favorites heading into this past season's NFL draft. That being said, we preached patience with him heading into week one. So naturally I am going to ignore my own advice and target him already here in week two.
Washington simply can not afford to wait to get him involved. They need to pound the ball while moving the chains in order to keep Arizona off the field this week, which should mean keeping Mr. 3-and-out Peyton Barber on the sidelines.
The Cardinals coaching staff has already hinted at ramping up his usage in week two, and if he can find some early success I think he could put up a massive number against the Cardinals. Arizona shocked everyone by limiting the 49ers rushing attack to 124 yards (however 4.9 YPC) but still gave up 9/162/2 to the 49ers backs in the passing game.
WR Picks for NFL Week 2 DFS Main Slate
Mike Evans
DraftKings Salary: $6,400 | FanDuel Salary: $7,400 | Yahoo Salary: $27
I think this Carolina defense may actually be the league's worst on paper right now, and the secondary looked particularly suspect in week one. Newly signed Rasul Douglas was horrible for Philly last season and was by far the Panther's best corner in week one. They simply will not have an answer for Mike Evans or Scotty Miller and the Bucs move their WR's around so much they will be able to get exactly the matchups they want here.
With Chris Godwin and his 121 targets out this week, you can expect Evans to see plenty of targets in an A+ matchup. While we love Scotty Miller here as well, Evans clearly has a considerably higher upside as a more viable red-zone target.
Cooper Kupp
DraftKings Salary: $4,000 | FanDuel Salary: $5,700 | Yahoo Salary: $20
The Rams went run-heavy in week one because that was how the matchup dictated they should play, but you simply do not run on the Eagles. They gave up just 4.1 YPC last season and gave up only 2.2 YPC in week one. We know the weakness on this defense is a secondary that was shredded at times last season, and the Rams should be able to target anyone not named Darius Slay.
While Nickell Robey-Coleman is an above-average nickel corner, Kupp took 20+% of his snaps split to the left which would put him in a matchup with arguably the league's worst starting corner Avante Maddox. That is not to say Kupp will struggle to beat Robey-Coleman, we have certainly seen him beat better corners.
If the Eagles decide to shadow Woods with Slay, I would expect to see Kupp be the guy in this passing attack to lead in targets and production here in week two. Despite not being listed as a starter in 12 personnel, the Rams hardly used 12 personnel and Kupp actually led all Rams WR's in snaps in week one.
Christian Kirk
DraftKings Salary: $4,700 | FanDuel Salary: $5,600 | Yahoo Salary: $13
If Christian Kirk is going to have the 1,000 yard season the Cardinals staff and personel seemed positive he would, it better start this week. Washington had PFF's 28th ranked secondary heading into 2020 and that was when we thought Fuller would be healthy.
Coming off the week he had, Washington should certainly bracket Hopkins here, which will create even more favorable matchups for Kirk. Priced at just $4,700 on DraftKings, in a week where most DFS players will chase Nuk's 14 reception game, I think Kirk is worth throwing into a stack with Kyler Murray in week 2 contests.
CeeDee Lamb
DraftKings Salary: $4,700 | FanDuel Salary: $5,200 | Yahoo Salary: $17
Our next two picks are our matchup-based value picks for this week 2 slate. Both Lamb and Cooper have A+ matchups in they Cowboys matchup with the Falcons. Cooper will face rookie A.J. Terrell, who was torched to the tune of 2.56 yards per route covered in week one. Lamb will line up in the slot (92% of his snaps were in slot in week 1) against Darqueze Dennard who gave up an 83% catch rate and 1.56 yards per route covered last week.
Both receivers are a great start, but we think Dallas uses this as an opportunity to show off their shiny new weapon in Lamb. Additionally, Lamb is considerably cheaper on all three DFS websites (and has a 1.75x multiplier on SuperDraft).
Adam Humphries
DraftKings Salary: $3,400 | FanDuel Salary: $4,700 | Yahoo Salary: $10
Humphries is another slot receiver with a great matchup here in week two. Humphries will also benefit from A.J. Brown missing this week as well.
We expected the Jags secondary to be bad this season, but it was still surprising to see just how bad Hayden was in week one. Paris Campbell and company made it look easy against Hayden who surrendered an 88% catch rate and 2.56 yards per route covered.
Want to get a little crazy and target someone even cheaper here? Take a look at Kalif Raymond who is a speedster with loads of big play ability. This is particularly attractive here because we expect the Jags to absolutely load the box to try and sell out and slow down Derrick Henry.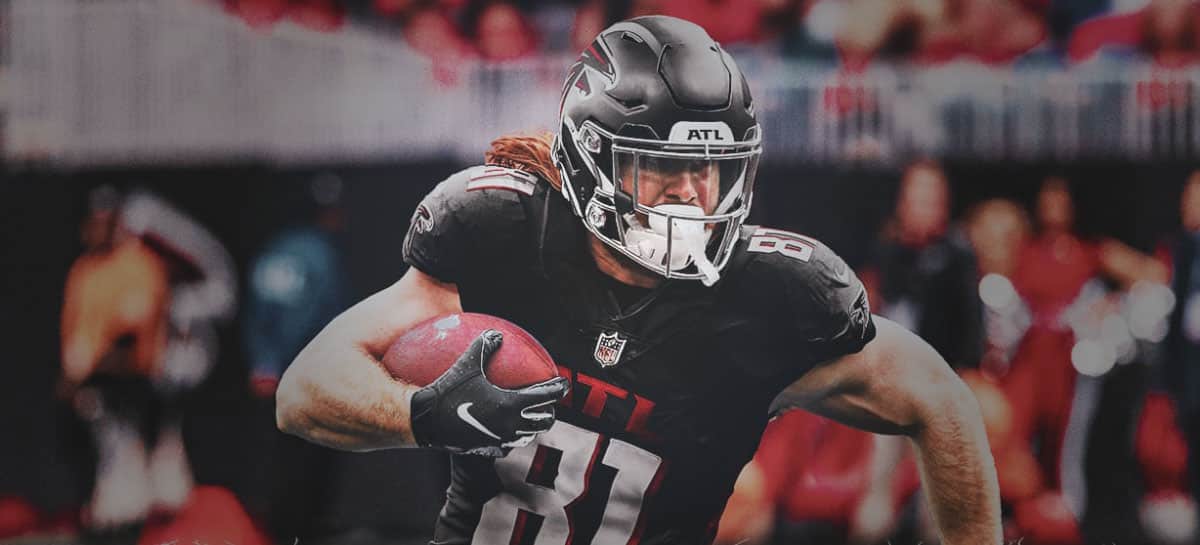 TE Pick for NFL Week 2 DFS Main Slate
Hayden Hurst
DraftKings Salary: $4,600 | FanDuel Salary: $5,700 | Yahoo Salary: $14
It should have come as a surprise to no one that Hayden Hurst was not a major factor in Atlanta's week one game plan. Making his debut for the Falcons, Hurst faced arguably the best coverage safety duo in the NFL in Quandre Diggs and Jamal Adams. The matchup gets much, much easier here in week 2.
The Seahawks have arguably the softest safety tandem in the NFL with Darian Thompson and Xavier Woods. Additionally, Jaylon Smith is coming off one of the worst coverage performances of his career, and Leighton Vander Esch broke his collarbone in week one.
We expect Hurst to put up a line similar to what Russell Gage did in week one, and should have a good shot at finding the end zone here as well.
T.J. Hockenson
DraftKings Salary: $5,200 | FanDuel Salary: $5,600 | Yahoo Salary: $14
We know the Lions want to utilize Hockenson a lot more this season, but injuries could force him into being the focal point of this offense here in week two. The Lions offensive line is in absolute shambles right now, which should not only affect the run game but could prevent Stafford from having enough time to let Marvin Jones and Marvin Hall work downfield.
Additionally, the Lions clearly intend to give Hockenson a ton of looks in the red zone. He averaged a red zone target per game in starts with Stafford and already found the end zone in week one.
Our Optimal Week 2 FanDuel, DraftKings, and Yahoo Lineups
Below are our favorite lineups for the week 2 slate of games. We will update these again on Sunday morning so be sure to check back this weekend for our gameday picks.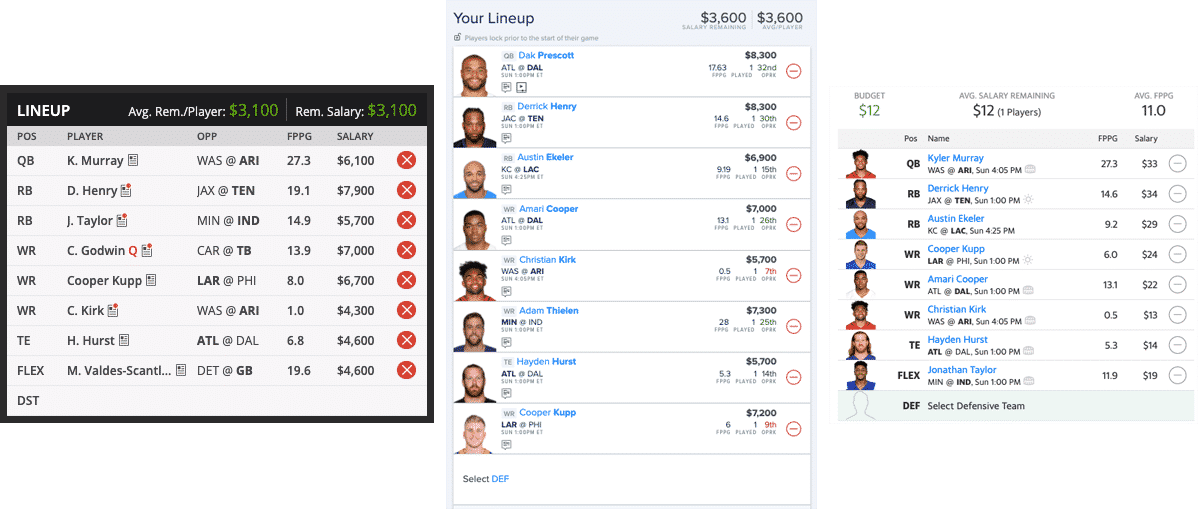 Click image to expand…
Tracking Week 2 DFS Overlay
A new addition to our weekly article, we will track overlay opportunities as we approach game time on Sunday. There was massive overlay across the industry in Week One and we want to make sure our community understands how important it is to find that overlay and take advantage of it.
| Contest | Entries | Max | Overlay | Payout |
| --- | --- | --- | --- | --- |
| DraftKings Millionaire Maker | 12,978 | 266,000 | 95% | $3.5 million |
| FanDuel Sunday Million | 45,122 | 892,000 | 96% | $3 million |
| Yahoo Baller | 1,900 | 29,000 | 94% | $350,000 |
| SuperDraft Red Zone | 404 | 7,250 | 95% | $125,000 |
[SSB]
Subscribe to Get Next Week's Picks by Email!
Join our nearly 54,000 subscribers to get lineup advice delivered directly to your inbox every week. This newsletter is a once-per-week email. We will never share your information or spam your inbox.