Week 1 is in the books! Check out our picks and optimal lineups for NFL Week 2 contests on FanDuel and DraftKings!
After the year we have had, what could sound better to sports fans than a full slate of NFL games? That being said, with everything going on from a Pandemic to Politics to a canceled preseason, who has had time to properly prepare for a football season that is now just days away?
If you are feeling unprepared, we have you covered with some week one picks to get your DFS lineups and season pointed in the right direction. Additionally, our team will catch you up on everything you need to know regarding final roster moves, depth chart changes, camp battles, and more in our week one podcast page. Simply subscribe here to have it emailed to you when we release it.
Your DFS Week 1 Picks : User Poll
Let us know who you would pick out of the high priced studs available for the week one main slate on DraftKings. Get the community results at the end of the poll!

NFL Week 1 DFS QB Picks for Optimal Lineup
We can not discuss NFL week one QB targets without starting with Lamar Jackson. The case for locking him into your lineups is simple: even at $8,100 he still offers massive value, having reached 4x value in 6 of the last 8 weeks of the 2019 season.
The case against him is also fairly straight forward: Joe Brooks had the NFL's top defense as a DC in Denver in 2017 and had the NFL's top pass D in San Francisco last season, and he has had an entire offseason to prepare for Greg Roman's offense.
I am going to consider Jackson low hanging fruit for the sake of this article but will say if I was building two week one lineups he would absolutely be my QB in one of them.
Carson Wentz
DraftKings Salary: $6,500 | FanDuel Salary: $7,900 | Yahoo Salary: $31
There are several different ways to get to 3x+ at QB in week one. Given the matchup, and his consistency in this matchup, I think Wentz has the highest floor of the group.
As you can see in the chart below, Wentz has averaged over 26 DraftKings PPG against Washington over the past three seasons. That is well over 4x value at his current DraftKings salary.
Obviously the primary concern here is the weapons the Eagles are able to put around him. Obviously having Reagor and Jeffery healthy would help, but we think the return of DeSean Jackson and continued growth of J.J. Arcega-Whiteside will be enough to open up space for Ertz, Goedert, and Sanders to decimate Washington underneath.
Speaking of Washington, despite the addition of Chase Young, this may be the worst defense they have put on the field since Wentz arrived here in Philly. They enter 2020 with PFF's 28th ranked secondary and 29th ranked overall defense.

Teddy Bridgewater
DraftKings Salary: $5,900 | FanDuel Salary: $6,800 | Yahoo Salary: $24
I doubt Bridgewater will be highly owned in this NFL week one slate. He has never been a big upside QB, even with the Saints in 2019, the Panthers passing attack was a mess last season, and this is his first game in a new system. However, this is Joe Brady's system, a system that rewrote the CFB record books in his first season at LSU… a system that is going to feel extremely familiar to Bridgewater after spending 2019 in New Orleans.
In addition to Brady's addition in Carolina, the Panthers also brought in Robby Anderson, a guy I believe is a top 15 WR talent in the NFL. He can run the complete route tree, while also possessing game-breaking speed and big-play ability.
One other thought to keep in mind, the Raiders had the NFL seventh-best run defense last season and were actually the top run D in the league for the last three weeks of the season. On the other side of that equation, they were a bottom 10 pass defense, got zero pass rush, and have PFF's 24th rated secondary (which may be too high).
Top Week One DraftKings Promotions
Have you seen all of the promotions DraftKings is offer for week one of the NFL season? From an industry-best deposit bonus to free contests that payout over $1 million in prizes, DraftKings is offering new players more reasons than ever to make the move to daily fantasy sports.
View Promos
NFL Week 1 DFS RB Picks for Optimal Lineup
It should come as a surprise to nobody that Christian McCaffrey is the highest-priced player in this slate. That being said, at $10,000 and making his first start in a new system with a reworked offensive line, I think we can safely fade him… at least for one weak.
Another name worth a mention at the top of the week one RB ranks is Dalvin Cook. Cook kicks off a contract year with the Packers, who he put up 31.1 DraftKings points on in week 2 of last season. Look for Cook to be right at 3x value against the Packers here in week one.
That being said, below are our favorite three RB picks for this week one slate.
Josh Jacobs
DraftKings Salary: $6,800 | FanDuel Salary: $8,200 | Yahoo Salary: $26
Admittedly, Josh Jacobs is low-hanging fruit here in week one. Running behind PFF's 11th ranked offensive line and facing a Panthers defense that gave up a league high 28.4 fantasy PPG to opposing RB's, he is the obvious RB pick for week one.
The Raiders had the NFL's 8th highest run percentage a year ago, and given the defense does not look considerably better on paper, we expect to see Gruden go run-heavy again in 2020. At the very least, the additions of Ruggs, Edwards, and Agholor should help to keep defenses more honest and give Jacobs more favorable boxes to run against.
The key here will be whether or not Jacobs can find his way into the end zone. He averaged over 100 yards-from-scrimmage per game a year ago, but only found the endzone four weeks out of the year. The good news on that front is that Carolina gave up an NFL-worst 31 rushing touchdowns last season.
Additionally, with the release of Riddick as well as the Bowden trade, we should clearly expect to see Jacobs on the field for a much larger share of passing downs this season. That would be huge for his fantasy value as he only caught 20 passes in his rookie season.
Austin Ekeler
DraftKings Salary: $7,000 | FanDuel Salary: $7,700 | Yahoo Salary: $27
Austin Ekeler is ridiculously underpriced across all three platforms here in week one. When we discuss his 2020 campaign, and RB4 finish in the DraftKings scoring format, it is important to also note that he was RB2 in games without Gordon… trailing CMac by less than 2 fantasy PPG.
You can make the argument that the Bengals run defense should be one of the most improved units in the NFL this season. The addition of D.J. Reader should make an immediate impact on the teams 4.7 YPC allowed a year ago. It does not matter, because Ekeler can not be defended in Shane Steichen's offense.
The Chargers offensive line was terrible last season but will look considerably different in 2020. Pouncey returns from injury, they added Brian Bulaga, and traded for Trai Taylor. Additionally, moving from the statuesque Philip Rivers to a much more mobile Tyrod Taylor will help keep opposing linebackers honest.
Ekeler averaged over 30 DraftKings PPG in games where he saw at least a 65% snap share last season. Now the undisputed starter here, he looks like a lock to be one of the top backs in DFS throughout 2020 and that should start with a massive week one performance.
Chris Thompson
DraftKings Salary: $4,000 | FanDuel Salary: $4,800 | Yahoo Salary: $10
The minimum salary on both DraftKings and Yahoo, Chris Thompson looks like the best value RB pick on the board for week one.
While Thompson will certainly be limited to a passing-down role on this Jaguars team, they should always be in a throwing situation in 2020. It is hard to imagine the remaining running backs on the roster being overly effective in their early-down work and the defense is arguably the league's worst on paper.
Whether due to down-and-distance or simply trailing in most games, Thompson should see the field plenty this season. We expect to see the Colts offense put up a ton of points here, which could create a potential high-volume spot for Thompson making his Jags debut. The Colts struggled to defend pass-catching backs last season, allowing 119 receptions on the season.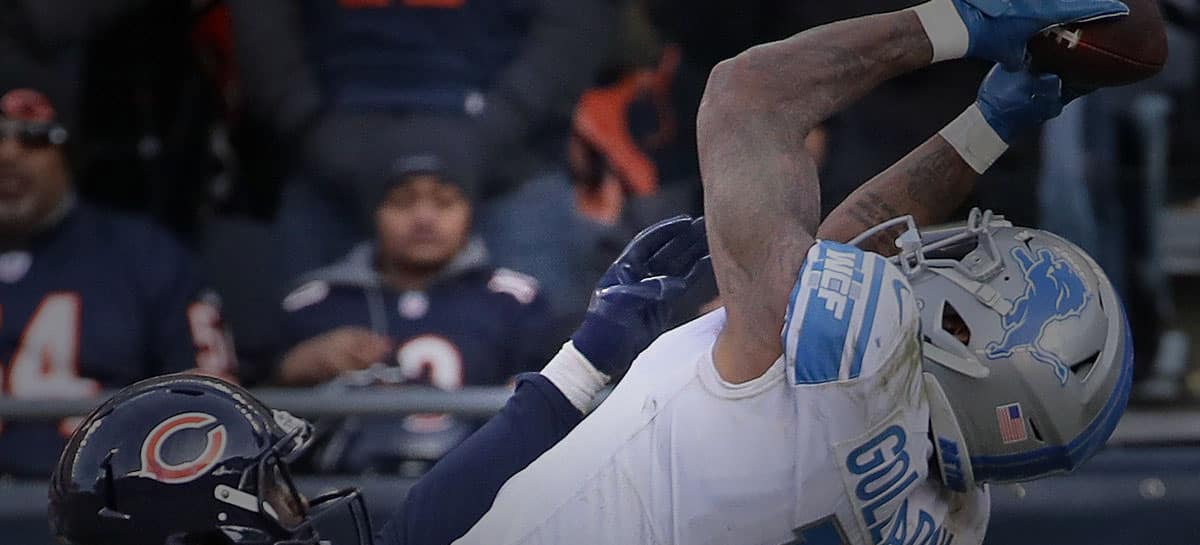 NFL Week 1 DFS WR Picks for Optimal Lineup
If you are asking us which of the top-priced wide receivers are worth targeting here in week one, we have to go with Davante Adams. Adams finished last season with five straight 22+ point performances, including 26.6 against the Vikings in week 16. Minnesota has a brand new, uber-young, set of cornerbacks for Adams to break-in here in week one.
Below are four considerably cheaper options at WR for the main DFS week one slate.
Kenny Golladay
DraftKings Salary: $6,200 | FanDuel Salary: $7,300 | Yahoo Salary: $24
Golladay being priced at WR14 for the DraftKings Millionaire Maker slate may be the biggest pricing mistake they made for week one.
Given the matchup may not look great on paper, the Bears defense has been a top 10 unit each of the last three seasons, but Golladay has averaged 20 DraftKings PPG against them over that stretch. This includes a floor above 2x value and a ceiling of just under 5x value.
Matthew Stafford stated earlier in training camp that he felt like he was in MVP form and all reports out of camp agree that he looks better than ever. Both he and Golladay have been unstoppable throughout camp, and this is coming off from a season that saw Stafford playing at MVP levels prior to getting hurt and Golladay making his first Pro Bowl despite playing half the season with Jeff Driskel and David Blough.
DeSean Jackson
DraftKings Salary: $4,900 | FanDuel Salary: $5,700 | Yahoo Salary: $20
While his injury history and the pending return of Jalen Reagor may make him a season-long nightmare, Jackson is set up to smash in week one. That should come as no surprise as Jackson has 6 career week one 100 yard games, including 8/154/2 in week one last season.
As we mentioned with Wentz earlier, this Washington secondary is an absolute dumpster fire. They allowed the third-highest opponent QB rating (102.5) in the NFL last season and traded their best corner (Quinton Dunbar) to the Seahawks this offseason. His replacement, Ronald Darby, gave up the most fantasy points per route covered last season.
Robby Anderson
DraftKings Salary: $4,700 | FanDuel Salary: $5,600 | Yahoo Salary: $13
As we mentioned earlier in this article, Robby Anderson is a superstar that has been trapped in a disasterous situation for the majority of his career. Given the weapons around him, we just don't see how the Raiders are going to deal with Anderson's big play ability in week one.
While we love Johnathan Abram, this Vegas secondary is completely unproven around him, and the film we do have on fellow starters Erik Harris, Trayvon Mullen, and Lamarcus Joyner is ugly, to say the least. The other starter is a rookie in surprise draft choice Damon Arnette.
The Raiders were bottom five in terms of both coverage and pass rush last season, on their way to allowing an opponent QB rating of 103.8. Did we mention Anderson's big play ability? Nobody gave up more big plays than the Raiders last season, allowing 16 pass plays of 40+ yards and an NFL-worst 8.3 yards per attempt.
Parris Campbell
DraftKings Salary: $3,900 | FanDuel Salary: $5,100 | Yahoo Salary: $11
Given how weak the Jags secondary looks on paper, it seems like week one could be that Parris Campbell breakout we have all been waiting for. Albeit we do prefer T.Y. Hilton's matchup and role at least for this week, if you are looking for a cheap WR play, Cambell would be our choice.
Before entering the concussion protocol after a car accident, Campbell was having a monster camp. We know Indianapolis is high on him (they used a second-round pick on him in 2019), and we know he can fly (4.31 40 time), but that has yet to translate to fantasy value. That could change as Rivers makes his Colts debut on Sunday.
At $3,900 on DraftKings, you are going to be hard-pressed to find a guy cheaper that has the role/upside Campbell has.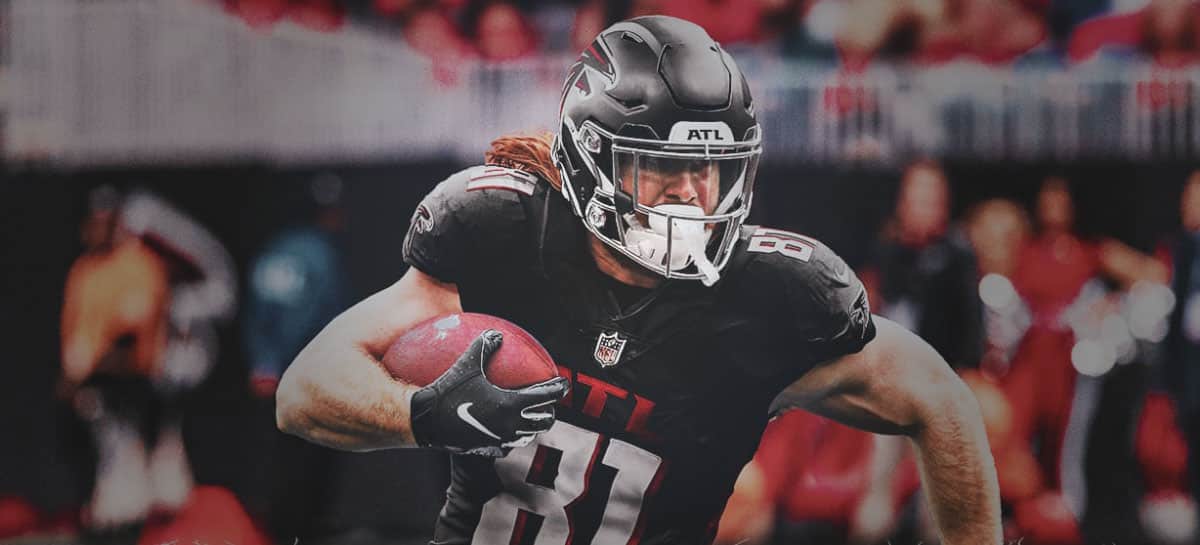 NFL Week 1 DFS TE Picks for Optimal Lineup
Let me preface these picks by saying that I absolutely love several tight end plays this week. Not mentioned below that I will have shares of this week include Darren Waller, TJ Hockenson, and Chris Herndon. That being said, here are my two favorite tight end plays for week one.
Mark Andrews
DraftKings Salary: $6,000 | FanDuel Salary: $7,400 | Yahoo Salary: $22
Despite being the second highest priced tight end on both FanDuel and DraftKings, we think Andrews is in a must-start spot against the Browns in week one. Andrews racked up over 40 DraftKings points in two games against the Browns in 2019, despite a mere 47% snap count in those games.
That number will clearly jump throughout the 2020 campaign, as the Hayden Hurst trade was made specifically to get Andrews more snaps. Hurst was actually on the field more often than Andrews last season, and both tight ends trailed Nick Boyle by more than 300 snaps.
Despite Lamar Jackson struggling in the Ravens scrimmage, he still hit Andrews for mutliple big plays and a touchdown according to Ravens Wire. While this Browns secondary will clearly look different, we don't see either Karl Joseph or Andrew Sendejo as a threat to slow down Andrews, and really would have been more concerned if Grant Delpit were healthy and starting here.
Hayden Hurst
DraftKings Salary: $4,300 | FanDuel Salary: $5,200 | Yahoo Salary: $15
We have said it all offseason, but it's worth repeating, Hayden Hurst will be a top 5 tight end in the Falcons offense this season, and given how bad the Seahawks were against opposing tight ends last season, he is a must start at his current salary on all three platforms in week one.
No offensive coordinator in football utilizes the tight end position more than Dirk Koetter, and he got a good one when Thomas Dimitroff traded for Hayden Hurst. Keep in mind Hurst is a former first-round pick that ran a 4.55 at his pro day at South Carolina. Hurst is sure-handed and knows how to get open with a career catch rate that is significantly higher than Jackson's 64% completion percentage.
Hurst will not be priced this low for more than a week, particularly given he is facing a Seahawks defense that gave up the fourth most PPG to the tight end position in 2019. While the addition of Jamal Adams will clearly help that number, it's worth keeping in mind this will be his first game in the Seattle system, and we don't really know how the Seahawks plan to use him.
Subscribe to Get Next Week's Picks by Email!
Join our nearly 54,000 subscribers to get lineup advice delivered directly to your inbox every week. This newsletter is a once-per-week email. We will never share your information or spam your inbox.