Three weeks into the season and we just keep getting stronger. Nearly all of our picks hit last week, including the gutsy all-in call on Justin Jefferson. Quarterback was clearly our weakest spot last week as we faded the Seahawks/Cowboys game to target the Cardinals/Lions. Kyler couldn't quit throwing it to Detroit, allowing Patricia to play keep-away with AP, killing both QBs value.
This is the week we put together a complete winner. Below are our week four picks for the main-slate tournaments on FanDuel, DrafKints, and Yahoo.

DraftKings and FanDuel Week 4 QB Picks
Deshaun Watson
DraftKings Salary: $6,600 | FanDuel Salary: $7,800 | Yahoo Salary: $30
It feels odd seeing 7 QB's priced higher than Watson on DraftKings, but averaging 18.5 DraftKings PPG through three weeks, that is exactly where we find him this week. After playing Baltimore and at Pittsburgh in back-to-back weeks, Watson is a clear buy-low candidate at home against the young, struggling Vikings secondary.
Through three weeks the Vikings are giving up an opponent QB rating of 103.5 and 8.5 yards per attempt, both easily in the bottom 10 in the NFL. Additionally, they are giving up more big-play passes than any team other than the Seahawks so far this season. This should play right into the Texans' hands as Fuller and Cooks are both elite deep threats that are on the field for 90% of the Texans snaps.
The key will be whether or not Watson can get loose as a runner this week. He reached value in week one against the Chiefs despite not throwing the ball well because he was able to run for 27 yards and a score. I think 250+ yards and 3 touchdowns is a lock for Watson in week four, if he is able to add another 5-10 points as a runner he could very well end up being the top QB in this slate.
Joe Burrow
DraftKings Salary: $6,300 | FanDuel Salary: $7,400 | Yahoo Salary: $27
While Burrow has been far from efficient to date this season (5.8 yards per attempt) but has been lethal in a clean pocket. The problem is he has faced 3 of the league's top pass rushes in the Chargers, Browns, and Eagles. His offensive line has allowed pressure on 38% of his league high 164 dropbacks.
That should not be an issue this week as the Jags are bottom 10 in pressure this season. To make the matchup even better for Burrow, they are also allowing an NFL-worst 83% completion percentage. Worried about Cinci going run-heavy here? That should not be an issue as the Jags have been great against the run, allowing the 8th lowest (3.8) yards-per-carry in the NFL.
DraftKings Promo Code Offer for the NFL Week 4 Slate
DraftKings is offering its best new player promo code offer of the 2020 season this week. The new offer includes a free Millionaire Maker entry and 20% deposit bonus that caps at $500. Follow the link below to learn more about this offer.
DraftKings and FanDuel Week 4 RB Picks
Austin Ekeler
DraftKings Salary: $7,100 | FanDuel Salary: $6,900 | Yahoo Salary: $24
Our subscribers probably have Ekeler-fatigue as he has made three out of four articles to date this season, but week three was a perfect example of why we are so high on him. Similar to Alvin Kamara, Ekeler is simply impossible to deal with as a pass-catcher out of the backfield. Through three weeks he has caught all 16 of his targets for 142 yards.
While this matchup doesn't look great on paper, for the second straight year the Bucs are completely taking away the run allowing just 2.9 YPC. However, opposing backs are shredding them through the air racking up the top five targets, receptions, and yards. Ekeler's projected ownership is under 5% because of the matchup, but we think the matchup could actually limit Josh Kelley's role and keep Ekeler's snap count above 70% again here in week four.
Johnathan Taylor
DraftKings Salary: $6,600 | FanDuel Salary: $7,500 | Yahoo Salary: $27
For a rookie that didn't get a preseason, Jonathan Taylor Thomas has been a wildly popular in the DFS community this season. For good reason, he is running behind the league's best offensive line in a system that should be as run-heavy as you will find in the NFL in 2020.
This is the week Taylor fans should be excited about as the Colts finally face a run defense that he should be able to shred. The Bears are currently allowing the 7th highest yards-per-carry in the league, and that is despite facing the Falcons and Giants, two teams that can not run the football right now. Keep in mind Adrian Peterson put up 114 yards on just 17 touches just days after signing with the Lions in week one.
D'Andre Swift
DraftKings Salary: $4,300 | FanDuel Salary: $5,300 | Yahoo Salary: $13
Another talented rookie that should have a strong outing here in week four, expect to see the game flow lean more on Swift here in week four. New Orleans (like Tampa Bay) have shut down opposing rushers for the past two seasons, and on the flip side should have their way with this decimated Lions secondary. That could force Detroit to unleash Matthew Stafford and the passing attack here, which will clearly favor Swift.
Coming off from a 9% snap share in week three, starting Swift clearly does not come without risk, but we love his upside and if you are looking for a value play at RB this week you have few other options.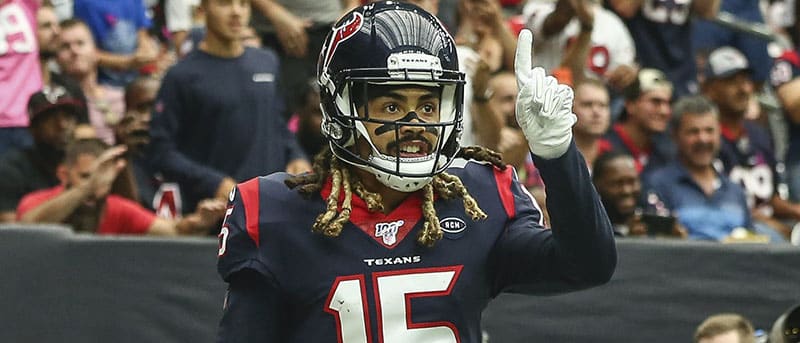 DraftKings and FanDuel Week 4 WR Picks
Michael Thomas
DraftKings Salary: $7,600 | FanDuel Salary: $8,800 | Yahoo Salary: $35
If Thomas returns to action in week four he is going to be highly productive. The Lions were shredded by Trubisky and the Bears once they lost their top two corners in week one, allowed Rodgers to do whatever he wanted in week two, and then gave up 10/137 to Hopkins on just 12 targets in week three.
They simply don't have a shutdown corner to deal with elite number one receivers right now, and Patricia is hell-bent on running man coverage despite getting zero pressure from his front seven. Three catches for 17 yards is not how Thomas expected to start his season, look for him and Brees to make up for lost time in what could be a shootout in Detroit this week.
Tyler Boyd
DraftKings Salary: $6,100 | FanDuel Salary: $6,000 | Yahoo Salary: $20
Boyd's lack of a role in the red zone for this offense has crushed his fantasy value so far this season, but we think he finds a way into the end zone in week four. He has clearly established himself as the most consistent option for Burrow in this offense, and has a great individual matchup here against the Jags.
Boyd runs 80% of his routes out of the slot, which means he will be lined up against D.J. Hayden this week. We picked on Hayden earlier this season, and are coming back for more this week. Hayden is allowing the fourth-highest yards per route covered in the league and has given up an astonishing 93% completion percentage through three weeks. Look for Boyd to have his best game of the season right here in week four.
Will Fuller
DraftKings Salary: $5,900 | FanDuel Salary: $6,100 | Yahoo Salary: $22
We include Fuller in our week one Showdown article, but warned that the best was yet-to-come for the fifth year receiver out of Notre Dame. Look for him to get behind the Vikings secondary at least once this week, but we know he has a track record of beating bad defenses for multi-touchdown games.
I mentioned earlier that the Vikings defense is giving up a ton of big plays in the passing game. Through three weeks they have already allowed 14 passing plays of 20+ yards and 4 plays of 40+ yards. Both are the second-most in the NFL. You will clearly want to keep an eye on his practice-level and injury status throughout the week, but if he is active on gameday I think he should be in consideration for your tournament lineups.
TY Hilton
DraftKings Salary: $5,300 | FanDuel Salary: $5,900 | Yahoo Salary: $16
Can we get TY the ball? How many Colts receivers have to go on IR before Hilton gets to double-digit targets? Can Rivers really be that big of a drop off from Jacoby Brissett and Brian Hoyer that the offense can no longer find a way to get Hilton involved? Clearly, that is not the case, so we expect that trend to change this week.
The Bears secondary (outside of Buster Skrine) has been solid this season but gave up plenty of production to Calvin Ridley last week. Additionally, Hilton moves all over the Colts offense taking snaps on both sides as well as in the slot, so Reich should be able to put him in the matchups he wants here.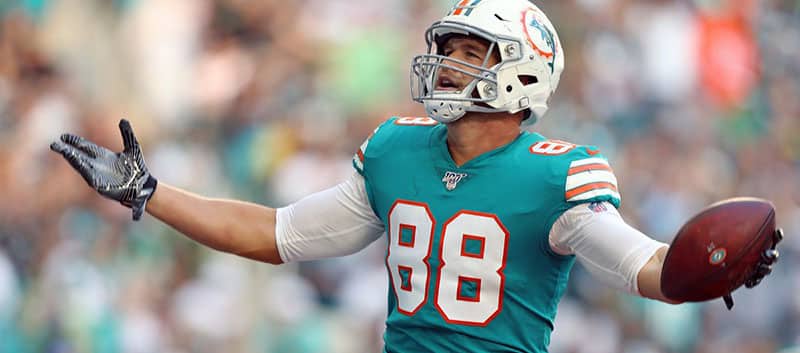 DraftKings and FanDuel Week 4 TE Picks
Mike Gesicki
DraftKings Salary: $5,100 | FanDuel Salary: $5,700 | Yahoo Salary: $17
Gesicki looks like the best high-ceiling tight end option for tournament lineups this week for several reasons. The first, we know he has multi-touchdown upside. Through three weeks 8 of his 19 targets have come in the red zone. He also flashed production upside with his 8/130/1 performance in week 2. Lastly, he could be facing a Seahawks defense that ranked 31st against opposing TEs prior to Jamal Adams's arrival.
The Dolphins have been using Gesicki as another slot receiver a ton this season, which bodes well for him this week as no team in the NFL has given up more slot-production than the Seahawks through three weeks of the 2020 season.
Evan Engram
DraftKings Salary: $4,400 | FanDuel Salary: $5,600 | Yahoo Salary: $13
In an offense starving for pass catchers, Evan Engram somehow comes in at TE10 for this slate. We are betting this will be your last chance to roster him this cheap, as the Judge has already stated he needs to be a bigger part of their gameplan moving forward without Shepard and Barkley.
The Rams have looked vulnerable against the tight end at times this season despite playing the Cowboys and Bills (who don't feature the TE position). Through three weeks, they have given up the 10th most fantasy PPG to the position at 15.33/game.
[SSB]
Subscribe to Get Next Week's Picks by Email!
Join our nearly 56,000 subscribers and have our week four picks sent direct to your inbox next week. It's free, we never spam and you can unsubscribe any time!