Week two is in the books and it was a mixed bag for our picks. Our QB picks, Dak Prescott and Kyler Murray were both solid, and Dak was on the winning Millionaire Maker and Sunday Million lineups (see below).
Running back was our one clear soft spot this week. Derrick Henry somehow managed to disappoint against the Jaguars, who have somehow resurrected their run defense in one offseason. Austin Ekeler was out-carried by Joshua Kelley 16 to 23 (somehow playing with the lead) despite Ekeler averaging 5.8 YPC to Kelley's 2.8. He did rack up 148 yards, but with zero touchdowns missed value.
Our assessment of the RB situation in Washington was spot on. Antonio Gibson played 65% of the snaps (despite trailing Arizona big early). A converted receiver, he really needs to get involved in Scott Turner's offense as a pass-catcher to consistently hit value.
At wide receiver, we hit on Mike Evans, CeeDee Lamb, and Adam Humphries, but while Cooper Kupp and Christian Kirk were both up from week one, neither one found the end zone in week two.
Our tight ends were both solid. Hayden Hurst may be terrible at recovering onside kicks, but he was a great DFS play in week two with a 5/72/1 stat line. Hockenson was Stafford's most productive pass catcher, but for the first time in a game he started with Stafford, he did not get a red-zone target. Better days to come for both guys.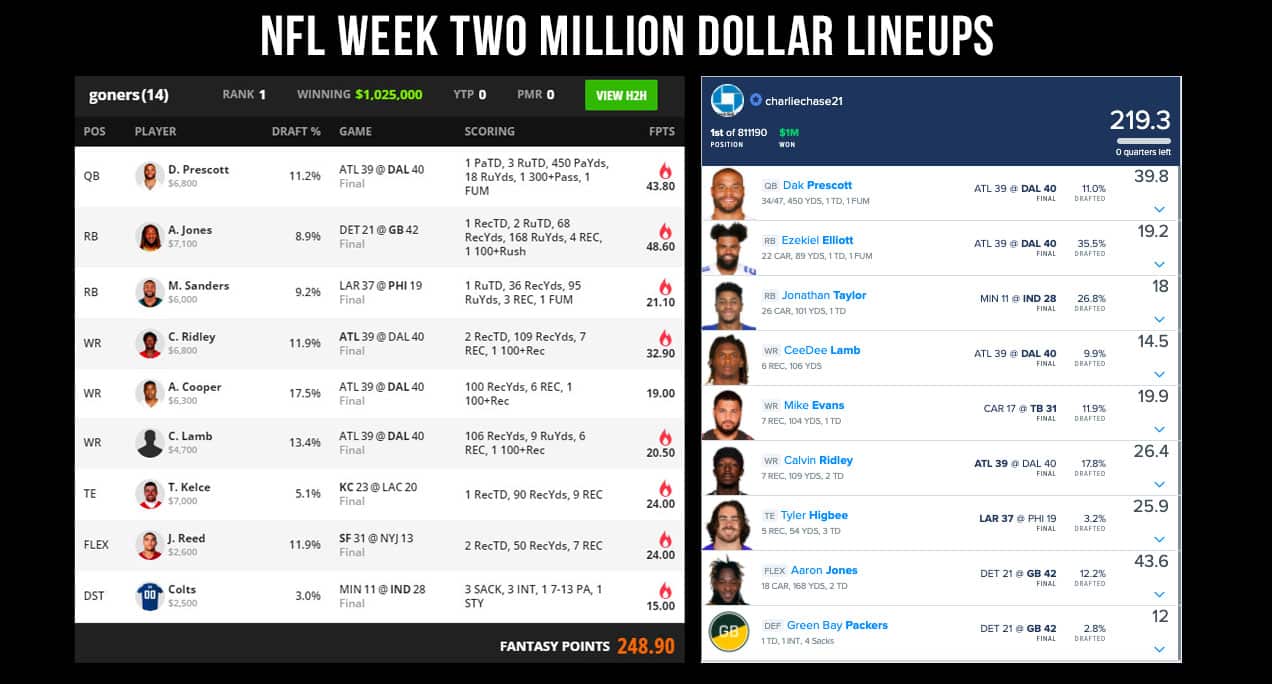 Click image to expand…

FanDuel and DraftKings NFL Week 3 QB Picks
Enough of week two, let's turn our attention to the NFL Week 3 main slate. Both FanDuel and DraftKings have a million-dollar contest in their lobby, and Yahoo's Baller is back again with a $300,000 prize pool.
With the Chiefs and Ravens playing on Monday night, Mahomes and Jackson are off the table for this slate. Clearly Russell Wilson and Dak Prescott are going to be the chalk plays here, but what other quarterbacks should be in play? Here are our picks, both guys come from the same game so if you live in a state with legal sports betting, you may want to take a look at the total (currently 54.5).
Kyler Murray
DraftKings Salary: $6,800 | FanDuel Salary: $8,400 | Yahoo Salary: $37
The Detroit Lions defense is an absolute train wreck… again. The pass rush is still not getting home, and rookie Jeff Okudah looked about as bad as a corner could look last week (3.67 yards per route covered). On top of that, Desmond Trufant is still not practicing and Justin Coleman is on the IR. Yikes.
The Lions will likely have to rely on Jarrad Davis to spy on Murray this week, a role that Davis has struggled mightily with in the past. Murray's 147 rushing yards through two weeks is a trend I am more than happy to chase.
While we do give out Hopkins as our favorite target here, Christian Kirk is absolutely in play this week. With no pass rush, Kirk should be able to get behind the Lions secondary at will in week three.
Matthew Stafford
DraftKings Salary: $6,100 | FanDuel Salary: $7,300 | Yahoo Salary: $31
If Murray is going to put up points on one side, Stafford will answer on the other. We did think the Cardinals young secondary would be much improved in 2020, but this is a case where their numbers-to-date don't tell the whole story. This defense gave up the highest QBR (109+) last season, and are nowhere near as good as Jimmy G (with no receivers) and Dwayne Haskins have made them look through two weeks.
Stafford will finally get Kenny Golladay back this week, rookie DeAndre Swift looked like he calmed down for week two's game, and RT Vaitai should be back as well. Stafford averaged 24 fantasy PPG in 2020 and was expected to have an even better year this year. We think he was able to knock off the rust in weeks one and two and will have a big game here in week three.
DraftKings Promo Code Offer for NFL Week 3
For the third straight week, DraftKings is running a Millionaire Maker contest for their NFL main slate. You could enter that contest for free simply by depositing at least $100. See this promo offer and more by following the link below.
FanDuel and DraftKings NFL Week 3 RB Picks
Injuries to Christian McCaffrey, Saquon Barkley, Raheem Mostert, and Le'Veon Bell have turned the RB position on it's head this season. Obviously value picks like Mike Davis, Dion Lewis, and Jerrick McKinnon will be hot names this week. Here are the players we are targeting at the RB position for the week three main slate.
James Conner
DraftKings Salary: $6,700 | FanDuel Salary: $7,100 | Yahoo Salary: $17
The key with James Conner is simply avoiding injury. He will be the bell cow and will put up big numbers in this offense as long as he is healthy. Without an injury designation heading into week three, I think we can expect him to be a top 5 back in a favorable matchup with the Texans.
Houston was a bottom-five run defense in 2019 in terms of both overall production and yards per carry. Through the first two weeks of 2020 things don't look much better (albeit games against Kansas City and Baltimore).
The Texans are allowing 5.6 yards per carry despite not giving up a run over 44 yards through the first two weeks. That means teams are consistently moving the ball on the ground against them, and Conner (running behind Pro Football Focus's 9th ranked offensive line) should find plenty of success here in week three.
Miles Sanders
DraftKings Salary: $6,400 | FanDuel Salary: $7,400 | Yahoo Salary: $21
Like Stafford, Sanders had some rust to wear off in week two. Entering his second year, Sanders was banged up throughout camp and missed week one against Washington. While his 131 total yards and a touchdown were far from a slow start to the 2020 season, we think there is still considerably more upside here.
In week three he faces a Bengals defense that was absolutely shredded by Nick Chubb and Kareem Hunt in week two. The Eagles clearly have massive issues on the offensive line right now, but their week two performance actually graded out fairly well according to PFF. Assuming the game doesn't get away as last weeks did, Sanders should see his workload increase again here in week three.
Jerrick McKinnon
DraftKings Salary: $4,000 | FanDuel Salary: $5,700 | Yahoo Salary: $14
It is absolutely crazy that with guys like Raheem Mostert, Tevin Coleman, Matt Breida (formerly), and Jerrick McKinnon, Jeff Wilson is always in the discussion here in San Francisco. Their running backs are constantly hurt, and here we are in week three and the team is already down to just McKinnon and Wilson.
I think given his role in the passing game, McKinnon is clearly the guy to target here. Additionally, I expect to see McKinnon's role as a runner to increase to at least 12 carries here in week three. Given how efficient the 49ers running game is, that is more than enough work for McKinnon to reach value here.
Also worth considering: Austin Ekeler, Mike Davis, DeAndre Swift
FanDuel and DraftKings Week 3 WR Picks
DeAndre Hopkins
DraftKings Salary: $7,900 | FanDuel Salary: $8,500 | Yahoo Salary: $35
As we indicated with Kyler Murray, the Lions simply do not have the bodies to deal with Hopkins this week. Two out of three starting corners are out and their best safety is losing snaps to a guy that looks completely lost in coverage right now. Given Hopkins's target share in Arizona's offense right now, I think he has to be in your lineups as he has crazy upside here in week three… even at his position-leading salary.
Kenny Golladay
DraftKings Salary: $6,400 | FanDuel Salary: $7,500 | Yahoo Salary: $21
The Lions are itching to get Golladay back in this offense. He gives them a go-to receiver that they simply don't have without him. While both Hockenson and Swift impressed as pass catchers throughout camp, it was Golladay that was consistently described as being impossible to cover.
We expect to see Peterson on Golladay a good deal this Sunday which is not a great look for the Cardinals. Peterson is currently surrendering an 80% catch rate and has earned a sub-50 coverage grade from PFF through two weeks. Again, that was against San Francisco and Washington receivers.
Anthony Miller
DraftKings Salary: $4,900 | FanDuel Salary: $5,500 | Yahoo Salary: $19
Anthony Miller was our number one sleeper heading into the 2020 season, and looked great in week one. Week two was a much more conservative game plan for the Bears as they got up 17 early and were able to run out the clock with no Barkley in the game for the Giants.
Miller should clearly have a massive role here in week three as the Bears face a Falcons offense that looks unstoppable right now. On the defensive side of the ball, Atlanta starts Darqueze Dennard in the slot and it has been a nightmare of a start for him. Through two weeks, Dennard is allowing 2.13 yards per route covered and an over 80% catch rate.
Justin Jefferson
DraftKings Salary: $4,200 | FanDuel Salary: $4,900 | Yahoo Salary: $10
Another receiver with around a 50% snap count but a massive advantage in the slot this week is Justin Jefferson. Jefferson will be matched up with the Titans' Chris Jackson who is PFF's lowest graded corner through two weeks. Jackson has allowed 1.8 yards per route covered through the first two weeks and has a coverage grade of just 27!
Jefferson has not played a major role in the Vikings offense to date, but we think that changes in week three. Jefferson caught three of three targets last week while Thielen and Johnson combined to catch 4 of 11 targets. Jefferson has earned more targets and clearly has the matchup to target here for the Vikings.

FanDuel and DraftKings Week 3 TE Picks
Hayden Hurst
DraftKings Salary: $5,400 | FanDuel Salary: $5,700 | Yahoo Salary: $18
We are going to the well one more time here with Hayden Hurst. We wrote in our 2020 tight end sleepers article that we though Hurst would finish as a top five tight end this season. His price still does not reflect that and we have seen the Bears give up big weeks to both TJ Hockenson and Evan Engram already this season.
Sure he can't cover an onside kick, but he can move, catch, and plays in a Dirk Koetter system that utilizes the tight end position as much as any in the NFL. If Julio is out or limited Hurst would become an absolute lock here in week three.
Chris Herndon
DraftKings Salary: $3,400 | FanDuel Salary: $5,000 | Yahoo Salary: $10
Herndon should have relatively low ownership here in week three as the Colts are only allowing 0.3 fantasy PPG to opposing tight ends through two weeks. That being said, they gave up the fifth most to opposing tight ends in 2019, and their 2020 numbers to date are more of a reflection on the teams they have played.
Herndon will have to show up for the Jets on Sunday as all three starting wide receivers currently carry injury designations and two are unlikely to be back for week three. Additionally, the Jets will still be without Le'Veon Bell, opening up even more opportunities for Herndon in the short passing game.
| Contest | Entries | Max | Overlay | Payout |
| --- | --- | --- | --- | --- |
| DraftKings Millionaire Maker | 25,551 | 251,470 | 90% | $4.25 million |
| FanDuel Sunday Million | 87,823 | 737,344 | 85% | $3 million |
| Yahoo Baller | 2,854 | 22,715 | 94% | $350,000 |
| SuperDraft Red Zone | 1,416 | 7,250 | 90% | $125,000 |
[SSB]
Subscribe to Get Next Week's Picks by Email!
Join our nearly 55,000 subscribers and have our week four picks sent direct to your inbox next week. It's free, we never spam and you can unsubscribe any time!