For the second straight week, we identified the winning stack for both the Sunday Million and Millionaire Maker in last week's article. While our optimal lineup more than tripled-up for the week, the results should have been considerably better.
Neither of our bargain plays (Denzel Mims and Josh Reynolds) was able to reach value and Kareem Hunt was a massive disappointment in a great matchup. Here is a look at the winning lineup from a week ago, which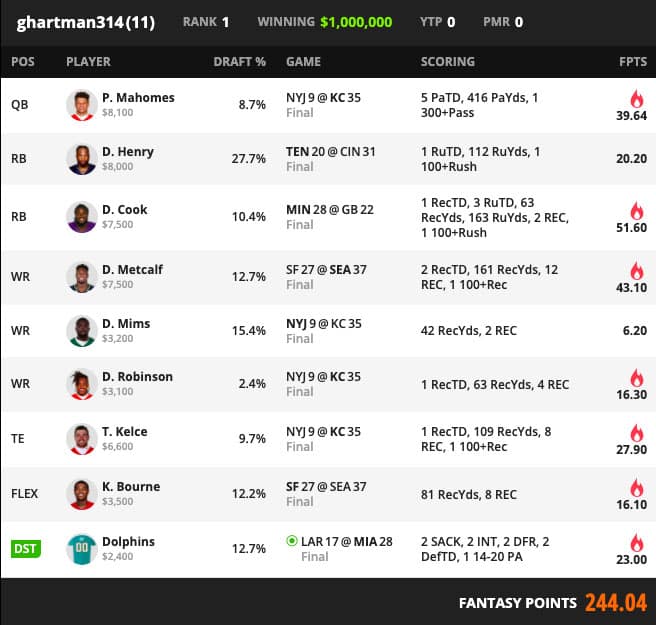 Looking forward to this week's slate, let's start with implied totals and weather. There are four teams with an implied total above 26 for this week, the Chiefs (32), Seahawks (29), Steelers (28), and Texans (28). As far as weather is concerned, there are virtually no bad weather games in the forecast as of right now. The Jags/Texans game is the only game forecasted to have any chance of rain, but at 20%, it does not appear to be too much of a threat.
It is worth noting that Vegas pulled the Lions/Vikings line after Stafford hit the Covid reserve list. Both teams were projected to score over 26 points in that one and we have had a lot of questions about whether or not we thought it was possible to fade Dalvin Cook this week given his performance last week and the matchup with Detroit this week.
You absolutely can make an argument here as the Lions defense has been considerably better over the past month. In fact, they are allowing a league-low 2.8 YPC over their past three games. It is also worth pointing out the Cook has only one career 100 yard game against Detroit.
The real play in this one would have been a Stafford/Jones/Amendola stack. The Vikings have been bad against the pass all season, but have allowed an absurd 117 opponent QBR over their past three games. If Stafford comes off the reserve list (has not tested positive), he is worth a look in DFS given his low ownership projection and high-upside in a great matchup and must-win spot for the Lions. The Vikings are starting 3 of the 8 lowest-graded corners in the NFL this week.
As we have for the past few weeks, we are going to narrow in on a shortlist of potential stacks for week nine, focusing on at least one QB/WR combination with either a WR or RB from the opponent. Here are the stacks we have locked in on for our lineups this week:
Kirk Cousins / Justin Jefferson / Adam Thielen / Marvin Jones
Deshaun Watson / Will Fuller / Brandin Cooks / Laviska Shenault
Nick Foles / Allen Robinson / Darnell Mooney / AJ Brown
Find out our favorite stack, and the players we are piecing in around it in our optimal lineup for the week nine slate.

NFL Week 9 Optimal Lineup on FanDuel and DraftKings
While we, like you, obviously play multiple lineups each week, we always give out an optimal lineup in each of our articles. Below is our favorite lineup, with additional plays at each position listed below the pick. Let us know who you are starting in the comment section of the article.
Deshaun Watson
DraftKings Salary: $7,100 | FanDuel Salary: $8,300 | Yahoo Salary: $35
Given the fact that the Texans have one of the highest team implied totals this week and that Watson hit 4.5x value in this matchup just a few weeks ago, I expect him to be a fairly popular pick this week. The concern here is that the Jags offense is horrendous without Minshew, but I don't think the dropoff to Luton will be that drastic given the system and the weapons he has around him. The Jags should still be able to put up points on this Texans defense.
Watson is rolling right now, having hit at least 4x value each of the last three weeks, without registering a rushing touchdown over that stretch. I see 4x as his floor here, and if you can get 10 points out of him as a runner it will almost certainly put him over that 5x number.
James Conner
DraftKings Salary: $6,900 | FanDuel Salary: $8,200 | Yahoo Salary: $26
Given the matchup and his recent workload, Conner is the easiest start of the week for us. Conner has averaged over 20 touches per game this season, and 20 touches against this Cowboys defense will net him 30 fantasy points. The Cowboys are giving up over 5 YPC to opposing RB's on the season, but I expect Conner to do even better here as this OL/DL matchup is completely one-sided. The Cowboys are giving up a ridiculous 2.9 yards-before-contact so far this season, and Conner is sixth in the NFL in yards-after-contact averaging 2.5 per carry.
Chase Edmonds
DraftKings Salary: $6,800 | FanDuel Salary: $6,700 | Yahoo Salary: $25
For the second week in a row, we are biting the bullet and going with a chalk RB play here in week nine. This blew up in our face last week as Kareem Hunt was nearly 38% owned in the Millionaire Maker contest, and put up an absolute dud. Even so, if Drake is in fact out this week, we don't see any way Edmonds doesn't get to 25 fantasy points here in week nine. He has gone for 20+ in two of the last three weeks on a combined 8 carries. The reason behind that efficiency is his role in the red zone where his 7 receptions on 7 targets put him second in the league behind only Mike Davis.
Will Fuller
DraftKings Salary: $6,800 | FanDuel Salary: $7,100 | Yahoo Salary: $23
Fuller has always been a tournament-favorite of ours because he is one of the most efficient deep-ball receivers in the NFL. The issue, clearly, has always been his consistency. That is no longer a concern with Hopkins gone, and Fuller has averaged 8 targets per game while scoring in four-straight for the Texans.
As far as the individual matchup is concerned here, the majority of Fuller's routes will come against the Jags weakest corner, Sidney Jones. Jones is giving up 1.8 yards per route covered on the season, which ninth-worst amongst all starting corners. The Jags are also susceptible to the big play, giving up the sixth most big passing plays on the season and the second-highest yards per attempt.
Brandin Cooks
DraftKings Salary: $5,500 | FanDuel Salary: $6,100 | Yahoo Salary: $17
Fuller is not the only deep threat on this Texans roster, and the chemistry between Cooks and Watson seems to be improving each week. Both Cooks and Fuller have been heavily involved over the past three weeks, in fact, Cooks has led the Texans in targets over that run with 30. A stretch that has seen him average just under 23 DraftKings PPG including a 33 point performance against the Jags in week five.
With a combined salary of $19,400, a Watson/Fuller/Cooks stack leaves you plenty of money to fill out your week nine roster.
Laviska Shenault
DraftKings Salary: $4,200 | FanDuel Salary: $5,400 | Yahoo Salary: $16
We actually think the Minshew injury could be a blessing in disguise for Shenault, who clearly should be more involved in this Jags offense. On the season, Shenault has caught 29 of 38 targets, good for a 76.3% catch rate, compared to DJ Chark's 63.4% catch rate. In fact, if you look back over the past two weeks, Chark has caught just 8 of his last 21 targets.
In addition to being more efficient than Chark, Shenault has a far superior matchup here in week nine. The Texans will shadow Chark with Bradley Roby, leaving Shenault to pick on Vernon Hargreaves, who is currently PFF's lowest graded corner in the NFL. Look for the Jags to keep it simple with Luton and target Shenault close to the line of scrimmage and let him do what he does best. Barring some sort of injury, we are giving Shenault a 3x floor this week.
Justin Jefferson
DraftKings Salary: $6,100 | FanDuel Salary: $6,800 | Yahoo Salary: $26
This is essentially the Flex play in our lineup this week and it really came down to two players for us here. We love the other Justin, Justin Jackson this week as well, but think Jefferson has a slightly higher upside in this matchup with Detroit. If you believe Cousins is in line to have a big game, Jefferson will be as well. Looking back over the Vikings game log, any big performance from Cousins has come hand-in-hand with a big game from Jefferson.
The draw for us to Jefferson over Thielen is the Lions scheme. Jefferson is a man-beating machine and nobody plays more man coverage or worse man coverage than the Detroit Lions. We expect double-digit targets and a huge game for him here, and his ownership will likely not be too high given his low-floor and high price tag across all platforms.
Hunter Henry
DraftKings Salary: $4,000 | FanDuel Salary: $5,600 | Yahoo Salary: $17
While we love data and lean on it heavily when putting together our weekly picks, the numbers can often lie. The Raiders enter this week as the 14th best defense against tight ends, but I think an argument could be made for them as the worst in the league. They have only faced two legit pass-catching tight ends on the season, and it has been ugly both times. Gronk put up 56/62/1 and Kelce put up 8/108/1. Neither Raiders safety (Erik Harris or Johnathan Abram) cracks the top 78 (out of 85) in PFF's coverage grade.
We know Henry is talented, but he is yet to have a big game for the Chargers this season, and really has not clicked with rookie Justin Herbert the way you would expect. We expect that to change this week and love him at a $4,000 price tag on DraftKings.
Each season we give out a few all-in weeks. Historically these lineups do extremely well in both GPP and cash games. We were yet to give an all-in grade on a slate this season, but are doing so here in week nine as we absolutely love our optimal lineup here.
[SSB]
Subscribe to Receive Our Picks to Your Inbox!
Join over 55,000 subscribers and receive our weekly picks, direct to your inbox. We never spam and only send one email per week.