With the first round of the NFL Draft just over one month away, this represents the last chance for sports bettors to get in on NFL action prior to the league start date in September. We will track what types of bets are available on what sportsbooks, to determine which sportsbook deserves your action in April.
We will update everything from types of bets available to best bets on the board on a daily basis leading up to the 2021 NFL Draft. Bookmark this page, or subscribe to our newsletter, to get updates as new value bets hit the board.
Best Selection of 2021 NFL Draft Odds
The current leader in NFL Draft odds has to be PointsBet. They not only offer the widest variety of bets available but the most player-friendly juice for each bet. Here is a rundown of the current 2021 NFL Draft bets available at PointsBet:
First Overall Pick – Trevor Lawrence is clearly free money on this bet, albeit very little money. At the moment, you would need to place a $10,000 bet to win just $100 on Lawrence being the top pick. Most of these draft bets have limits, so it's unlikely you can place a bet large enough to win any substantial money on Lawrence.
Second Overall Pick – This is where the draft actually gets started. At the moment, Zach Wilson is the odds-on-favorite to go second overall at -350. However, if the Jets keep the pick, and keep Darnold, you can find value with any of the non-QB players here. Jamarr Chase (+2500) is our play for this bet… if the Jets decide to give Darnold another year he is going to need some weapons and with Perriman leaving there is an opening on the outside to go with Mims and Crowder.
First Player Picked by Position – PointsBet is currently offering first RB, WR, OL, DL, LB, CB, S bets. That is essentially every available position, but they may add a second QB picked and a possible second OL picked given how heavily-favorited Lawrence and Sewell currently are.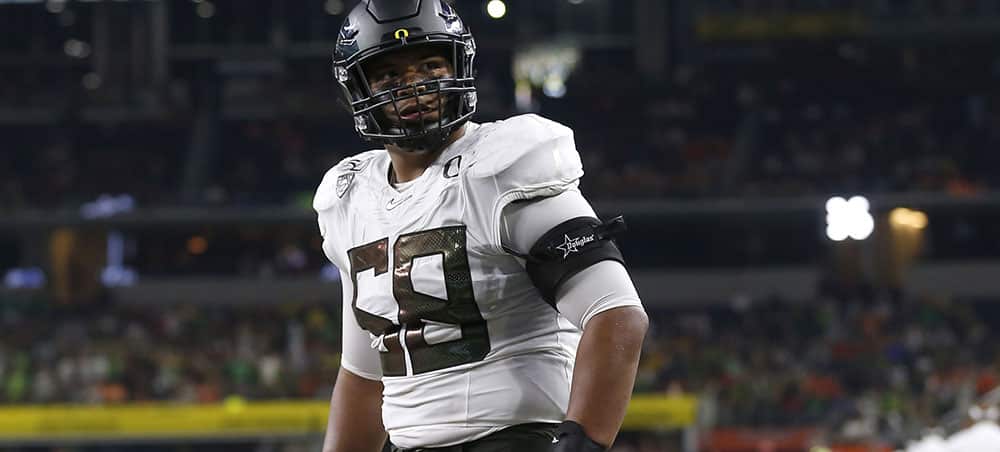 Additional SportsBooks with 2021 NFL Draft Odds
Our runner-up for best Draft odds selection has to be DraftKings. At the moment, DraftKings is offering the same betting menu you can find at PointsBet just at a slightly higher price for the majority of the available bets.
Additionally, DraftKings is available in an additional six states that PointsBet currently does not operate in. With that in mind, if you are located in a state with legal betting, but no PointsBet, DraftKings is the book for you.
Beyond DraftKings and PointsBet, NFL Draft odds can already be found at William Hill, FanDuel, BetMGM, and Unibet. As always, it is worth shopping any potential bet to ensure you are getting the best odds and paying the lowest juice. This is particularly true for betting events like the NFL Draft.
If a sportsbook takes a large bet on a particular player, they will adjust the juice for everyone else on the board. This creates a ton of variance from one book to another on the same bet. On some occasions, these differences can be +100 odds or more.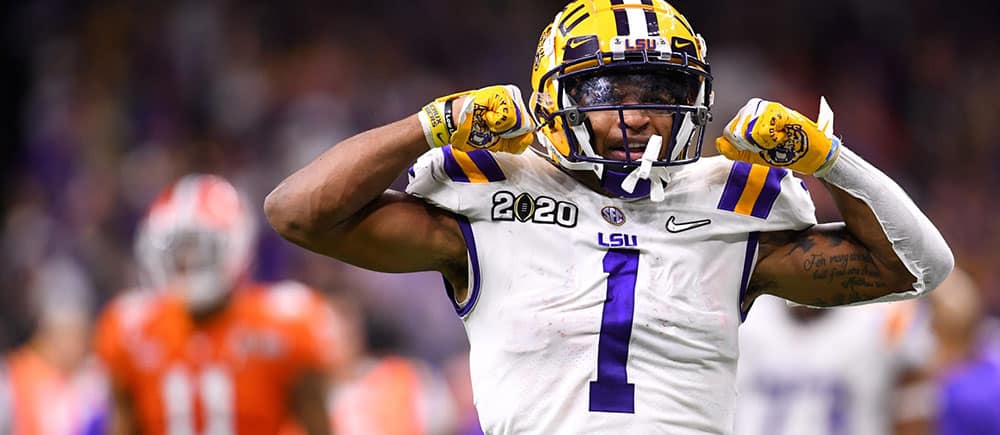 Our Favorite Bet for the 2021 NFL Draft
Our favorite bet for the 2021 NFL Draft will remain Ja'Marr Chase going second overall at +2500 ($20 bet pays out $520). Unless the Jets move Darnold or the pick prior to the start of the draft, Chase has to be the top bet on the board.
The Jets view themselves as relatively set at tackle with Becton at LT and Fant at RT. Chris Herndon remains on the roster and the team added Tyler Kroft this offseason. The remaining needs on the offensive side of the ball include interior offensive line help (too early) and another wide receiver to play alongside Denzel Mims, Jamison Crowder, and Keenan Cole.
As far as the pick is concerned, it would be a home run. We see Chase as the best WR prospect since Julio Jones. A former five-star recruit, Chase had 1,780 yards and 20 touchdowns while averaging over 20 YPC in his last year at LSU. Dwarfing the numbers put up by last season's offensive rookie of the year Justin Jefferson.