We've been fortunate enough to try out and write a comprehensive Betfred review, and the experience has been quite positive. We found that the website was user-friendly, and it was easy to navigate our way around. The bet slip feature was a pleasant surprise as it allowed us to quickly place multiple bets. Overall, the betting options are plentiful, and the payouts are impressive. We think you'll like the range of sports you can bet on, as well as the variety of available markets. 
The Bonuses keep coming at Betfred.
Regarding sports betting, all sports bettors love a great welcome bonus. Whether it's in the form of a deposit match or bonus bets, Betfred delivers. New customers can take advantage of a bet of $50 and get a $111 welcome bonus simply by registering with them and making their first bet of at least $10.
Not only will new Betfred customers get that Betfred bonus when they sign up, but they'll also get up to $200 per week!
Does that sound impossible? Well, it's not. Sure, the Betfred welcome offer is one of the best in the industry, but that's what they're doing.
The $200 per week is paid back in bonus bets on losses for the first five weeks of betting. That means that you can get up to $200 per week back in bonus bets for five weeks.
Betfred also has a range of other great promotions and bonuses. For example, they offer cashback on horse racing multiples if one leg fails, enhanced odds specials for big events like the NFL or Premier League matches, and free bets on select sportsbook markets. They're always doing something for their fanbase.
So we've got to hand it to the Betfred sportsbook. They're doing a great job keeping their loyal customers happy with some of the best bonuses in the industry. It's worth checking out their promotions page to see what's available once you're a customer.
All of the major sports and some.
We enjoyed their plethora of sports and markets when we played on the Betfred mobile app. You can bet on American Football, baseball, basketball, cricket, golf, horse racing, soccer, tennis… you name it! Betfred has got it covered. They offer a wide selection of international sports and leagues to bet on and some lesser-known events from around the world.
NFL sports betting.
We're big fans of betting on NFL games. Sometimes we like to bet on a certain team; other times, we're more interested in prop bets and the point spread. Betfred is great for both types of football betting. You'll find an extensive selection of markets for NFL games, including pre-game spreads, totals, alternate lines, and more. They have lines for all 18 weeks of the regular season, plus playoff games and the Super Bowl.
MLB sports betting.
Sure, it's not as popular as the NFL, but Betfred still has a great selection of MLB markets. With the season so long, there are plenty of opportunities to make money here. We especially liked the live betting options, which allow you to bet on games already in progress.
NBA sports betting.
Whether you're a fan of the NBA or just looking for extra action, Betfred has you covered. They have plenty of pre-game and live lines for all regular season games, plus the playoffs and Finals. You can find everything from point spreads and moneylines to player props, game props, and more. Ever placed a futures bet? Betfred has them, and if you think the Denver Nuggets will win it all again next season, you can bet on them here.
NHL sports betting.
From the regular season to the Stanley Cup Finals, Betfred has you covered. No matter your betting style, you'll find something that fits here. They offer all games' pre-game lines, prop bets, and alternate lines. Live in-play betting is also available on most games. When we were testing the Betfred app, we bet on this the most. We're massive hockey fans around the office.
You can bet on everything else.
While most Betfred users will jump into betting on the big four leagues, remember that the sportsbook also has plenty of options for other sports. Not only will you find lines for college football and basketball, but you'll also be able to bet on boxing, MMA, virtual sports, rugby, darts, and more. They don't have as much selection as Betway, but they're still better than most online sportsbooks.
What types of bets does the Betfred Sportsbook offer?
If you can imagine it, they probably offer it. Betfred Sportsbook offers pre-game, live, and prop bets on various sports, including football, basketball, boxing, MMA, rugby, darts, and more.
We've compiled a brief list of all the bet types we came across while testing out the Betfred Sportsbook.
Straight bets. These types of bets involve picking a single bet. It might be a prop, moneyline, or even a spread, but it's a single bet nonetheless. An example would be betting on a team to win the tournament outright.
Parlays. Parlays involve combining two or more bets into a single bet. In essence, it's the opposite of a straight bet. For example, you could combine three moneyline bets into one parlay. The odds of winning all three bets are much lower than if you had bet on each individually, but obviously, the payout is higher. Remember, more risks and more rewards when it comes to gambling.
Moneyline bets. These types of bets involve picking a straight-up winner. Whether you're betting on a football game or a boxing match, moneyline bets have the same basic premise – who will win? The payout is dependent on the odds of the game or match. For example, if you're betting on an NFL game, the favorite might be -100, while the underdog is +100. If you bet on the favorite to win, and they do, your payout will be less than if you had backed the underdog.
Round-robin bets. Round-robin bets are parlay bets that combine three or more teams into one bet to get at least two results correct. For example, if you had three teams and wanted to make a round-robin bet, you would have eight separate bets: three singles, three doubles, and two trebles.
Point spread bets. Similar to the moneyline bet, point spread bets involve betting on the winner of a game or match. However, with this type of bet, you're also considering the points differential between the two teams. For example, if Tampa Bay Rays are favored to beat the New York Yankees, they may have a -5 point spread. That means that for your bet to be a winner, The Rays must win the game and cover the spread by five or more points.
Prop bets. Prop bets involve betting on specific outcomes that don't necessarily relate to the overall result of a game or match. For example, you might bet on how many field goals a particular player will score in a game or which team will get the most penalty minutes. These types of bets add extra excitement to your sports betting experience.
Futures bets. Futures bets are long-term wagers on who'll win a tournament or competition (like the Super Bowl or World Series). You're essentially betting on the outcome before it's even been decided. As a result, these types of bets often have very lucrative payouts.
Live betting. Live betting is when you bet on games while they're in progress. This type of sports betting has become increasingly popular in recent years because it's so exciting and dynamic. Live bets could include wagering on the game outcome with odds that are continuously moving throughout the game or on a proposition bet, such as which team will score first.
There are more than these types of bets, but these are the most common. You can even take your Betfred bonus code and use it on any of these bets for extra value. Betfred most likely has it ready for you, regardless of your betting style.
Betfred's app is crisp, clean, and easy to navigate.

Whenever we review a sportsbook, we look at its mobile app. And in this Betfred sportsbook review, it's no exception. We were impressed with the Betfred app and how easily they make online sports betting. The interface is crisp and clean, making finding what you're looking for easy. Plus, they've ensured that all of their lines are up-to-date so you can confidently make bets on the go.
From the Betfred app, users can manage their accounts, make deposits and withdrawals, check their betting history, add bonus codes, and place bets on the go. All in all, Betfred's app is one of the best in the business.
There were a few glitches with the app but nothing we couldn't overcome. For example, when we tried to deposit funds with PayPal, we kept getting an error about the security code. We're unsure if that is from PayPal or an issue with the Betfred app. Either way, it was annoying. However, it cleared up shortly after, and we could deposit without issue.
Another issue we had, which is common for most online sportsbooks, is that Betfred has a separate app for each betting market. So if you're in Arizona, you'll need to download the Betfred Arizona app; if you're in New Jersey, you'll need to download the Betfred Colorado app. It's an unfortunate side effect of sports betting being so state-specific, but it's not something we can hold against them.
All-in-all, our experience with the Betfred Sportsbook is overwhelmingly positive. From their array of bet types to their easy-to-use mobile app, they offer everything you need for a great sports betting experience. Plus, with their Betfred bonus code, you can get even more value from your bets.
What customers are saying about Betfred?
We've thoroughly tested the online sportsbook, but we also like to see what customers say about the platform. So we took to the app reviews on the Apple App Store and Google Play to understand what people think about Betfred.
Overall, customer reviews for the Betfred app are overwhelmingly positive. Most customers appreciate how easy it is to navigate and use and the fact that they offer a wide array of betting lines. Customers also like the bonus offers, which can be used with the Betfred bonus code on any bet type.
The only real complaints were one-off issues, such as a bonus not going through. Fortunately, these types of problems can be quickly resolved with the Betfred customer service team.
On Google Play, the Betfred Arizona app received 3.7/5 stars, while the Betfred Ohio app received 4.1/5 stars. Those are relatively decent numbers for an online gambling platform. This tells us that their mobile betting app is doing well, and customers are mostly happy with their experience.
Betfred customer service.
One area we like to check out with any online sports betting platform or even an online casino is how their customer service is. So we hopped over to the Betfred website to check out their customer support options.
Actually, we were blown away by the options. Betfred offers email, phone, text messaging, and a live chat feature for customers in all states. That's nearly unheard of.
Sure, we'll see a sportsbook with 2 or 3 options, but we haven't seen any offering text messaging or SMS support.
While they surprised us with their support options, we wanted to see how well they worked. So we decided to call them and see how quickly we could get a response. We connected with an agent relatively quickly, and he could answer our questions promptly. We waited around 90 seconds to get an agent on the line, which isn't too bad.
Overall, we were impressed with the Betfred support team. They had all the options you could hope for in a sportsbook and answered our questions quickly and accurately. This is another area where they set themselves apart from their competition.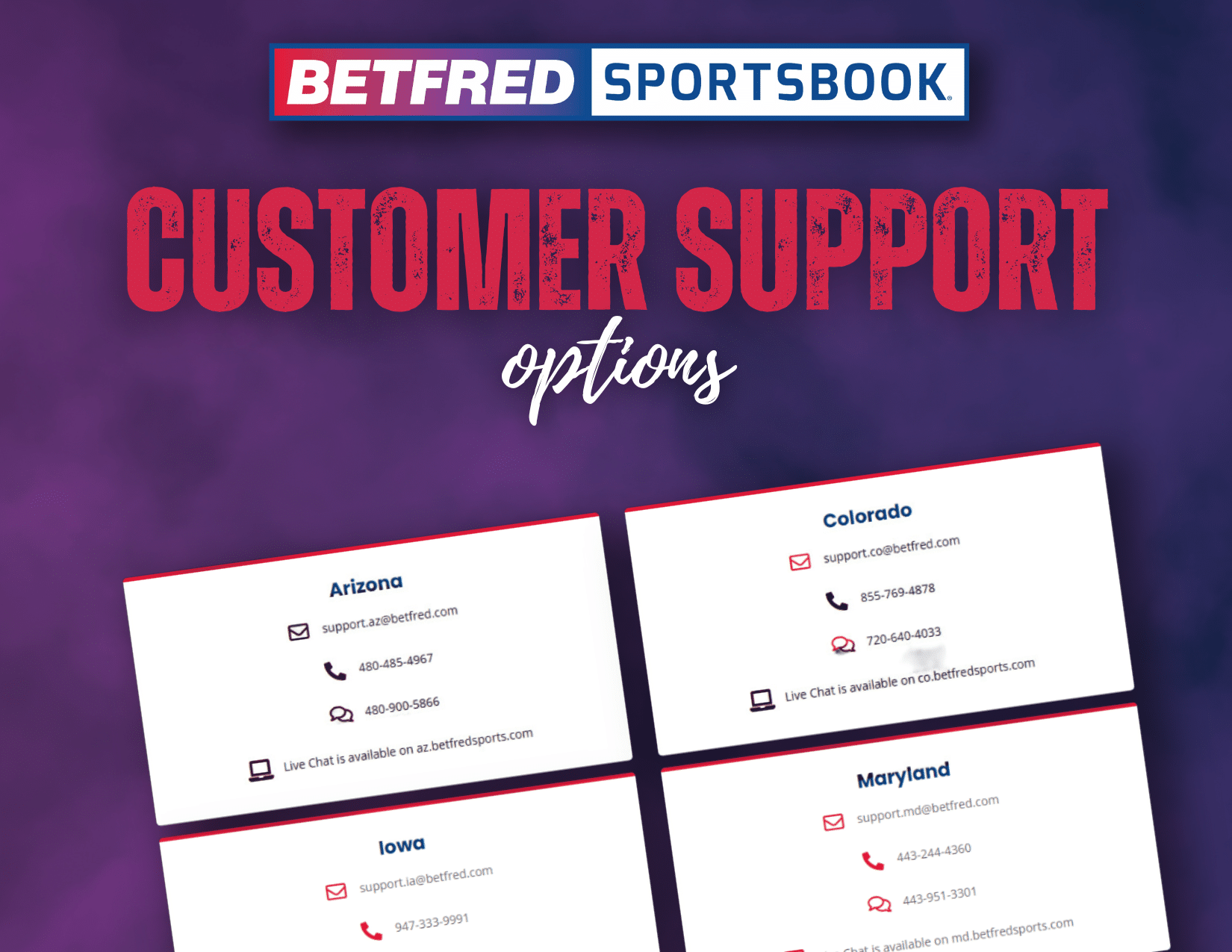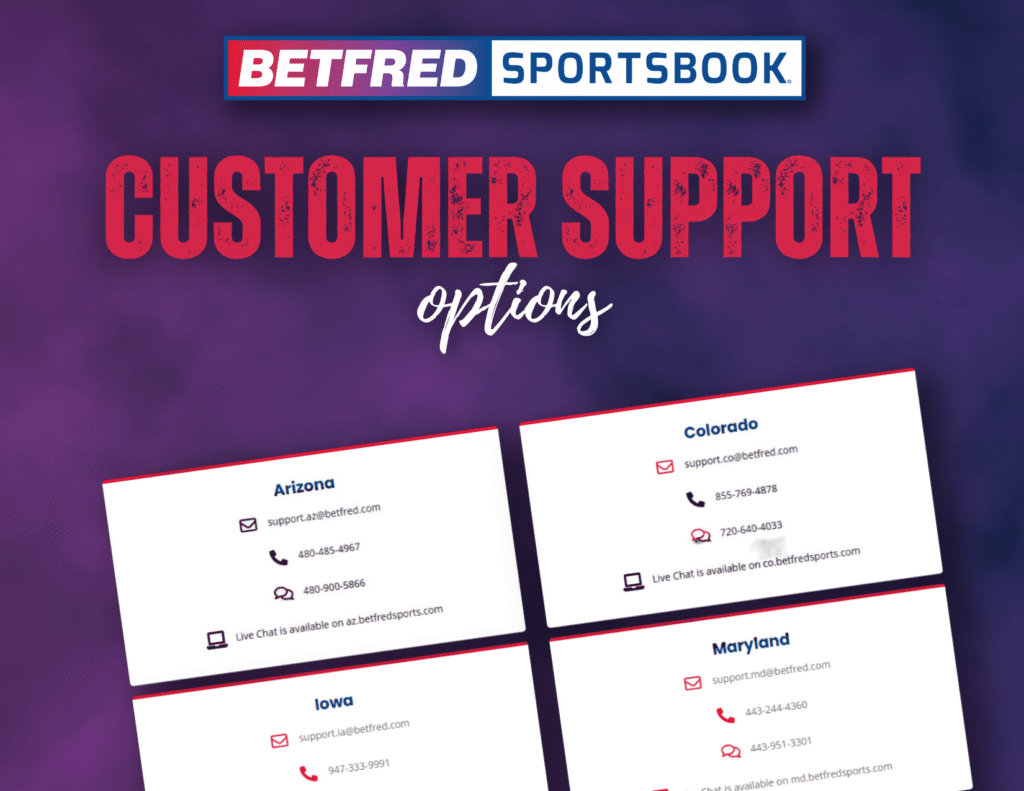 Four tips to make the most of Betfred.
Our experts have seen it all when it comes to sports betting. Whether it's online or in-person, there are specific strategies you can use to give yourself an edge. Here are four tips for making the most out of Betfred Sportsbook.
Take advantage of bonus codes. Betfred offers a wide array of bonus codes that you can use to get more value out of your bets. Whether it's free bets, deposit bonuses, or even cashback offers, Betfred has something for every type of customer. Be sure to use the Betfred promo code when signing up to get the Fred bets and other promotions.
Bet on the underdog. Many novice bettors fall into the trap of betting on their favorite teams all the time. While this might make you money in the short run, it's not a sustainable approach. You can give yourself an edge by betting on underdogs, especially in games that are not getting a lot of attention.
Do your homework. This advice applies to any type of sports betting. Before you place a bet, make sure to do your research on the teams and players involved in the match. The more information you have, the better decision you can make when it comes to placing bets.
Place in-play bets. In-play betting is when you place a bet while the match progresses. This type of betting can add excitement to sports betting, and Betfred Sportsbook offers this option. Often if you've done your homework, you may be able to spot a betting opportunity in the middle of a match that you wouldn't have seen beforehand.
These nuggets of wisdom apply to any type of sports betting, and Betfred Sportsbook is no exception. With these tips in mind, you'll be well on your way to success in sports betting.
Betfred Sportsbook FAQ.
We get questions all the time from our readers about Betfred Sportsbook. So we compiled a list of the most common questions and their answers to make things easier for you.
Is Betfred legit?
Yes, Betfred is legit. They started primarily in the UK, where they follow the regulations set forth by the UK Gambling Commission, but now that they're in the United States, they abide by each state's laws.
What states does Betfred operate in?
Betfred operates in Arizona, Colorado, Iowa, Louisiana, Maryland, Nevada, Ohio, Pennsylvania, Virginia, and Washington. Since they're relatively new to the US sports betting markets and new live betting markets open yearly, we think they could be in more states soon.
Do they have a mobile app?
Yes, Betfred does have a mobile app available on both the Apple App Store and Google Play Store. The app is easy to use and has all the features you need for online sports betting. Remember that each state has its app, so download the correct one.
What payment methods does Betfred accept?
Betfred accepts various payment methods, including debit and credit cards, bank transfers, e-wallets like PayPal and Skrill, and prepaid cash vouchers.
What is the Betfred bonus code?
You don't need a bonus code to take advantage of BetFred's latest offer. Just head over to the Betfred Sports site and sign up. Once you sign up, make a minimum deposit, and make an initial wager, Betfred will credit your account $111. It's not a risk-free bet, but it's pretty close to one!
How long do withdrawals take from Betfred?
Betfred processes all withdrawals through standard security checks, which might take up to two working days. Once processed, the time it takes to receive your funds depends on the withdrawal method. E-wallets typically have shorter wait times, while a bank transfer can take several business days. During our testing, our withdrawal took around 18 hours.
Does Betfred have retail sportsbooks?
Of course! They have over 1,600 betting shops across the UK and a single betting shop in Black Hawk, CO, and at the Grand Falls Casino in Larchwood, IA. Each retail sportsbook Betfred operates is pretty classy, with several massive TV screens showing live games and all of the odds.
How are Betfred's odds?
We compared Betfred's odds to those at other sportsbooks and Odds Shark. We found they have relatively competitive odds compared to other sports betting sites. We were especially impressed with their live odds and in-play betting options, some of the best we've seen.
Does Betfred have casino games?
They do; however, we just focused on their sports betting side of the house for this review.
Summary of our Betfred Sportsbook Review.
After thoroughly reviewing Betfred Sportsbook, we can confidently say that they provide an excellent sports betting experience. From their extensive range of betting markets to their competitive odds, bonus codes, and odds boosts, there's a lot to love about this sportsbook. The customer service is top-notch, and the mobile app is easy to use and intuitive. Overall, Betfred Sportsbook is an excellent option for anyone living in the states they operate in.
It's tough to find too much negative to say about this sportsbook other than we wish it was in more US markets. It's great that they participate in markets worldwide, but it would be nice if they had a larger footprint in the US. We think Betfred is an excellent sportsbook, and we will give them 4.9 out of 5.0. That's a near-perfect rating and one of the best we've seen! So if you're looking for a quality sportsbook, place your first wager at Betfred.
Updated September 1, 2023

| Review | Current Betfred Online Sportsbook Review |
| --- | --- |
| Summary | Betfred Sportsbook is an excellent sports betting option for customers in the United States. They provide various betting markets, competitive odds, bonus codes, and odds boosts to give customers an edge. Overall, we're giving them a 4.9 out of 5.0, and we're confident you'll be satisfied with your experience if you bet at Betfred Sportsbook. |
| Author | Matt Brown |
| Reviewed By | Mike Noblin |
| Rating | 4.9 (out of 5) |