'Four Sure' CFB Week 9 Player Prop Picks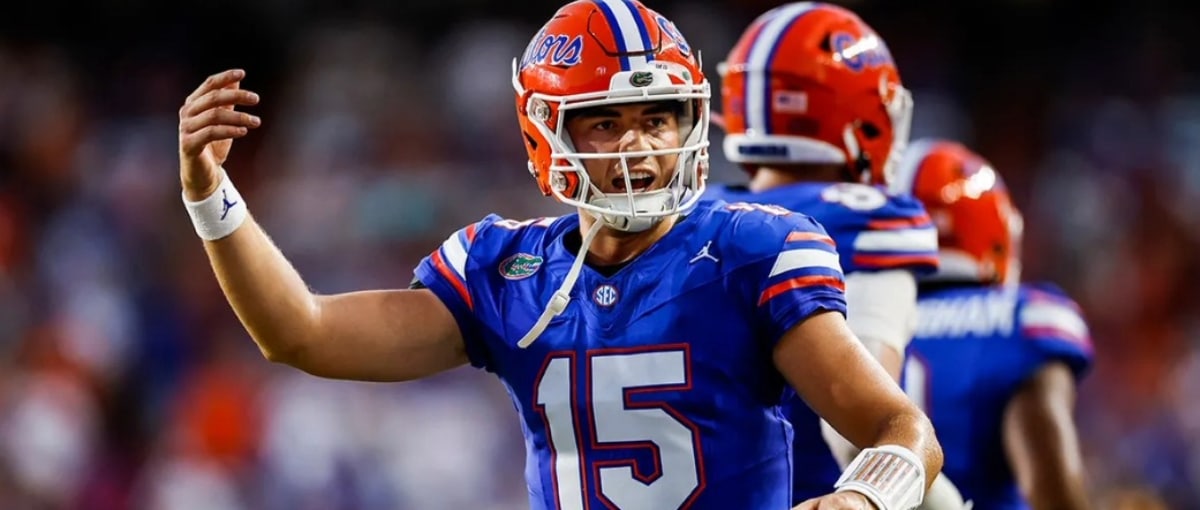 With more than half the season already in the books, bettors can now pick through college football's player prop picks and have significant data to back those wagers.
Week 9 of the college football season is no different as several oddsmakers discount players and their performances to bettors' delight.
Over the last three weeks, readers of this author's articles would have correctly selected over 80% of their bets. So who are the "four sure" players savvy bettors will be selecting this week? Find out below.
Jason Bean (KU) OVER 209.5 Passing Yards
This could be the last week Jayhawk fans see QB Jason Bean start under center this season. The senior signal caller was called into duty when dynamic starting QB Jalon Daniels was injured for a second time this season, and Bean has tossed nine TDs and 913 yards along with completing 65% of his passes in parts of five games.
Against Oklahoma and with a week off to prepare, expect Bean to surpass the 209.5 passing mark needed to win this bet. In five of the Sooners' seven games, Oklahoma has surrendered at least 210 yards total to one or multiple QBs.
While Kansas prefers to run, the Jayhawks will lean on Bean's arm to move the ball down the field against the Sooners.
C.J. Donaldson Jr. (WVU) OVER 54.5 Rushing Yards
Mountaineer RB C.J. Donaldson Jr. originally was hyped as WVU's strongest offensive player heading into the season before QB Garrett Greene emerged as the offense's star.
Through seven games, Donaldson has rushed for 453 yards on 116 carries, scurrying through defenses for six TDs in the process.
Donaldson should easily eclipse 55 rushing yards against the Knights, a mark the WVU runner has surpassed in five of this season's seven contests. UCF has surrendered over 255 rushing yards per outing in the Knights' last four contests. Expect WVU's stable of RBs to feast on UCF's porous run defense on Saturday.
Graham Mertz (FLA) OVER 194.5 Passing Yards
Florida has found a capable QB in Graham Mertz – the former Wisconsin starter. In his seven outings for the Gators, Mertz completed an astonishing 76% of his passes and averaged 271 passing yards. Mertz has also tossed 12 TDs for Florida in 2023.
Georgia's defense is the reason bettors will hesitate to select Mertz's over total. The Bulldogs have allowed an insanely low 171 passing yards per outing this season. But those totals are deflated by anemic aerial attacks that Auburn, Kentucky, and UT Martin deployed, tossing for 344 combined yards in those three games.
Smart bettors take the over in this bet because decent QBs have found some success against Georgia's defense this season. Passers like South Carolina's Spencer Rattler and UAB's Jacob Zeno both threw for more than 250 yards in losses to the Bulldogs. At the very worst, bettors can expect the same out of Mertz this weekend.
Audric Estime (ND) OVER 95.5 Rushing Yards
Even with future pro-QB Sam Hartman helming the Notre Dame offense, RB Audric Estime has flourished in the Fighting Irish's offense this season. Estime has 127 carries for 787 yards and nine rushing TDs for Notre Dame. The New York native also has caught 11 passes for 93 yards in 2023.
The Fighting Irish's opponent this weekend – the Pitt Panthers – has been less consistent defensively this year, especially against the rush. The Panthers have yielded 894 rushing yards in seven games, a deceiving statistic as pass-first teams like Louisville and North Carolina have carved up the defense through the air with limited running yards.
Teams have found success against Pittsburgh on the ground, too. Cincinnati and Wake Forest – two close losses for the Panthers – rushed for a combined 388 yards at over 4.6 yards per rush. Expect Estime to experience similar luck in the Fighting Irish home contest on Saturday.

Sports Betting Contributor
Ernie is a 25-year veteran of the newspaper industry. He spent those early years working as a sports reporter and editor, but made the move back to the digital world in 2022. Ernie covers college football and NFL betting for Hello Rookie.