TicketNetwork Tickets and Promos
Are you looking to book tickets for your next live event? If so, TicketNetwork is a great option. It offers an easy-to-use website and app, secure payments, a 100% money-back guarantee, and an impressive selection of tickets for concerts and sporting events. Plus, it has recently improved its customer service following some negative reviews from the app store. So if you're looking for a site to find some great seats that won't disappoint you, then TicketNetwork is worth considering.
It's a Network of Ticket Sales
TicketNetwork is an excellent source for connecting to live entertainment. It features tickets to more than 100,000 events worldwide, all listed by professional ticket-selling companies and trusted ticket sellers.
One thing we love the most about TicketNetwork is that every purchase comes with a 100% money-back guarantee. This gives fans peace of mind when they're purchasing tickets to live events.
Leader in Tickets
TicketNetwork Inc., its parent company, is a leader in the ticketing industry. Founded in 2002, it has an online exchange with $5.5 billion worth of ticket inventory. That's a lot of tickets!
Through its flagship product, the TicketNetwork point-of-sale, and other innovative solutions, buyers and sellers can connect to thousands of events around the world.
Honestly, after trying it out for a few sports events, we can't complain. The process was seamless and our tickets arrived on time, just as promised.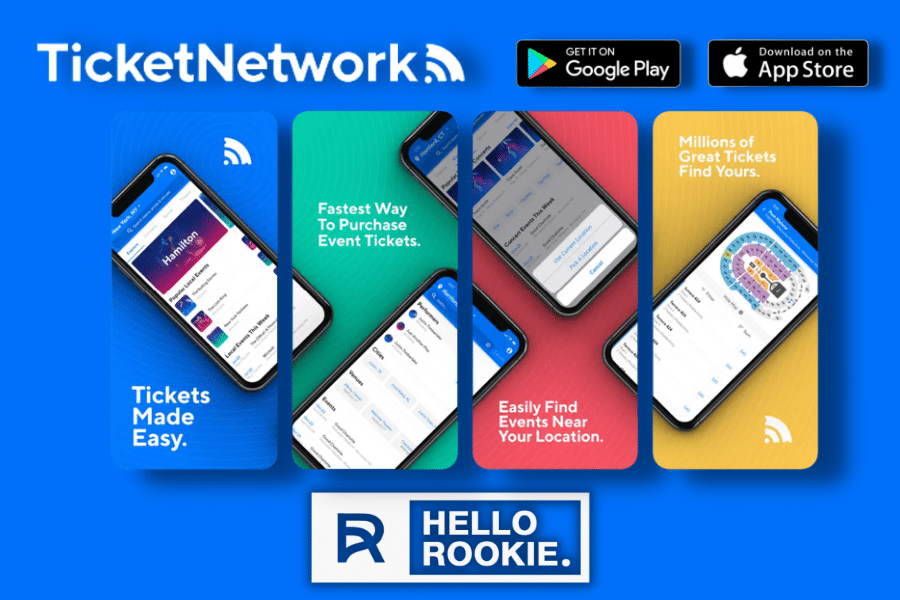 We Downloaded the TicketNetwork Mobile App
We downloaded the TicketNetwork Mobile App, and it's great. It allows you to search for events near you, purchase tickets on the go, access your ticket account from anywhere, and get easy access to special promos and discounts.
Until recently, their app was clunky and not very intuitive, but the new TicketNetwork app is much more user-friendly. We purchased tickets with just a few taps of the screen.
It's worth noting that we also have a TicketMaster account and compared the two, and we found that both provide valid tickets, but purchasing mobile tickets on the TicketNetwork app was much more convenient. Not that TicketMaster was such a bad experience, it's just that TicketNetwork has a more user-friendly app when it comes time to book tickets.
What customer reviews say about the app.
Something we like to do when we do a review of any ticketing platform is to read what their users have written about the service. We looked at a few reviews from customers who had used TicketNetwork, and for the most part, they were very positive.
On the Android Play Store, TicketNetwork has a 3.6-star rating, which isn't bad considering most of the time, reviews are inherently negative. On the Apple App Store, the average review comes in at 3.7 stars.
Customer support blamed for the bad reviews.
Most of the negative reviews were about poor customer service. It seems that several users were offered not a refund, but instead reminded that all sales are final except in the event of a canceled event.
However, most of the positive reviews were around the money they saved, the protection of their data, the venue selection, and ease of use when finding seats.
TicketNetwork is Offering Instant Access to Tons of Events!
Something we can't say enough about the TicketNetwork site is the sheer number of events they have to offer. With a few taps on your phone, you can find tickets for concerts, sports games, theater shows, and more. Not just that, but their prices are competitive to others.
Buy Tickets for all Sporting Events
Since we're sports fanatics here at HelloRookie of course we had to check out a couple games using this app and we must say, we loved the selection.
NFL
When it comes to NFL games, TicketNetwork has tickets to all of the teams and stadiums, including the New Orleans Saints, Houston Texans, Denver Broncos, San Diego Chargers, and more.
We were able to pick up two tickets to the Chiefs vs Jaguars game at Arrowhead stadium and they weren't very expensive tickets at all.
MLB
If you're looking for Major League Baseball tickets, TicketNetwork has tickets to all your favorite teams like the Los Angeles Dodgers, Boston Red Sox, Chicago Cubs, and much more.
If you want to see Max Scherzer throw some heat or watch Clayton Kershaw strike out the side, TicketNetwork has you covered.
NBA
With the NBA season in full swing, fans all around the nation are clamoring to see their favorite teams play. TicketNetwork has tickets to all of your favorite NBA franchises like the Golden State Warriors, Cleveland Cavaliers, Los Angeles Lakers, and the other 27 teams in the league. They offer tickets from the general admission seats to the VIP rows. You'll catch all of the action for the best prices.
NHL
For those that love hockey, TicketNetwork has you covered as well. If you want to see the Chicago Blackhawks, Detroit Red Wings, or Vegas Golden Knights play live, then you can get your tickets here. Whether you want to sit behind the bench, in the corner, or watch the puck cross the crease, they have tickets for all NHL stadiums and all NHL games.
Concerts and Other Live Events
While we love the wide selection TicketNetwork offers for sporting events, they also have an impressive selection of other live events like concerts and theater shows too. With just a few clicks or taps, you can purchase tickets to see your favorite artists like John Mayer, Ed Sheeran, Taylor Swift, or any number of other popular performers.
When you login to their website you'll see that they have the largest selection of live events tickets online.
TicketNetwork FAQs.
We get a lot of questions regarding various ticketing platforms and some of those questions are regarding TicketNetwork. So we figured we'd answer some of the most frequently asked questions.
Is TicketNetwork Legit?
Yes, TicketNetwork is a legitimate ticketing platform and your data is safe and secure on their website and app. Some of the reviews will call TicketNetwork a total scam, but from what we gathered when we read those reviews was that the customer service wasn't the best or that their tickets were fake. We've seen none of those issues when using their website and app, so you should be safe to purchase your tickets from TicketNetwork.
Does TicketNetwork have a guarantee on their tickets?
TicketNetwork offers a 100% Money Back Guarantee to ensure customers get the tickets they were promised. This guarantee applies when orders are accepted but not delivered by the seller, shipped too late for them to arrive in time for the event, denied entry due to invalid tickets provided by the seller with verifiable proof provided by venue in written letter format (void stamp "voids" do not constitute proof), or when an event is canceled entirely with no rescheduled date (100% refund excludes shipping).
When I buy tickets will I get them immediately?
In most cases, e-tickets marked as "Instant" can be downloaded and printed within minutes of ordering. To protect against fraudulent purchases, some orders may require additional processing time; this will be noted in the order confirmation email, with e-tickets usually available for download within one business day.
I don't see seat numbers for the tickets, why is that?
Ticket sellers do not list exact seat numbers on the ticket network to ensure that no single set of tickets is booked twice. This is a necessary measure as TicketNetwork runs transactions in real-time, creating the potential for two different individuals to purchase the same set of tickets simultaneously. To prevent this, ticket sellers instead display general rows and sections for their available tickets. With several groups of tickets on hand, any incoming orders can be filled without any customer being disappointed or upset.
While you might want to purchase two tickets, keep in mind that they will always be seated together.
How do I contact TicketNetwork?
Customers have access to reliable help when it comes to finding the answers they seek. Phone support can be reached seven days a week between 10 a.m. and 8 p.m. ET at +1 (888) 456-8499, or customers can send an email to customerservice@ticketnetwork.com. Additionally, chat is now available from 10 a.m. to 7 p.m., giving customers even more opportunities to get the help they need.
It appears the company has read a review or two from the app store and is trying to improve their customer service.
Book your Next Live Event with TicketNetwork
While TicketNetwork is a company that isn't exactly known for their customer service, everything else around the company seems solid. For example, the service has an easy-to-use website and app, secure payments, a 100% money-back guaranteed, and an impressive selection of live event tickets. So if you're looking to book your next concert or sporting event, TicketNetwork is worth considering.
Our Rating for the Current TicketNetwork Promo Code Offer
One of the best things about using our current TicketNetwork offer is that you don't need a promo code to take advantage of the discounts. All you have to do is follow our links and you'll be automatically redirected to a special page with discounted prices. This makes it incredibly easy to get the tickets you want, without having to worry about getting a promo code right.
Compared to other major ticketing sites like Ticket Master, we like the fact that there are tons of venues and events to choose from on TicketNetwork. This makes it much easier to find the tickets you're looking for and make sure that you get them at the best possible price.
Also, their app is pretty slick compared to other vendors that have only a website. So if you want to get tickets on the go at a great price, go and download the TicketNetwork app today.