Stake.us is a social casino platform that's rapidly gaining popularity among online gambling enthusiasts. However, there's a chance you've never played on it, so we're going over every aspect of the online casino with this comprehensive Stake.us review. 
Whether you're a seasoned gambler or a novice, the world of online casinos can be both exciting and daunting. This review aims to navigate you through the unique features, advantages, and possible downsides of Stake.us. It examines the site's various live dealer games, mobile compatibility, user experiences, and quality of service.
If you've been considering trying Stake.us, this review will provide you with all the information you need to get started – and get some free Stake Cash while you're at it.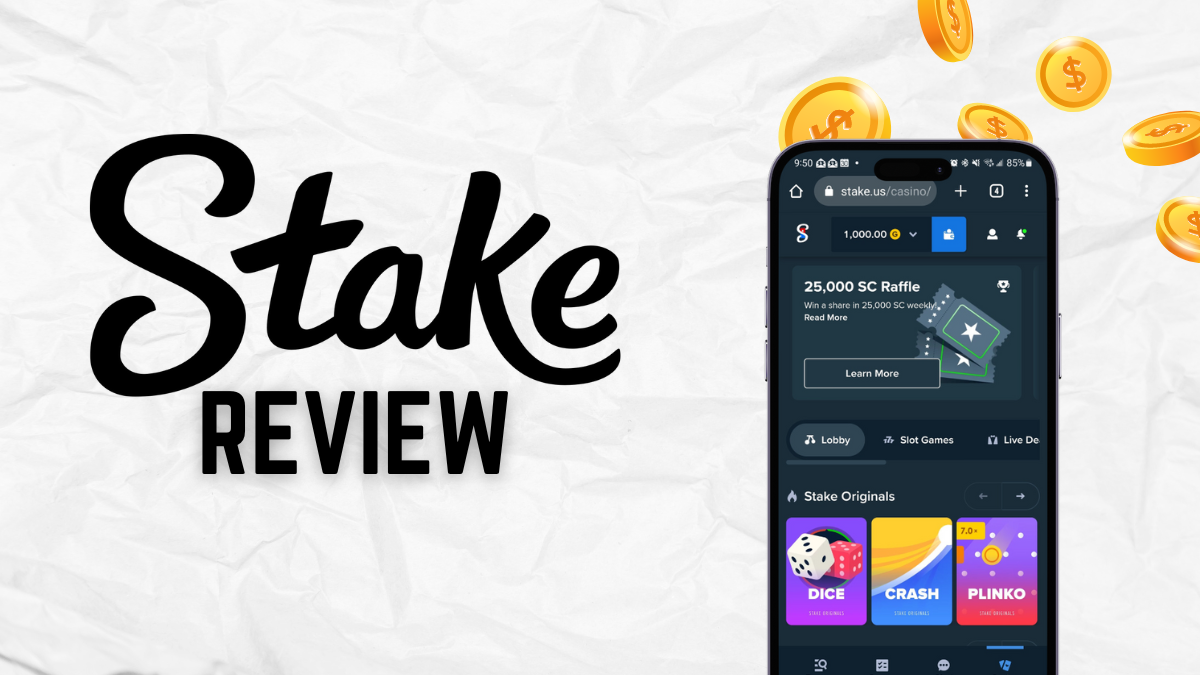 What We Want to See with Online Casinos
We've reviewed plenty of platforms. From online casinos to social casinos, sportsbooks, and more, we like to look for the key things everyone wants to know about. So, with Stake.us, we're doing the same.
Bonuses and Promotions
Probably the most important thing for any player to understand, the bonuses and promotions are what keeps them playing. Well, it's what gets them there in the first place, but it also keeps them playing casino games. Bonuses at social casinos are a bit different than real money gambling, but we still need to highlight it.
Do you think there's a chance you can get some free Stake Cash? We'll let you know.
Variety of Games
Another area people want to know about is the variety of games available. If you're looking for slots, blackjack, roulette, poker, or even live dealer games, we'll dig in and find out what games this casino has to offer. We also like to see what developers are involved, such as Pragmatic Play or NetEnt.
Mobile App
What's the mobile app like? Is there even a mobile app? We like to test out the interface and functionality on mobile devices so that you can understand what the experience is actually like.
Other Reviews
Of course, we're getting our hands dirty with this review, but we still want to see what others are saying about the online casino. How's the payouts? Are current customers running into problems? All of this information is important, and we'll be sure to mention it here.
Customer Service
Lastly, we like to take a look at the customer support options. We will dig in and find out which methods of communication are available. Is there a live chat service? Are the agents responsive and knowledgeable? Many players just want to play games but often overlook customer service. We'll make sure to point out how good (or bad) the customer service is here.
Stake.us Social Casino Bonus
Current Stake.us Bonus — Get $30 Stake Cash and 250K Gold Coins
Required Promo Code — HELLOROOKIE
Kicking off our Stake.us review, we're taking a look at their current bonus. We've got to admit, it's not too bad. As a new user getting a welcome bonus, this Stake.us bonus drop code is a fantastic way to get started on Stake Casino.
With a bonus like this, you can play casino games all day long and never need to purchase gold coin packages – at least for quite a while.
Sure, real money casinos offer great bonuses, but they're usually tied to an action. For example, new users may need to make a first deposit or place a wager, but not with Stake. The Stake.us bonus drop code is essentially a no-deposit bonus. Everyone who wants to take advantage of it can just enter the bonus code and get started.
It's a really great way for new players to get comfortable with how Stake works and gives them a chance to play some casino games without any risk.
Get in on the VIP Club
While we're on the subject of bonuses, we figured this would be a good time to highlight their VIP program.
Once you sign up for your Stake account, you're automatically enrolled into the VIP Club, which gives you access to some great daily rewards.
The more you play, the higher your VIP level and, thus, the better the rewards. You can expect things like exclusive bonuses, bonus codes, free spins, and more. It's definitely something that any player should take advantage of when playing at Stake.us. Being in the VIP program costs you nothing, but you can walk away with Stake Cash, which you can use to redeem cash prizes.
About the Coins and Cash
We figured we should highlight the Gold Coins and Stake Cash so you understand what you're getting with the bonus. Gold Coins are Stake's virtual currency that is used for playing games. Sure, they're all free-to-play games, but they take these virtual coins to play them. Since Gold Coins have no cash value, all the games are essentially free.
However, Stake Cash is a bit different. This virtual currency can be purchased, won, or received as part of a bonus, but instead of playing games with these sweeps coins, you can exchange them for real cash prizes. Like the Gold Coins, they don't have any cash value, but you can enter sweepstakes-type games and win real money prizes.
Now that you have a good understanding of the Gold Coins and Stake Cash let's take a look at the games available.
Tons of Casino Games
One of the things we love the most about Stake is its massive selection of casino games. From slot games to blackjack and roulette, you're sure to find a game that suits your style.
We've reviewed plenty of online casinos, and we can tell you that this selection rivals some of the best in the industry. They have slots from leading developers such as NetEnt, Pragmatic Play, Quickspin, Hacksaw Gaming, and more.
If you're looking for a classic game of blackjack or roulette, they've got those, too. This is what separates Stake from the rest of the online social casinos. Most focus their efforts on slot games and forget the other classics, but Stake has them all.
There are Stake original games as well. These Stake originals are some of our favorite games and include titles such as Mines, Keno, Hilo, Slide, and more. They offer 18 total Stake original games on their site. We tried out about half of them, and they were all legit and fun.

Whether you like a casual slot game or something a little more challenging, Stake has you covered.
Most Popular Slot Games
Since they have a plethora of slot games, we figured it would be a good idea to highlight some of the more popular titles. We tried these out, and they also get consistent shoutouts in the Stake chat.
Sweet Bonanza – A fun-filled 6-reel game by Pragmatic Play known for its colorful graphics and exciting gameplay.
Sugar Rush – Another Pragmatic Play slot that offers a sweet gaming experience with plenty of chances to win.
Spin & Score Megaways – This game from Pragmatic Play offers an innovative Megaways mechanic for more ways to win.
Undead Fortune – A thrilling game by Hacksaw Gaming that brings a zombie apocalypse to life.
Outlaws – An adventurous slot game that transports players to the Wild West.
Tome of Life – Known for its high RTP, this game offers engaging gameplay and generous payouts.
Scarab Spin – This Egyptian-themed slot offers exciting bonus features and high RTP.
Legend of Senteng – Dive into Asian mythology with this high RTP slot.
Curse of the Werewolf – This Pragmatic Play slot offers a thrilling gaming experience with its horror theme.
Buffalo Stack 'n' – An exciting game that brings the wilderness to your screen.
These games have proven to be favorites among players for their unique themes, exciting gameplay, and potential for big wins. If you're planning on using your Gold Coin bonus, we'd recommend starting with these games.
Live Dealer Casino Games

Want an even more realistic experience? Stake.us has live dealer casino games as well. If you want to get as close to a real casino atmosphere as possible, these live dealer games are perfect. You'll be playing in front of a real-life dealer and can interact with them.
Live Blackjack – Feel the suspense as you aim to hit 21 and beat the dealer. Their high-definition streaming ensures you won't miss a moment.
Live Roulette – Place your bet and watch the wheel spin. But it's not just plain American Roulette they offer; they offer Gravity Roulette, Live Roulette, and Auto Roulette as well.
Live Baccarat – Bet on the player or the banker in this classic casino game. If you've never played baccarat before, Stake.us has you covered with guides and tutorials so you can learn how to play.
Sic Bo – In this game, you'll get three dice and have to bet on the outcome. Seems simple enough, but the possibilities are endless.
Teen Patti – The Indian classic game of Teen Patti is one of the most popular live dealer games on Stake. Enjoy real-time gameplay with a twist.
These are just some of their live dealer casino games, but they have plenty more, so you can expect to never be bored at Stake.us. Live dealer games are tough to find in real money casinos, so getting in the live dealer action at Stake is definitely something to take advantage of.
No App, No Problem
A downside to Stake.us is that they don't have a mobile app. However, instead of using an app, they offer a mobile-friendly website that can be used on any device.
So you won't have to download anything, and you get the same great experience no matter which device you're using.
We tested it out on our Android and iOS devices, and it worked like a charm. The interface was easy to use, and we found everything we were looking for with ease.
The overall layout of the mobile browser site was nice to look at, and everything flowed well. We were able to get into the games quickly as well, which is definitely a plus.
There's nothing worse than wanting to burn through your free coins, but you can't even get to the casino games. That's what it's like for other sweepstakes casinos.
Of course, we would love to see an app, just like every other sweepstakes site, but it doesn't seem that Stake is prioritizing this. That being said, we have no complaints about the mobile site as it works just fine.
What Other Players Say about Stake.us
For a social casino, Stake really has a great reputation. We couldn't look at the Google Play Store or the Apple App Store for reviews as we typically do for social casino sites, so we had to go with Trustpilot.
We looked into what customers have to say about playing on Stake, and it's been mostly positive. Most people are talking about how fun the games are and how easy it is to get started with the free bonus pack.
We also came across some reviews that highlighted how responsive customer service was when players had issues or needed help. We'll see for ourselves momentarily when we dig into their customer support.
Overall, Stake.us has a great rating of 4.6 stars, which is really good compared to other online social casinos.
Customer Service Score

As we said earlier, customer service is important for any casino or gaming site. Stake's customer service team is available 24/7 and can be reached via live chat or email.
In fact, getting a hold of a customer support representative is ridiculously easy with their live chat feature.
When you're on the site, you'll see a "live support" tab on the left side. When you click that, a customer service chat dialog will appear. They do allow you to search their FAQ, but if it's not listed there, a rep will get a hold of you in a minute or two. Our wait time, for example, was 1:38.
We get it; when you think about an online social casino, customer service is a total afterthought. You never even think about customer support until something affects you.
Let's say you want to purchase Gold Coins to play some Pragmatic Play slots, but you continue to receive an error every time you try. You'll need customer support there to help, and Stake definitely delivers.
What's the Verdict? Is Stake.us Worth It?
We've spent countless hours playing on the Stake.us social casino site, and we've got to hand it to their team. Stake has put together one of the better social casino experiences out there.
The selection of games is great, the mobile site works well, and they have excellent customer service if you ever need help. Plus, we can't forget about their massive welcome bonus pack that's sure to get your coins rolling. After all, who doesn't want free Stake Cash? We didn't complain.
If the huge selection of games doesn't keep you coming, we're confident the real money prizes will. Even if you're in one of the many states that prohibit real money gambling, there's a good chance that Stake operates in your state.
Overall, we're going to give Stake 4.8 out of 5.0 stars in our Stake.us review. It's a solid platform that can easily keep you engaged for hours. Their social casino bonus is great and the gameplay is even better. Before you head over and start spinning the reels, we recommend you take advantage of their welcome bonus.
Updated September 1, 2023

| Review | Current Stake.us Social Casino Review |
| --- | --- |
| Summary | Stake.us is big and getting bigger. They're always adding games to their already expansive library. On top of that, they offer live-dealer games and massive bonus codes for new players.  While we wish they had a dedicated mobile app, they don't. You can play online from your phone's browser, but there's something to be said about a dedicated app.  With that, we're going to give Stake.us 4.8 stars in our review. |
| Author | Matt Brown |
| Reviewed By | Mike Noblin |
| Rating | 4.8 (out of 5) |