NHL Betting: Over/Under Strategy Explained
You're an NHL fan but want to place some bets on the games. We get it. There's nothing like the thrill of the ice. They call it the fastest game on earth. But don't go into betting without a strategy. Here's one of the best strategies we use for over/under bets.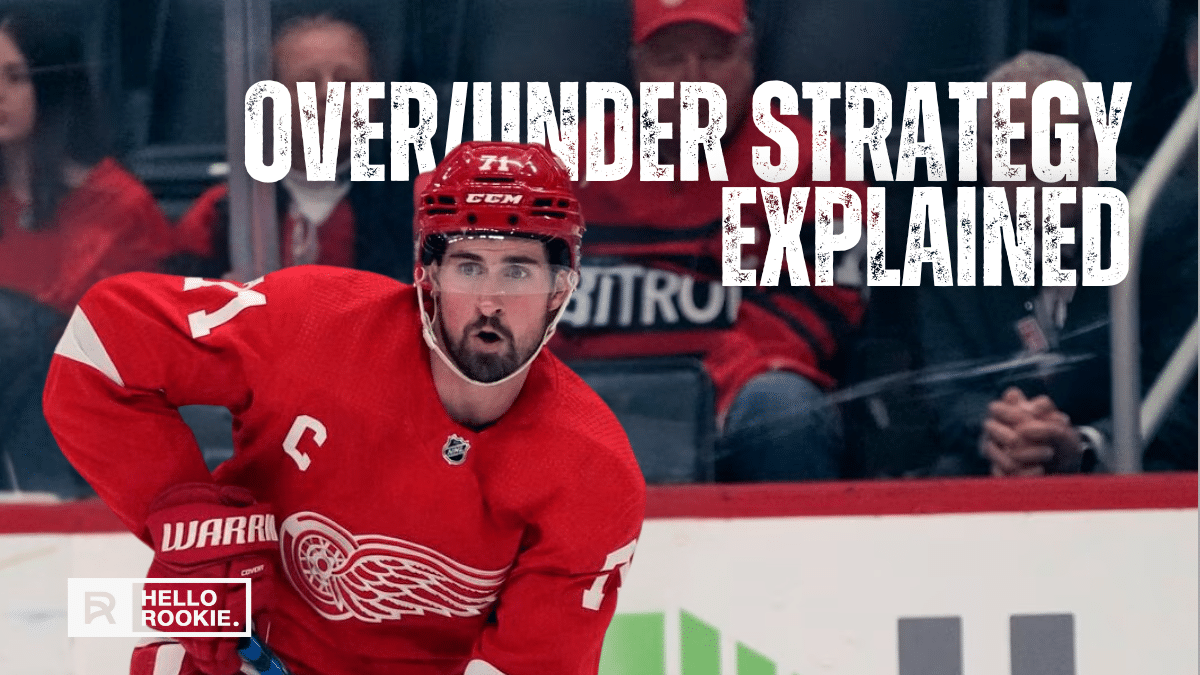 Betting is an essential part of sports. Most states have already figured this out by legalizing sports betting, but some haven't gotten the memo yet.
For an avid sports fan, betting on their favorite team while hoping to make some extra cash sounds like a dream come true. NHL betting is no different. 
The NHL is one of the most exciting leagues in the world, with incredible skill, passion, and athleticism. It's not as popular as some other sports, like the NFL, but there's a lot of enthusiasm behind it.
NHL betting can also be challenging and risky, so you must have a solid strategy in place. One such strategy that we will cover is the Over/Under betting strategy.
Having a strategy will help you stay disciplined and make more informed decisions, ultimately increasing your chances of winning. After all, that's what we're here for, right?
What is Over/Under Betting?
Over/Under betting, also known as totals, is a betting strategy where you predict the total number of goals that will be scored in an NHL game. 
The sportsbook sets a line, and you bet whether the actual score will be over or under that line. 
For example, if the sportsbook sets the total line for the Red Wings and Maple Leafs at 5.5, you bet on whether the total goals scored in the game will be over or under 5.5. If the final score is 3-2, the total number of goals scored is 5, which is under the 5.5 total line. As such, the underbet will win.
The line will always be at a half-point. This ensures that there is no tie and that there is always a winner and a loser. That's why we see numbers like 5.5, 6.5, 7.5, etc. You can't bet on the half point so you have to pick the integer above or below.
How Do You Use the Over/Under Betting Strategy?
Having a strategy is so important when placing over/under bets. Otherwise, you're making a guess, and that's where the sportsbook makes its money – when they know more than you.
Follow these steps to use the over/under-betting strategy effectively. 
Research Both Teams' Scoring Histories. 

Look at the scoring averages for both teams involved in the game. How many goals do they typically score and concede? This data can give you a good idea of what to expect in the upcoming game. A top offense vs another top offense, I'm thinking this game is going to be a high-scoring game.

Consider the Goalies. 

The quality of the goalies can significantly influence the number of goals scored in a game. A great goalie can keep the score low, while a struggling one, or at least one that is on a bad streak, could lead to a high-scoring game.

Look at Recent Form.

 Are the teams on a hot streak or in a slump? A team that's been scoring a lot of goals recently might be more likely to participate in a high-scoring game.

Think About Styles of Play.

 Some teams play a defensive style that leads to low-scoring games, while others play a more open style that can result in lots of goals.

Check for Injuries. 

If key offensive or defensive players are injured, that could influence the number of goals scored in the game. Usually, sportsbook odds factor things like this in, but they're not that great at it.

Compare Sportsbook Odds. 

This is critical in any betting strategy. Different sportsbooks may have other total lines, so be sure to compare odds and choose the most favorable line for your bet. You might think the total will be five or less, and DraftKings has the line at 5.5. That's not a whole lot of margin. Then you notice Caesars has the line at 6.5. Take the 6.5, as it adds some padding to your analysis.

Place Your Bet. 

After considering all these factors, decide whether you think the total number of goals will be over or under the bookmaker's line, and place your bet.

Watch the Game. 

This is my favorite part of the bet. Plus, it's always helpful to watch the games you bet on when possible. This can give you a better feel for the teams and help you make more informed bets in the future.
This strategy is a good starting point and is what many of our sports betting pros use when they're placing over/under bets and making picks. 
Tips for Making Over/Under Bets
You've got your strategy, and you're ready to play. Before you do, we've got a couple of bonus tips for you that our experts insisted we mention.
Evaluate Team Momentum
Hot streaks and team momentum can significantly impact the game's total score. Teams on a winning streak or those that have been scoring high in recent games often continue that trend, leading to high-scoring games.
Consider the Matchup Style
This is huge and easily overlooked by most sports bettors.
Every team has its unique style of play, and when certain styles clash, it can lead to higher or lower-scoring games. For instance, if an aggressive offensive team is playing against a solid defensive team, it could potentially lead to fewer goals as the defenses neutralize the attacks.
Factor in the Importance of the Game
The game's importance is where sportsbooks make a lot of money. More sports bettors bet on hockey during the NHL Stanley Cup than any other game, but there's a lot on the line for the teams playing.
The stakes of the game can influence how teams approach their gameplay. In high-stakes games or playoff scenarios, teams might adopt a more conservative, defensive strategy to minimize risks, which can lead to lower scores. On the other hand, in lower-stakes games, teams might play more freely and aggressively, leading to higher scores.
Start Betting and Start Winning
The Over/Under Betting strategy is an effective way to bet on NHL games. It requires diligent research, analysis, and a disciplined approach — if you want to succeed. 
Using your newfound strategy, consider recent performances, game venue, goalies, and team style of play before placing your bets. With these tips, you can increase your chances of winning NHL bets using the Over/Under strategy.
Head of Sports Betting and DFS
Matt's love for sports betting and daily fantasy sports, coupled with a deep understanding of football, hockey, and baseball, shapes his innovative thoughts on Hello Rookie. He has a B.S. in Aeronautical Computer Science and a M.S. in Project Management.