Leveraging Player News for Successful DFS Decisions
Stay ahead in the DFS game by leveraging player news, a critical aspect of making informed decisions. Learn how to use this information effectively, from tracking injuries to understanding status changes. You'll be a pro at the lineups in no time.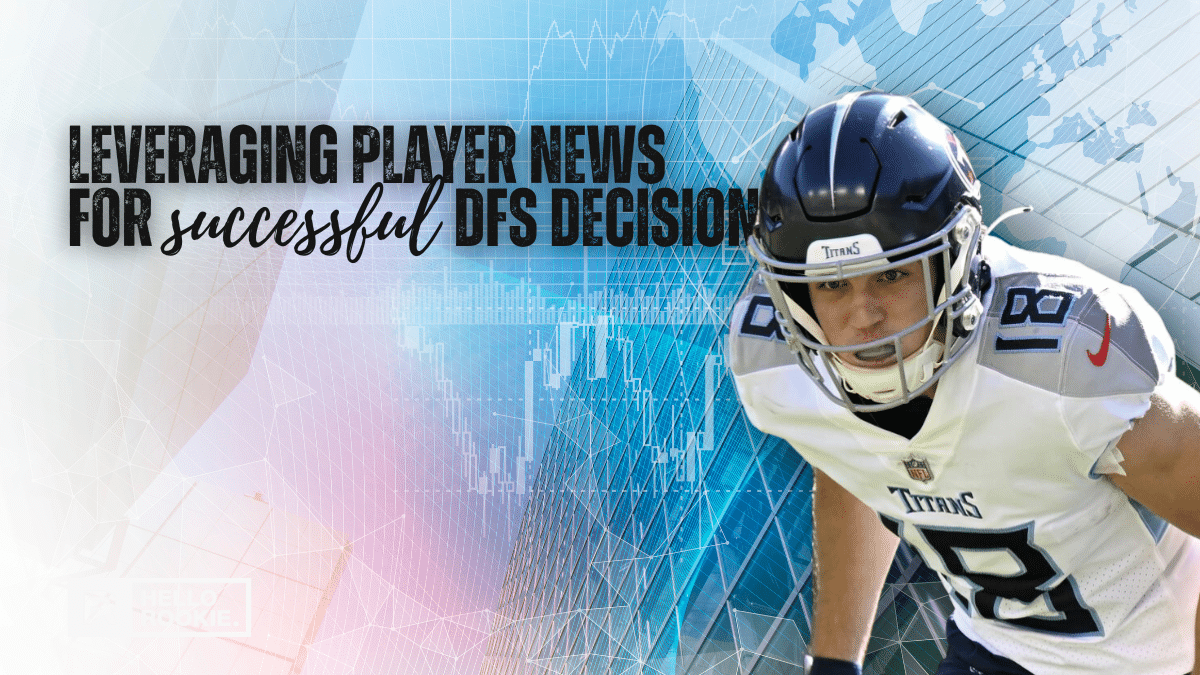 DFS is a hit across the country. With its quick gaming format and numerous opportunities to win big, DFS has become a favorite of sports enthusiasts. The strategy for a successful DFS player is to stay ahead of the curve, and one of the most critical aspects of doing so is leveraging player news. DFS is a game of statistics, and understanding how changes to players' status can affect their performance is critical to making informed decisions. 
We're not talking about just the big-name players, either. Every player on a team contributes to its success, and keeping up with their news can give you an edge over your competition.
As a DFS professional, these are the key areas I focus on when building my daily or weekly team.
What's On The News
The first step in using player news is knowing where to get it. There are many sources of player news, including team and league websites, social media platforms like Twitter and Instagram, and fantasy sports news websites. 
Honestly, you'd be amazed at the edge you get just by following a player's Twitter account.
It is essential to know where to find the news and have an effective way of organizing it. Setting up alerts that will notify you of any significant player news can be helpful.
I've got a few sites that I turn to on a daily basis. These provide some of the best and most timely news.
FantasyPros

– 

FantasyPros aggregates news from various sports news websites and provides a quick view of the impact on fantasy owners. This makes it easier for users to get all the relevant information in one place. I typically use FP for an overall look at the landscape

TheHuddle

– 

TheHuddle provides breaking news with a specific focus on the impact of fantasy football. It's a great resource for those who want to understand how player news might affect their fantasy team.

RotoBaller

– 

RotoBaller offers not just player news but also injury updates and fantasy football analysis. When I need to drill down on a specific player, RotoBaller is where I go.
Injuries Update
Injuries are one of the most common sources of player news. When a player is injured, it can have a significant impact on his or her performance. 
As a DFS player, keeping up with the latest news regarding injuries, particularly if they are severe or involve key players, is essential. Think about it – how many players have you had on your lineup only to find out they didn't play?
It is also important to keep track of the backup players as they may have an opportunity to perform well in place of the injured player. A solid #2 running back who doesn't touch the ball often might get a chance to shine if the #1 is listed as out during a game – especially if the opposing team doesn't do well against the run.
Status Changes
Tracking players' status changes is crucial, particularly in team sports like basketball and football. Players may receive suspensions, be benched, or have their minutes reduced, all of which can impact their performance. 
You could easily roll this into the injuries tracking, but keep in mind that it's a bit different. These statuses aren't tracked as closely as injuries and can change quickly based on the team's needs. A player who is listed as doubtful on Monday may be available to play by Thursday.
DFS players who take the time to track these changes can make informed decisions on whether or not to draft a particular player.
Home And Away Games
The location of a game can significantly impact a player's performance. Players may perform better at home or away depending on factors like the size of the stadium, the weather, and the crowd's energy. 
Let's take a look at Brock Purdy, for example. While the 49ers have one of the best cold-weather records in the NFL (weird, I know), Brock doesn't seem to be showing solid stats for cold-weather games. While the 49ers are definitely a contender, and the data is limited, his passer rating has been less than stunning in the few cold-weather games he's played. In the 2022 NFC Championship, the coldest Purdy has played in, he posted only a 90.6 passer rating when typically he is well over 100.
As such, DFS players should take note of where a player will be playing and how this will affect their performance.
Player Relationships
You've checked out the stats, looked at the injury reports, and even considered how the player plays at home or away. But you want to take your decision-making process to the next level. Take a look at the player's relationships with those around him.
The relationship between players can also impact on-field performance. Players who have good chemistry can work well together, resulting in better performance overall. 
Conversely, players with a history of conflict or a lack of cooperation may negatively impact a team's performance. 
This isn't something you can whip together on a whim, but something you get a feel for over time. There are no stats, and while there are news reports, this is often more of a "feel" situation. So take notes – I keep mine in Trello, but use whatever works for you – and see who plays well with others. If your budget allows, consider drafting players with strong relationships with other key players on their team.
Take Your Time and Pick Your Team
Using player news is an excellent way for DFS players to stay ahead of the game. 
Those who take the time to track player news and make informed decisions will achieve greater success compared to the more casual bettors. 
When using player news, focus on tracking injuries, status changes, home and away games, and player relationships. 
Keep an eye on reliable sources and set up alerts to stay ahead of any changes. With these strategies, DFS players can successfully leverage player news and make more confident and informed decisions.
Head of Sports Betting and DFS
Matt's love for sports betting and daily fantasy sports, coupled with a deep understanding of football, hockey, and baseball, shapes his innovative thoughts on Hello Rookie. He has a B.S. in Aeronautical Computer Science and a M.S. in Project Management.