For the NFL Week 6 main slate, we are heading up north where the Lions (29 points), Vikings (29 points), and Packers (28 points) have this week's highest team implied totals. Our optimal lineup features several players from the NFC North, who come in off bye weeks and undervalued.
Before we jump straight into the week 6 action, here is a look back at the lineups that took down the NFL Week 5 Millionaire Maker and Sunday Million. As you might have guessed, Chase Claypool owners became quite wealthy this past weekend. Claypool's cap number is $1.2 million this season, so these owners nearly doubled him up in the two million dollar contests alone.
As a reminder, we are tracking every Millionaire Maker winner over the past two seasons.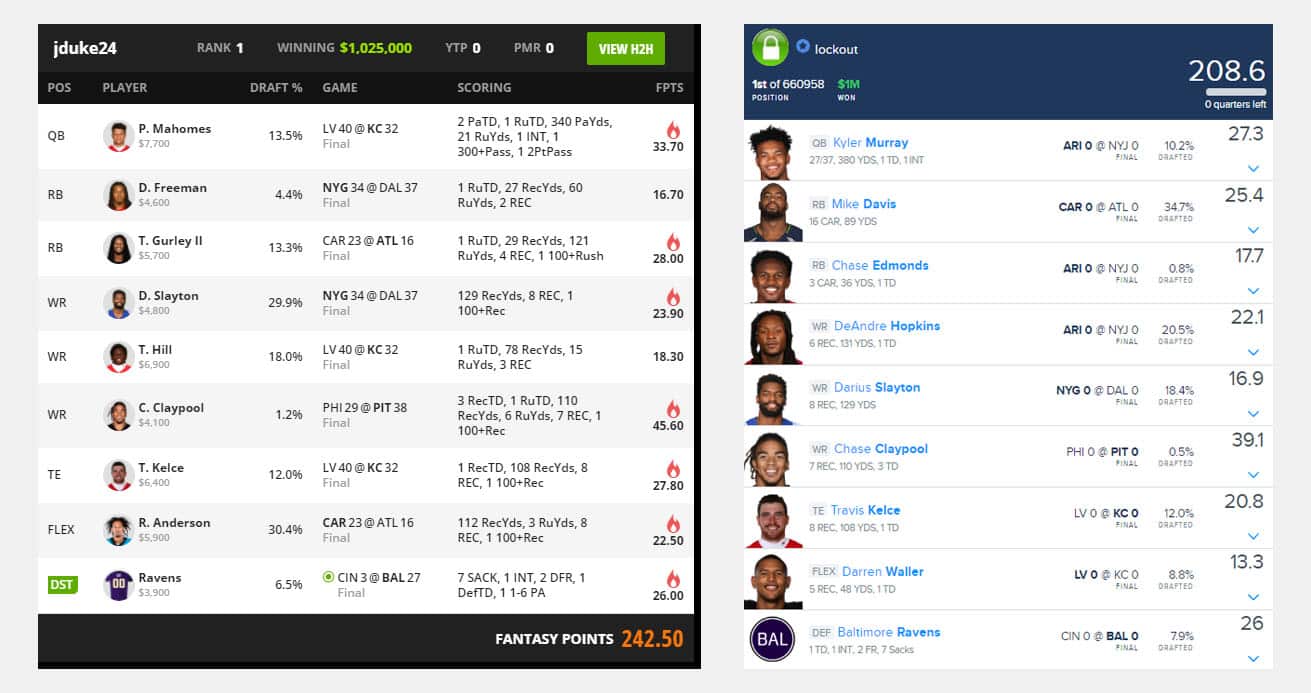 FanDuel and DraftKings NFL Week 6 QB Picks
There really has not been an overly 'chalky' week this season. To date, most reasonable QB plays are seeing a balance of 8-16% ownership during the million-dollar contests. The target value at this position has been around 6x value. Dak hit 7x in week two, but the other Millionaire Maker QB plays have been between 5.5 and 6.5 times value.
You can expect that number to drop as the year goes one. Prices will adjust to the player's game log, ownership, and matchup and we will see the value target come down. Week 5 was already the lowest total score we have seen for a DraftKings Millionaire Maker winner, the FanDuel Sunday Million winner was also the lowest of the season, as was the NFL Red Zone on SuperDraft.
Clearly, there are different ways to get to our target number. Looking at the Ravens/Eagles game, you can pay $7,700 for Lamar and hope he goes for 45+ points or pay $5,600 for Wentz and hope he goes for 33+ points. Here are the guys we are betting on for this week.
Matthew Stafford
DraftKings Salary: $6,300 | FanDuel Salary: $7,300 | Yahoo Salary: $31
There are so many reasons to love Stafford heading into week six. Let's start with the matchup. The Jaguars defense we thought we would see in 2020 is completely gone. They have gotten no pressure since trading Yannick Ngakoue before the season even began. They are currently dead last in the NFL with only 5 sacks.
That puts a ton of pressure on a secondary that had its own issues, to begin with, and is now dealing with a ton of injuries. D.J. Hayden was placed on IR, forcing Tre Herndon into the nickel role. Rookie C.J. Henderson is also out, but that may turn out to be a blessing in disguise as the former-Eagle Sidney Jones looked solid starting in his place.
Through five weeks, the Jags are allowing an NFL-worst opponent QB percentage and yards-per-completion, while surrendering the second-worst overall opponent QB Rating.
Off a bye week, Stafford finally has the pieces around him healthy heading into week 6. Golladay looks like he is back to full strength, the offensive line is settling in with Halapoulivaati Vaitai finally back and manning the right guard position.
The key is whether or not the Lions can get Patricia to stay out of the way. He is forcing a run-first mentality, in an effort to hide his putrid defense, all the while taking away the only strength of this team which is clearly the passing game.
Ryan Fitzpatrick
DraftKings Salary: $5,900 | FanDuel Salary: $7,400 | Yahoo Salary: $31
FitzMagic's price on DraftKings is an outright slap in the face. At $5,900, he has reached 4x+ value for four straight weeks and you could make the argument, outside of the Jags in week 3, this matchup with the Jets is the best he has had over that stretch.
While the Dolphins passing attack has been far from consistent this season, the thing you have to love with Fitz is that he is giving you 6 DraftKings PPG per week as a runner.
He may not need to run it this week, facing a Jets secondary that is bottom 5 in the NFL in just about every pass-defense statistic despite having the 3 of their 5 games come against the Broncos, Colts, and 49ers. They are come off a week 5 performance where they allowed Kyler Murray to throw for 380 yards on them while running for another 30 and a touchdown.
The question here is who do you stack with Fitzpatrick. Parker has been his most consistent target, but Gesicki is getting almost-literally all of the team's red-zone targets. Gesicki is too overpriced and inconsistent for me here, I would roll with Parker and hope he can get some action in the red-zone.
New DraftKings Promotions for Week 6
DraftKings is offering its best new player promo code offer of the 2020 season this week. The new offer includes a free Millionaire Maker entry and a 20% deposit bonus that caps at $500. Follow the link below to learn more about this offer and all current promo offers from DraftKings.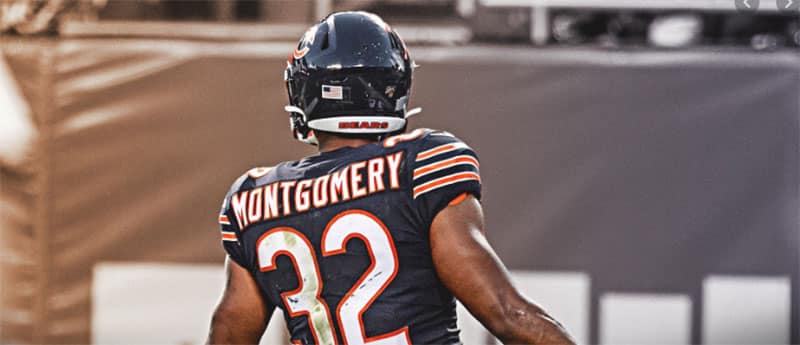 DraftKings and FanDuel Week 6 RB Picks
We bet on two rookies in week five and both saw game scripts that turned their workload and production into flat-out disasters. We think we have avoided making that same mistake for a second straight week with our RB targets for week six.
David Montgomery
DraftKings Salary: $5,900 | FanDuel Salary: $5,900 | Yahoo Salary: $21
I love targeting guys that are due. After a run of brutal matchups, David Montgomery finally gets the opportunity to cash in on his 85% snap count here in week 6.
The Bears are facing a Carolina defense that has done a surprisingly great job against the pass this season but is horrendous against the run. Carolina is allowing only 6.3 YPA through the air but is giving up the second-highest YPC in the league at 5.4 YPC. They have also allowed 8 rushing touchdowns through five weeks and have given up the third-most receiving yards to opposing running backs this season.
At $5,900, Montgomery is our favorite RB play on the board and we think he has the best game of his young career this week.
Johnathan Taylor
DraftKings Salary: $6,400 | FanDuel Salary: $5,800 | Yahoo Salary: $17
We have already missed once on JTT this season and may have to write him off if he lets us down here. This is simply too much of a OL/DL mismatch to not start Taylor in week six.
This matchup features a dominant offensive line against one of the league's weakest defensive lines. The Colts have the 8th highest yards before contact on run plays, while the Bengals defense has the fourth-worst yards before contact allowed per run play.
Even if Anthony Castonzo is not able to return this week, we think Talor should have some massive holes to run through against the Bengals. A 100-yard game machine in college, Taylor has not topped 100 yards since week two. We think he goes for 100+ yards and two scores in week six.
---
DraftKings and FanDuel Week 6 WR Picks
If you look back at the Millionaire Maker winners to date this season, all of them stacked at least one WR with their quarterback. The majority of winning lineups not only stacked two pass catchers with their quarterback but also stacked a receiver from the opposing team. With that in mind, here is who our team is targeting this week.
Davante Adams
DraftKings Salary: $8,000 | FanDuel Salary: $9,000 | Yahoo Salary: $36
It seems highly likely we see the Bucs shadow Adams with Carlton Davis, we saw that in weeks one and five this season. The problem with that is that just tells Aaron Rodgers that Adams is in man coverage, which essentially makes him impossible to stop. Regardless of who the opposing corner is. In fact, Davis just gave up 10 catches for 90 yards while shadowing Allen Robinson in week five.
The real reason I love Adams this week is the Bucs run defense. As good as the Packers have been on the ground this season, nobody can run on the Bucs right now. This should funnel even more targets to Adams if the Packers are playing behind the chains or are forced to move away from the run early here.
Kenny Golladay
DraftKings Salary: $6,200 | FanDuel Salary: $7,200 | Yahoo Salary: $30
As we mentioned earlier with Stafford, this Jags secondary can not cover anyone right now. Which means find the targets and get them into your lineup. Golladay has led the Lions in both targets and red zone targets since returning from his injury and should be completely back to full speed after getting the bye week in week five.
Golladay should be lined up against Chris Claybrooks for the majority of his week 6 snaps. Through five weeks Claybrooks has allowed the fourth-highest yards per route covered (2.24) amongst all starting cornerbacks.
Julian Edelman
DraftKings Salary: $5,600 | FanDuel Salary: $6,200 | Yahoo Salary: $20
It is a rare event for Julian Edelman to make one of our articles. He has just 36 touchdowns in 135 career games, but we simply can't pass up this opportunity this week. Vic Fangio's defense has been solid this season, allowing just 24.5 PPG, but it does have one glaring weakness in its secondary, Essang Bassey.
The Titans picked on him in week one, Diontae Johnson shredded him in week two, and Crowder beat him for 100+ in week four. On the year, Bassey has a team low PFF grade of 47 overall and 47.2 in coverage. It has been a rough start for the rookie out of Wake Forest.
The Patriots went run-heavy after receiving word late in the week that Cam would be out. With a full week to prepare, we think McDaniels will have a game plan ready for the Broncos and that Edelman will be featured predominantly in it. We know they can't go all-in on the run here as Fangio will find a way to take it away and the Broncos are allowing just 4.2 YPC and have given up just two rushing touchdowns all season.
Jeff Smith
DraftKings Salary: $3,000 | FanDuel Salary: $4,900 | Yahoo Salary: $10
Smith is somehow still the minimum WR salary on DraftKings despite receiving a 98% snap count over the past two weeks. A stretch that saw him rack up 20 targets.
The Dolphins secondary is significantly worse than the Cardinals and Broncos, so if Perriman is out again, Smith should be a lock to reach value given his current role in this offense. The Jets move Smith all over the offense, so he should be able to avoid Xavien Howard for a large chunk of his routes here this week.

DraftKings and FanDuel Week 6 TE Pick
Of course the week we only give out one tight end pick there are two tight ends (Kelce and Waller) in the winning Sunday Million lineup. Of course, neither tight end reached value but nevertheless, Chase Claypool was in the lineup so lockout found himself quite a bit richer at the end of the day. Here are two tight ends we love for week six.
Mark Andrews
DraftKings Salary: $5,500 | FanDuel Salary: $7,600 | Yahoo Salary: $27
We have historically been against paying up at the tight end position, but the bargains are gone and the bottom half of starters at the TE position are a complete dumpster fire.
Andrews has been officially credited with just two drops this season, but that seems extremely generous. It feels like a few very catchable balls go through his hands every week. That being said, the targets, and specifically the red zone targets, continue to be there. He is currently fourth in the NFL with 9 red-zone targets (7 receptions), while remaining a constant big-play threat in this offense.
Through five weeks, no defense in the NFL is worse against the tight end than the Eagles. They have allowed opposing TE's to catch an absurd 32 of 37 targets for 320+ yards and 5 touchdowns. Andrews has the highest ceiling at the TE position here in week six.
Eric Ebron
DraftKings Salary: $4,100 | FanDuel Salary: $5,200 | Yahoo Salary: $16
After a solid, yet underwhelming, performance last week against the Eagles, we are rolling with Ebron again here in week six. To be fair, unless you started Claypool or Ben, any Steelers offensive player let you down last week.
Obviously, Claypool is not going to repeat what he did last week, and once again this is a matchup that Ebron should be able to exploit. The Browns are currently 28th against opposing tight ends, giving up 33/308/4 through the first five weeks of the season.
It is worth noting that this includes three games against teams that don't even utilize the tight end position, so those numbers are bad despite a favorable schedule. The Browns may have the worst linebacker group in the league and neither Ronnie Harrison nor M.J. Stewart are remarkable cover guys at safety.
[SSB]
Subscribe to Get Next Week's Picks by Email!
Join our nearly 59,000 subscribers and have our week four picks sent direct to your inbox next week. It's free, we never spam and you can unsubscribe any time!