CFB Wednesday: 2 Best Bets for October 18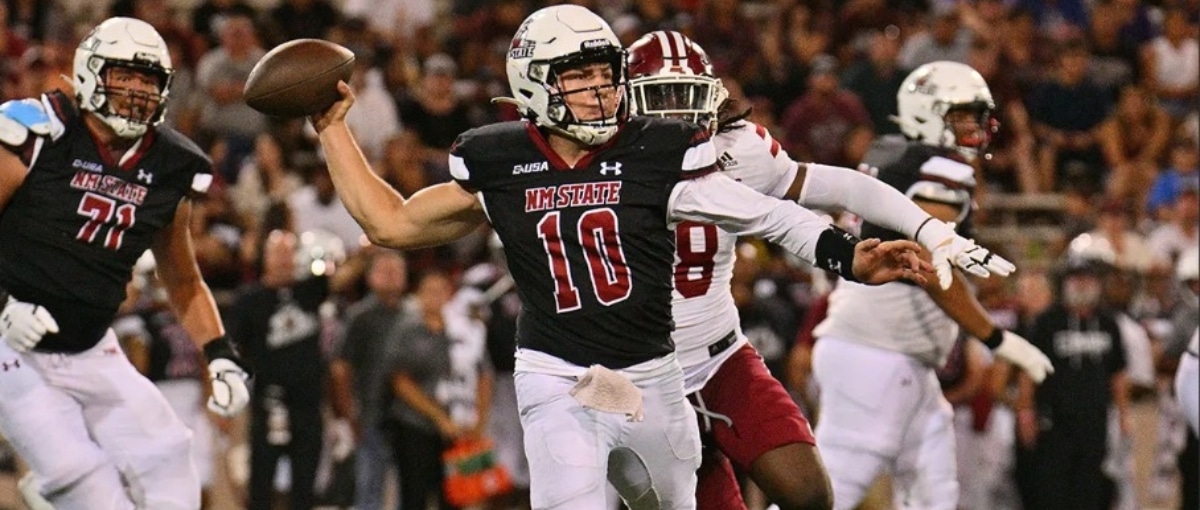 While most of the sports world focuses on the MLB Playoffs on Wednesday, Conference USA is tossing out a couple of matchups for hardcore college football fans. Check out the 2 best bets we've zeroed in on for October 18. Good luck with your action!
Sam Houston State -5 over FIU (Caesars)
FIU is 3-4 on the season and currently on a 3-game losing streak. Liberty, NMST, and UTEP have all defeated FIU over the last 3 times. They have lost those 3 games by an average of 20.7ppg. Keyone Jenkins has not been the answer under center this season.
He has thrown just 5 touchdowns to go with his 7 interceptions.  He has also been sacked on an average of 3.5 sacks per game. Kris Mitchell has been a bright spot. The 6'1" Junior wideout has caught 35 balls for over 635 yards and 4 touchdowns.
The defense has been a weak point. They are allowing exactly 27ppg which ranks them 149th in the country.
The 0-6 Bearkats are coming off a 27-13 loss to NMST, who led 27-0 at the break. Keegan Shoemaker has successfully upped his completion percentage from 46% last season to 61.5% this season. He has yet to throw an interception since his opening game and has brought his QBR up from 73.8 to 130.3.
They are holding their opponents to just under 25ppg. That has been able to keep them in their games this season. Their work on 3rd down needs to be better. The 23.3% conversion rate on 3rd down is something that needs to be addressed.
FIU is 3-4 and SHST has yet to win a game. Yet, SHST finds themselves almost a touchdown favorite here at home against FIU.
This looks to be a spot for SHST to pick up their 1st win of the year. While all the games have been losses, SHST has played many opponents tough, like undefeated Air Force who they lost by just a 10-point margin.
Key Trends:
FIU is 2-4 ATS in their last 6 games.
FIU is 0-3 ATS in their last 3 games.
SHST is 6-2-1 ATS in their last 9 games.
SHST is 4-2 ATS in their last 6 games.
New Mexico State -3 over UTEP (PointsBet)
The New Mexico State Aggies finally picked up back-to-back wins after defeating Sam Houston State last week. Diego Pavia was his normal dual-threat self. He finished with 2 passing touchdowns and 286 yards through the air while compiling 115 yards on the ground and another score.
His 2 passing touchdowns each went to Trent Hudson who grabbed 3 balls for 122 yards. Averaging 30ppg, the Aggies are one of the top-scoring teams in the conference. Pavia leads a balanced offensive attack that will look to put this UTEP team away early.
UTEP snapped their 4-game losing streak last week when they defeated FIU on the road 27-14. They jumped out to a 21-0 lead after the 1st quarter and never looked back.
Junior wideout, Kelly Akharaiy, was spectacular in this last game. He finished with 8 receptions for 223 yards and 2 touchdowns. Burgess Jr and Hankins combined for 148 yards on the ground which helped balance the offense while the defense held FIU to just 2/11 on 3rd down.
New Mexico State was our early choice to win Conference USA, but currently find themselves in 4th place behind the leader Liberty. They are playing a much stronger brand of football over their last 2 games while UTEP was floundering before picking up their FIU win. We expect the Aggies' strong play to continue here on the road where they pick up a win and cover by at least a touchdown.
Key Trends:
NMST is 5-1 ATS in their last 6 games.
NMST is 5-2 ATS in their last 7 games against an opponent in the Conference USA
UTEP is 1-4 ATS in their last 5 games.
UTEP is 1-4 ATS in their last 5 games against New Mexico State.

Sports Betting Contributor
Bill is a high-volume sports bettor who runs his own sports investing business. He has an uncanny ability to find tons of mathematical edges on each day's sports betting card. Bill covers all sports but his bread and butter is UFC, Golf, and College Hoops. Find him on X at @LarrysLocks2