Latest Yahoo! DFS Changes Aimed at Protecting Smaller Fantasy Football Players
The DFS industry is growing and changing at an alarming rate. With that growth, come many questions about the safety and regulations regarding daily fantasy contests. Naturally, players want to enjoy these games, but also need to feel that the games are fair and that they are being protected and considered.
Many companies and organizations are therefore currently in the process of setting out new regulations and systems to help keep the games as fair as possible, helping every single user to have an enjoyable experience with DFS. One example of such a company is Yahoo.
The search engine giant got involved in the DFS industry in the summer of 2015 and quickly established itself as a big presence in the fantasy scene, despite thus far being unable to reach the same heights as industry leaders FanDuel and DraftKings. Now, Yahoo is making some important changes to preserve the fairness of games for smaller or more casual players.

Making the Game Transparent
According to the company itself, the philosophy behind these changes is to help make DFS contest more "transparent". Essentially, this means that players will be given more information about the contests they are entering and can therefore spend their account balances more wisely, rather than having an insufficient amount of data and entering themselves into games that they may not be able to win.
Overall, these changes seem smart and definitely tie-in with Yahoo's overall business ideas. The company doesn't seem too intent on becoming the number one brand in the DFS business straight away. Instead, Yahoo has always seemed more preoccupied with building a large following and attracting a wide range of users. These changes should help the brand boost its appeal towards novice players.
Head of Product with Yahoo Sports and Finance, Michael La Guardia, revealed that these changes may seem small on the outside but that they could have a big impact on the overall way in which DFS contests play out. La Guardia added that the company was seeking to keep the focus of its DFS offering on enjoyment and traditional sporting fun, rather than extreme competition.
Once again, this is in keeping with previous developments surrounding the Yahoo DFS platform. The company also runs a popular range of season-long fantasy games, so it's important for Yahoo to keep lots of people interested in its services and spread the audience around all of these different games, rather than putting too much focus into the DFS market.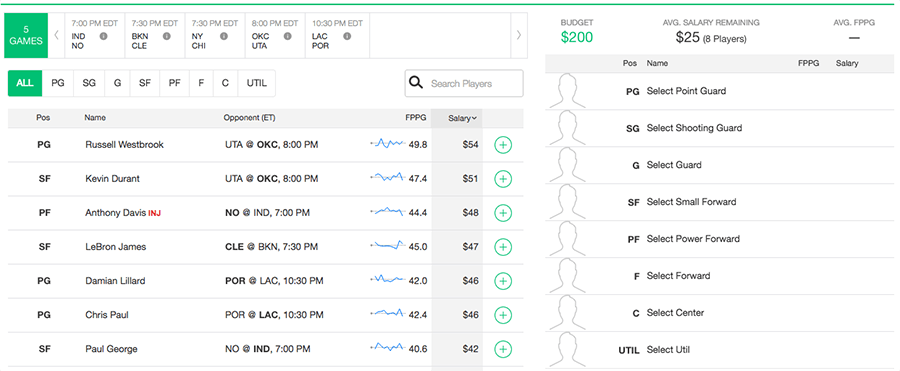 Specifics of the Yahoo DFS Changes
So let's take a brief look at these changes to understand how things are shaping up for Yahoo DFS in 2016. First of all, users are now only allowed to have a maximum 10 entries in any given contest. In addition, an individual user cannot account for more than 1% of any contest's total number of entries, so that limit of 10 may be reduced in some cases. For example, if a contest is limited to 200 players, each user can only have a maximum of two entries.
Another change sees more experienced players, or "veterans" as Yahoo terms them, having their profiles labelled with a badge. Finally, the last change seeks to end the use of scripting tools that certain players use to modify their entries.
The whole set of changes is being labelled under the term "Fair Play", and these changes come in the wake of several similar developments at other DFS sites like FanDuel and DraftKings. Those companies have also taken steps to remove scripting tools, for example. The increasingly hot topic of the legality of DFS contests may also have had some influence on Yahoo's decision to implement these changes.
Maura Healey, the Massachusetts Attorney General, has recently put forth her own ideas about future regulations for the DFS industry, and some of her ideas have been put into practice by Yahoo here. Either way, Yahoo representatives seem happy with the changes and have really highlighted the importance of keeping DFS games fun and fair for everyone.

Who are Veteran Players
Some of those changes might need a bit more explanation, so let's briefly go over them in a little more detail. First of all, it's important to clarify exactly how "veteran" players will be identified. Essentially, players will qualify for their veteran badge if they have fulfilled certain conditions. For example, a player will be classed as a veteran if they have entered more than a thousand separate contests in a 12-month period.
Players will also earn the badge if they have entered more than 250 contests in the same time period and managed to win more than 65% of them. Finally, any player who takes home a prize valued at $1,000 or higher on three separate occasions in a year will also be given the badge.
The idea behind the badge is to help other players see the skill levels of the people they are going up against, helping novice players to avoid the pros and spend their money more safely. Similar reasoning was behind the decision to limit the number of entries into any one contest.
Right now, advanced and professional DFS players are dominating tournaments on many DFS sites by paying for dozens of entries in single contests. By having so many entries, these players have a much higher chance of winning some cash. By the same token, inexperienced players are being wiped out in these tournaments because they are not using the same strategy.
The idea is therefore simple; by limiting the number of entries players can have, the DFS contests are carried out on a much more level playing field. These changes should hopefully help more people to have a better time on Yahoo's DFS platform.