There are a lot of things to learn if you ever hope to become a truly successful daily fantasy sports player on a leading site like FanDuel or DraftKings. There's a lot of competition out there, especially on these sites with their enormous userbases, and players need to set themselves apart from the crowd if they hope to win big. The best players in the game have reached the top by learning about every aspect of daily fantasy sports.
The term "value" is thrown around quite a lot in DFS circles, but casual and inexperienced players in particular struggle to grasp this vital concept. If you can begin to understand value and use it when you play DFS games, you'll start to enjoy much greater levels of success and earn yourself larger portions of the prize pools on offer. Today, we'll take an in-depth look at what value really is and how you can use it to your advantage.
Understanding What Value is on FanDuel and DraftKings
Even if you're a new player on a site like FanDuel or DraftKings, you do know what value is. Perhaps you aren't consciously aware of the role it plays in fantasy games, but value is an important part of nearly everyone's life. When you buy a new TV or item of furniture, you usually shop around to find the best prices and get the most bang for your buck. When people make an investment, they tend to expect a good amount of profit, which is known in the business as return on investment (ROI). The same can be said for fantasy players. You invest in a player who provides you with an ROI that is directly related to his performances on the field. Naturally, just like spending money wisely in real life, you want to allocate your funds carefully in a fantasy game as well.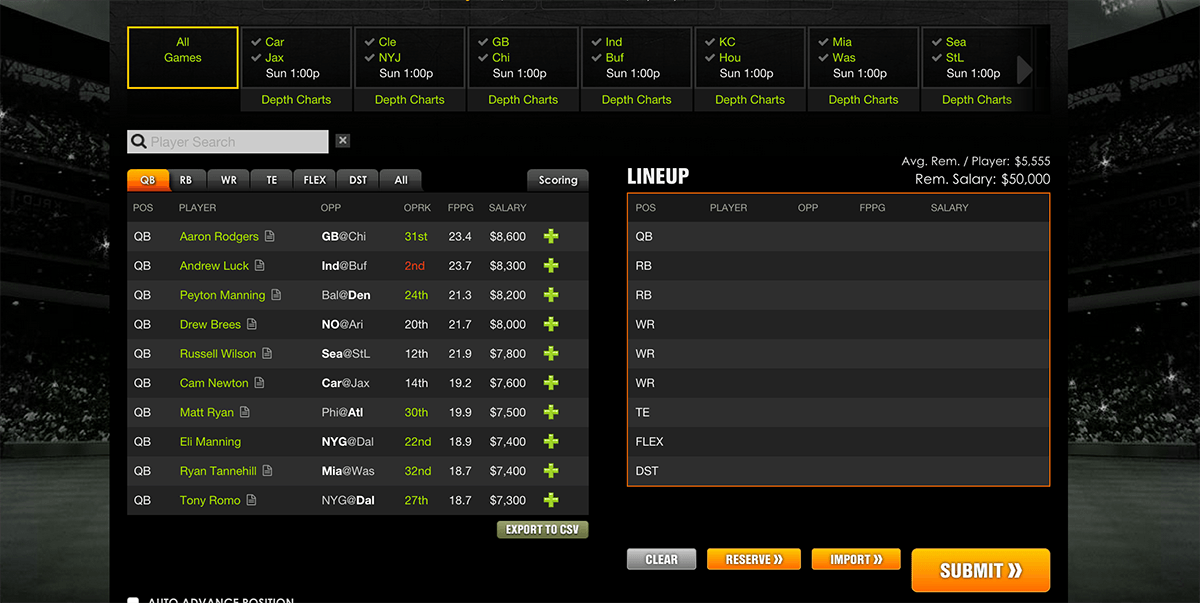 New and inexperienced players will join up with a site like FanDuel and DraftKings and then enter games where they choose players based on things like personal preference or media expectations. They'll build a roster that seems like it should do well and hope for the best. An experienced player has a different approach; these players have played enough games to be able to spot value and use it to their advantage. As we have seen in the paragraph above, value is all about the amount of points you can expect to get in relation to the size of your investment in a player. Let's look at an example and imagine on a certain week there's a quarterback who costs $8000 and earns 25 points. In the same week, another QB earns 23 points but he only costs $6500. Yes, he earned 2 points fewer than the first player, but he cost a great deal less and you could have used that extra $1500 to invest in a better player in another position who would surely have compensated for those 2 points lost. Therefore, the second QB represents better value than the first.
Finding and Building Accurate Projections
This is the core aspect of value that everyone needs to understand. However, you might be asking yourself something like "How can I predict a player's performance and understand his value?" Well, we can't see the future, but we do have a lot of information at our fingertips to help us make educated guesses. DFS sites themselves like FanDuel and DraftKings have their own formulas in place to generate salaries for individual players. Each Sunday, these salaries are unveiled for the following week. Various sports sites will then analyze this information and propose their own points projections before the games begin. All of this data can be accessed and utilized by players who want to gain an edge in fantasy games be determining the players who offer the most value. In fact, some players even go as far as creating their own spreadsheets with projected points totals and salary costs to easily create a roster that is full of great value players. There is a goldmine of information out there just waiting for you to access it and this is what can separate winners from losers on fantasy sites.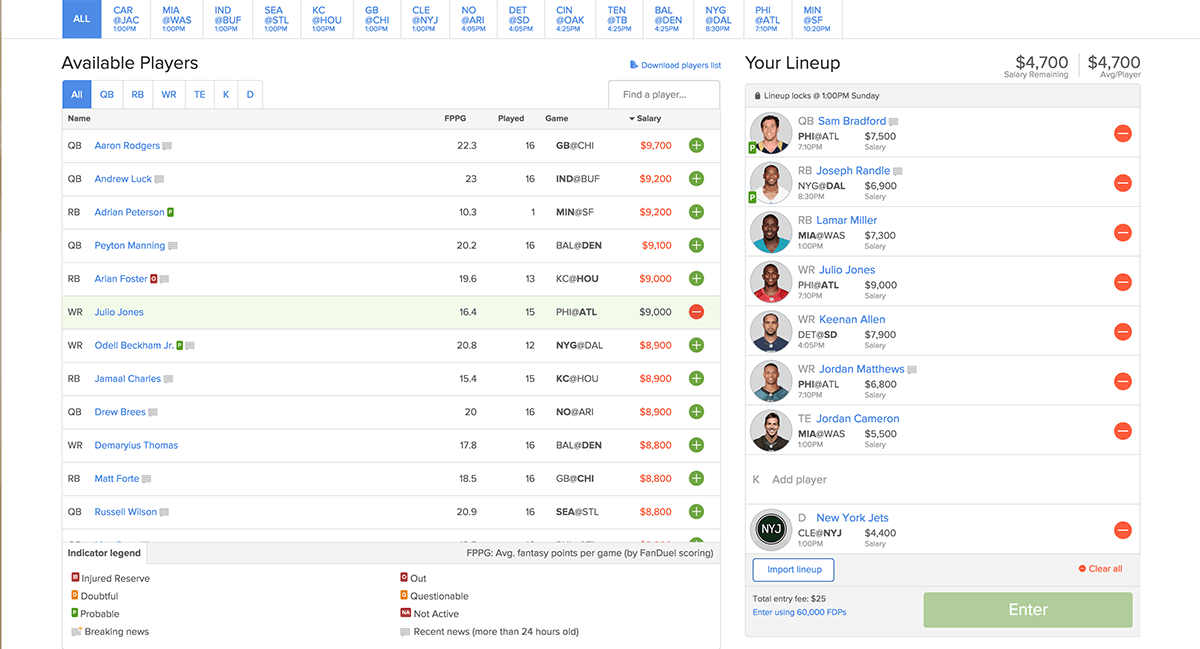 You need to use statistics to create the most successful teams. Look at which players will be playing at home, note the amount of points they are expected to get and divide this number by their salary to get a "dollars per point" rating for each player. This figure won't be 100% accurate as even the best projections cannot always be right, but it will provide you with a very good indication of how much value a single player represents. If you perform this calculation on a long list of players and compare them, you can easily identify those with the best "dollars per point" ratings. However, your work isn't done here. You shouldn't just choose the players with the best ratings as they may have exceptionally low salaries. This means you could finalize your roster and have a good amount of funds left over. You need to try and use as much of your salary cap as possible. If you have the money, then spend it on better quality players who have the greatest chance of giving you plenty of points. If you follow this advice and start identifying value in fantasy games, you'll become a much more effective and successful player.