We have pitched and tested several draft strategies over the years, but for fantasy football veterans, the zero RB strategy is almost sacrilegious.
For those not familiar with Zero RB, it is exactly what the name suggests. Zero RB was introduced by Shawn Siegele a few seasons back, but really started gaining traction last year.
As with most draft strategies, we can make Zero RB as complicated as we want, but the premise behind the strategy is quite simple. Wide receivers are the most valuable position in PPR/flex leagues, and running backs are the toughest to project and offer the widest variance between ADP and production.
Each year it seems like early-round running backs hit at about a 50% rate, while your top 15-20 receivers remain steady. How many consecutive years have you seen Antonio Brown, Julio Jones, AJ Green, Odell Beckham, Dez Bryant, and Jordy Nelson go in the first 15 picks? The top receivers in fantasy are just far more consistent than the top running backs.

How to Identify Late Round RB Targets, and Why It Is the Key to Your Fantasy Draft
Essentially the zero RB strategy can be broken down as taking guaranteed production in the early rounds, and calculated risks in the later rounds. Barring injury, we have a really good idea of what point range each of the WR1's in rounds 1-6 should finish the season with.
That fact holds true week-to-week as well. It will be easier to project your top level receiver production on a week-to-week basis than trying to decide if Gurley vs Seahawks is a better matchup than Tevin Coleman vs the Saints.
Once we have those guaranteed points from the top of the draft, we turn our focus to finding potential break out players in the later rounds. We all know this can be difficult, but if you know what you are looking for it can be easier than you think. Here are three types of players that should catch your eye:
The Bounce Back Year
While a top round player , like Shady last season or Gurley this season, can be a bounce back player, these players can be found in the mid-to-late rounds as well. Last season it was DeMarco Murray, Melvin Gordon, and Jay Ajayi.
You have to look at players that were either injured or extremely disappointing last season, but have the potential to carry a featured back role this season. Our favorite bounce-back candidates for this season: Matt Forte, Carlos Hyde, Jamaal Charles, and Duke Johnson.
The Surprise Rookie
Last year's surprise rookie was Jordan Howard, the year before was David Johnson. These are generally players drafted in the middle of the draft, that appear to be in a time share, but don't have a ton of talent in front of them. You should be able to better identify these players by the middle of the preseason, but we really like the situation these rookies find themselves in: Samaje Perine, Kareem Hunt, Jamaal Williams, Joe Williams, and Marlon Mack.
The Second Year Breakout
How many of these guys have we seen over recent years? In no particular order: Devonta Freeman, Melvin Gordon, Jay Ajayi, Mark Ingram, Lamar Miller, Tevin Coleman, C.J. Anderson, Spencer Ware… All of these players were nearly written off after a lackluster rookie season, only to bounce back to monster sophomore years.
Whether players need a year to learn the system, or a year to win the trust of the coaching staff, there seems to be a large number of year 2 RB surprises.
Last year's rookie class was by no means loaded, but there are several names to keep on your radar including: Derrick Henry, Paul Perkins, C.J. Prosise, Kenneth Dixon, Wendell Smallwood, and Jonathan Williams.
The key with any of these players, whether you draft them or pick them up as a flyer free agent, is to try and find players with a potentially large workload. This workload could come from simply winning the job, an injury to the starter, a scheme or coaching change, or simply an expanded role in a committee.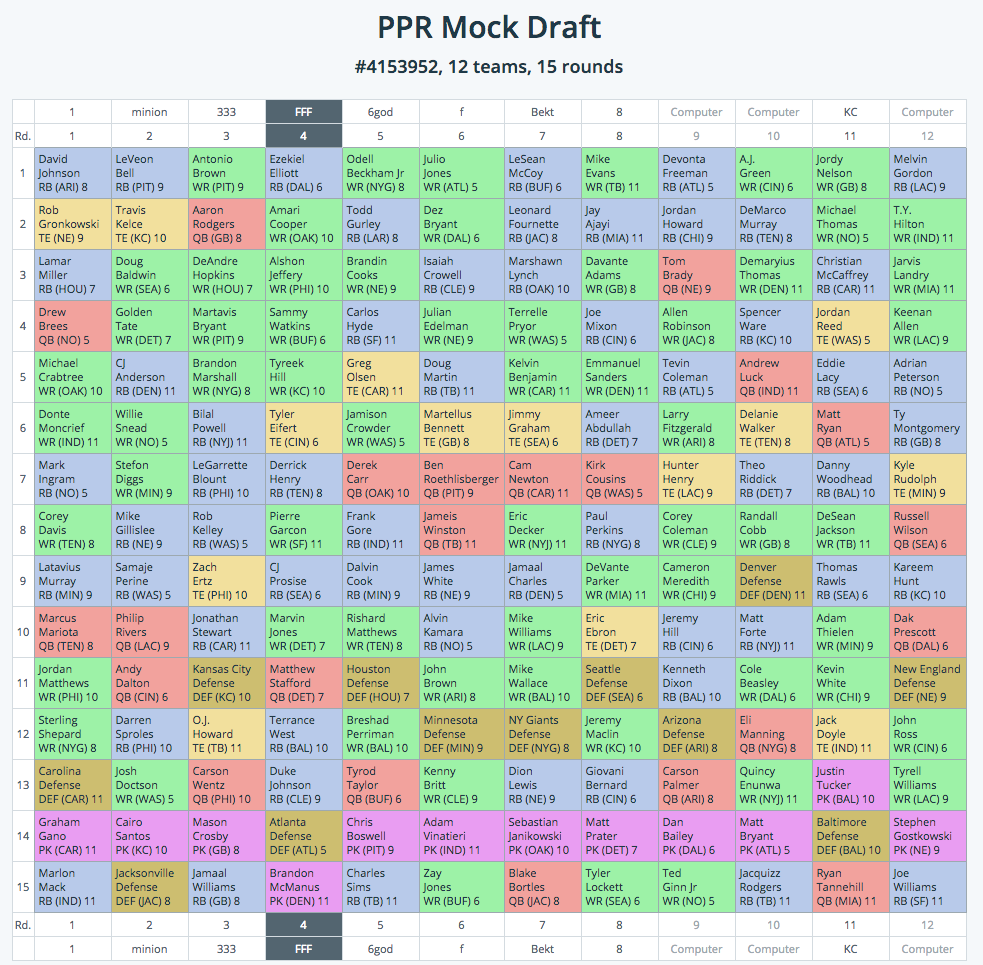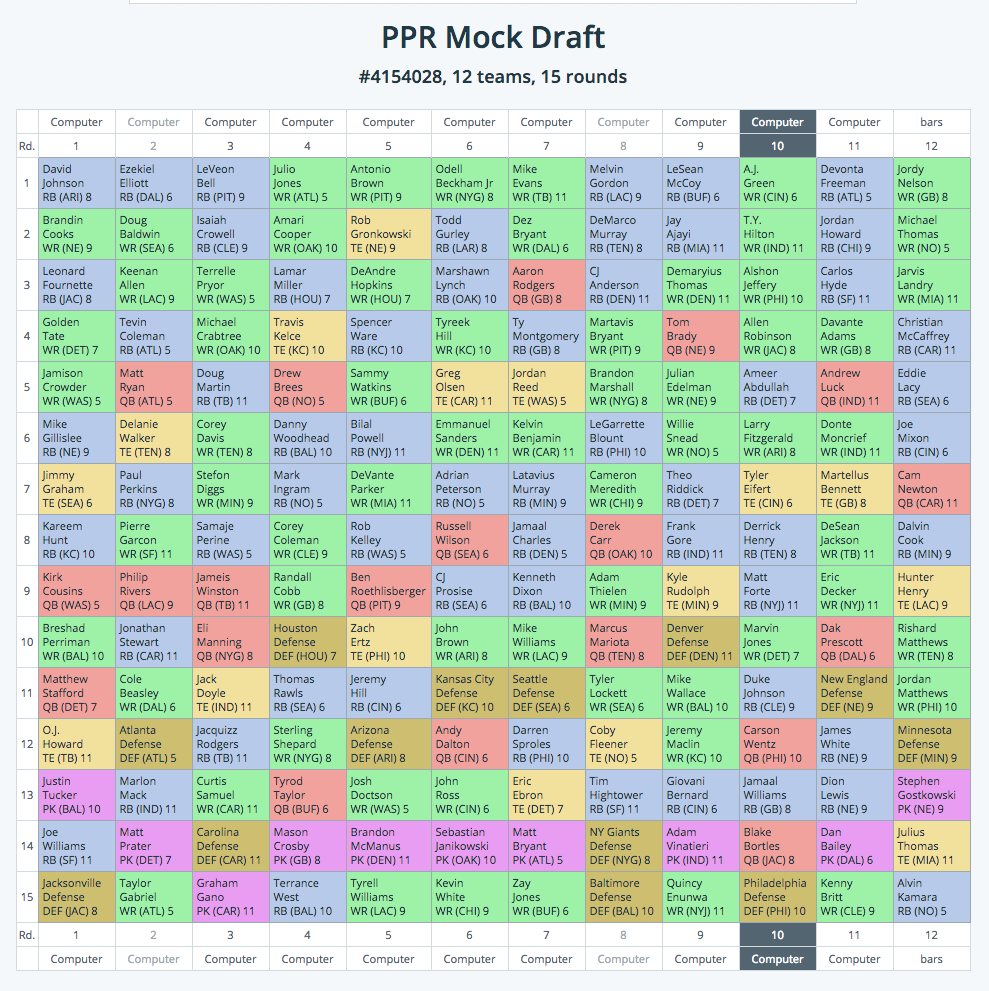 Admittedly, these mocks were done half-heartedly in early June, but I tried to somewhat stick to the zero RB strategy and our current player rankings.
In my opinion, if you draft in the top 3-4 spots and have the chance to draft either Bell, Johnson, or Elliott, you do it. There are a clear top 3 players in this draft, and barring an unforeseen injury, I believe they will finish 1,2,3 in some order this season.
However, if you ask who the fourth best RB on the board is you may very get well get back one of several names back: McCoy, Gordon, Freeman, Murray, Gurley… So this is where the zero RB strategy officially kicks in.
Assuming you don't draft one of the big three running backs at the top of the first, let's take a look at how your draft may shape up. In the second example from above, I drafted 10th over all and my first four picks were receivers: AJ Green, T.Y. Hilton, Alshon Jeffery, and Allen Robinson.
Admittedly, I intended on drafting Larry Fitzgerald or Jordan Reed with my 5th round pick, but by the time I was on the clock I was convinced the #12 spot was going RB/RB and didn't want to end up with Abdullah going on that turn. That would have left me with Lacy as my RB1 and he doesn't fit the criteria I had established for identifying mid-to-late round RB targets. More on that later.
Luckily Fitz (our 44th rated player) fell to me in the 6th, and I got the player I wanted after all. I have already done enough mocks to know where players should be slotted, so heading into rounds 7-10 I knew I wanted to target Tyler Eifert in round 7 and Marvin Jones in round 10. I wait until after round 10 to even consider drafting a QB, so this left 8 and 9 as RB rounds.
I ended up with my preferred pair here, Henry and Forte, but would have been fine with Prosise or Gore swapping in for Forte as well. Round 11 is generally QB1/Matthew Stafford time, but given that I took Stafford in round 11 in the first mock, I decided to try something different and drafted another RB, Duke Johnson.
If you employ our strategy of waiting until the later rounds to draft 2 or 3 QB's to play matchups, you better have an understanding of where every QB in the 12-20 range should fall off the board. I knew I could get Wentz in the 12 and either Tyrod Taylor or Blake Bortles in the 13th. We have borderline QB1 grades on all three guys, so if you play matchups right you will have a QB1 every week, and won't have to feel handcuffed to your solo QB1 when he has an awful matchup.
I took Jamaal Williams in the 14th, and love that pick, but at this point there was still plenty of RB value left on the board. We will break this down when we get into what we are looking for in a late round RB target, but I have a draft-able grade on Jamaal Williams, Joe Williams, Jacquizz Rodgers, Alvin Kamara, Marlon Mack, Rex Burkhead, and Chris Thompson.