Our 3 Best Player Prop Bets for NFL Week 5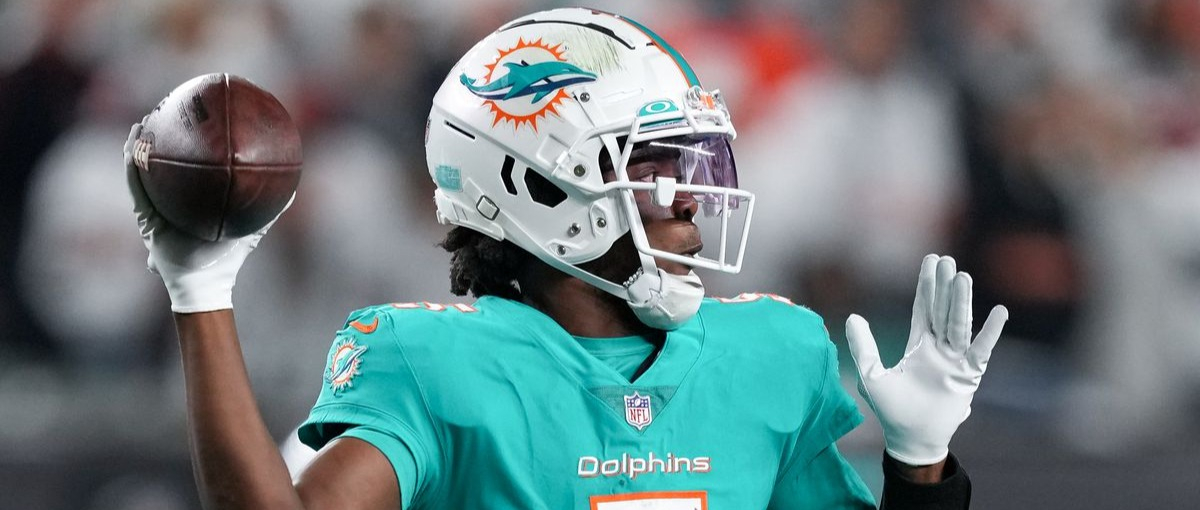 The 2022 NFL season is just about a quarter of the way completed, and parity has been the theme. No division leader has more than a one-game lead, six divisions are tied at the top currently, and believe it or not the NFC East has three teams at 3-1 or better.
We've seen some early season resurgences from players who were forgotten after 2021, including Jared Goff, Saquon Barkley, Miles Sanders, and Courtland Sutton among others. Bettors who have played props on the over side in games where the Detroit Lions were on the field likely have fatter wallets entering Week 5, while those doing the same in Steelers or Broncos games have paid for those decisions.
The hardest thing about midseason adjustments is the unpredictable nature of each week, game, and play. Our player prop best bets improved to 5-3 in the last two weeks with a 3-1 record in Week 4, and we've got our 3 best player prop bets for NFL Week 5 to keep that momentum going.
Teddy Bridgewater OVER 1.5 Touchdown Passes
Best Available Odds: -110 at BetMGM
Bridgewater gets a bad rap as the game manager, dink and dunk kind of quarterback that fans are not excited to root for. The problem for opposing defenses is that Bridgewater can slowly pick them apart and can go through progressions to find the open player, even if that means a dump-off to a running back.
Bridgewater has never had two receivers to throw to like Tyreek Hill and Jaylen Waddle. The wise veteran knows that this is yet another chance for him to prove himself as a starter and potentially earn one of those 32 coveted jobs in the NFL. The Jets have allowed seven passing touchdowns through four games and will have trouble containing Hill and Waddle in their first matchup of 2022.
Aaron Rodgers UNDER 32.5 Pass Attempts
Best Available Odds: -115 at DraftKings
Rodgers has tossed 34 or more passing attempts in three out of the Packers' first four games of 2022. The lone time he did not hit that mark, he threw just 25 times in a run-heavy home victory against a team that doesn't throw the ball well, the Chicago Bears.
Enter the New York Giants, with their nearly empty quarterback room and an extremely talented running back who could possibly run the Wildcat formation depending on the health of Daniel Jones.
The Giants have also allowed the fifth-most rushing yards to opposing teams through four weeks to the tune of over five yards per carry. Rodgers has a talented set of tailbacks whom he has no problem handing it off to over and over again.
Jeff Wilson Jr. UNDER 67.5 Rushing Yards
Best Available Odds: Found at PrizePicks
Wilson has 48 carries for 233 yards and a touchdown in his last three games. He's been rolling for a 49ers offense that needs him to produce while Jimmy Garroppolo settles back into the starting role.
Carolina has allowed the 8th-most rushing yards to opponents in 2022, but only three teams have had more carries against them. The Panthers are in the top 15 in terms of yards per carry allowed.
The signs all point to Wilson going over this total in a game where San Francisco is around a touchdown favorite, but we will not take the bait. We'll go contrarian and take the Under!

Sports Betting Contributor
Nicholas brings over 10 years of sports betting and DFS experience to our team. He's a player prop specialist who holds a degree from Penn State University. He enjoys a nice round of golf in his downtime and covers the NFL, NBA, baseball, CFB, and CBB. Mr. Berault is currently on a great run with his NFL best bets, so be sure to check those out!