Before we jump right into the NFL Week 7 main slate, here is a look at the two million dollar winning lineups from last week. You can click on the image to expand it, but be sure to check out the notes on trends in these million dollar contests, found directly below.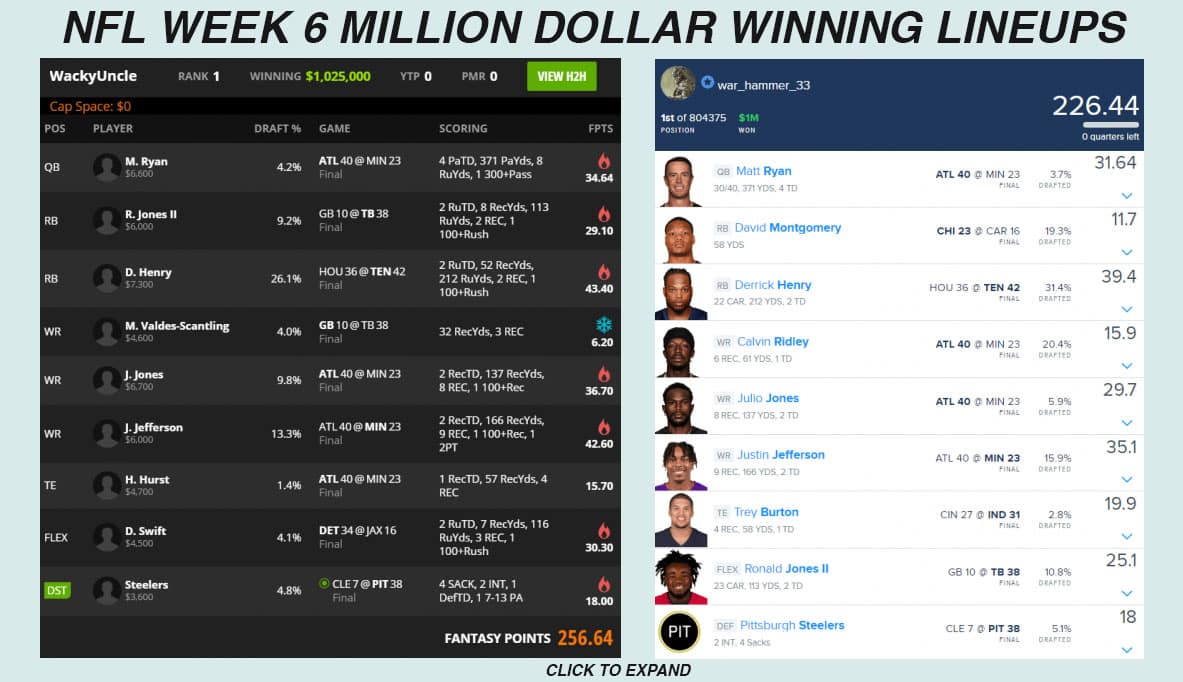 After the first six weeks of the NFL season we have 12 million dollar winning lineups to analyze. Here are some notes worth keeping in mind while building your week 7 lineups:
Of the 12 lineups, not only did all 12 have a QB/WR stack, but 9 out of 12 lineups had a QB with two pass-catchers and an opponent wide receiver.
In addition to the QB/WR/WR/Opp WR stacks, 9 out of 12 featured a second stack. The most popular being RB/DEF. So this past week you might have paired James Conner with the Pitt defense.
Outside of week 3 on FanDuel, we are yet to see a week with average ownership above 15%. Last week's DraftKings Millionaire Maker winner had only two players with 10% ownership.
All winning QB's in the Millionaire Maker have been priced between $6,600 – $7,300, while the average flex salary has been a mere $4,100 and defense salary has been $3,250.
So we will move forward implementing this strategy into our optimal lineups. Looking at the NFL Week 7 slate there are clearly three games that jump out as great fits for this strategy:
Detroit Lions at Atlanta Falcons
Green Bay Packers at Houston Texans
Seattle Seahawks at Arizona Cardinals
For me, I prefer the first two games. Kyler is not throwing the ball tremendously right now, and I get the feeling that Pete Carroll and the Seahawks will have a gameplan ready for him here. That essentially leaves us with only four lineup options:
Ryan/Julio/Ridley/Golladay
Stafford/Golladay/Jones/Julio
Rodgers/Adams/Jones/Fuller
Watson/Fuller/Cooks/Adams
For a second straight week, we are obligated to recommend Stafford here in week 7. The Stafford/Golladay/Jones stack is far too cheap with the best matchup of the group, and just as much upside as any other stack in this group. The debate is obviously Jones vs Hockenson, but Hockenson's price is far too high to expect him to hit 4x this week. I would much rather take a shot on a low price tight end like Drew Sample or Jordan Atkins (if active).
The Falcons actually have the best run defense of this group and the worst pass defense in the NFL, meaning this should be a funnel game for the Lions passing attack. David Johnson got a season-high number of carries in a tough matchup last week, which indicates to me that the Texans want to put an emphasis on the running game post-O'Brien. Additionally, we know Matt Lafleur always prefers to run the ball, so that game script could move away from the 56.5 point total it currently has.

NFL Week 7 QB Picks for DraftKings and FanDuel
Matthew Stafford
DraftKings Salary: $6,300 | FanDuel Salary: $7,300 | Yahoo Salary: $31
Just to reiterate some of the points from the open here. Stafford is our favorite play from the stacks we identified at the top of this article for several reasons. We know the Falcons will put up points on the Lions in Atlanta. We also know the Falcons have the worst pass defense in the NFL and an underrated run defense. On the year, the Falcons are allowing the fifth-least rushing yards to opposing RB's and the third-least over the past three weeks.
Stafford should have been a beast play last week, but the Lions were able to get a big lead early and run for nearly 200 yards. After scoring 25+ points in 5 of 8 games last season and predicting an MVP season in 2020, Stafford's start has been plagued by drops and injuries around him. Look for him to get back on track with a 30 point week here in week seven. Starting Stafford, who is easily the cheapest of the highlighted QB's allows us to pay up for three stud running backs this week.
New DraftKings Promotions for Week 6
DraftKings is offering its best new player promo code offer of the 2020 season this week. The new offer includes a free Millionaire Maker entry and a 20% deposit bonus that caps at $500. Follow the link below to learn more about this offer and all current promo offers from DraftKings.

NFL Week 7 RB Picks for DraftKings and FanDuel
Kareem Hunt
DraftKings Salary: $5,900 | FanDuel Salary: $5,900 | Yahoo Salary: $21
We expected Hunt to be a top 3 fantasy running back with Nick Chubb out, but that hasn't happened for a few different reasons. The first is the matchups. His two games as a starter came against the Steelers and the Colts, two of the league's top defenses. The second reason is his role in the passing game. We all know Hunt is one of the best pass-catching backs in the NFL, but he hasn't been involved over the past two weeks.
While we are not certain he is more involved as a pass-catcher in week 7, he should be able to run all over this Cinci defense. Remember, he and Chubb combined for 210 yards and 3 touchdowns against the Bengals in week two. Cinci has done little since then to correct their issues. On the season, they are 29th in YPC and 28th in total rushing yards allowed. With the state of the Browns passing attack, you would assume they have to be game-planning to lean on Hunt and the run game in Cinci this week.
Chris Carson
DraftKings Salary: $6,400 | FanDuel Salary: $5,800 | Yahoo Salary: $17
It looks like Carlos Hyde will be out once again here in week seven, which makes Chris Carson a near-lock to reach 4x against the Cardinals. The strength of this Arizona defense is their young secondary, which has allowed an opponent QB rating of just 90.1 and only 6.7 YPA through six weeks. While the run defense, which was arguably the worst in the NFL in 2019, has been better this season, they did allow over 5 YPC to both the 49ers and Panthers and have been in the bottom 10 in rushing yards allowed over their last three.
Carson has come on since the Hyde injury, averaging over 5 YPC in back-to-back weeks heading into the bye. In his career, Carson has averaged over 110 yards-per-game against the Cardinals including a 145 yard game against them last season. If Hyde is in fact out one more week, look for Carson to have his highest volume and most-productive game to date in 2020.
David Johnson
DraftKings Salary: $6,400 | FanDuel Salary: $5,800 | Yahoo Salary: $17
It was a great sign for David Johnson owners that he saw a season-high 19 carries in week 6, after a then season-high 17 carries in week 5. Clearly, the Texans are looking to get him more involved with Bill O'Brien gone. It is also worth noting that while he had only 19 total receiving yards over those games, the targets (6) were still there.
The Packers run defense is an extremely beatable matchup for Johnson and the Texans. Through five weeks, the Packers are allowing 4.7 YPC and have surrendered 7 rushing touchdowns. While their yards-before-contact is not quite as attractive as Arizona's, they have been dreadful in the red zone allowing 7 touchdowns on 11 carries inside of the 10.
---
NFL Week 7 WR Picks for DraftKings and FanDuel
Calvin Ridley
DraftKings Salary: $8,000 | FanDuel Salary: $9,000 | Yahoo Salary: $36
Calvin or Julio will be an interesting debate this week. Julio looked unstoppable last week, but Ridley has been much more consistent throughout the 2020 campaign. We mentioned earlier that the Lions secondary has quietly turned things around since being decimated by injuries in week one (lost all three starting corners). They currently sit at 14th overall in passing yards allowed, after finishing dead-last in 2019.
Detroit is incredibly deep at safety and linebacker and has actually been the second-toughest matchup for opposing tight ends. They have also been solid in the slot where Daryl Roberts has allowed only a 59% catch rate and 1.19 yards-per-route-covered. This leaves the outside, where Calvin and Julio spend the majority of their time, and that is where this matchup gets interesting.
The reason we prefer Calvin here is that he takes nearly 60% of his snaps on the right-hand side of the Falcons offense. This means he should be matched up with rookie Jeff Okudah who flat-out can't cover anybody right now. PFF's second-worst rated corner in the league, Okudah is allowing 2.35 yards per route covered. Ridley will eat him alive this week, and despite being priced above Julio in the main slate on DraftKings, is our preferred opponent WR play here.
Kenny Golladay
DraftKings Salary: $6,200 | FanDuel Salary: $7,200 | Yahoo Salary: $30
We mentioned Okudah is PFF's second-lowest graded corner, so who is the one guy he is outplaying? Kendall Sheffield of the Atlanta Falcons, who will see plenty of Kenny Golladay on Sunday. Sheffield is allowing a ridiculous .52 fantasy points allowed per route covered. On the year, his PFF grade is a whopping 32.9 overall and 31.1 in coverage.
In a contract year, Golladay is playing out of his mind right now. He has needed just 21 targets through three weeks to put up 51.4 fantasy points, and the best is likely yet to come. As we predicted earlier, we think the Lions are going to have to throw it more than in previous weeks here. Look for Golladay to hit double-digit targets for the first time this season, which should translate to 25+ fantasy points.
Marvin Jones
DraftKings Salary: $5,600 | FanDuel Salary: $6,200 | Yahoo Salary: $20
Sometimes you have to make an uncomfortable call if you want a shot in the big GPP contests. Clearly, Hockenson seems like the better play here given his target volume in the red zone. That being said, I do not think you can pay his $5,000+ price tag at the tight end position.
The right call is to roll out Marvin Jones, at a bargain given his past two games, and hope that he and Stafford can get it going again in week seven. If you lock down the Lions' top two passing options, you are putting yourself in a great spot this week. The only caveat I will give is that the Falcons have allowed the most receiving yards to opposing running backs. If DeAndre Swift is breaking off big plays in the passing game, it will clearly hurt Marvin Jones' final numbers.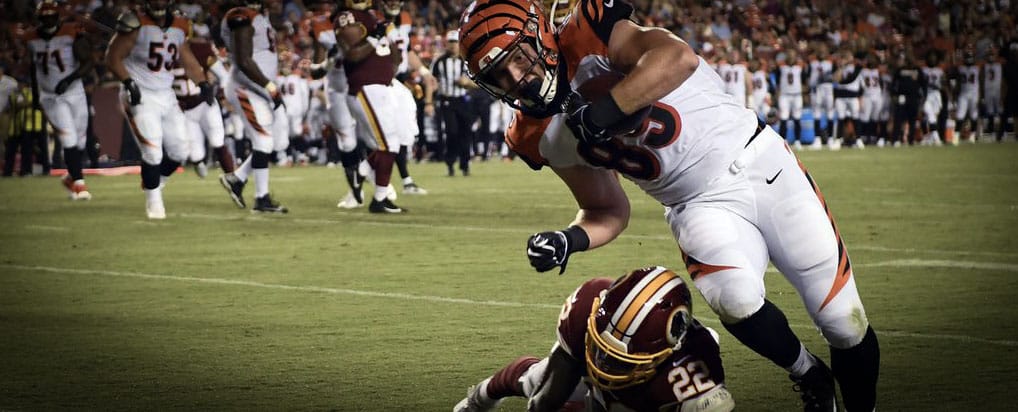 NFL Week 7 TE Pick for DraftKings and FanDuel
Drew Sample
DraftKings Salary: $4,100 | FanDuel Salary: $5,200 | Yahoo Salary: $16
There are two ways to go at the tight end position right now. Pay up for 2x value, or roll out some garbage play like Drew Sample and hope for the best. Of the tight ends priced under $4,500, I like Sample's odds of reaching 4x value best.
The matchup is great. While the grades may not show it on a weekly basis, Cleveland has the league's worst linebacker/safety group. Sample and a then-healthy C.J. Uzomah combined for 11 catches for 87 yards and a touchdown against the Browns in week two.
Once Uzomah went onto the IR we thought Sample would step up into a major role in this offense. Has not happened. He has reached 2x value only once and didn't catch a pass last week. Here is to hoping he can get that magic back that we saw when these two teams last met in week two.
[SSB]
Subscribe to Receive Our Picks to Your Inbox!
Over 50,000 subscribers can't be wrong! Receive our weekly picks, direct to your inbox. We never spam and only send one email per week.